From modern designs to timeless classics, we have swimming Pool Fence Ideas for every preference and need!
Redefine your poolside aesthetics with these exclusive Pool Fence Ideas that blend form and function, offering the safety and style you desire.
Here are the best above grounds pool ideas on a budget
---
Pool Fence Ideas
1. Glass Pool Safety Fence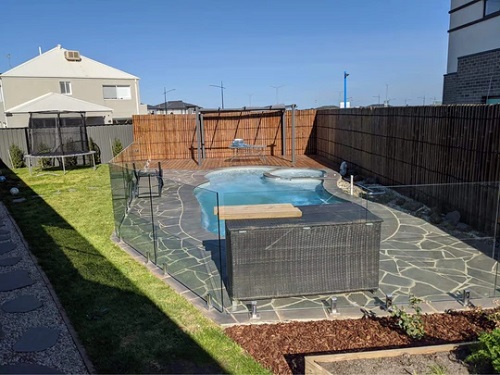 Want to keep an eye on the kids while they splash around? A glass pool fence lets you do that without invading their fun. Plus, its sleek, contemporary design enhances the overall aesthetics of the patio and home.
2. Vinyl Swimming Pool Fence Idea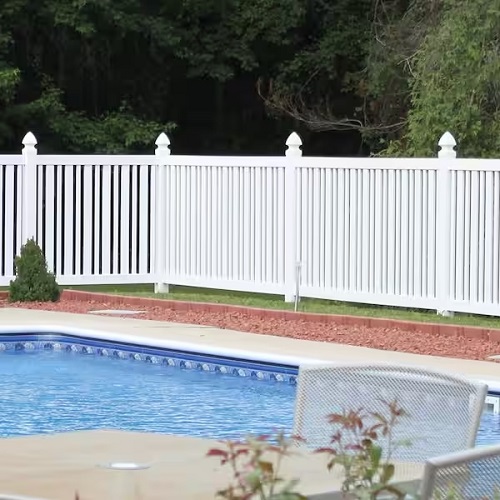 Durable and low maintenance, this vinyl fencing setup provides safety and goes quite well with every outdoor decor setup.
3. Aluminum Inground Pool Fence Idea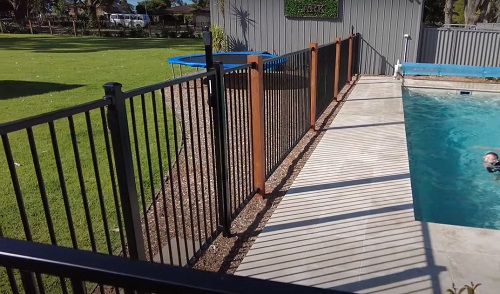 Equipped with stained timber posts and aluminum panels, this fencing setup is perfect for every type of inground pool. Watch this tutorial and learn the installation process.
4. Tree Fence for Pool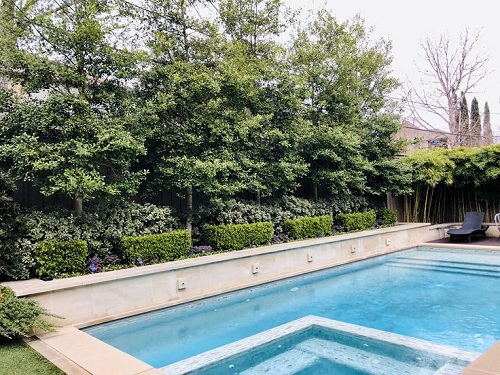 Why install a traditional pool fence when you can go green? Trees are a sustainable and visually pleasing option. As they mature, they form a dense, natural barrier providing both shade and seclusion.
5. Lattice Pool Fence Idea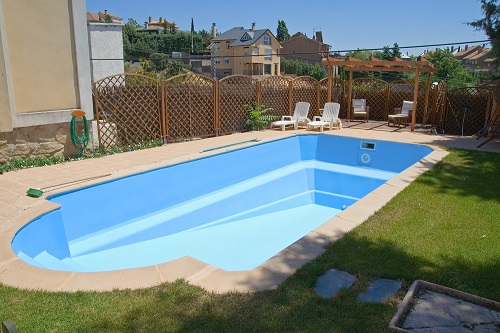 Lattice fence not only ensures safety but also adds an elegant aesthetic to your pool area. It's a unique blend of function and design that will certainly catch your guests' eyes.
6. Painted Wooden Pool Fence Idea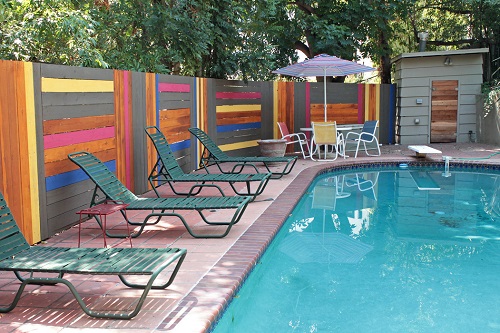 Make the swimming pool area the talk of your neighborhood with this painted wood fence. Whether you prefer bold, bright hues or gentle, subtle shades, this fence lets you personalize the pool area to your heart's content.
7. Bamboo Pool Fencing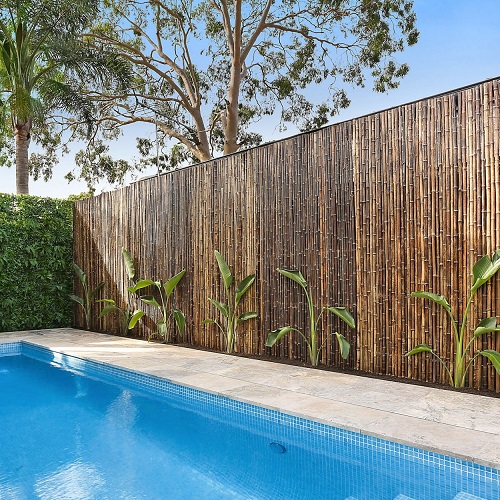 Block your neighbor's snooping eyes by installing a bamboo fence around the swimming pools for the utmost privacy. Plus, this fencing system gives your outdoor space a chic tropical look.
8. Custom Laser Cut Screen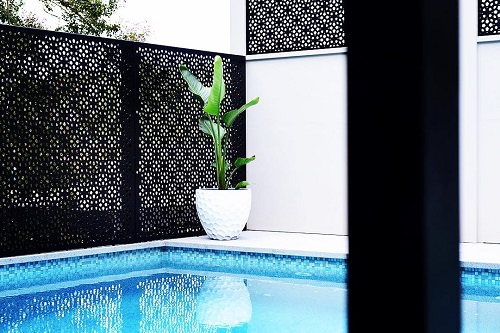 Upgrade your pool area with this stunning custom-laser-cut screen fence. It's not just a pool barrier; it's an architectural feature that turns your pool area into a work of art.
9. Classic Wrought Iron Pool Fencing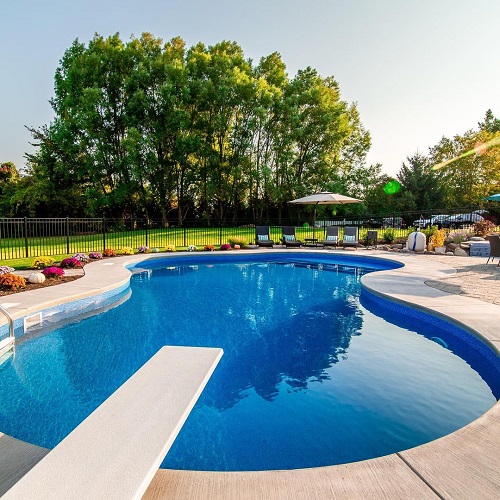 Looking for a pool fence that combines style and security? Look no further than classic wrought iron fencing. This setup doesn't provide privacy but offers a secure environment for kids' poolside enjoyment.
10. Aesthetic White Painted Bamboo Pool Fence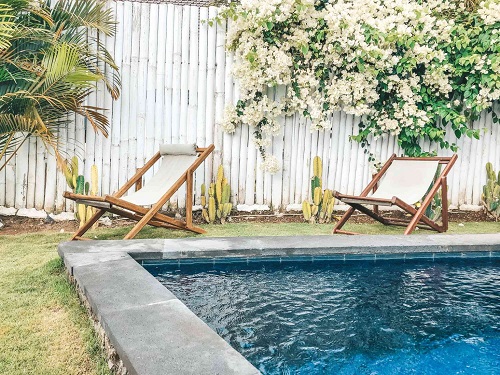 Transform your pool area into a serene oasis with this white-painted bamboo fence. Its sleek design enhances the aesthetics of the pool area while ensuring the protection of your loved ones.
11. Lattice Fence and Shrubs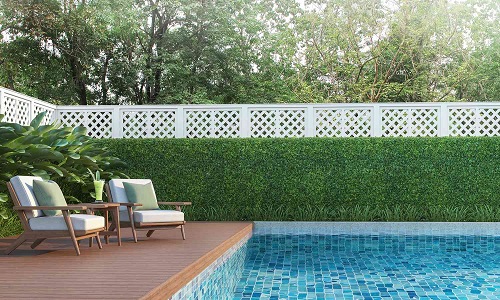 Combine white lattice fence panels and shrubbery to create this green pool fencing. It's aesthetically appealing and obstructs the view of prying eyes.
12. Cheap Cinder Block Pool Fence Idea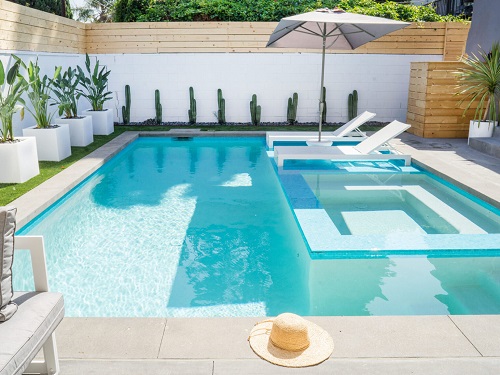 Create a wall with cinder blocks, paint it white or black, and place some planters nearby for added charm. Among the numerous pool fence ideas available, this one is very cost-effective.
13. Hardwood Posts Pool Fencing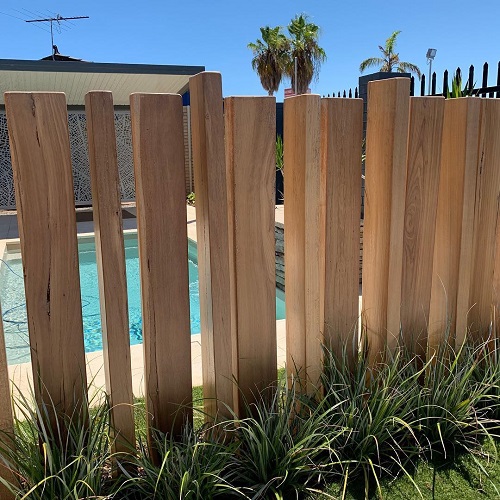 For a unique fencing option, consider installing hardwood posts at different heights and angles. This setup offers privacy and a display-worthy feature that sparks conversations.
14. Rustic Stone Wall Pool Privacy Fence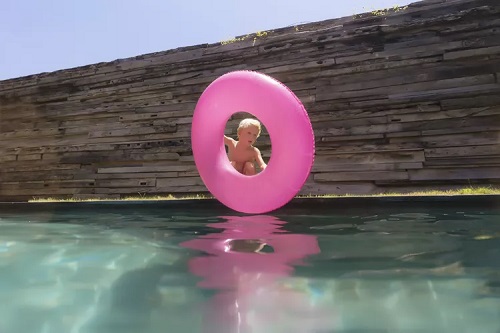 Are you planning to install a new pool fence? Consider building a stone wall for a chic, earthy look, and complete privacy.
15. Vertical Metal Posts Fence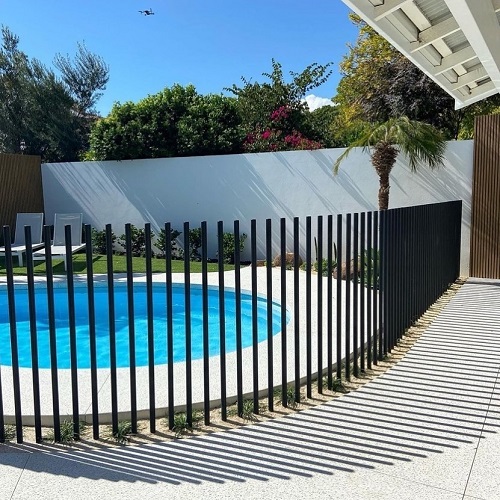 Sturdy, sleek, and multi-functional – this vertical metal posts fence is a game-changer! It's not only a reliable pool barrier setup but also lets you showcase stunning flowers.
16. White Shiplap Wall as Pool Fence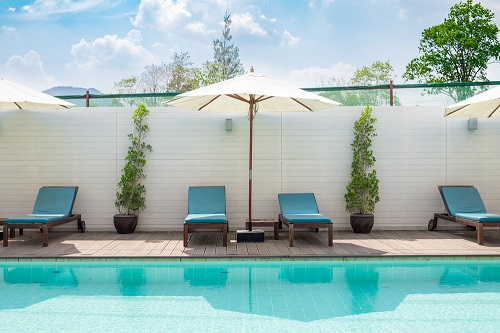 Use a white shiplap wall as a pool barrier and fill your space with resort chic vibes. Complete the look by adding vibrant blue lounge chairs.
17. Removable Mesh Fabric Pool Fence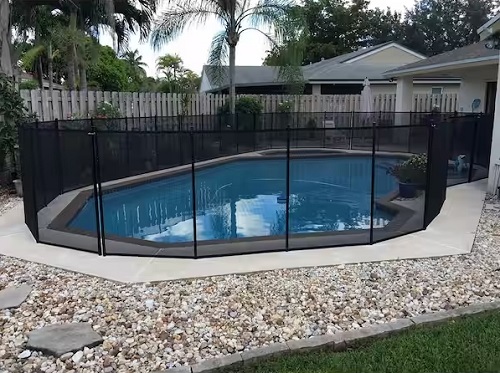 Sturdy and removable, this fencing is a great way to prevent unauthorized access to the pool. It can withstand any weather condition.
18. Modular PVC Above Ground Pool Fence Idea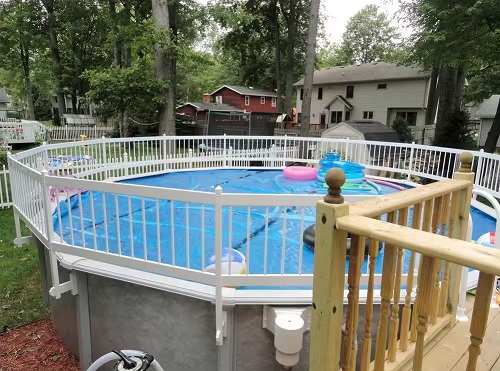 Made from rust-resistant PVC resin, this pool fence setup is easy and quick to install. It is suitable for most above-ground pools.
19. White Chain-Link Backyard Pool Fence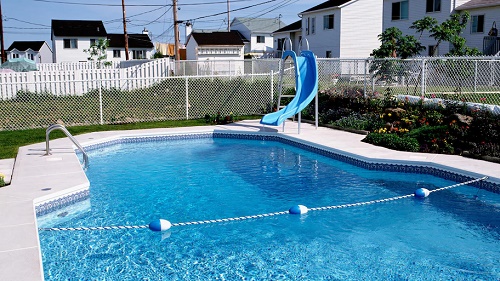 When it comes to ensuring the safety of children and keeping curious animals out, a chain-link pool fence is a reliable option. It's one of the great pool fence ideas.
20. Concrete Half Wall Fence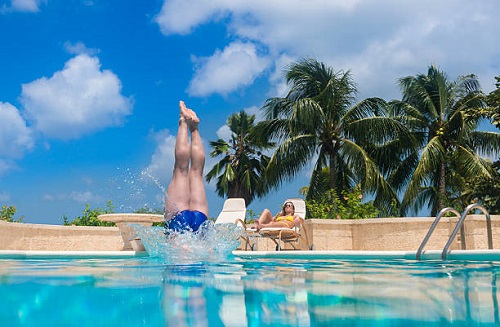 Enhance the safety and style of your poolside with this concrete half-wall fence. Its durability and strength make it withstand the test of time and elements.
21. Checkerboard-Patterned Fence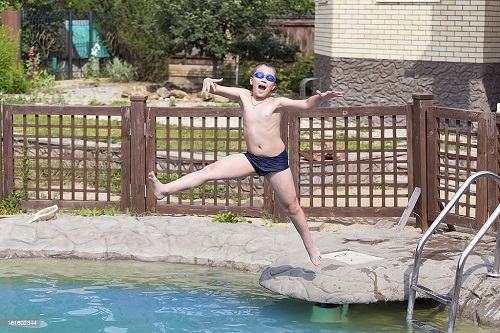 Swap your existing monotonous pool fencing with this checkerboard-patterned one for added pizzazz and character. You can spruce it look with paint and plants.
22. Limestones Pool Fencing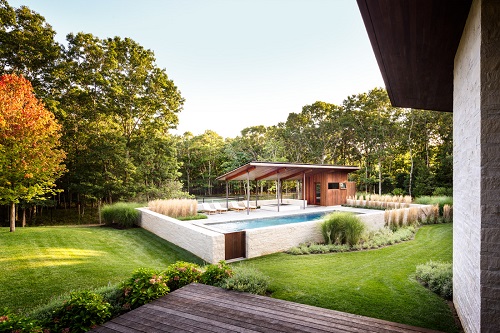 A small limestone wall is another one of the fantastic pool fence ideas. It not only creates a safe pool environment but also significantly enhances the property's value. Its aesthetic appeal and durability make this barrier a worthwhile investment.
23. Metal Privacy Pool Fence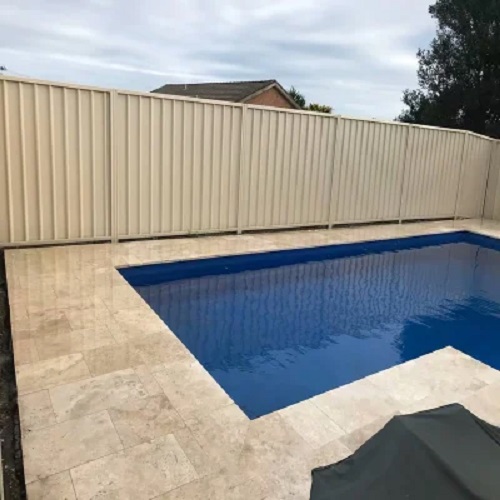 Convert your poolside into a private sanctuary with this metal privacy fence. It's not a fancy pool fencing option but it serves the purpose quite well.
24. Concrete Block Wall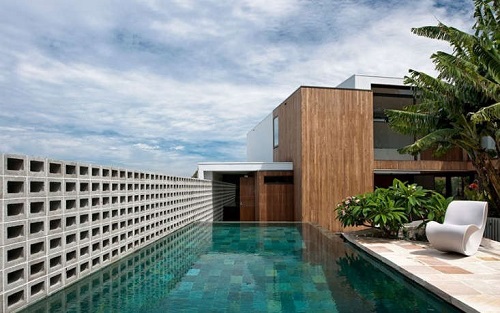 Recreate this cost-effective wall/fence by stacking concrete blocks on top of each other. This concept for pool fence ideas is truly exceptional.
---
Pool Fence Ideas: Important Points to Remember
Here are some key points to consider while choosing appropriate pool fence for yourself:
Safety Regulations: Different countries, states, and cities have their own regulations and codes concerning pool fences. Ensure you're familiar with local laws and guidelines.
Material: Fences are made from a variety of materials, including mesh, glass, vinyl, wood, and metal. Each has its own advantages and disadvantages in terms of cost, durability, maintenance, and appearance. Choose a material that suits your needs and the style of your home.
Visibility: If you want to keep an eye on the pool area from a distance, consider a fence that provides clear visibility, like a mesh or glass fence. However, if privacy is more important, a wooden or vinyl fence could be a better choice.
Security: The fence should have a secure gate with a lock. This is especially important if you have kids or pets.
Durability: The fence should be able to withstand the elements and resist wear and tear. Remember, it's not just a decorative feature but a safety measure. Make sure it can stand up to wind, rain, snow, and sun.
Maintenance: Consider the level of maintenance required for each type of fence. Wood may need periodical painting or staining, metal might rust and need treatment, and glass needs frequent cleaning.
Aesthetics: While safety is paramount, the pool fence must also complement your property's style. Consider the design, color, and finish of your fence carefully.
Cost: Prices vary widely based on materials, design, height, and installation costs. Make sure to consider your budget when choosing a pool fence, but remember that safety is worth investing in.
Climb-Proof: Make sure the fence design is not easily scalable, especially by children. Avoid designs with horizontal bars that could act as a ladder.
---
Pool Fencing Benefits
Below are some vital benefits of pool fencing:
Safety: This is the primary benefit of pool fencing. It prevents children and pets from accidentally falling into the pool when unsupervised.
Privacy: A fence lets you enjoy the pool without worrying about the prying eyes of neighbors or passersby.
Security: Pool fences deter unauthorized access to your pool area, such as potential intruders or wildlife. A lockable gate adds an extra layer of security.
Aesthetics: Besides providing safety and privacy, the pool fencing enhances the aesthetic appeal of the outdoor space.
Peace of Mind:  Knowing your pool is securely fenced provides peace of mind, especially to parents and pet owners.
Ease of Maintenance: Compared to other safety options like pool covers, fences are typically easier to maintain.
Increased Property Value: A pool with a well-maintained fence increases the property's value, as it enhances safety and aesthetics.
Controlled Access: A pool fence gives you complete control over access to your poolside. This is particularly helpful if you have a rental property and want to limit pool access to certain guests or at certain times.
Protection for Wildlife: A pool fence can also prevent wildlife from accidentally wandering into your pool. This not only protects animals but also helps maintain the cleanliness and hygiene of your pool.
---
Pool Fence Ideas: Frequently Asked Questions (FAQs)
1. What is Pool Fencing?
Pool fencing is a safety barrier installed around swimming pools to prevent accidents, especially for kids and pets. It's designed to prohibit unauthorized access, making the poolside safer. Pool fences are made from various materials like metal, wood, vinyl, glass, or mesh. Overall, swimming pool fencing is a blend of safety, privacy, and style.
2. Do I Need a Fence Around My Pool?
Yes, you absolutely need a fence around your pool. A pool fence is essential for ensuring the safety of children, pets, and even unsuspecting wildlife. It serves as a crucial barrier, preventing accidental drownings and providing peace of mind for pool owners. By having a fence around your pool, you create a physical boundary that keeps children at a safe distance and acts as a deterrent for animals that might wander onto your property.
3. How Tall Should a Pool Fence Be?
The height of a pool fence is an important factor in ensuring the safety and security of your pool area. According to most building codes and regulations, a pool fence should be at least 4 feet (1.2 meters) tall in the United States. However, it's essential to check with local regulations, as some areas may have specific requirements regarding pool fence height.
Check out the best DIY fences and gates here