Discover this list of clever Secret Hidden Gun Storage Ideas to keep your firearms secure and hidden in plain sight!
Ever wondered how to keep your firearms safe without compromising the aesthetics of your home? These clever Secret Hidden Gun Storage Ideas are the answer! From stylish furniture to inconspicuous wall art, we've got you covered with the most innovative and elegant solutions.
Check out the best gun rack ideas here
---
Secret Hidden Gun Storage Ideas
1. DIY Floating Shelf Hidden Gun Safe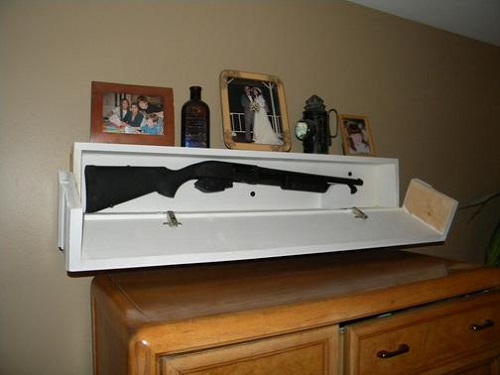 This one-of-a-kind floating hidden gun safe stands out due to its innovative design. Its front and sides fold away, allowing quick and easy access without disturbing shelf items. The entire setup can be completed in under two hours, making it an efficient choice for secure firearm storage.
Supplies
Skil Saw and Table Saw
Wood
Cup Hinges and Screws
Wood Glues
Drilling Tool
2. AR-15 Concealment Wooden Flag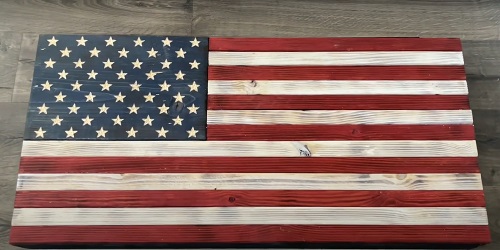 Don't just display your patriotism – live it! This project lets you craft a beautiful wooden flag that doubles as a hidden compartment for the AR-15. It's the best way to keep your firearm secure and accessible while expressing love for the Stars and Stripes.
Supplies
Brad Nailer & Brad Nails
Piano Cabinet Hinge
Spray paint
Plywood
Finished Pine Wood
50-star stencil
Dremel Tool
Sandpaper
Circular saw and Jigsaw
Drill
3. DIY Hidden Gun Storage Shelf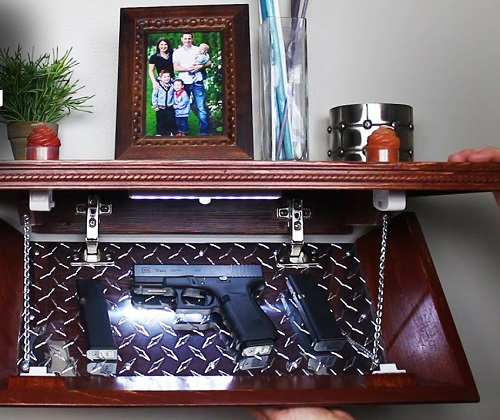 Looking for a unique and stylish way to store your firearms? Why not build this gun concealment shelf that doubles as a statement piece? This covert shelf offers the perfect blend of functionality and aesthetics, ensuring your firearms remain hidden from prying eyes.
Supplies
Common Board
Hardwood Emboss Rope and Crown Molding
Chop Saw
Overlay Cup Hinges
Magnetic Locks
Jack Chain
Diamond Plate Aluminum Tread
4. Secret Hidden Wall Gun Storage Cabinet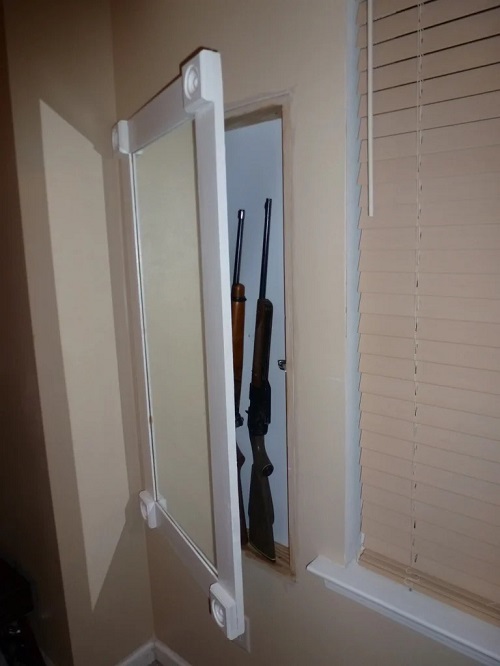 Seeking a secret hidden place for firearm storage? This recessed wall gun cabinet is a great choice that also functions as a full-body mirror. To enhance the security of the cabinet, a hidden keypad was ingeniously placed behind the picture to control a solenoid lock.
Supplies
Keypad and Solenoid
Wood
Multi-Tool
Plastic/Panelling/Plywood
Screws and Cabinet Hinges
Table Saw
5. End Table with Hidden Gun and Secret Compartment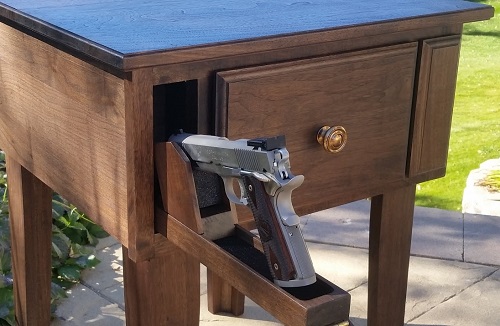 This custom end table discreetly hides firearms and valuables. It's made up of walnut and is RFID activated. It has another secret compartment that is opened by a key and can hold valuables such as money, passports, and jewelry. Watch this video for more info.
6. Concealment Coat Hanger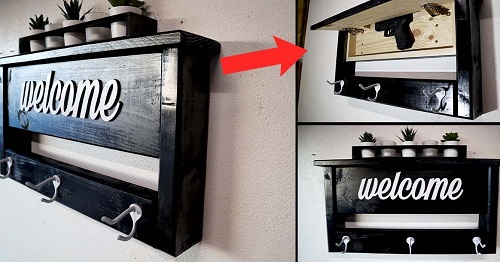 If you're in search of a versatile coat hanger that discreetly stores your firearms, this multifunctional option is perfect for you. Additionally, it also features a dedicated display area for small decorative pots, making it a stylish and practical choice.
Supplies
Wood
Coat Hangers
Hinges and Brackets
Spray Paint
Welcome Sign
Table Saw
Router
7. Dresser with Hidden Gun Storage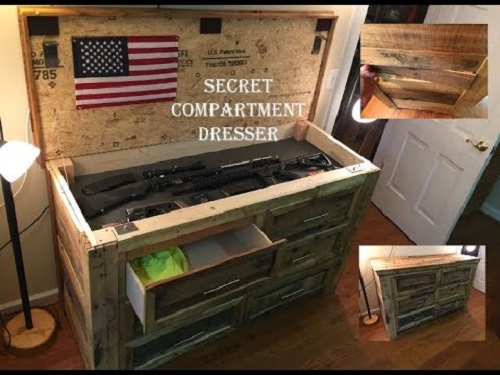 This pallet wood dresser features a secret gun compartment that is unlocked by pressing one of the slats on the side of the dresser. The spring-loaded dowels are installed to ensure a smooth operation, eliminating the need to lift the top while unlocking.
Supplies
Pallet Wood
Power Tools
Drill
Rebar
Spring Loaded Dowel
8. Picture Frame Hidden Gun Safe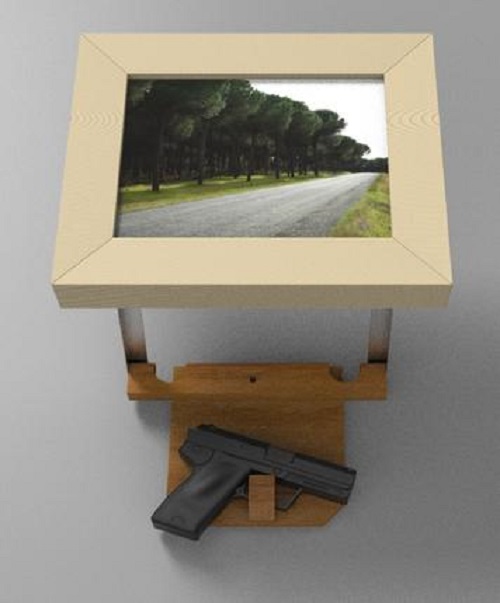 A wooden picture frame with a gun safe, discreetly concealed in plain sight. This concise video provides step-by-step instructions for creating this hidden gun storage structure. You only need a handful of power tools and basic supplies for this project.
Supplies
Wood Picture Frame
Aluminum Angle Iron
Pine
Drill
Screws, Nuts, and Bolts
Disc Grinder
9. DIY Coffee Table with Hidden Gun Storage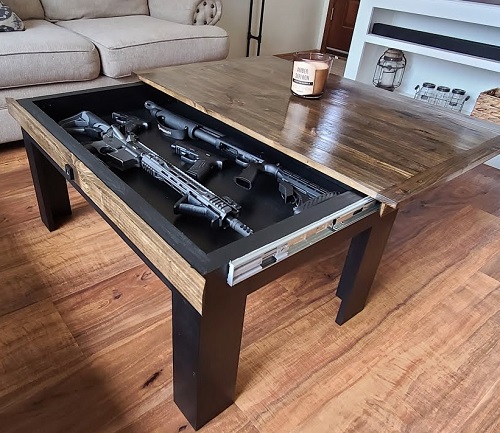 Discover how to build a gun concealment coffee table equipped with an electronic fingerprint lock in this video tutorial. It lets you hide firearms in plain sight while ensuring quick and easy access within seconds. This versatile coffee table serves as a discreet gun storage solution and also keeps your space organized by storing remotes, magazines, or board games.
Supplies
Pine Boards
Plywood
Wood Glue
Electronic fingerprint lock
Drawer Slide
Table Saw
10. Nightstand Hidden Gun Storage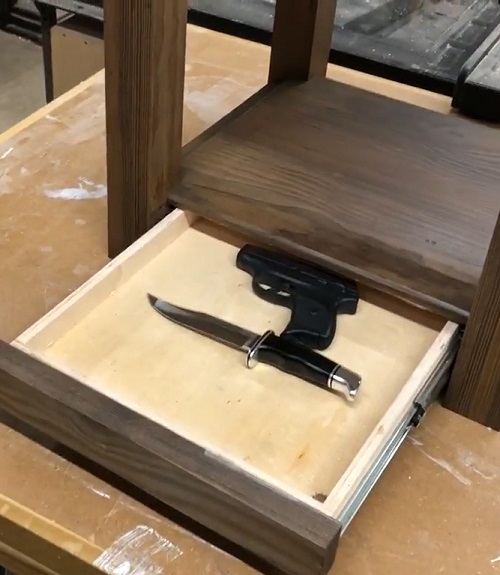 Here's another of the fantastic secret hidden gun storage ideas in which a rustic nightstand conceals firearms in plain sight. Featuring a hidden drawer, it ensures your precious items remain secure and undetected. Get the instructions here.
Supplies
Solid Douglas Fir Wood
Drawer Slides
Handles
Drill and Screws
Wood Glue
11. Mirror Cabinet with Hidden Gun Storage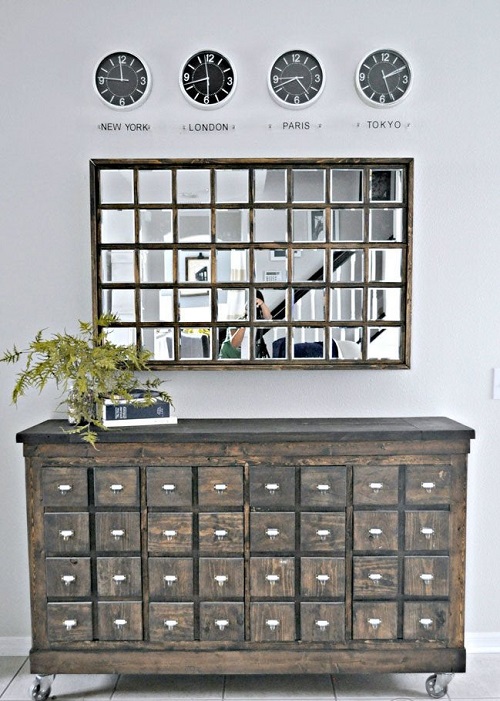 When it comes to safely storing firearms in the home, this DIY gun cabinet disguised as a mirror is the best bet. It's undoubtedly one of the fantastic secret hidden gun storage ideas.
Supplies
Wood and Plywood
Wood Glue and Wood Filler
Pegboard and Hooks
Mirror
Piano Hinges
Key Lock
Carriage Bolts
Threaded Rod
Miter Saw and Table Saw
Drill and Kreg Jig
12. Retractable Hidden Gun Storage System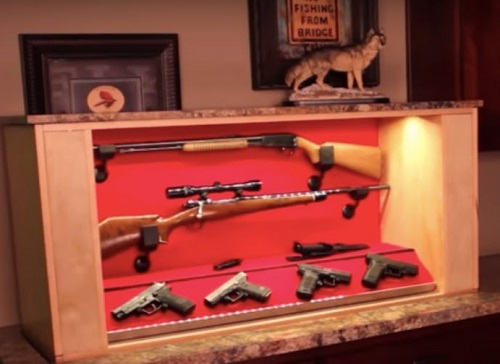 Introducing the retractable hidden gun storage system: the ultimate blend of elegance, discretion, and convenience for the responsible gun owner. Experience seamless integration of your firearms into the living space without compromising on aesthetics. This storage solution fully extends and retracts in 15 seconds.
13. Floating Secrete Pistol Gun Shelf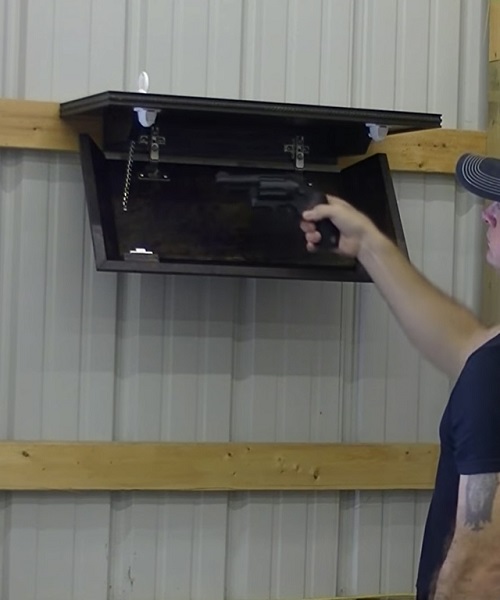 Craft a unique, customized space for your pistol gun with this floating shelf DIY. Blending seamlessly into your interior design, this covert storage solution is both a functional and fashionable addition to any room. Take inspiration from this video tutorial and build one for yourself.
Supplies
Common Board
Rope Trim
Crown Molding
Power Tools
14. Gun Concealment Clock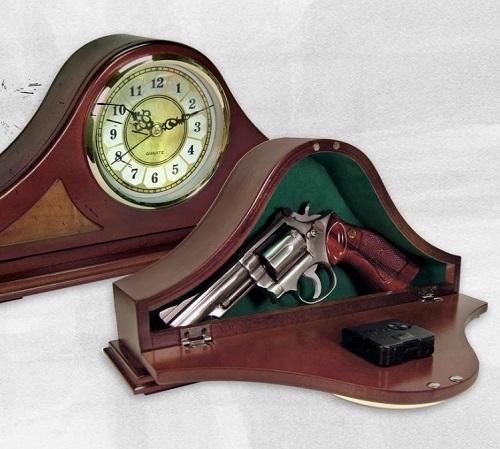 At first glance, it looks like a beautifully designed working clock, ideal for adorning a mantle or fireplace. However, the magnetic latch and hinged front panel conceal a hidden chamber within. Measuring 13″ in length, 2 1/2″ in depth, and 6 1/4″, this secret storage space is perfectly sized to accommodate a medium-sized handgun.
15. Tissue Box Turned Gun Holder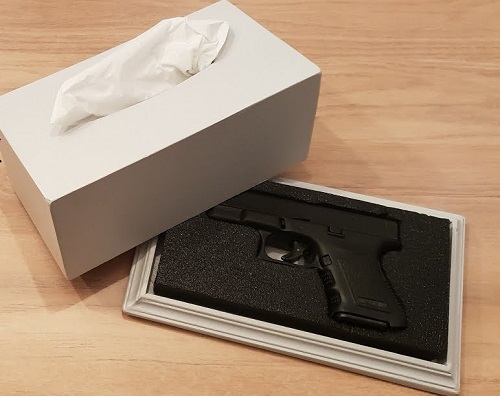 Show off your creativity, imagination, and woodworking skills by crafting a tissue box with a hidden gun compartment. It's easy to make with a few supplies and tools. Take inspiration from this amazing audio-visual tutorial.
Supplies
Pieces of Wood
Wood Adhesive
Wood Cutting Tool
Gun Storage Foam
16. Picture Frame with Hidden Gun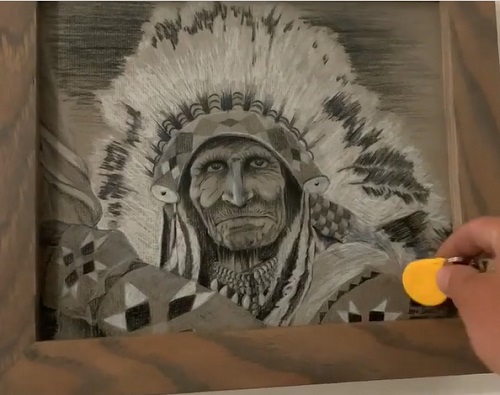 Crafted from oak or alder, this versatile frame accommodates any 11″ x 8.5″ photograph and lets you discreetly hide a firearm. Give it a grey or classic white finish to complement your home's interior design.
17. Bar Hutch Cabinet Turned Hidden Gun Storage Unit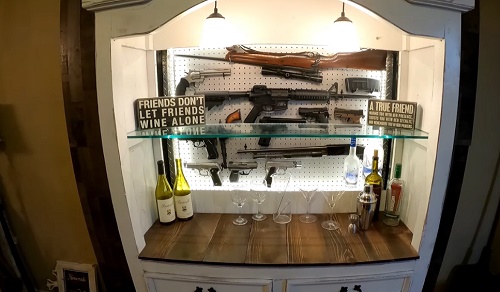 A bar hutch cabinet can do more than just store the liquor and stemware. With a clever modification, it can become a stylish and practical storage solution for your firearms. Learn how to turn an old bar cabinet into a secret firearm concealment unit t in this video tutorial.
18. DIY Book Gun Safe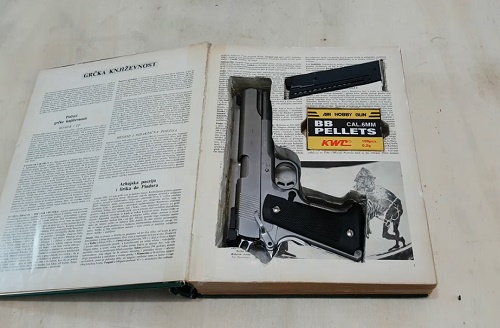 With this project, you can store your firearm or other small valuables in a cleverly disguised book on your shelf. It's a fun, practical, and cost-effective way to keep your precious items secure while maintaining mystery in your home library.
---
Secret Hidden Gun Storage Ideas: Important Points to Remember
While trying the above Secret Hidden Gun Storage Ideas, keep in mind the below tips and safety precautions:
Unload and secure firearms – Before working on any storage solution, ensure that all firearms are unloaded, and the safety is engaged.
Choose a suitable location – Select a location for the storage setup that is not easily accessible to children or unauthorized individuals.
Avoid high-humidity areas – Firearms require a dry and well-ventilated storage environment to prevent corrosion and damage. Avoid building your storage units in areas with high humidity, and ensure proper ventilation.
Durability – Use sturdy and durable materials for constructing your hidden gun storage unit to ensure stability and longevity.
Security – Incorporate a secure locking mechanism to prevent unauthorized access to your firearms. Options include biometric locks, combination locks, and key locks.
Test the storage solution – Before placing your firearms in the hidden storage, test the structure for stability and ease of access. Make any necessary adjustments to ensure the safety and functionality of the storage solution.
Educate family members – Inform and educate your family members about the hidden gun storage.
Regular maintenance – Periodically inspect and maintain your gun storage solution to keep it in optimal condition. Check for signs of wear or damage, and address any issues promptly.
Concealment – The primary purpose of hidden gun storage is to keep your firearms out of sight. Choose a design that blends seamlessly with your home's decor and doesn't draw attention to itself.
Accessibility – Ensure that the storage solution is easily accessible in case of an emergency.
Customization – Consider designing a storage solution that can be easily customized or adapted to accommodate changing needs or preferences.
Legal compliance – Familiarize yourself with local laws and regulations regarding firearm storage. Make sure that your hidden gun storage units comply with these requirements.
Here

are the clever Nerf gun storage ideas