Give your washroom a true farmhouse-style look with these fantastic Small Rustic Bathroom Ideas on a Budget!
If you want to transform your washroom into a rustic retreat with a country flair, these Small rustic Bathroom Ideas on a Budget are best for you.
Find out some inexpensive bathroom countertop ideas here
---
Small Rustic Bathroom Ideas on a Budget
1. Introduce Antique Art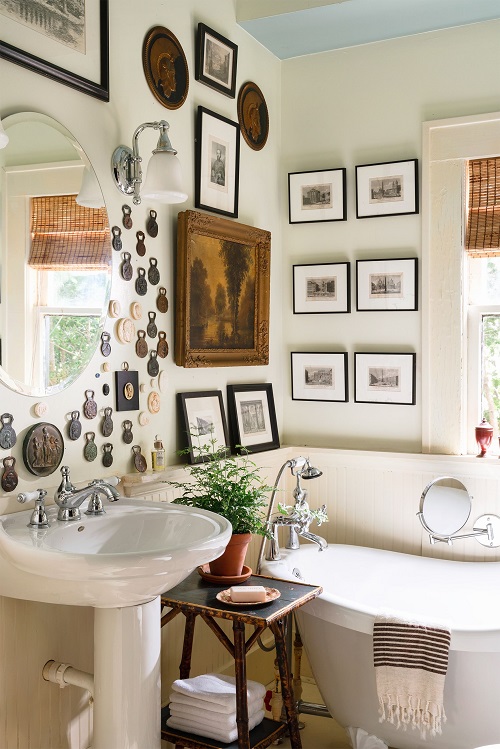 Hanging different antique artwork on the bathroom wall is the easiest way to achieve a rustic look instantly.
2. Floating Wooden Ladder Shelf DIY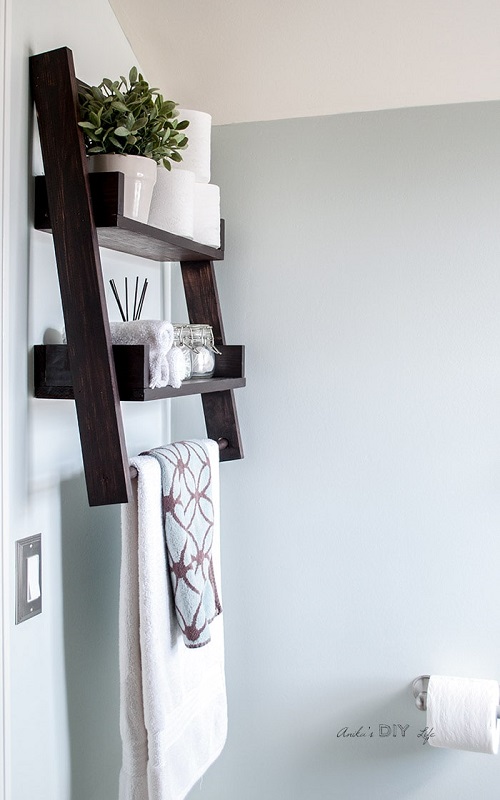 Follow this tutorial to build a floating ladder shelf that maximizes storage space in a small bathroom and adds a farmhouse charm.
3. DIY Bathtub Surround With Stones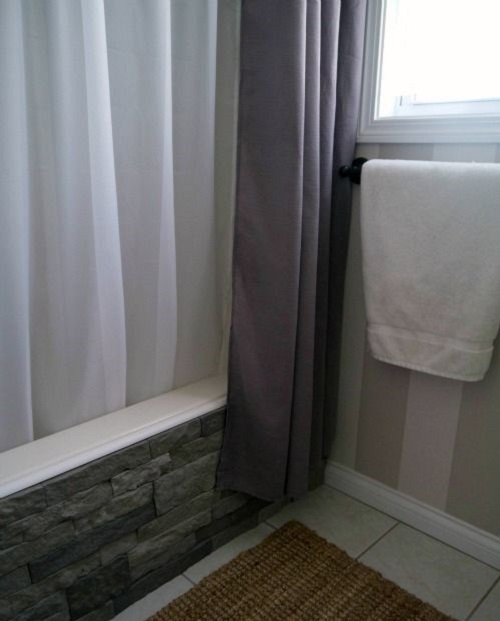 Update your boring builder-grade bathtub surround with super light faux stone. This goes quite well with the rustic-themed washroom.
4. Bathroom Mirror Storage Case DIY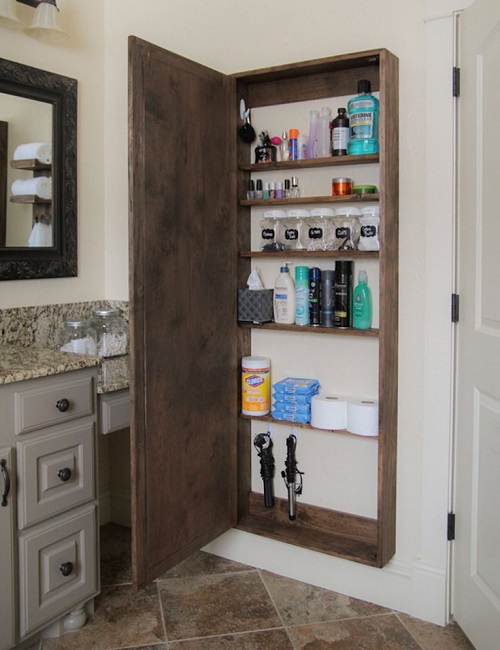 Add some functionality and rural charm to your less spacious bathroom with this DIY mirror storage case.
5. Rustic Wine Rack Towel Holder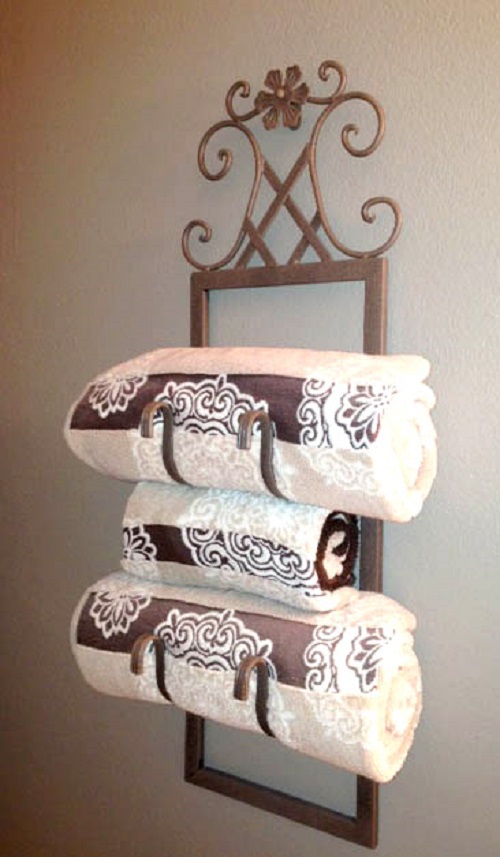 If you have an old wine rack, use it as a towel holder in your compact washroom. It's one of the best small rustic bathroom ideas on a budget.
6. Horseshoe Rustic Bathroom Shelf Idea
Looking for the perfect rustic bathroom shelf solution for your toilet? Check out this amazing project.
7. Mason Jar Light DIY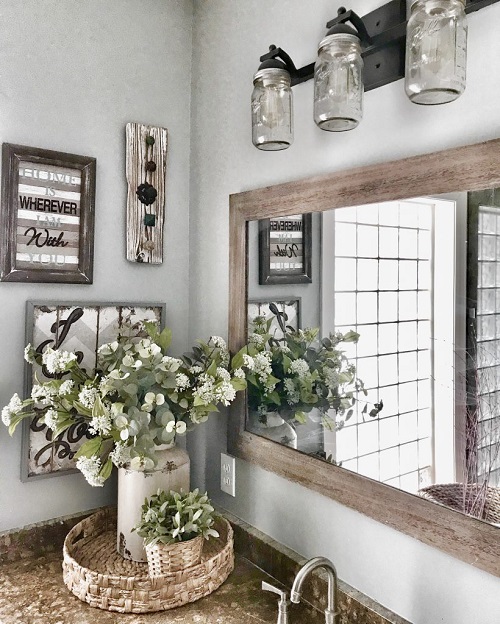 Replace your existing bathroom light fixture with this mason jar light to get a chic farmhouse look. The details are here.
8. Rustic Bathroom Vanity Idea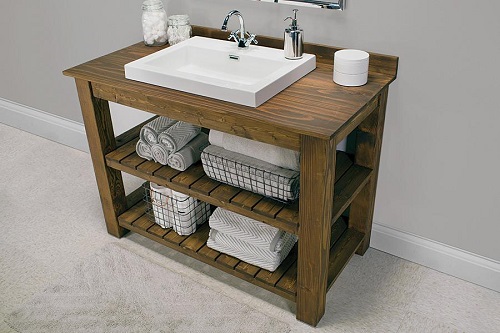 By incorporating stained-pine construction with a modern-style sink, this vanity combines rustic and contemporary for a sophisticated look.
9. DIY Rustic Bathroom Shelving Idea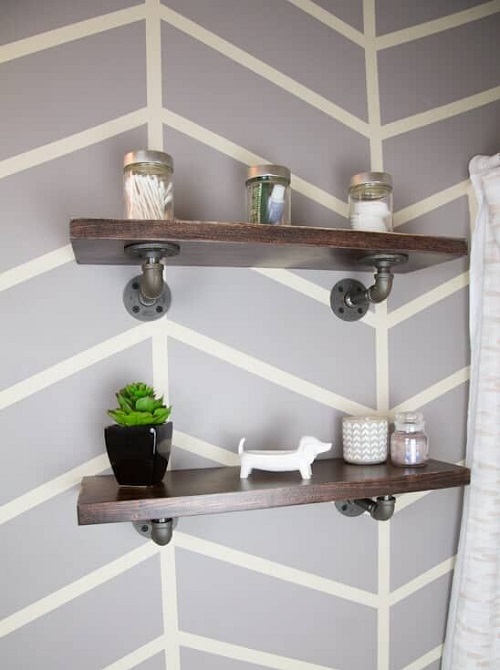 This rustic-looking bathroom shelving gives a mishmash of industrial and farmhouse vibes. Click here to learn more.
10. Reclaimed Pallet Board Towel Bar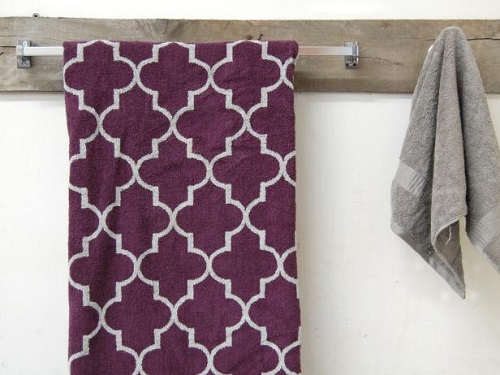 Made from reclaimed pallet board, this towel bar is what you need to add country style to any washroom space.
11. Barnwood Bathroom Hooks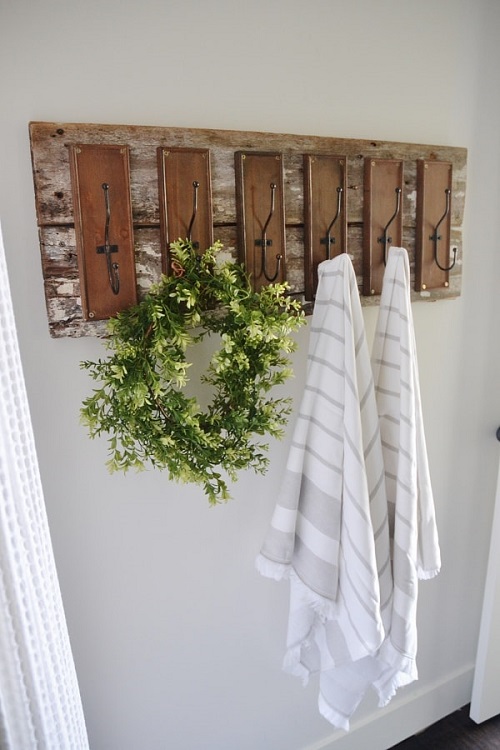 This vintage-looking bathroom towel rack is made from barn wood and hooks. Hop to this article for more info.
12. Weathered Wood Wall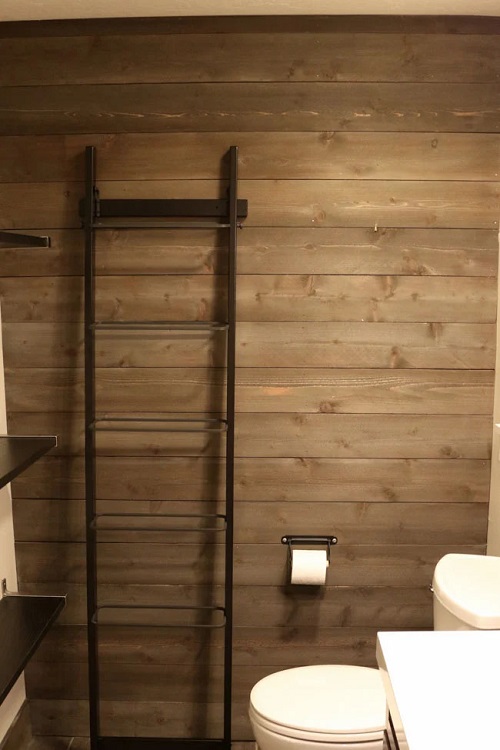 Creating a weathered rustic wood wall is pretty easy with this step-by-step tutorial.
13. Metal Makeup Organizer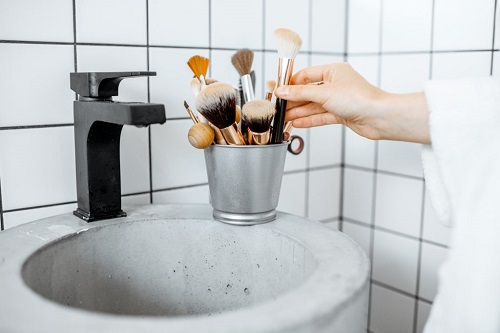 A small metal makeup organizer not only adds functionality but also brings a rustic touch to the washroom.
14. DIY Wine Cork Bath Mat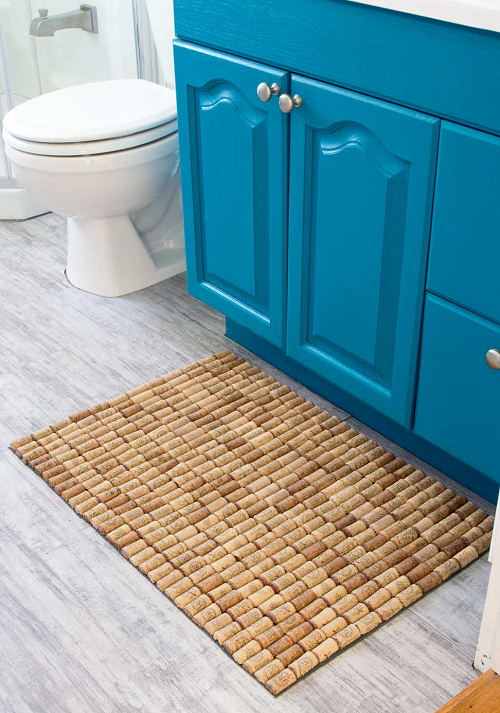 Earthy and vintage-looking, this peculiar bathroom mat made from wine corks is visually appealing.
15. Add a Vintage Ladder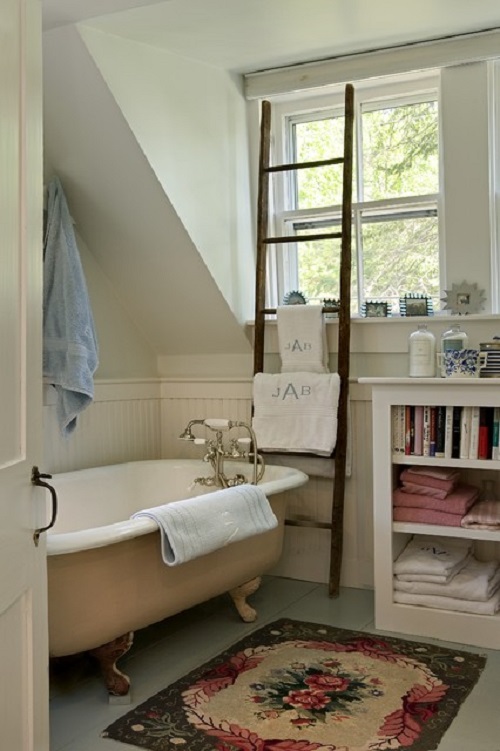 If you want to fill your washroom space with rustic charm instantly, use an old ladder. Besides improving the overall look, it maximizes the storage space too.
16. Tiered Galvanized Stand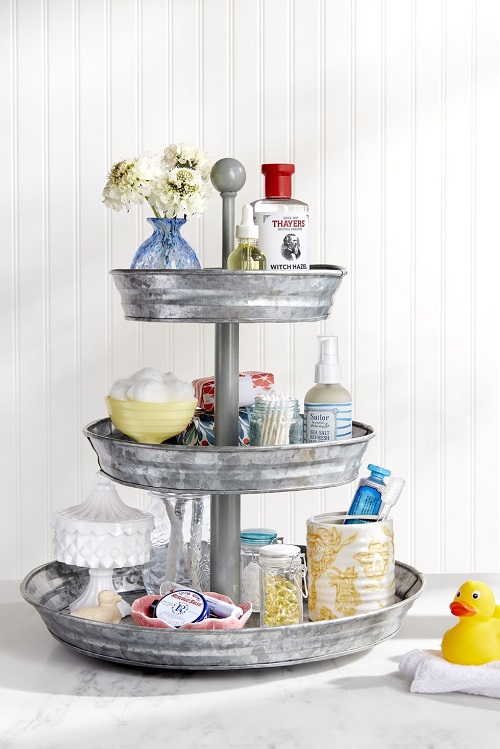 Enhance the visual interest of your bathroom with a tiered galvanized stand that gives a country-like feel.
17. Use Old Clothing Hangers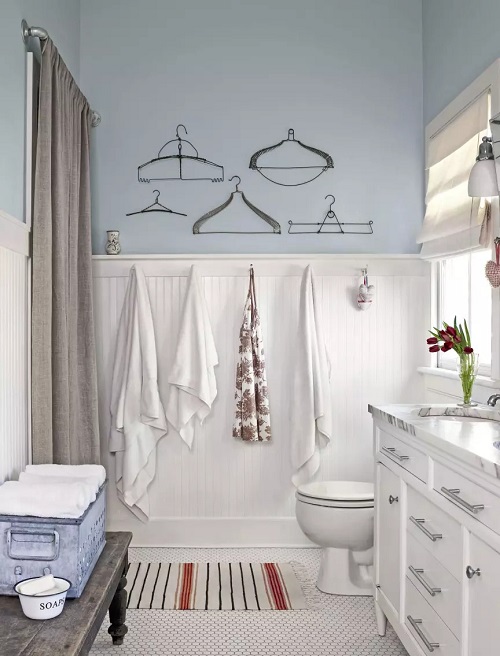 Spread vintage vibes in your dull bathroom with old clothing hangers. It's one of the most amazing small rustic bathroom ideas on a budget.
18. Try Vintage Mirror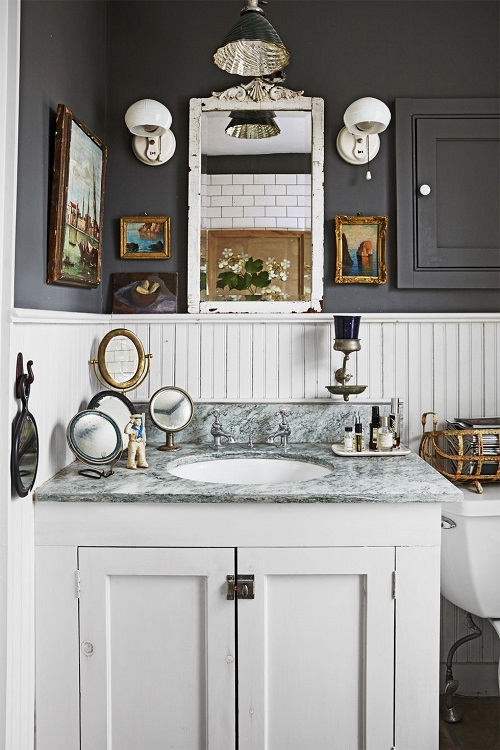 All you need is a vintage mirror to create visual interest in your otherwise monotonous washroom.
19. DIY Grain Sack Shower Curtain
If you want to keep your bathroom decor to a rustic farmhouse side, check out this grain shack shower curtain project.
20. Quirky Rustic Branch Toilet Paper Holder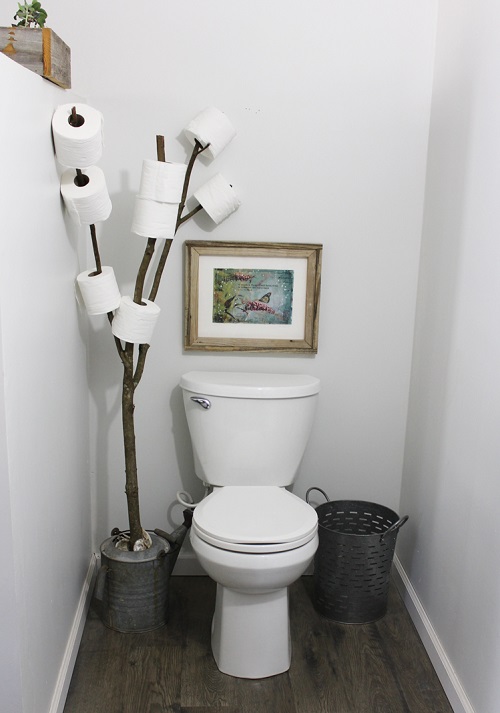 Learn how to create a quirky branch toilet paper holder in this detailed tutorial. It's super affordable and easy to make.
21. Copper Tub
Replace your typical bathtub with this eye-grabbing, gleaming copper tub for a timeless rustic charm.
22. Use Old Faucets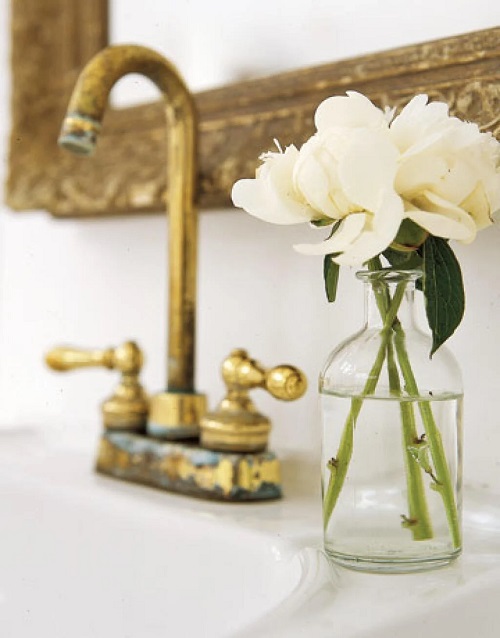 Install old, oxidized faucets to personalize your small bathroom with a vintage touch.
23. $200 Rustic Plywood Sink & Countertop for Bathroom
Watch this YouTube video to build a rustic plywood sink and countertop, perfect for a less-spacious washroom.
24. DIY Side Vanity Storage Unit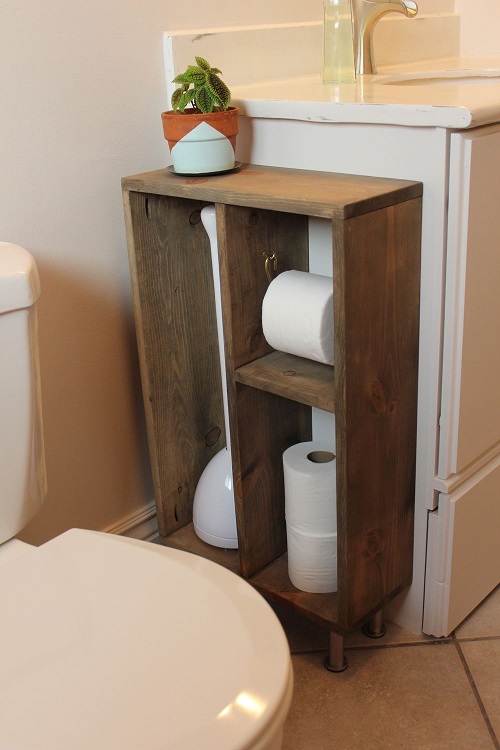 Build this custom storage shelving to get rustic aesthetics. It attaches to the side of the bathroom vanity.
25. DIY Chic Bath Caddy
Convert an old wooden box into a rustic caddy to keep your body and bath essentials in one place. Get the details here.
Find out the best DIY bathroom wall decor ideas here