Find out some amazing DIY Bathroom Countertop Ideas below to give your washroom chic, budget-friendly updates!
Whether you want to make worktops on your own or update the old ones without busting the budget, check out these Bathroom Countertop Ideas DIY. These worktops don't need a lot of space.
Here are some rental bathroom makeover ideas
---
Bathroom Countertop Ideas DIY
1. DIY Wooden Countertop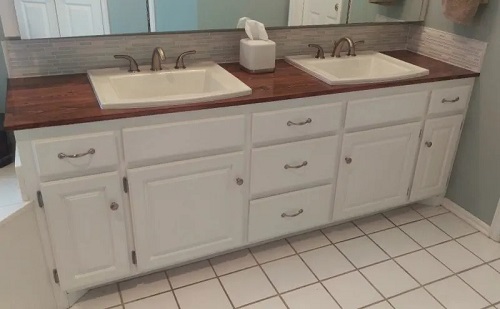 A gorgeous DIY wooden countertop you can totally tackle. See the step-by-step process here.
2. DIY Bathroom Countertop With Contact Paper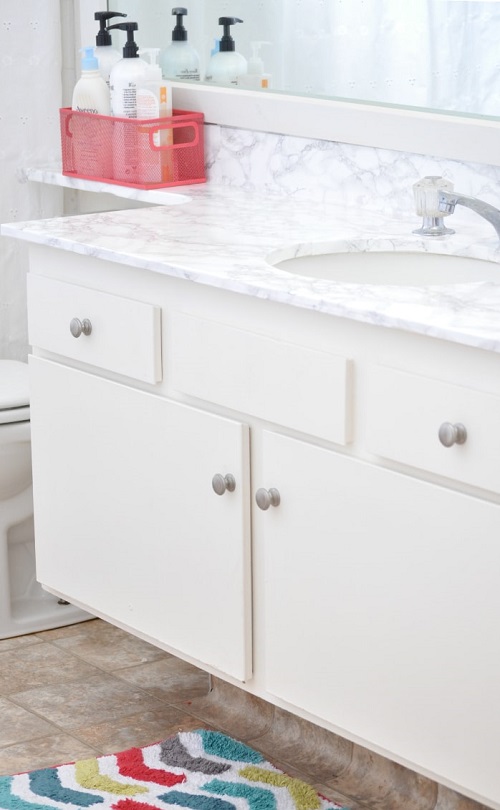 Update the washroom worktop with faux marble contact paper and get a high-end look at a fraction of the cost. It's a rental-friendly project.
3. Easy & Inexpensive Stunning Bathroom Countertop
This cool and unique bathroom countertop is made from clear cast resin, alumidust, alumilite dye, and an MDF board.
4. DIY Faux Marble Countertop For $20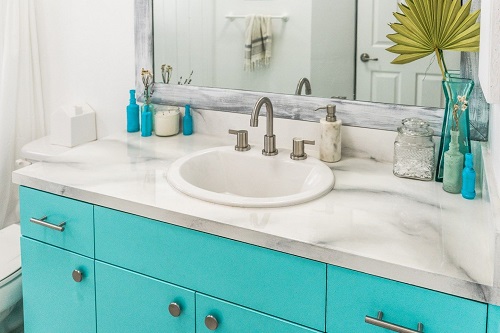 Instead of replacing the outdated countertop, give it a chic marble-like look using this idea. The best part is it costs only $20.
5. DIY Poured Concrete Countertop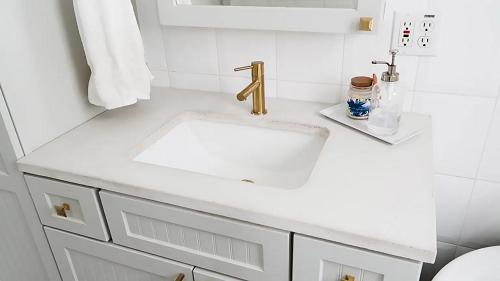 Here's the step-by-step article to create a white poured concrete worktop. It's one of the best DIY bathroom countertop ideas on this list.
6. Small Vanity Wooden Countertop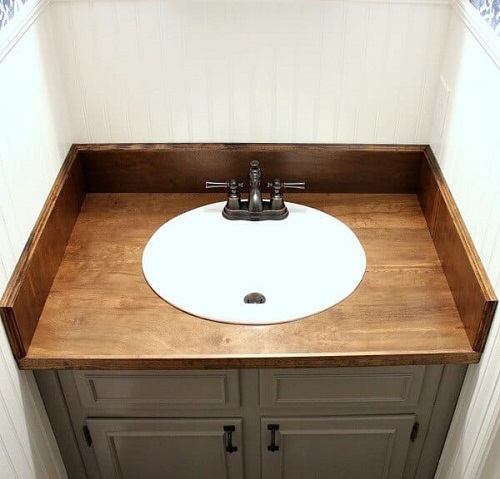 You only need $50 and woodworking skills to replace your ugly half-bath countertop with a wooden one. Read more here.
7. DIY Herringbone Pattern Wood Countertops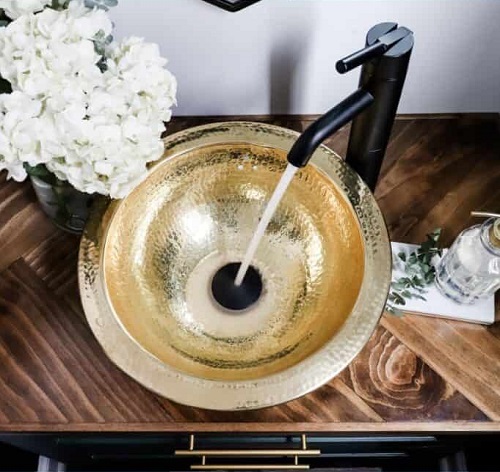 This gorgeous herringbone patterned wooden worktop adds character and charm to the bathroom space. Make one using this tutorial.
8. DIY Floating Wood Vanity Top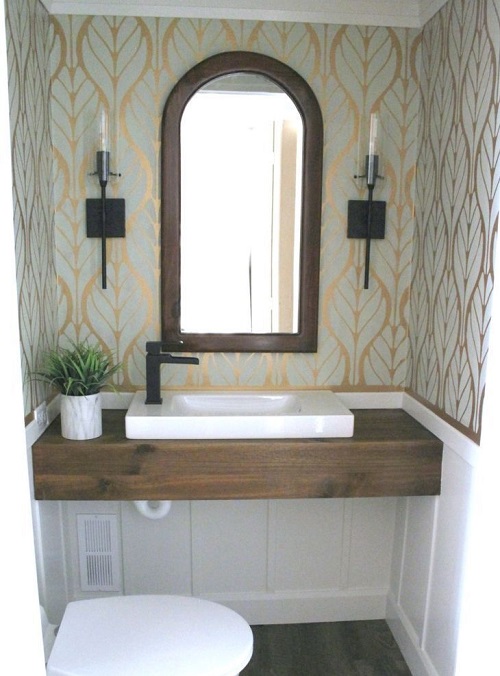 Give your washroom decor a dramatic feel by building this floating vanity top. It's equipped with a narrow Hagaviken sink from IKEA.
9. Feather Finish Concrete Countertop Idea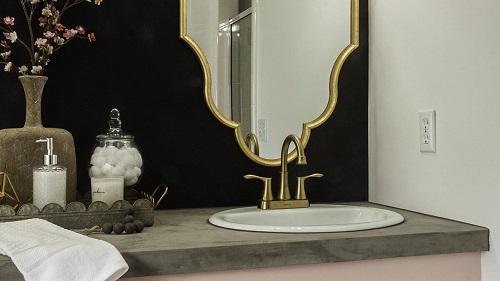 This feather finish concrete countertop has a unique and beautiful patina that adds depth to the room. Get the instructions here.
Have a look at some creative cement craft ideas for the garden here
10. DIY Painted Bathroom Countertop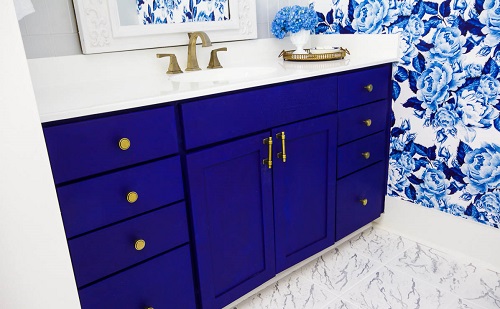 Are you looking for an inexpensive way to update your vanity worktop? This article is the right option for you.
11. Pre-fab Quartz Vanity Countertop
Quartz is a popular countertop surface – resistant to scratches, staining, and cracking. Install one in your washroom using this detailed video tutorial.
12. Rustic Bathroom Countertop from Reclaimed Lumber
Follow this video to build a rustic counter for your bathroom from reclaimed lumber and woodworking skills.
13. DIY Butcher Block Countertop
This butcher block countertop is an excellent way to boost the visual interest of any drab washroom vanity.
14. $200 Rustic Plywood Sink & Countertop for Bathroom
Jazz up the look and feel of your boring bathroom with this statement-making sink and worktop. The tutorial is available in Part-I and Part II.
15. DIY Granite Bathroom Vanity Countertop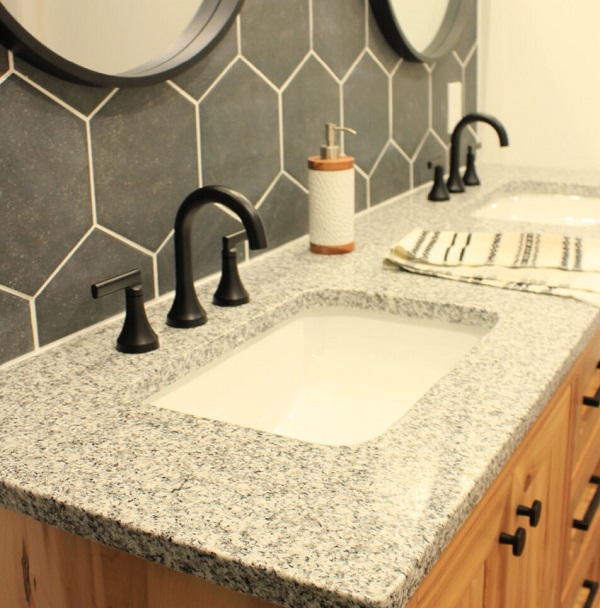 Those who want to install a beautiful granite countertop on the washroom vanity must check out this article.
16. Stunning Epoxy Bathroom Countertop Ideas DIY
Take inspiration from this YouTube video in which the DIYer turns regular wood into five stunning epoxy vanity worktops.
17. Vintage Bar Cart Bathroom Countertop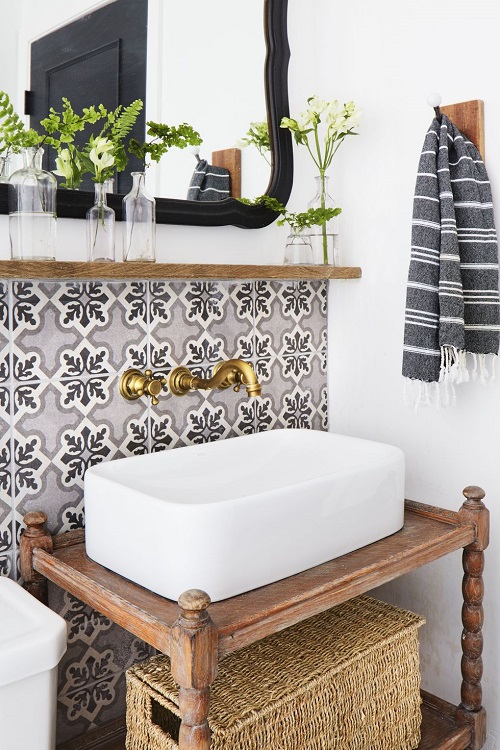 To recreate this peculiar vanity countertop, whitewash an old bar cart for an aged look and modify its top to install a rectangular ceramic sink.
18. Distressed Bathroom Vanity and Countertop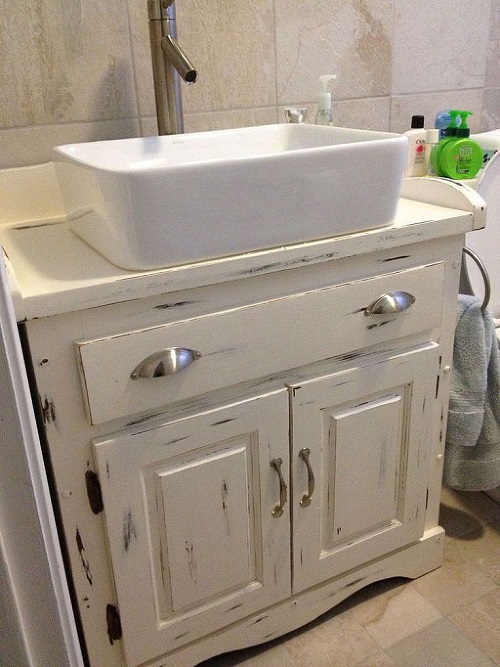 Do you love all things vintage? If yes, build this distressed bathroom vanity with a countertop. Read the details here.
19. Modern Bathroom Countertop Cabinet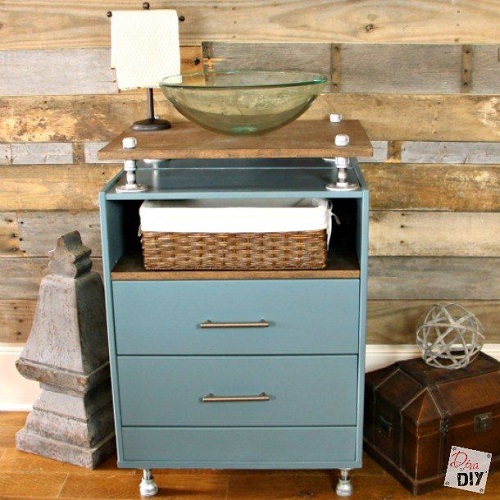 Make a compact vanity with a plyboard worktop using an old IKEA dresser and this tutorial. It's one of the most amazing DIY bathroom countertop ideas.
Find out some easy and bizarre bathroom cleaning tips here