Instead of using chemical-laden, commercial face scrubs, opt for this homemade natural turmeric face scrub recipe to get beautiful and moisturized exfoliated skin!
Not everyone has the luxury to afford expensive spa facial treatments or fancy beauty products. But it doesn't mean you can't pamper your facial skin anymore. To take care of your skin, use turmeric that'll give acne-free soft, and supple skin. Turmeric is a warm, bitter flavored root of the perennial plant "Curcuma longa." It's commonly used as a culinary spice, dietary supplement, medicinal, and beautifying herb throughout the world. Furthermore, this spice is admired for its anti-inflammatory, antimicrobial, and antioxidant properties, thanks to its active component named 'Curcumin.' To get the most out of turmeric's healing properties, try the below turmeric face scrub recipe.
Turmeric Face Scrub Recipe
Toss the store-bought face scrub products and choose the below natural turmeric face scrub recipes to get beautiful and healthier skin.
1. DIY Turmeric Sugar Face Scrub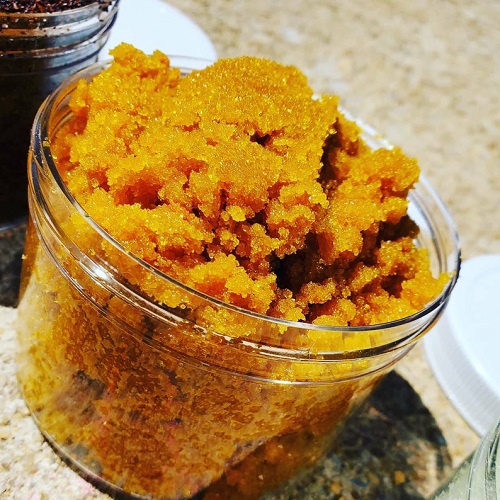 Infused with the goodness of turmeric and other ingredients, this face scrub is all you need to reduce the appearance of acne and hyperpigmentation.
Supplies
2 Tbsps of Turmeric Powder
1/2 Cup of Coconut Sugar
3-4 Drops of Vitamin E Oil
1/4 Cup of Almond Oil
10-12 Drops of Lemon Essential Oil
A Mixing Bowl
Spoon
2. Turmeric and Almond Flour Face Scrub

Loaded with the therapeutic properties of essential oils, turmeric, and vitamin E oil, this face scrub recipe brightens dull skin.
Supplies
1/2 Cup of Almond Flour
1 Tbsp of Turmeric Powder
2 Tsp of Vitamin E Oil
20-25 Drops of Lavender Oil
20-25 Drops of Tea Tree Oil
1 Tbsp of Glycerin
Small Spatula or Spoon
A Bowl
3. Turmeric Lemon Face Scrub Recipe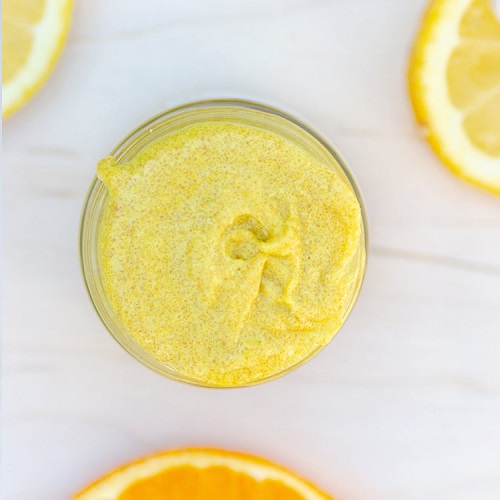 Add this amazing face scrub recipe to your skincare regime to enrich your facial skin with the therapeutic benefits of lemon and turmeric.
Supplies
1 Cup of Coconut Sugar
2 Tbsp of Turmeric Powder
1/4 Cup of Almond Oil or Castor Oil
2 Tsp of Lemon Juice
8-10 Drops of Vitamin E Oil
Mixing Bowl
4. Three Ingredient Turmeric Face Scrub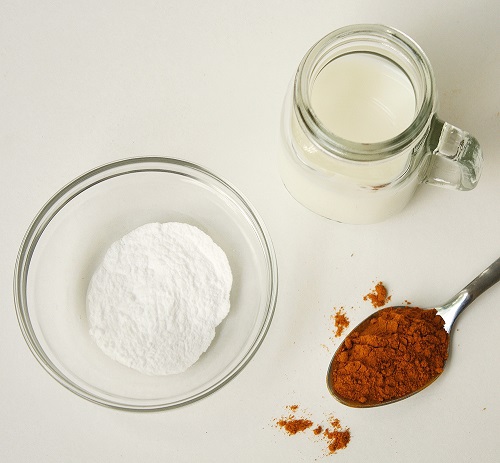 Don't have the above ingredients handy? No worries, use this three-ingredient turmeric face scrub recipe instead.
Supplies
1/2 Tsp of Ground Turmeric
3 Tsp of Almond Milk
3 Tsp of Baking Soda
A Mixing Bowl
Spoon
Directions
Add all the ingredients of the recipe you like into a small bowl and stir them well using a spoon or small spatula. Make sure the mixtures do not become runny.
Once mixed properly, transfer the prepared paste into airtight containers in a cool and dark place like the refrigerator.
Voila! Your turmeric face scrub is ready.
These homemade face scrubs last up to a week or so.
How to Apply
First, open your facial skin pores by putting a warm washcloth on your face for 5-8 minutes or with the help of a steamer. Next, apply the desired turmeric scrub on your damp face and rub in circular motions using fingertips, starting with your chin working upwards. Let it sit for 15-20 minutes, then wash your face with tepid water and pat dry with a soft towel followed by a skin moisturizer. Redo this beauty treatment 2-3 times a week to rejuvenate your facial skin.
Notes
People with hypersensitive skin and allergic to turmeric, must stay far away from this bright yellow-orange spice.
Spread a little amount on an inconspicuous part of your body for a whole day to find out whether you're allergic to it or not.
Turmeric is notorious for staining skin, so if your face turns yellow, don't panic because the effect is temporary and completely normal.
Benefits of Turmeric for Skin

Below are some fantastic benefits of turmeric for skin that you can reap using the above face scrub recipes.
Combats Acne- According to this study, turmeric is a boon for people having very mild acne. However, for severe ones, consult with a dermatologist.
Manages Hyperpigmentation- Thanks to turmeric's antioxidant qualities, it's an effective product to manage hyperpigmentation up to some extent.
Reduce the Appearance of Fine lines and Wrinkles- To fade the look of fine lines and wrinkles, all you have to do is use turmeric topically either as a scrub or face mask.
Possesses Antioxidants- Packed with powerful antioxidants like polyphenol, flavonoid, and ascorbic acid contents, turmeric is an ideal product to control the early aging caused by free radicals damage.
Rich in Anti-inflammatory Properties- As turmeric is a rich source of anti-inflammatory properties, it reduces skin inflammation and helps in wound healing.
Final Thoughts
Exfoliating facial skin with these turmeric face scrub recipes is the best bet to get glowy skin and a bright, youthful appearance. If you're already using turmeric-infused face scrubs, let us know your experiences in the comment section below.