Here are 25 unusual essential oil hacks that go way beyond the obvious, and that would make life a lot easier.
Unusual Essential Oil Hacks
Essential oil is the essence of the different parts of a plant, containing the natural flavor and smell of its source. To save time and make your life easier a bit, we have compiled a couple of unusual life-changing hacks. However, make sure to read the note at the end before trying out these remedies.
1. Grease Stain Remover
Eliminate the stubborn grease stains using this essential oil and baking soda hack. Pour a sufficient amount of sodium bicarbonate and 3-4 drops of lemon essential oil on the grease stain, leave it for an hour or two. Next, wash as usual, and you're done, no more grease stains.
2. Attract Butterflies
Everyone loves the butterflies! If you want to invite them to your space, simply pour wild orange or lavender essential oil onto a couple of cotton balls and place them strategically throughout your property. Don't use this hack if you have pets and little kids or direct them to keep away from the cotton balls.
3. Get Rid of Silverfish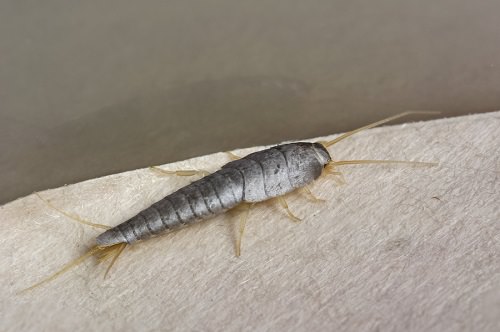 Silverfish do not pose any health risks but can damage your clothing, books, upholstery, files, and other sugary household items. Eliminate them from your house using these potent essential oils remedies that'll get the job done for sure.
4. Hickey Healer
Got a love bite? Cure it fast with the versatile and miraculous essential oils such as lavender, turmeric, peppermint, rosemary, or arnica essential oil. To make a potent hickey healing solution, follow this article for a detailed tutorial.
5. A Rodent Repellent
Rodents are infamous for chewing wires and other parts of vehicles. To keep them at bay, try out this essential oil hack. Empty enough amount of peppermint essential oil into a fine mist spray bottle. Spritz it around your vehicle and repeat this hack every day to ward off rodents.
6. Chop Onions Tear Free
Enjoy tear-free onions chopping sessions using the all-natural essential oil. Pour 3-5 drops of lemon essential oil into the diffuser and place it in the kitchen to see the magic. This is one of the totally unusual essential oil hacks that go way beyond the obvious.
7. For Sore Ears
Experiencing sore and inflamed earlobes, no worries! Give a shot to this essential oil hack to get complete relief. Mix 2-3 drops of tea tree essential oil and 2-3 tsp of avocado oil in a small bowl. Apply this solution to your problematic earlobes using a cotton ball. Redo the hack if required.
8. Natural Fabric Softener
Don't waste your hard-earned money on chemical-filled commercial fabric softeners, instead make one at home using the essential oil and some basic supplies. Check out this DIY to learn how to soften your clothes naturally and inexpensively.
9. Slug Deterrent
Looking for a natural way to ward off the notorious slugs from your garden? Look no further, as essential oils are the most effective products because of their potent aroma. Pour enough amount of peppermint essential oil into a fine mist spray bottle and spritz it around the plants while making a ring. Redo this hack when needed.
10. Get Rid of Biting Flies
Biting flies are not only a serious nuisance, but they also feed on human beings and animals for blood while transmitting diseases in this process. Go through this article to keep the biting flies at bay using different essential oils.
11. Increases Productivity at Work
According to this reputed source, rosemary essential oil strengthens memory and concentration, thereby increases productivity at the workplace. Pour 2-3 drops of rosemary essential oil into your diffuser and run it to see its magic.
12. Combat Aging
Thanks to the antioxidant activity of clary sage essential oil, you can easily fight against premature skin aging. Pour 5-7 drops of clary sage essential oil and 3 tsp of jojoba oil into a dropper bottle. Saturate a cotton ball with this solution and apply it to your face regularly, up to two weeks to see the result.
13. Natural Body Wash
If you want a chemical-free natural body wash to give your skin a fresh and clean feel, try this homemade one. All you need are essential oils, carrier oil, and an amber bottle. For detailed instructions, check out this helpful DIY.
14. DIY Beard Grow Oil
Not a fan of chemical-laden beard oil? Make one for yourself that is cheap and works quite well. It helps in beard hair growth and also soothes the itchiness of the skin. Follow this simple and inexpensive DIY beard oil recipe to do the trick.
15. For Chapped Lips
Deter chapped lips in this winter season by applying this all-natural lips healing solution. Pour 3-5 drops of rose geranium essential oil and 2-3 tsp of coconut oil into a roller bottle. Apply it to your lips for up to a week to notice positive results. It works because of the anti-inflammatory and healing activities of rose geranium oil.
16. DIY Dry Shampoo
Don't have time to wash your strands? No worries, use this homemade dry shampoo that doesn't need water at all. All you need is arrowroot powder, cocoa powder, a shaker jar, and lavender essential oil to make dry shampoo at home.
17. Burnt Kitchen Cookware
Got burnt cookware, make them new again with this economical essential oil cleaning solution. Grab a bottle of lemon essential oil (helps loosen burnt and sticky messes), castile soap, baking soda, warm water, and a scrubber for this hack.
18. Acne Be Gone
Loaded with antibacterial and antimicrobial properties of tea tree oil, this essential oil hack reduces acne and prevents its occurrence in the long run. Mix 3-4 drops of tea tree oil with 2 tsp of argan oil in a dropper bottle and shake for a while. Before going to bed, apply this solution to the acne, up to 2-3 weeks.
19. Mosquitoes Repelling Spray
Let your kids play outside without worrying about the blood-feeding mosquitoes by using the lavender essential oil repellent spray. Combine 3-4 drops of lavender oil and 2-3 tsp of jojoba oil into a fine mist spray bottle. Spritz it evenly on the exposed skin and clothes before going outside.
20. Makeup Setup Spray
To lock in your smooth and dewy makeup look, ditch the commercial makeup setting spray that may have toxic ingredients. Add 2 oz water, 1.5 tbsp vegetable glycerin, and 5-6 drops of neroli essential oil into a fine mist spray bottle. Use it as a makeup setting spray after applying your makeup.
21. Toilet Bowl Cleaner
If you are looking for a natural homemade alternative to your commercial toilet bowl cleaner, this hack is for you. With essential oil and common household staples, you can quickly create your own version of a toilet bowl cleaner without a fuss.
22. Essential Oil Disinfecting Spray
Nowadays, disinfecting sprays have become a vital part of everyone's life more than ever. Most of the surface disinfectant sprays are filled with chemicals. That's why prepare your own natural essential oil disinfecting spray that works on all types of surfaces.
23. Deodorize Stinky Shoes
Want to use your stinky shoes one last time before washing? Try this essential oil hack that'll fulfill your desire. Pour 1-2 drops of your favorite aromatic essential oil onto cotton balls and place them inside the problematic shoes. After a few minutes, you'll get odor-free fresh smelling shoes.
24. Natural Room Freshener
Freshen up your linens, clothes, or the entire home by making this chemical-free essential oil room freshener. All you need is distilled water, witch hazel, dried flowers, essential oils, an empty spray bottle, and this simple DIY. Open the windows and run the exhaust fan for added support.
25. Bed Bugs Remover
If you're facing bed bug infestation, don't fret, repel them from your home using this potent essential oil hack. It works because of the strong aroma of peppermint oil that not only wards off bed bugs but also keeps mosquitoes, ants, and bees at bay as well.
Note:
If you intend to use the essential oil on your skin, make sure to dilute it with a suitable carrier oil like coconut or jojoba oil to avoid any mishaps. For adults, the ratio is 15 drops of essential oil per 6 tsp of career oil, and for kids, the ratio is 4 to 6 drops of essential oil per 6 tsp of carrier oil.