Find out some Unique Air Plant Holders DIY in the article below and mimic the best one for yourself! They are all fun and easy to make.
Enhance the look and feel of your living space by taking inspiration from these eye-catching and Unique Air Plant Holders DIY. They make great gifts, and party favors too.
Here is a list of fantastic orchid planter ideas
---
Unique Air Plant Holders DIY
1. Sea Urchin Shell Air Plant Holder
This stunning sea urchin shell air plant holder is easy to make and a perfect gift for special occasions. Watch the video to know more.
2. Unique Cement DIY Air Plant Holders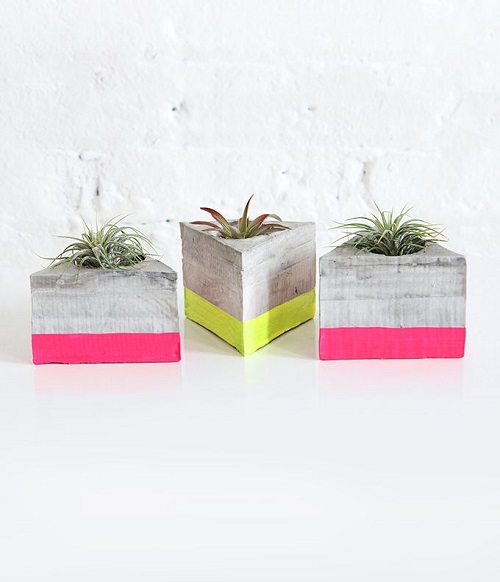 Create some super durable, triangle-shaped air plant holders using quick-dry cement, cardboard, neon paint, and this tutorial.
3. Mini Air Plant Stands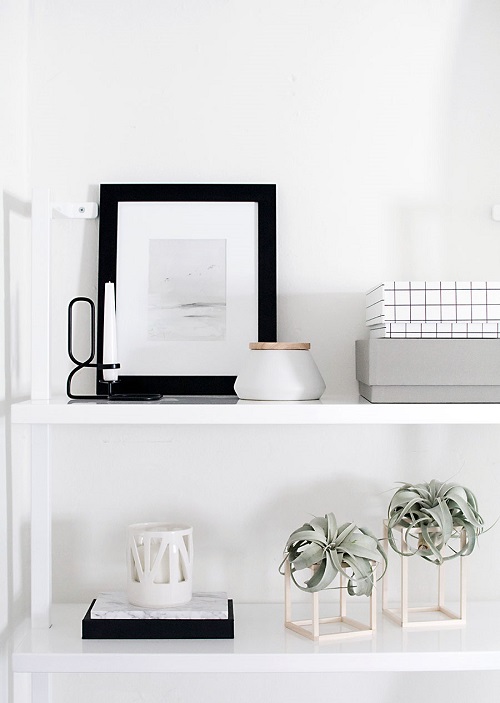 Here's the detailed tutorial to create stylish and affordable mini air plant stands using dowels, a saw, and a few other supplies.
4. DIY Air Plant Hanger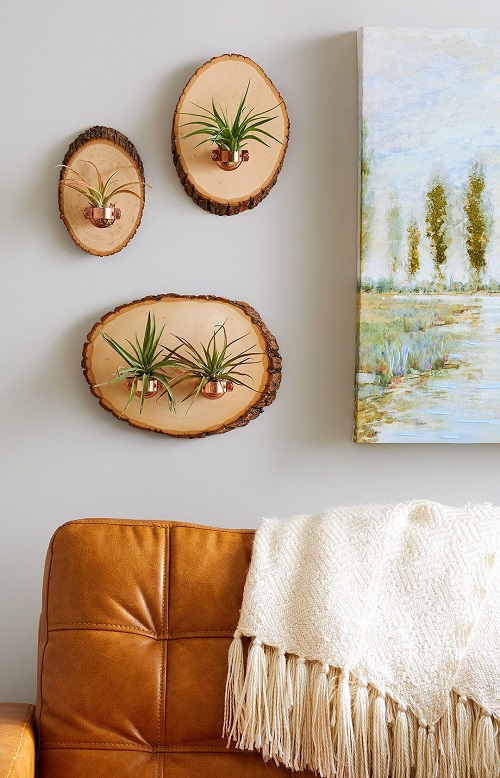 Embrace the natural beauty of air plants (epiphytes) by crafting a hanger out of a metal ring secured to a wood slice. Read more here.
5. Painted Air Plant Bell Cups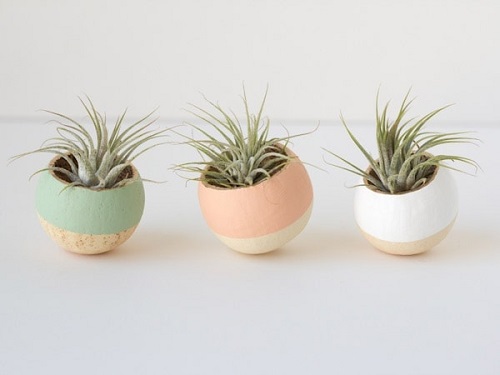 All you need are bell cups, craft paint, paint brushes, painter's tape, and tiny epiphytes to complete this project.
6. DIY Macrame Air Plant Holder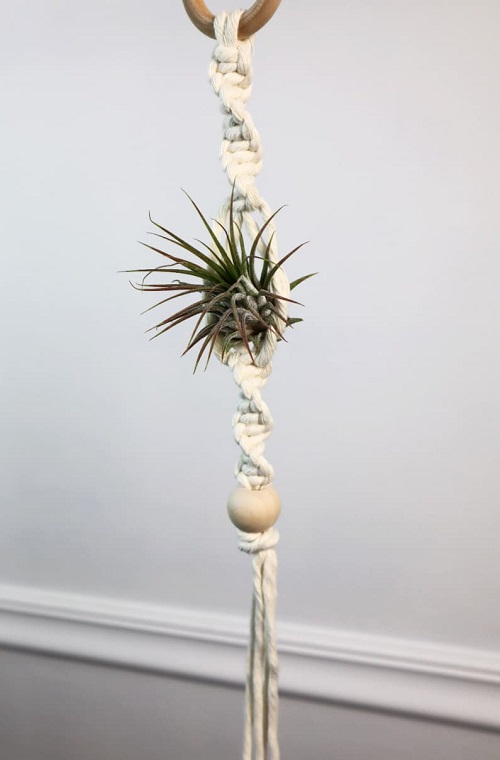 If you have a few air plants that need a home, check out this adorable DIY macrame air plant holder. This project is perfect for beginners.
7. DIY Air Plant Ornaments
Watch the video tutorial to make this unique epiphyte holder with bamboo skewers and ceramic pearls.
8. Simple Air Plant Hangers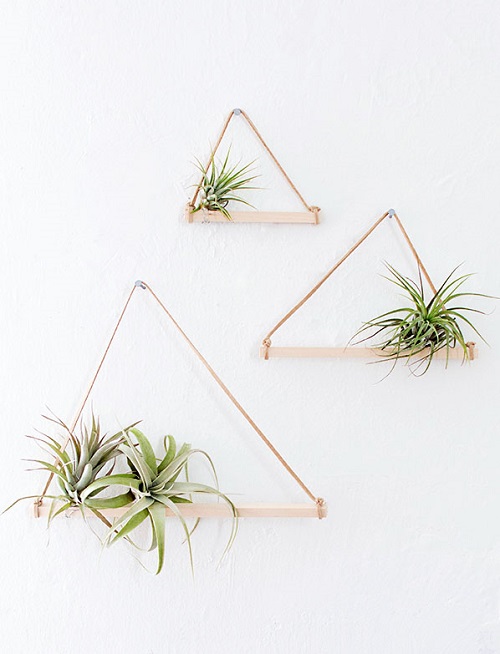 Follow this detailed article to copy these simple hangers for your lovely air plants. It's one of the most unique air plant holders DIY.
9. DIY Gold & Grey Hanging Air Planter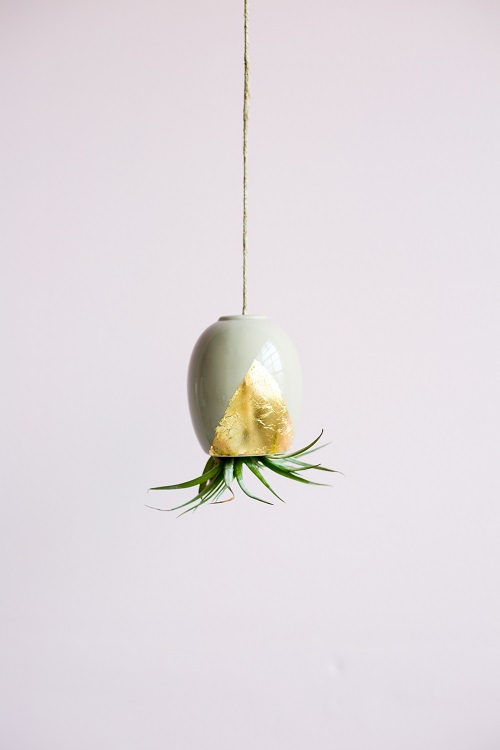 Make this trendy hanging air planter to give your monotonous abode the much-needed personality and charm. Get the instructions here.
10. Unique DIY Napkin Ring Air Plant Holders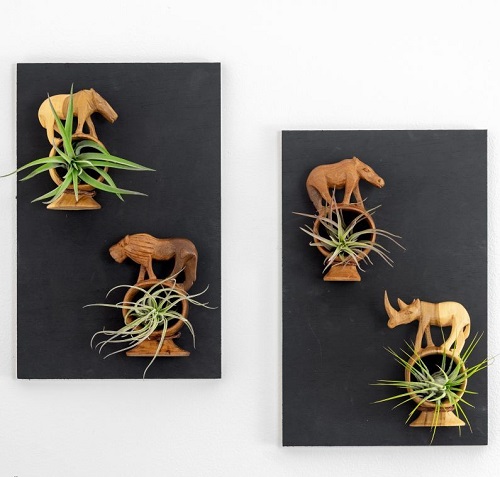 These simple DIY air plant holders are made from old napkin rings and scrap wood. It's a quick and easy way to showcase your favorite epiphytes.
11. Air Plant Pots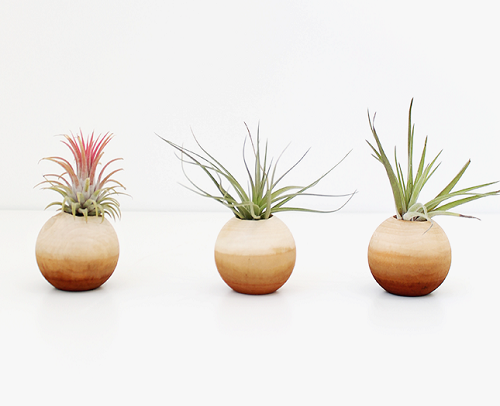 Add some pizzazz to your home or office space by displaying air plants in these pots. They are inexpensive and easy to make.
12. Leather Pocket Air Planter Holders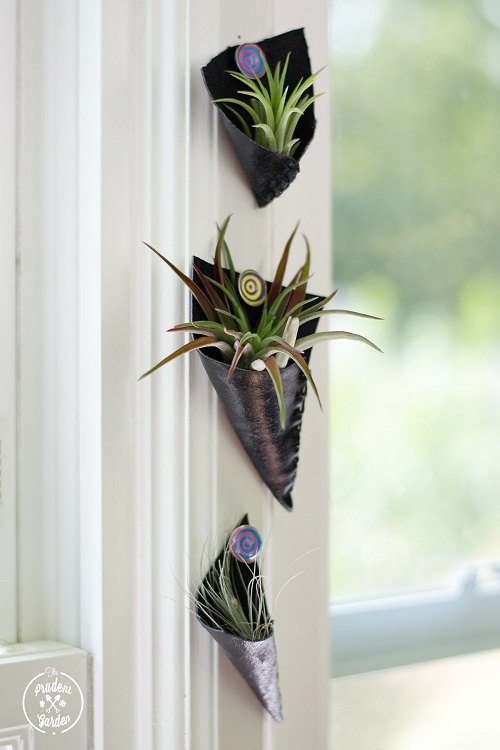 Made from leather scraps, these little pockets are a great way to hold your air plants. If you are not a fan of leather, try using stiff felt, synthetic leather, or suede.
13. Paper Mache Air Plant Pod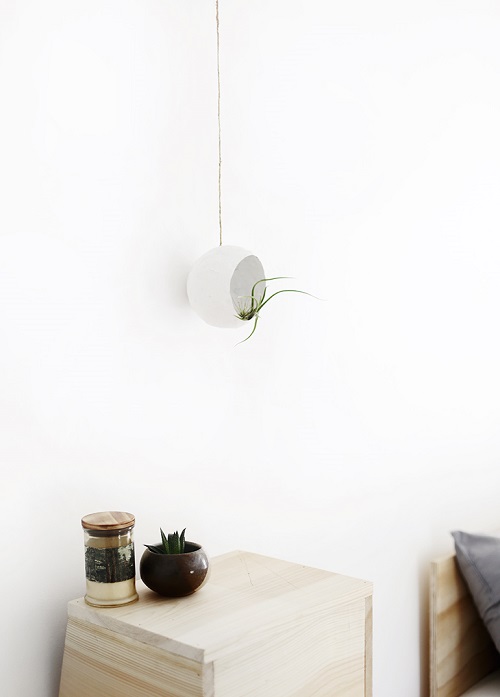 Gather a ballon, water, newspaper, flour, scissors, paint, and string to craft a paper mache pod for your air plants. Read more here.
14. Birch Hanging Air Plant Holder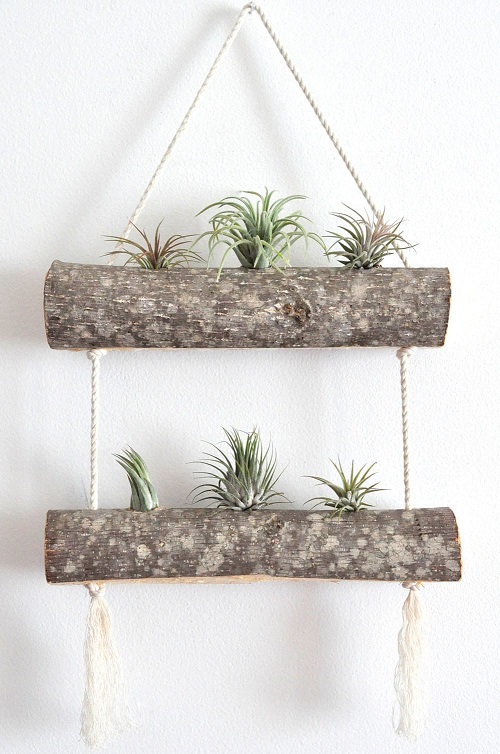 Recreate this air plant holder from thrift store birch branch candle holders. Grab a drill and some rope for this one-of-a-kind DIY.
15. Air Plant Hanging Planter DIY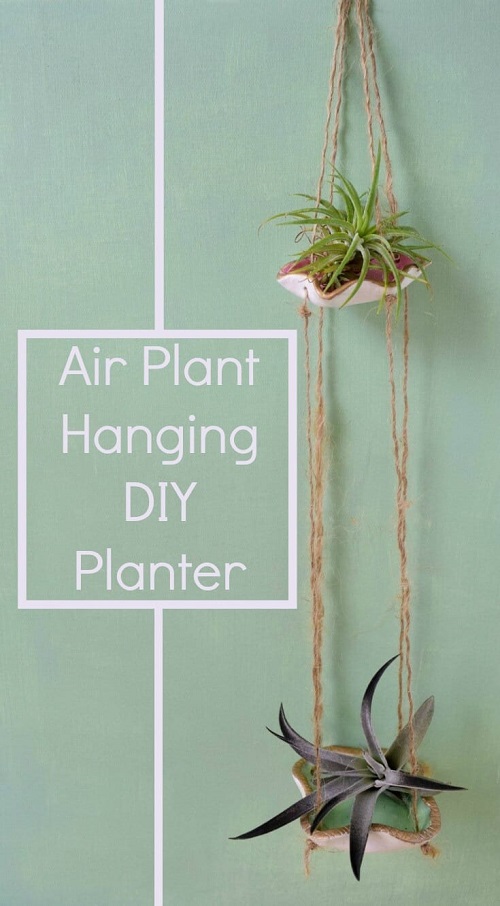 Spice up your bedroom or porch area with this hanging air plant planter. Oven-baked clay, clay glaze, brushes, twine, small bowls, and this tutorial is all you need to get started.
16. Wood and Leather Air Plant Holder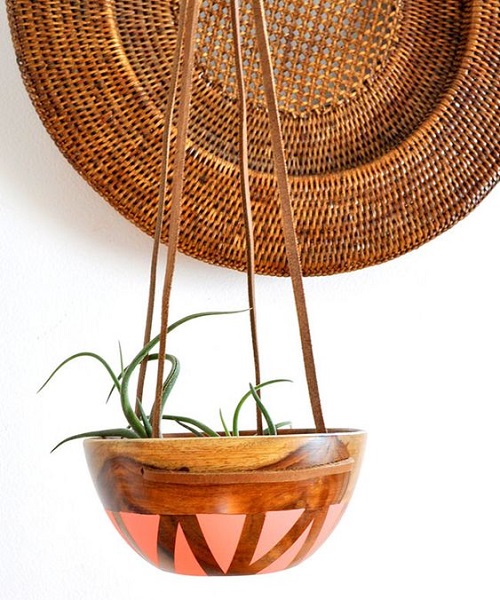 Give your home a conversation piece by making this wood and leather air plant hanger. The details are here.
17. Wooden Air Plant Holders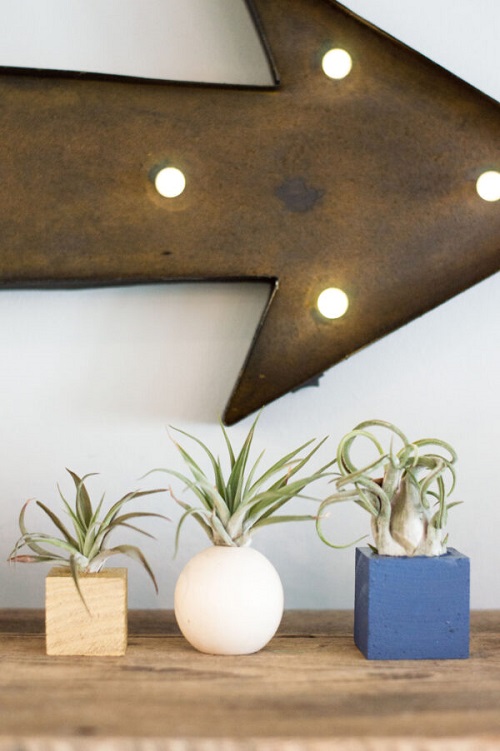 Perfect for the mantel and coffee table, these tiny wooden air plant holders look amazing. It's one of the best air plant holders DIY on this list.
18. Rustic Air Plant Hanger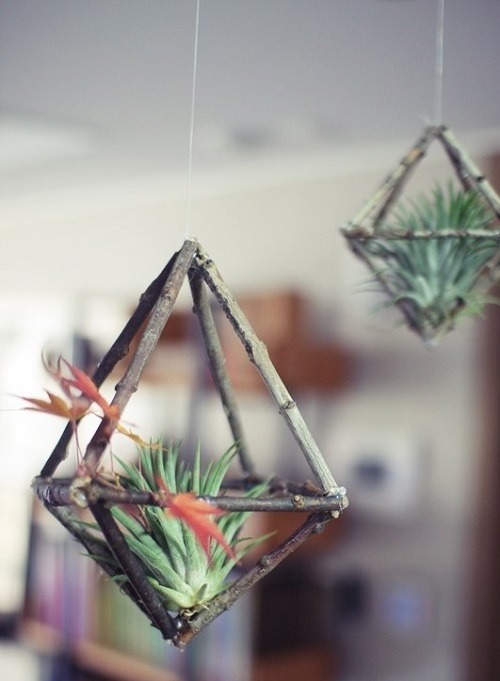 Show off your DIYing skills by making this rustic air plant hanger using thin branches, a glue gun, and fishing lines. Learn more here.
19. DIY Brass Air Plant Holder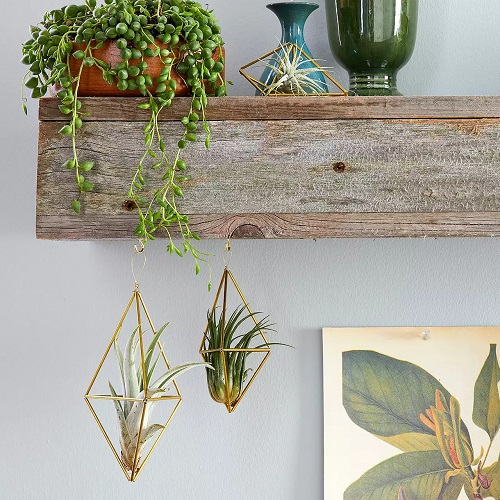 Make this stylish brass air plant holder and showcase your plants in a modern geometric style. Hop to this article to learn more.
20. Hanging Air Plant Containers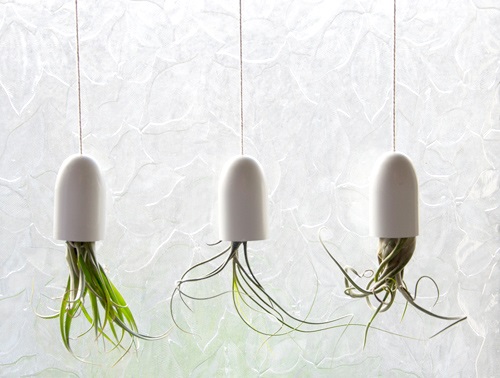 These cheap and adorable upside-down containers are perfect for air plants. Find the step-by-step tutorial here.
 21. DIY Easy Air Plant Holder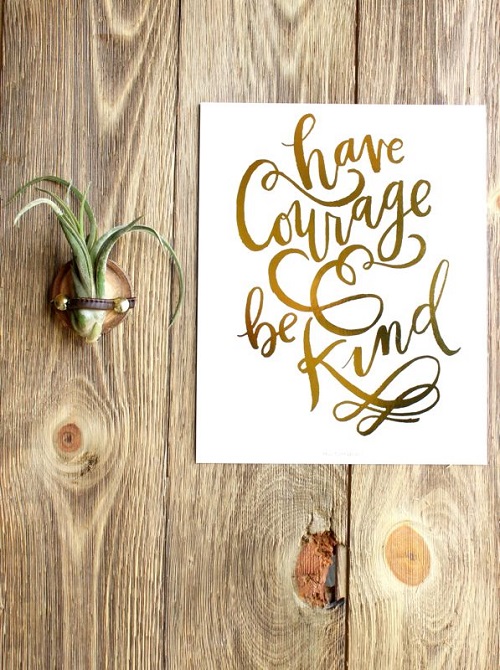 Do you want to make an air plant holder in less than five minutes? This article is for you. It's one of the most unique air plant holders DIY to take inspiration from.
22. Wooden Frame Air Plant Holder DIY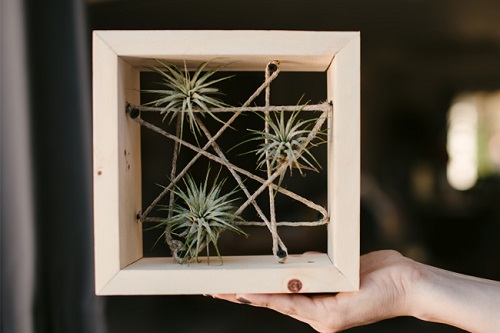 Make this wooden frame for air plants to add a dash of greenery and earthy vibes indoors. Check the tutorial here.
23. Floral Wire Air Plant Holder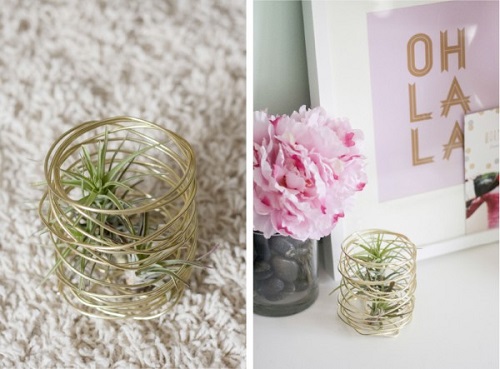 Wrap gold floral wire around a glass candle until you get a cylindrical-shaped structure to display epiphytes. Read the details here.
24. Minimal Hanging Air Plant Holder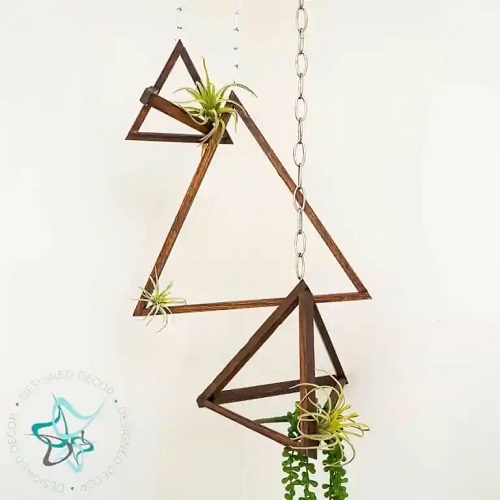 Learn how to make a minimalistic air plant holder in this step-by-step tutorial. It's ideal for the porch, entryway, and living room.
25. Mossy Air Plant Wreath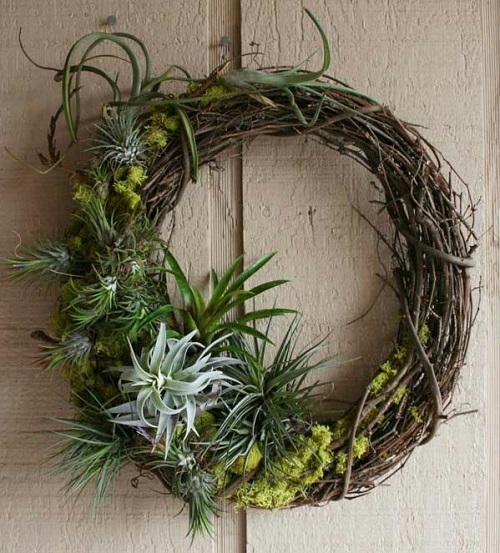 Are you looking for a unique air plant holder? Consider making this mossy wreath to flaunt the beauty of your gorgeous epiphytes.
26. Mason Jar Air Plant Holder Idea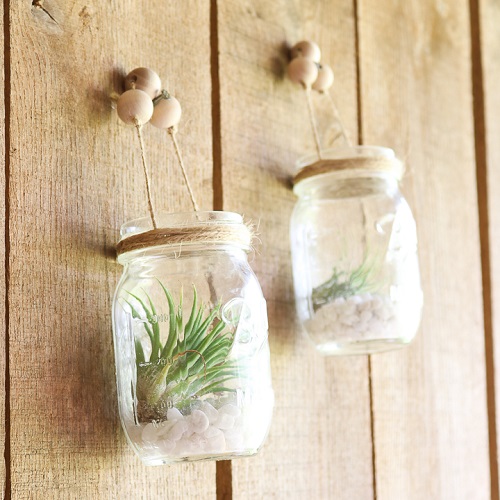 Air plants are pretty incredible to have around the house. Find out how to create DIY air plant hangers to enjoy these unique plants.
27. Egg Shell Air Plant Planters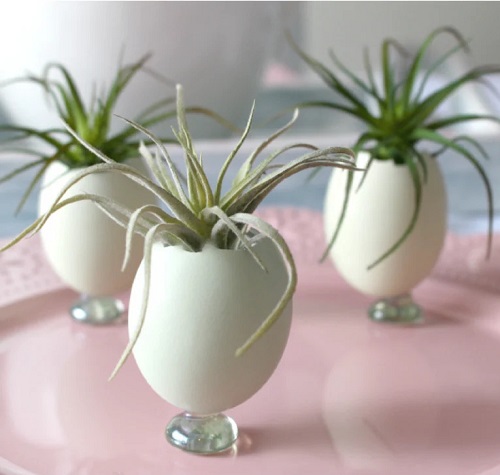 Instead of tossing out egg shells, transform them into chic epiphyte planters. Check out this article for more info.
28. Rock and Wire Air Plant Holder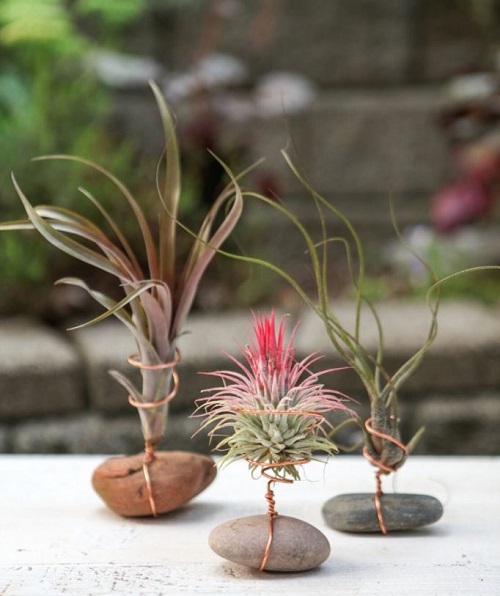 Twisted wire attached to rock makes the perfect rustic air plant display that can be put together in minutes. The details are here.
29. Unique DIY Mini Pineapple Air Plant Holders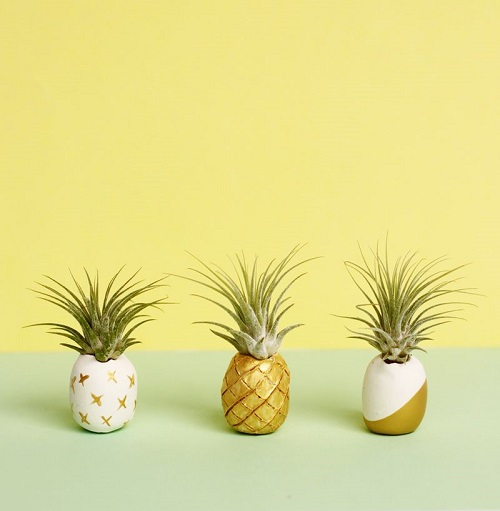 With some creativity, clay, and gold paint, you can easily make these mini pineapple air plant holders. Get the details here.
30. Wooden Clock Air Plant Holder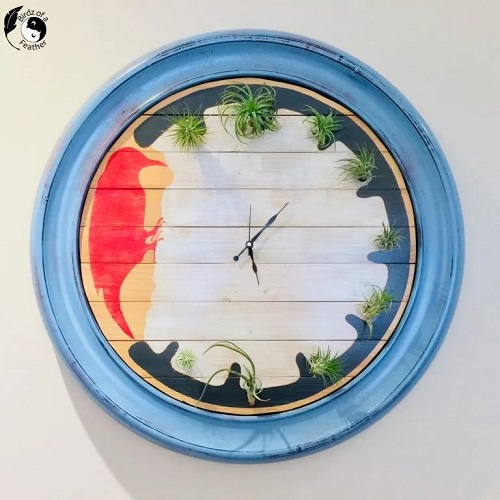 This stylish wall clock also doubles up as an air plant holder. Make one for yourself using this tutorial.
Check out the DIY wash tape clock idea here