From racks to shelves and more, explore this list of innovative Water Bottle Storage Ideas and say goodbye to cluttered countertops!
Are your water bottles cluttering up your kitchen counter or gym bag? Check out this curated list of Water Bottle Storage Ideas that will transform your space into a stylish and organized oasis. Plus, they enhance the functionality and aesthetics of your space.
Here are the best bottle cap crafts
---
Water Bottle Storage Ideas
1. Use Acrylic Wine Rack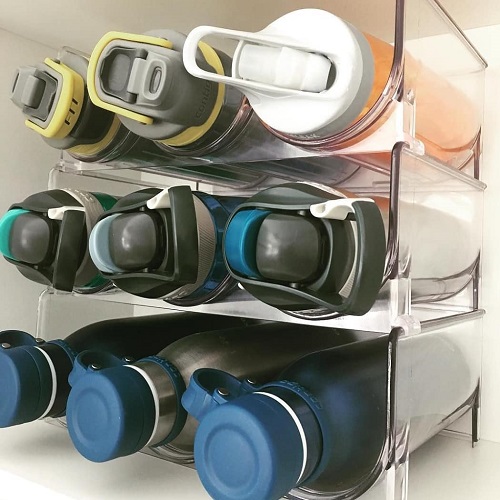 If you have a wine rack, reuse it to manage water bottles in the kitchen cabinet, pantry, or under the sink areas. This sleek, modern, and compact rack blends seamlessly into any decor and keeps each bottle secure.
2. Try Shoe Organizer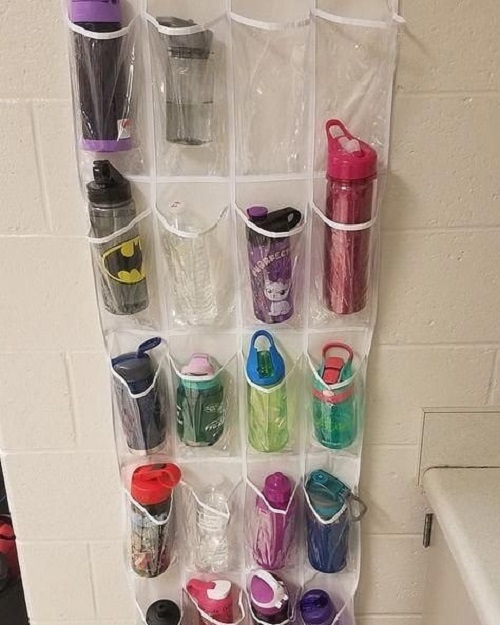 An over-the-door shoe organizer isn't just for footwear. Its numerous pockets make it one of the cheapest water bottle storage ideas. Plus, the slim design saves valuable cabinet or shelf space.
3. Store Bottles in Woven Baskets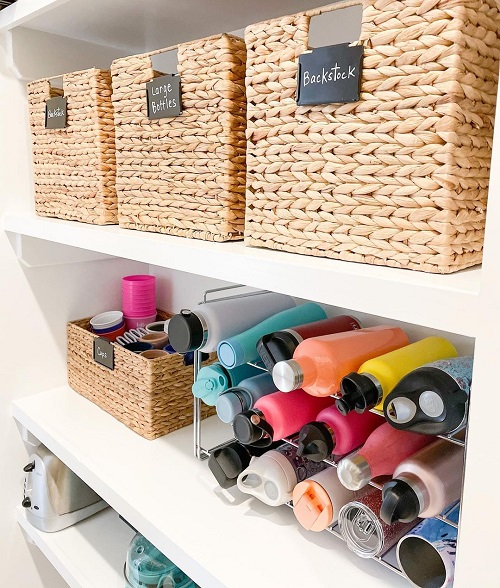 Instead of tossing out your old woven baskets, use them to store and organize the water bottles. They also add a rustic or boho aesthetic to the space.
4. Geometrical Plastic Water Bottle Storage Idea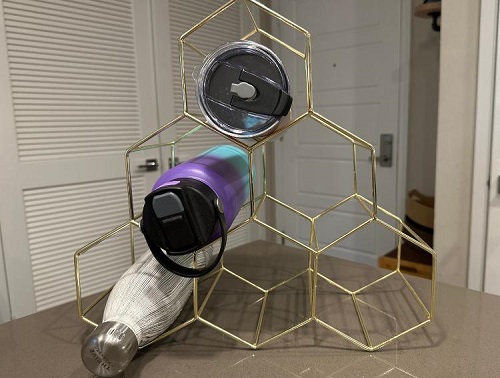 This display-worthy copper-finished geometric wine rack is an excellent water bottle holder that looks visually appealing. It can easily turn your regular bottles into a piece of modern art.
5. Wire Bin Turned Kitchen Water Bottle Storage Solution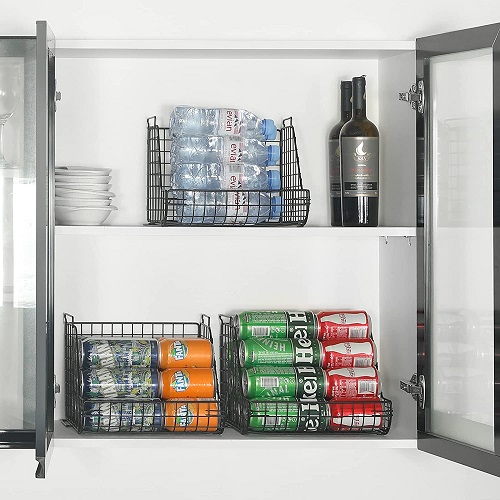 Wire bins are versatile, keeping your bottles secure and in sight. Place them in the pantry or on the countertop to corral your water bottles.
6. Bottles Holder from Wine Bottle Cardboard Boxes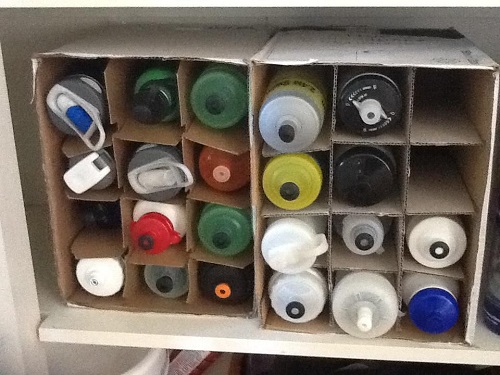 Do you have empty cardboard boxes of wine bottles? Repurpose them as an eco-friendly and nifty water bottle storage solution. The compartments are the perfect size for bottles and can be stacked or lined up on the shelves.
7. Magazine Holders Water Bottle Storage Ideas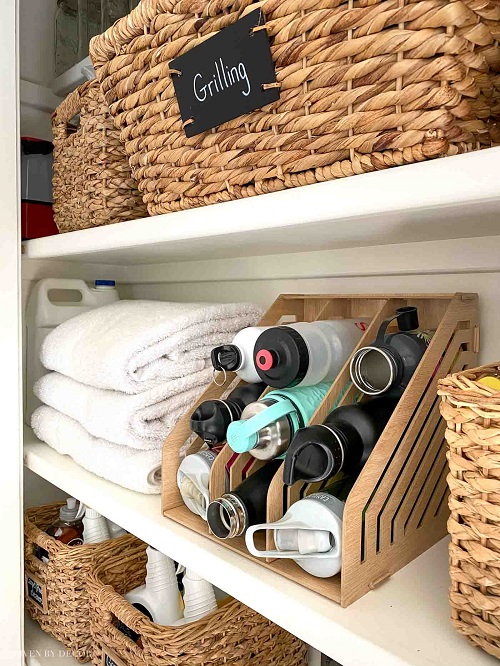 You only need a couple of metal, plastic, or wooden magazine holders to solve your water bottle storage woes. This is an innovative and cheap solution.
8. Use Drawer Dividers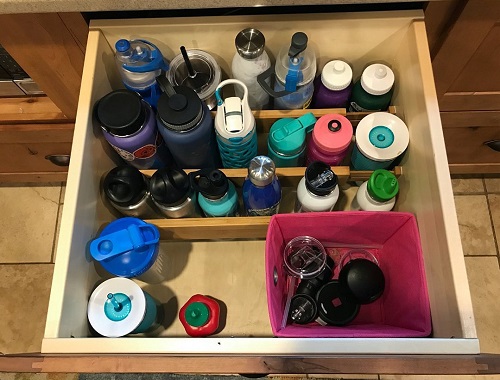 If you prefer to keep things tucked away, consider using drawer dividers. They can turn a chaotic, cluttered drawer into a neatly arranged storage space for water bottles.
9. Water Bottle Organizer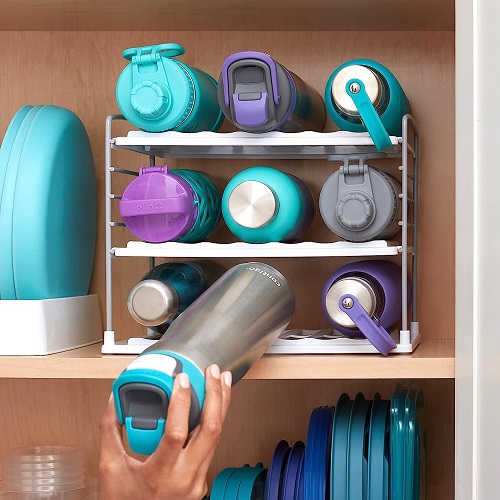 This sturdy and adjustable storage rack accommodates all sizes of bottles and even travel mugs.
10. 4-Tiered Water Bottle Holder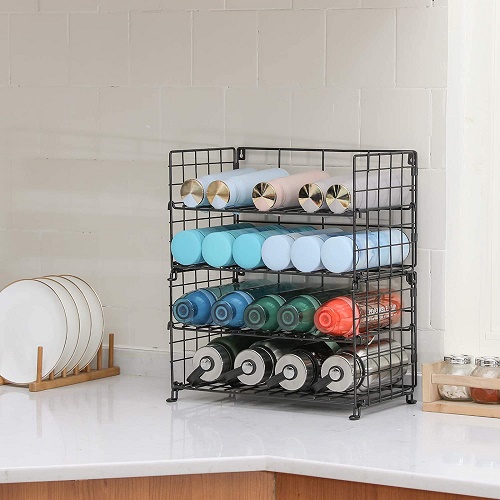 This tiered holder is perfect for storing reusable water bottles, wine bottles, and soda cans. It can keep your bottles within reach without taking up valuable counter or cabinet space. You can easily make this holder at home with steel wire mesh and welding skills.
11. Innovate Water Bottles Holder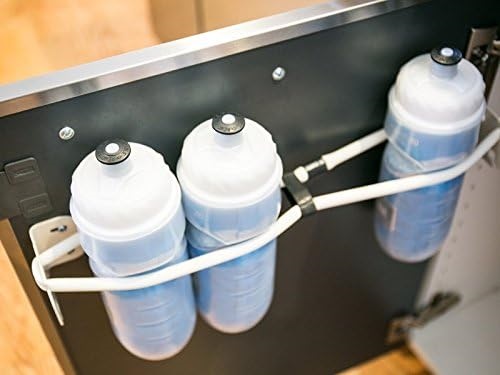 Install this amazing bottle holder under the sink and say goodbye to your bottle storage problems. With a little effort and creativity, you can even make this product at home.
12. Opt for Plastic Baskets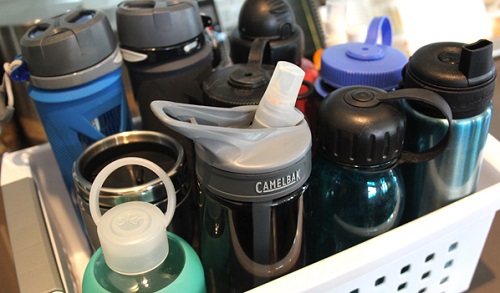 Grab a couple of plastic baskets to corral your water bottles in a limited space. Learn more about this amazing hack here.
13. Cereal Box Turned Water Bottle Storage Solution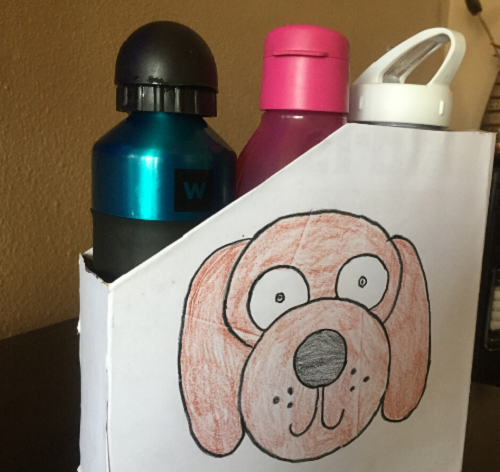 Get a cereal box, cut it into a shape of a magazine holder, and your thrifty water bottle holder is ready. Draw a puppy face on it for added charm.
14. Shoe Rack Hack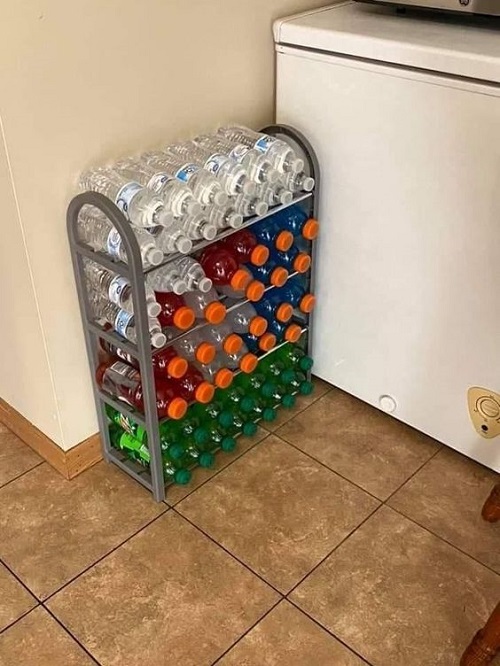 Transform a free-standing shoe rack into a dedicated water bottle station. It's a perfect solution if you have a large collection of bottles.
15. Cabinet Shelf Turned Water Bottle Holder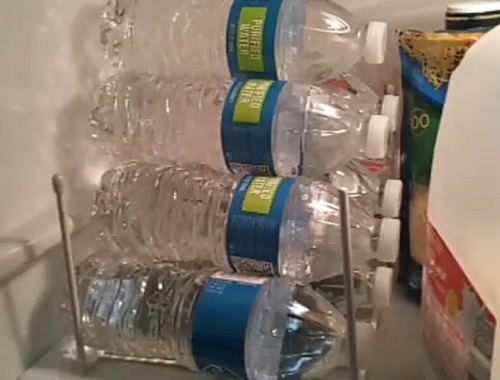 Learn how to convert a dollar tree wire cabinet shelf into a water bottle holder in this visual tutorial. This is ideal for small kitchens with limited storage options.
16. Pallet Water Bottle Storage System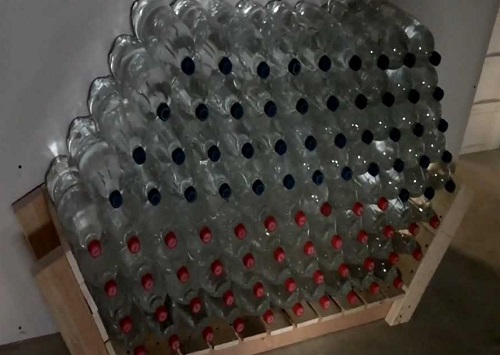 This easy-to-build and affordable pallet rack setup is best for storing lots of water bottles. Make one using this tutorial.
17. Bamboo Water Bottle Organizer Rack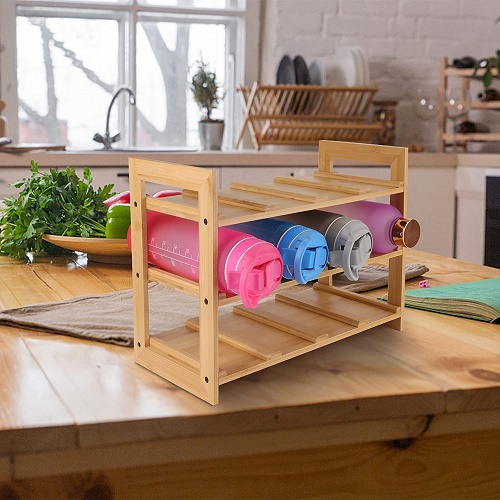 Sturdy, easily accessible, space-saving, and visually appealing, this bamboo rack can easily hold up to 10-12 water bottles. Anyone can build this rack with wood, nails/screws, and woodworking skills.
18. DIY Macrame Water Bottle Holders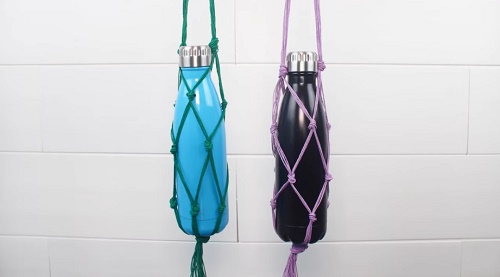 Weave intricate knots to create stylish holders that keep water bottles within reach and add boho charm to the space. This project is perfect for crafters of all ages and skill levels.
19. Use a Refrigerator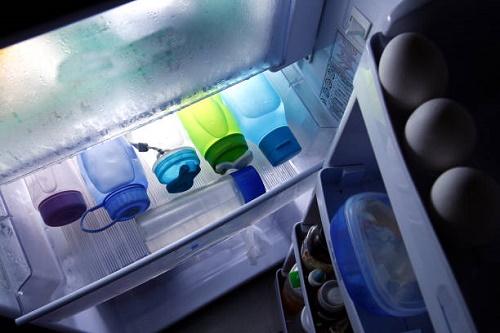 If you want a water bottle storage solution that doesn't involve purchasing or DIYing anything, use the refrigerator. Make the most of its shelves, doors, and crisper drawer to store and organize your water bottles.
20. PVC Water Bottle Storage Solution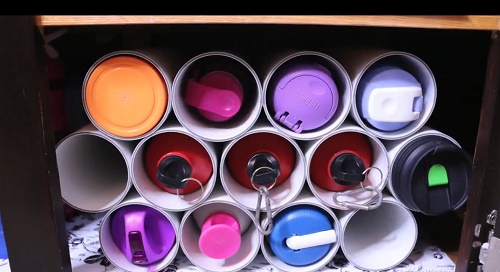 Watch this helpful video and create a super affordable water bottle storage solution out of PVC pipes and glue. It's one of the best water bottle storage ideas.
21. 5 Gallon Water Bottle Storage Idea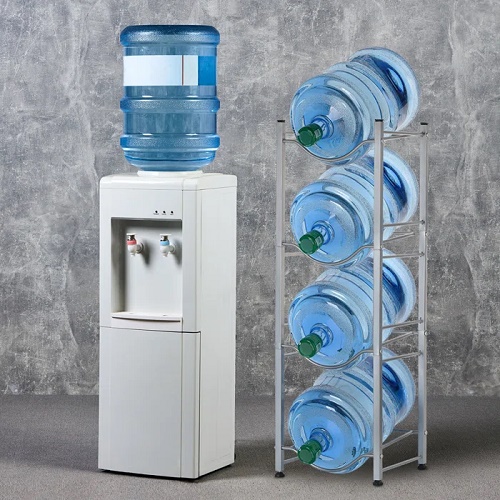 Made of durable, high-quality steel and silver lacquer, this vertical water bottle holder has a unique and minimalist look. With a modern and simple design, this rack can be used in kitchens, break rooms, offices, and classrooms. It'll help you save floor space and keep things tidy and clutter-free.
22. Lay Water Bottles Flat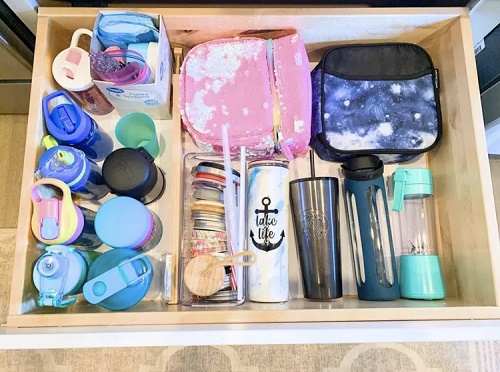 Finding room for taller bottles that aren't able to stand upright in a drawer can be challenging. In this setup, larger bottles are positioned horizontally, and a drawer divider is used to segregate the shorter bottles.
---
Water Bottle Storage Ideas: Points to Remember
Size and Shape: Consider the size and shape of your water bottles when choosing or creating a storage solution. Some bottles might be too tall for certain racks, while others may be too wide for typical holders.
Accessibility: Your storage solution should make it easy to grab a bottle and go. If you have to remove several bottles to get to the one you want, your system needs some tweaking.
Visibility: A clear and unobstructed view of water bottles will simplify your selection process and help you monitor your inventory. Storage solutions that are open or transparent can help with this.
Space: Be mindful of the space you have available. While a large rack might look tempting, it won't be practical in a less-spacious kitchen or pantry. Measure your space before investing in a storage solution.
Material: The material of your storage idea should suit your space and needs. If you're storing bottles in a damp area like under the sink, choose plastic or metal that won't get damaged by moisture.
Versatility: A versatile organizer can adapt to different bottle sizes and shapes as your collection changes. Look for adjustable racks or flexible bins.
Style: Your storage solution can be both functional and attractive. Consider the aesthetic of your kitchen or pantry when choosing a system.
Environmentally Friendly: Consider using recycled or sustainable materials for your storage solution, like repurposing old boxes or pallets. This is a great way to reduce waste and help the environment.
Cleanliness: Ensure your chosen storage solution is easy to clean.
Check out the DIY wine bottle ideas for the garden here