If your kids are having a boring time any evening and you've some bottle caps underlying, these DIY bottle cap crafts are all you need to keep them entertained!
All these DIY bottle cap crafts are kids-friendly but to be on the safer side, please supervise them while they perform these crafts.
1. Bottle Cap Pin Cushion Ring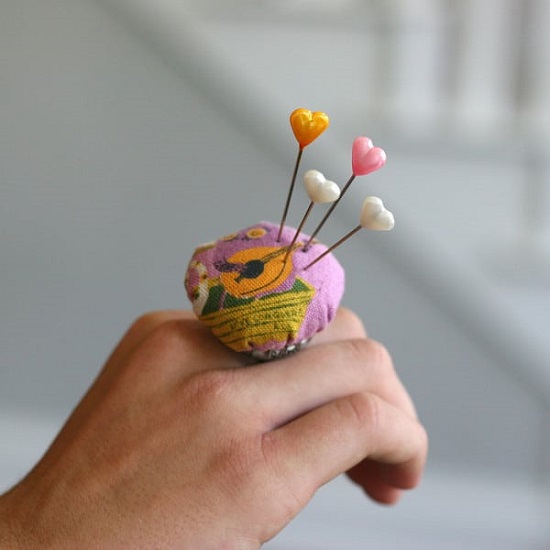 Some hot glue, old pieces of fabric and a bottle cap make this highly functional pin-cushion ring. Moreover, make one of your own by following this easy and simple tutorial.
2. Harry Potter Bottle Cap Pendants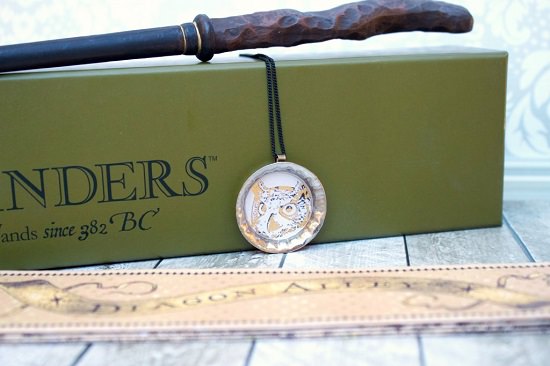 This easy DIY bottlecap necklace is sure to turn heads all year round. Moreover, all you need is a free printable from the website, some liquid glass, a bottle cap, and a string. Find the printable here.
3. Bottle Cap Earrings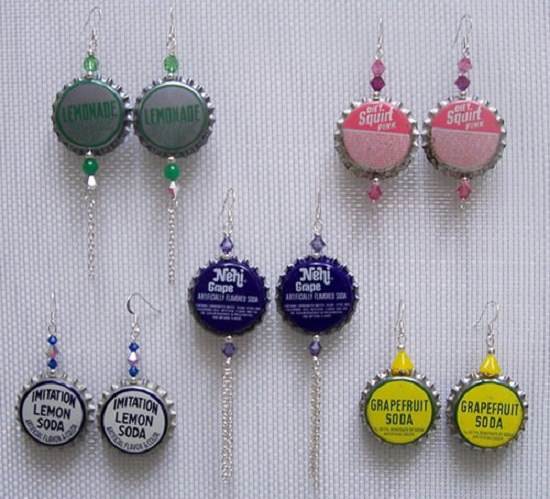 If you've got a matching pair of bottle caps, you can stylize them into a fresh pair of earrings with this super informative DIY tutorial.
4. Bottle Cap Candles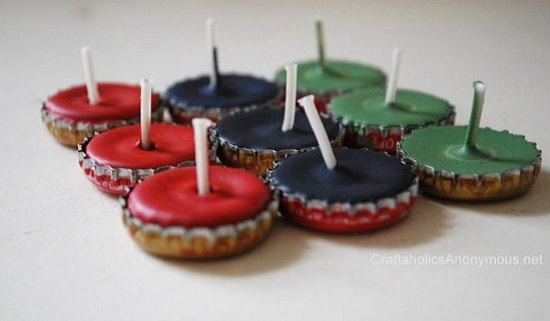 With some ingenuity, a few bottle caps and a few crayons, you can make your very own bottle cap candles! Similarly, just follow this easy tutorial and make yourself some candles!
5. Bottle Cap Photo Frames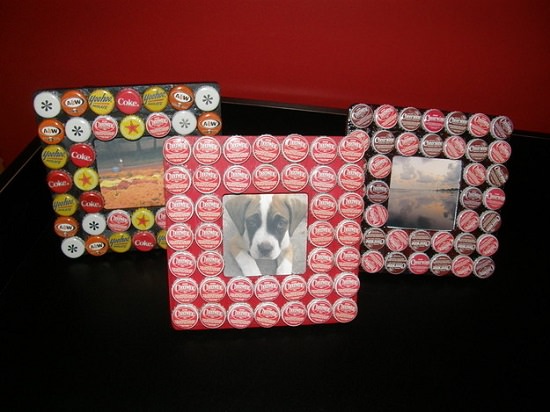 Adding bottle caps to your photo frames would give them a distinguished look, as seen in the picture. Certainly, make one of your own with this informative DIY tutorial!
6. Bottle Cap Glittery Buttons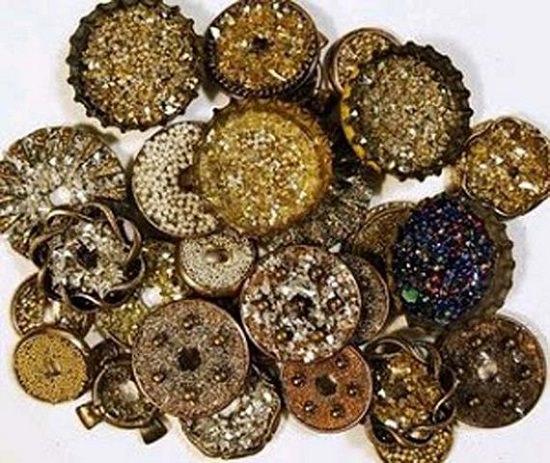 With some glitter and some glue, and some button backs to boot, you too can easily craft these delectable looking buttons. Further, just follow the tutorial linked here and make your own home-crafted buttons!
7. Crochet Beer Cap Hot Pad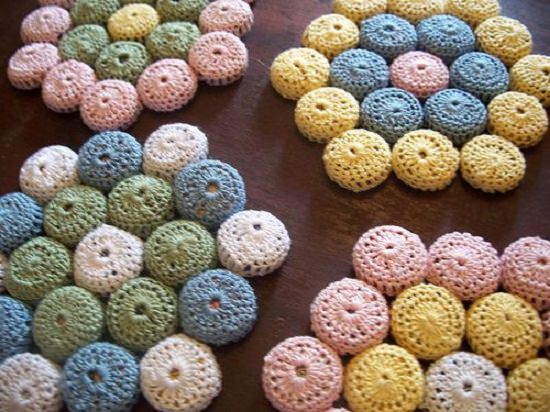 This tricky procedure results in truly unique hot pads for your beverages. In short, if you're into crochet and don't mind getting your hands working, follow along with this tutorial to make bottle cap hot pads of your own.
8. DIY Basket With Plastic Bottle Caps
https://youtu.be/96XUr5hkM_w
Further, for those of you with a few too many plastic bottle caps to spare – follow along with the simple video tutorial to craft a DIY Basket with plastic bottle caps!
9. Plastic Bottle cap Hair Clips
In addition, fashion spare bottle caps into these great looking hair clips – just get out your crafting mitts and make some for dirt cheap; fashionable, and unique to you.
10. Beer Bottle Cap Table
On the other hand, for the carpenters in our readers, watch this tutorial on how to carve out your own table with some epoxy resin and vintage bottle caps – show off your collection in style!
11. DIY Plastic Bottle Caps Clock
Meanwhile, refashion an old and broken clockface with bottlecaps! Create a beautiful DIY clock made out of scrap and bottlecaps following this easy tutorial.
12. DIY Bottle Cap Wind Chimes
Bottle caps can be of more use outside of the trash can. Subsequently, if you find yourself on a lazy Sunday afternoon, turn it into craft day and whip yourself up a DIY Bottle Cap Wind Chime! In short, just follow the tutorial in the video to make one of your own.
13. TRASH BIN Using Recycled Bottle Cap
In the same vein, bottle caps can be reused to make a trash bin! Interested? Watch the video above to find out how to make a Trash Bin using recycled bottle caps.
14. Mini DIY Bottle Caps Photo Frames
An ingenious use of bottle caps is presented in this video which shows you how you can make a DIY Bottle Caps Photo Frame. Consequently, it is guaranteed to make your living space bloom!
15. DIY Bottle Cap Shaker
Similarly, watch this video to see how you can fashion your old bottle caps into shiny new DIY Bottle Cap Shakers in a matter of minutes!
16. Bottle Cap Tray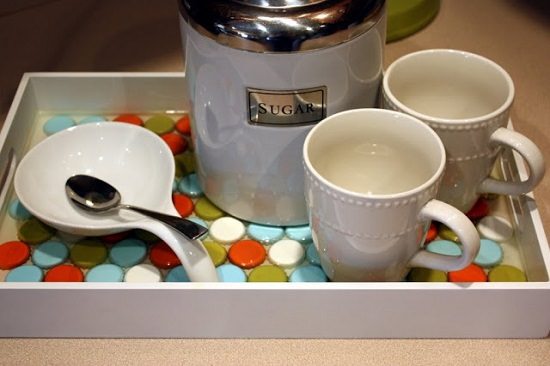 A few colored bottle caps and a little epoxy water (acrylic water) can make for a unique, stylized tray! After that, head on over to Sweet Something Design to find out how you can make a bottle cap tray holder!
17. DIY Bottle Cap Wall Art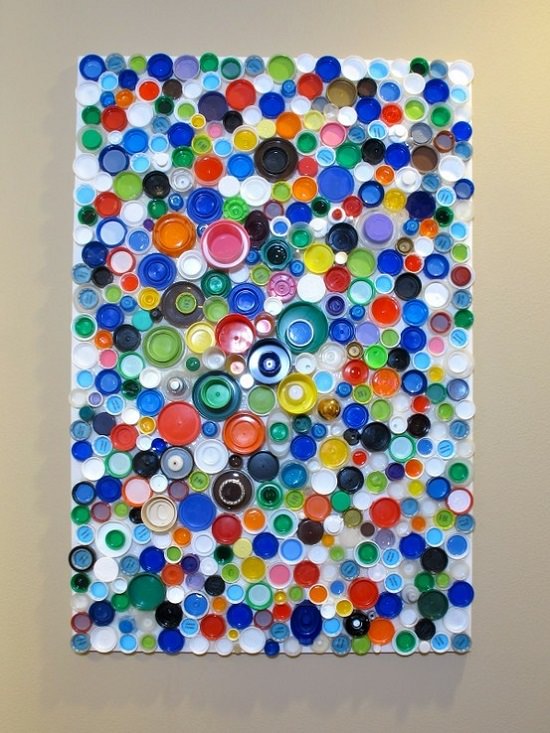 Or, if you don't have a spare tray lying around, you can glue your bottle caps up to a canvas to make for some really funky abstract art. Finally, check out FaveCrafts' tutorial for how to do the same.
18. Plastic Bottle Lid Art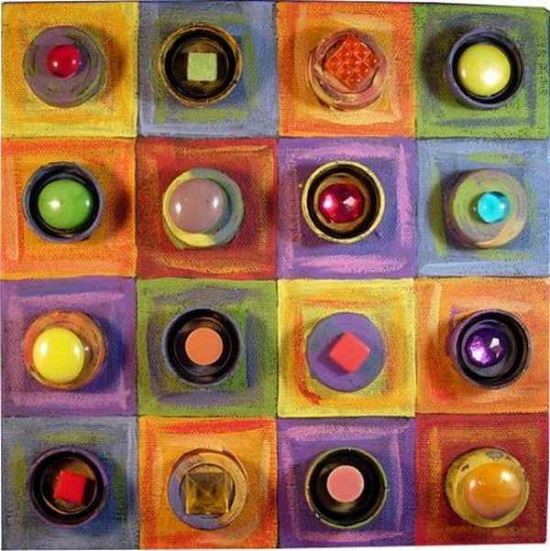 Moreover, for the artsier of you, those abstract patterns don't just need to be 100% bottle caps. Similarly, check out this article on FaveCrafts for how to make your bottle cap designs zany and pop out!
19. Bottle Cap Bird House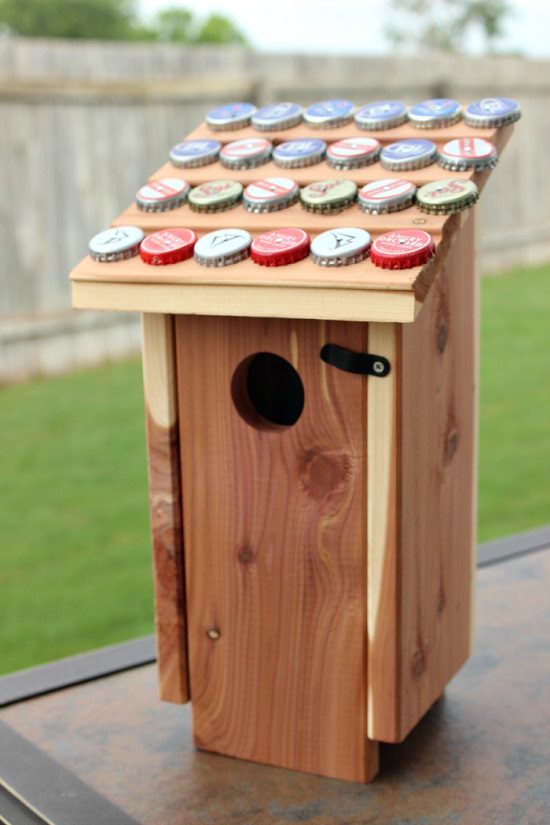 Sure to be a beloved "pet" favorite for your winged companions, decorate your birdhouse with a few bottle caps lying around to make for a garden attraction. Certainly, head on over to Jeanette Janson's website to read how to hook your aviary friends up with some home decor.
20. Bottle-Cap Jewelry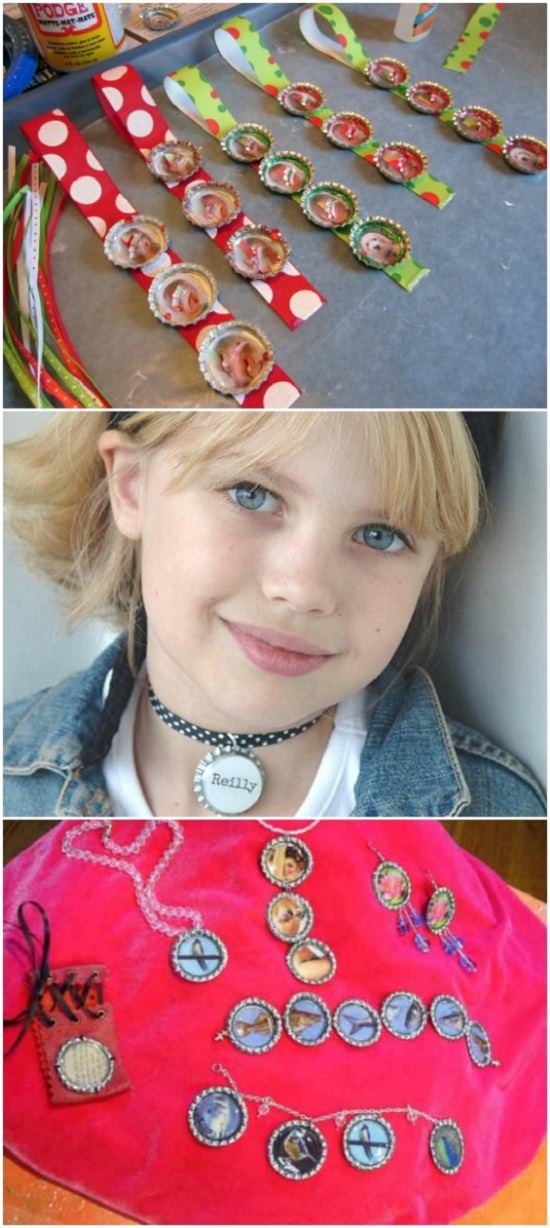 Really digging those hipster vibes? Fashion yourself a few new accessories? DIY Network has got you covered! Craft these cool Bottle Cap Jewelry for your loved ones. They're sure to love them.
21. Father's Day Gift: Beer Cap Clock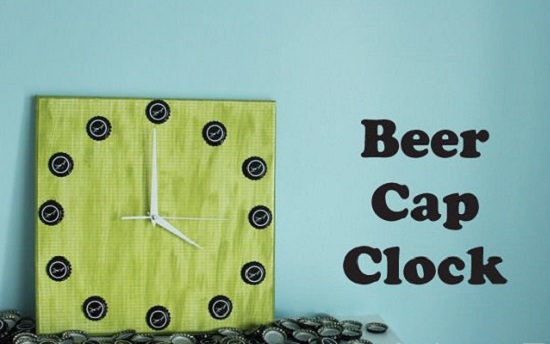 On some deep level, we all share the same love for beer. If not, chances are, you know someone who does! Make them a precious gift by modifying an old clockface into a Beer Cap Clock! This article on Spot Of Tea Designs would give you an idea of how.
22. Bottle Cap Coasters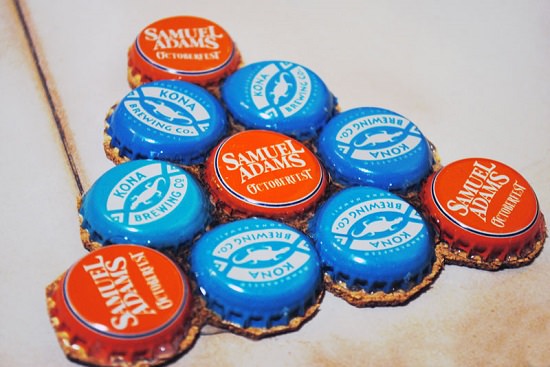 What can you do with some cork mat and a few old bottlecaps? Anything your creativity lets you! Check out this sweet tutorial on making Bottle Cap Holders on Let's Make Cool Stuff.
23. Bottle Cap Fishing Lures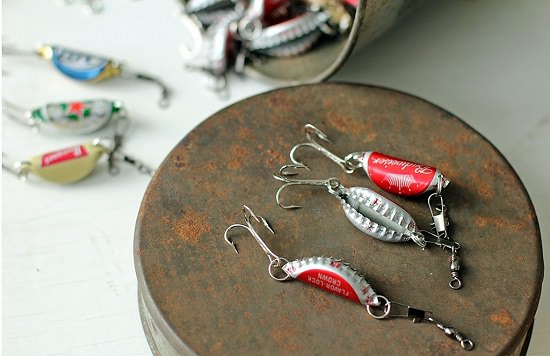 Who knew bottle caps could be so resourceful? There seems to be no limit to what you can achieve once you set your mind to it. Make some fishing lures out of a few used bottle caps? Why not! Check out this article on BlogLovin to find out how.
24. Upcycled Bottle Cap Neon Necklace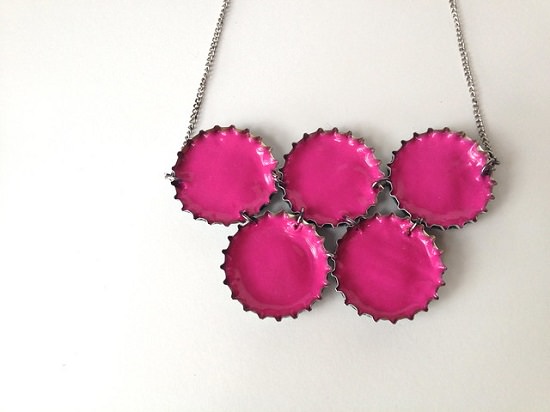 This craft idea on MakerMama lets you make neon necklaces out of bottle caps! Some engineering required. Find out a fun way to make a Sunday a fun day! Make a few of these to hand out at thrift fairs.
25. American Bottle Cap Wall Art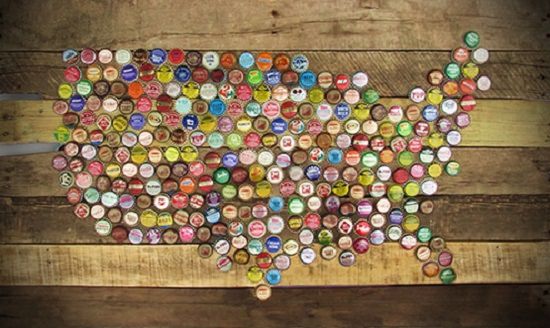 Put your crafty hats on! With a big enough outline of your preferred map, you too can have one of your own Bottle Cap Wall Arts to showcase with pride in your house.
26. Recycled Bottle Cap Flower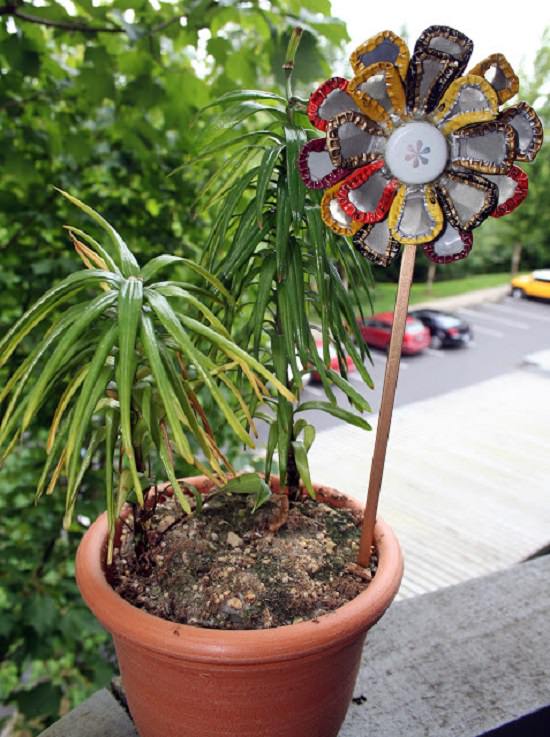 Bottle Caps crimp easily. That is to say, with a bunch of pliers and some ingenuity, you too can make a bottle cap flower like the one you see above! Finally, The Experimental Crafter has an excellent tutorial for you to follow along on a lazy weekend.
27. Vintage Bottle Cap Giant Letter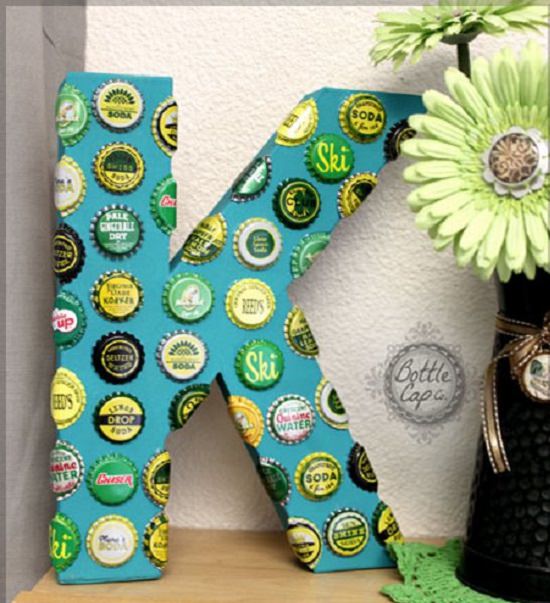 This art from Bottle Cap Co details everything you need to know about how to craft a Vintage Stylized Giant Letter. Similarly, all you need is a craft letter, some bottle caps and a healthy dash of hot glue to put together this stylized masterpiece.
28. Bottle Cap Mirror Art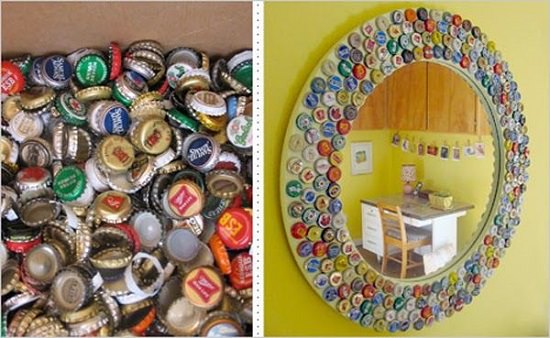 Old mirror frames hanging you down? Pump them up with some vintage decor! With some old bottle caps and an underutilized mirror, you can make Bottle Cap Mirror Art! Head on over to We Heart This and see how you can craft one of your own.
29. Milk Bottle Cap Ornament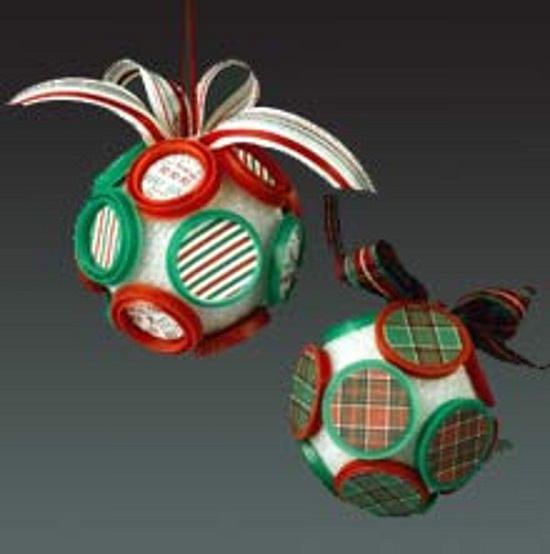 In search of unique ornaments to adorn your Christmas Tree with? Craft these Milk Bottle Cap Ornaments in a jiffy with this simple to follow tutorial on FaveCrafts!
30. Plastic Bottle Cap Buddies
Further, here's a fun tutorial to engage your kids with. Consequently, turn used bottle caps into adorable Plastic Bottle Cap Buddies with this easy-to-follow video tutorial!
31. Bottle Cap Magnets
Is your refrigerator looking emptier than usual? You might need a couple of magnets to liven up the kitchen space! But before you go rushing to the supermarket, you might want to check out this easy tutorial on how to turn used bottle caps into highly decorative Bottle Cap Magnets!
32. Bottle Cap Christmas Tree
Going green this Christmas? Why not craft a Christmas tree of your own? Just watch this video for some ideas on how to make your very own Bottle Cap Christmas Tree! Combining the best of papercraft, bottle cap craft, and crochet – this one is sure to stand out in how unique the execution is.
33. DIY Snowman Out Of Recycled Bottle Caps
Got bottle caps of varying sizes? Is your Bottle Cap Christmas Tree getting a little lonely? Whip up some of these DIY Snowmen from Recycled Bottle Caps! That's one way to staying thrifty. Perfect for Christmas dioramas!
34. Bottle Cap Wreath
Yet another fun craft for Christmas! With some acrylic paint, some hot glue and a few ribbons, you can make your own Bottle Cap Wreaths for a Merry Merry Christmas.
35. Foam And Bottle Cap Stamps
Here's a functional use of those old bottle caps lying around. With some foam, a pair of scissors and hot glue, create your very own Bottle Cap Stamps (not for official use).
36. Beer Bottle Cap Crab
Here's a unique tutorial for the artsier of you. For instance, this Beer Bottle Cap Crab looks like a well placed Mahjong board. In short, turn an old mat into a mural – your creativity being the only limit.
37. Bottle Cap Checkboard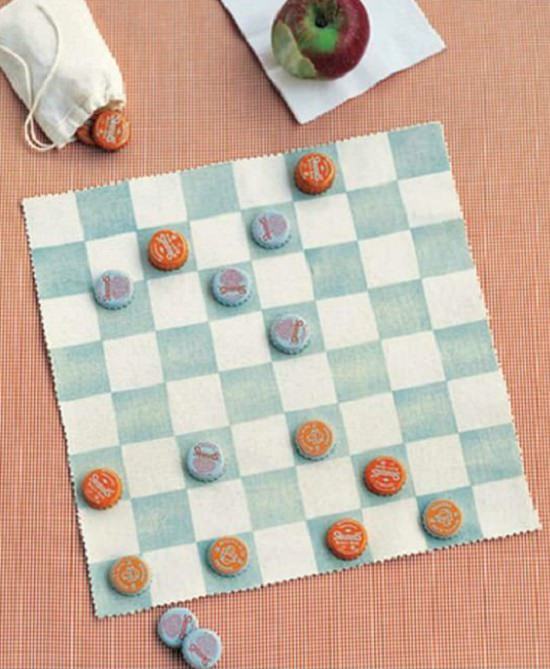 Speaking of games here's a fresh idea from the Archive on how you can turn old bottle caps into pawns for Checkers. With a foldable piece of cloth and enough bottle caps, you can make a carryable Checker set. That is to say, it makes for a unique gifting solution!
38. Bottle Cap Rattlesnake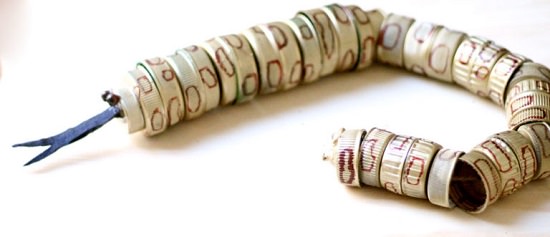 This craft from Moms and Crafters shows you how to make a safe-for-children Bottle Cap Rattlesnake! Truly one of the more creative ideas on this list.
39. Bottle Cap Monsters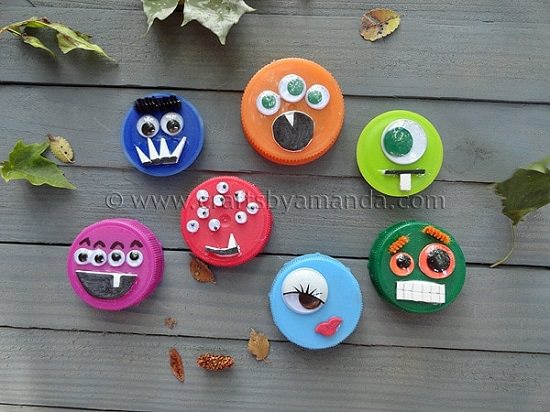 Bottle Cap Monsters! Your kids will love them, and so will their friends. Check out this idea on Crafts by Amanda for a quick and easy tutorial on how to craft some of these weird and whacky bottle cap monsters.
40. Bottle Cap Rudolph Ornament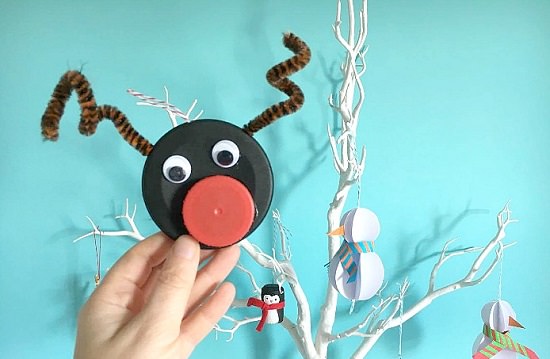 Another Christmas favorite – Rudolph the red-nosed Reindeer! Moreover, this goes really well with the Bottle Cap snowmen mentioned previously. Meanwhile, Red Ted Art has got an excellent tutorial on how you can craft one of your own.
41. Bottle Cap Turkey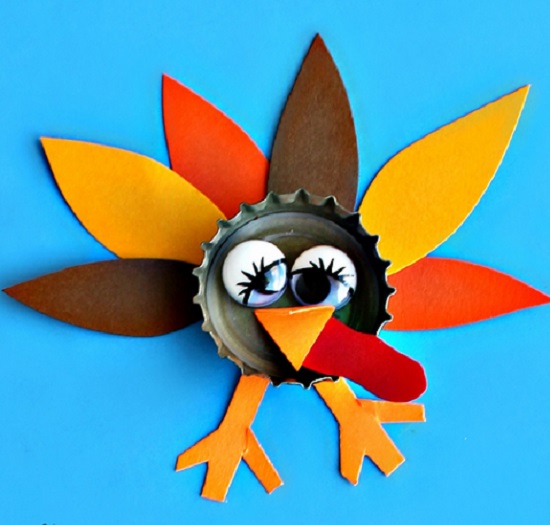 This is a craft your children will enjoy. Whether you're a teacher looking for craft ideas or a mom looking to encourage visual cognizance in your child, this tutorial by Crafty Morning will help you turn an old bottle cap into a Bottle Cap Turkey.
42. Bottle Cap Magnet Lady Bugs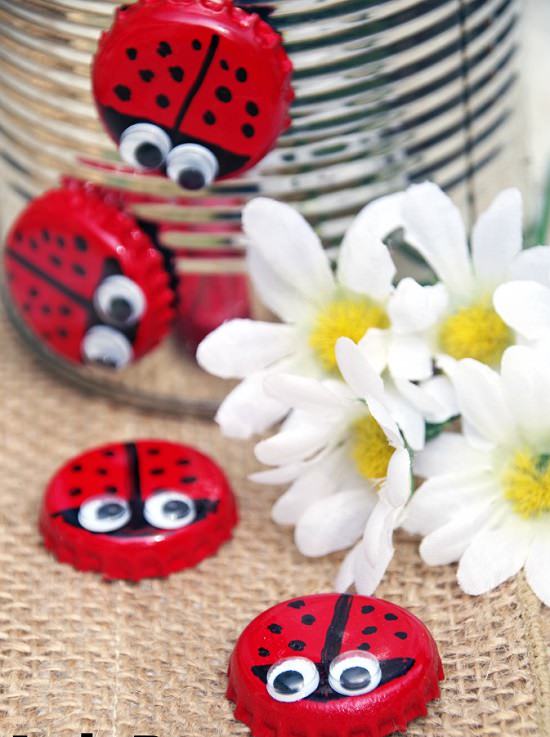 A little similar to the bottle cap fridge magnets mentioned above, this tutorial on Suburbia lets you craft ladybug magnets out of old bottle caps!
43. Bottle Cap Party Garland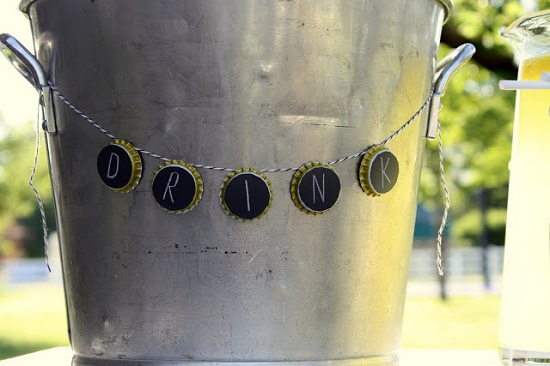 Party decor on a shoestring budget? We've got you covered! This craft idea from Sei Lifestyle allows you to create party garlands from Bottle Caps! Subsequently, why stop there, we say? You can use this tutorial to craft custom hangers for your closets and shelves!
44. Bottle Cap Owl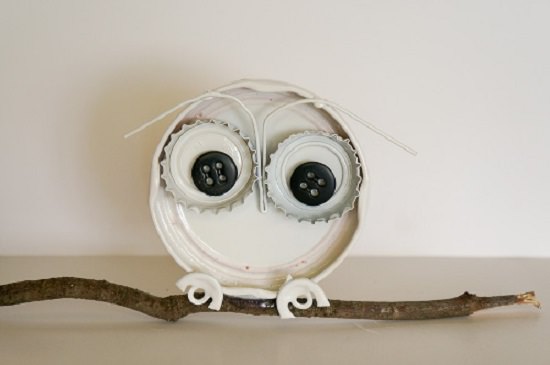 This bottle cap owl is a hoot and a half. That is to say, some clever use of multiple bottle caps and buttons here! Consequently, this is an amazing idea to decorate your bedroom or kitchen – just follow this simple tutorial on ThinkCrafts.
45. Bottle Cap Key Chains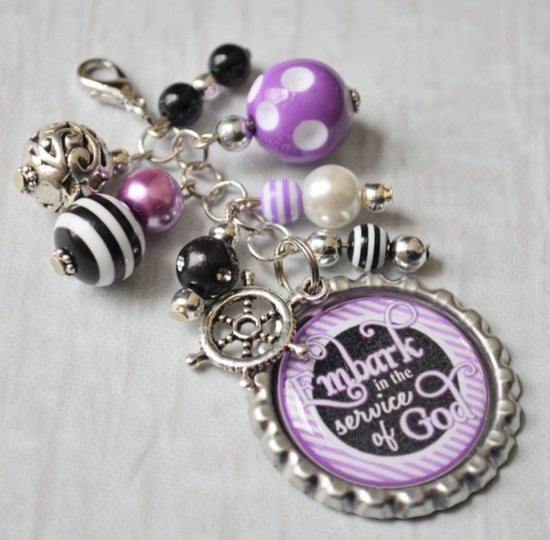 Certainly, what a pretty gifting idea! Who knew bottle cap crafting could go this far? For the bravehearted, this tutorial lets you craft DIY Bottle Cap Keychains. In short, a fun gifting solution for your loved ones.
46. Bottle Cap Bookmarks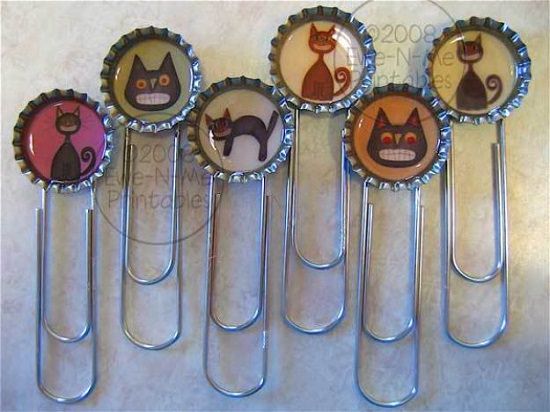 This DIY from By Your Hands requires only a few bottle caps, some printables and rather large paper clips. Most importantly, once you're done gluing them together, you'll be in possession of these truly unique Bottle Cap Bookmarks!
47. Bottle Cap Animal Bust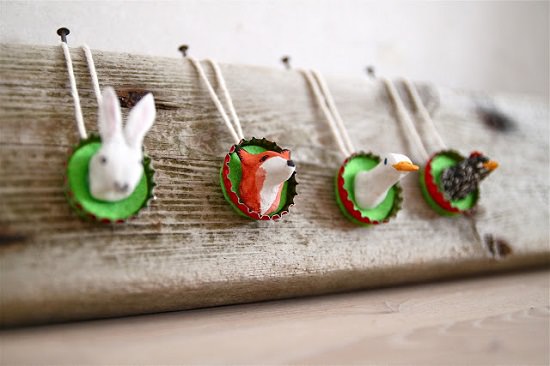 Meanwhile, using some paper clay and old bottle caps, you can make Bottle Cap Animal Busts to adorn a kitchen shelf or hang in Dad's garage. For instance, this excellent tutorial from Rebecca's DIY gives you a step-by-step on how to craft some of your own.
48. DIY Bottle Cap Crafts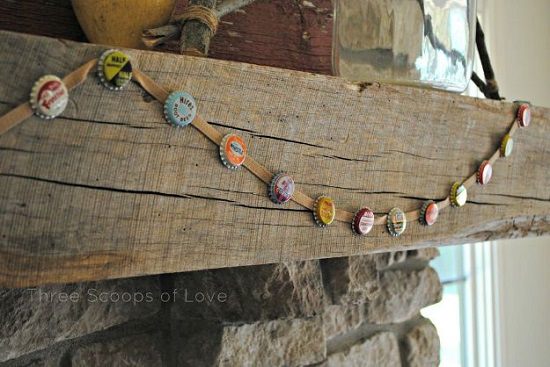 Three Scoops of Love brings you an excellent tutorial on how to make DIY Bottle Cap Bunting for redecorating an old space into a lively atmosphere. That is to say, just follow along with this tutorial – and keep hot glue handy.
49. DIY Bottle Cap String Art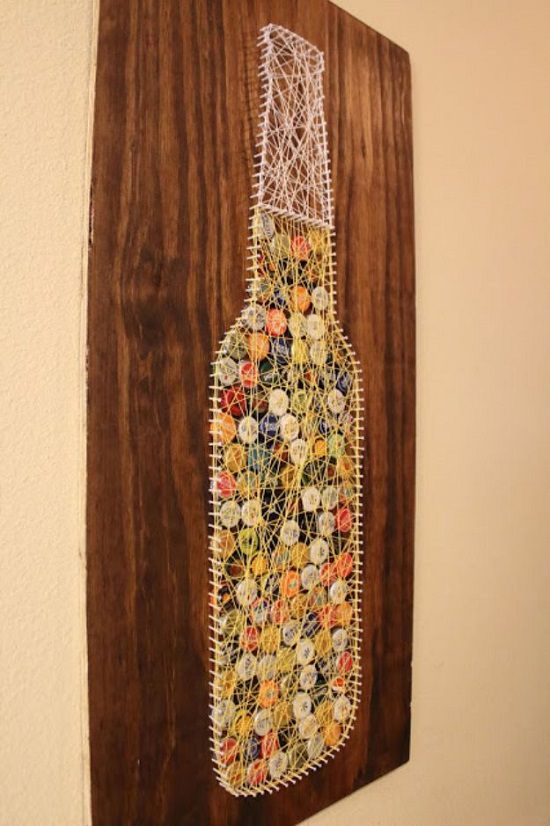 Yet another brilliant wall art tutorial by Sam Rhymes with Ham lets you follow along and create some dazzling DIY Bottle Cap String Art. Be sure to read the instructions carefully!
50. DIY Robot Toy for kids
Likewise, with a soldering iron, hot glue, some old bottle caps and a lot of zip ties, you can craft a DIY Robot Toy for Kids following this easy tutorial by Backyard Crafts.
51. Pencil Holder Using Bottle Caps
This old-school DIY Pencil Holder Using Bottle Caps is sure to make sure you follow the three R's – reduce, reuse, recycle! Above all, with a penchant for craftiness and enough hot glue, there's no limit to what you can achieve.
52. Doll Bag from Bottle Caps
Using bottle caps and some glue, you can artify a plain old bag into their favorite doll totes. Make them a Doll Bag from Bottle Caps! This tutorial from Poppen Atelier/Doll Art Studio is sure to come in handy.
53. Bottle-Cap Party Whistle
Finally, this Bottle Cap Party whistle is another unique and functional toy you can craft with your children on a lazy weekday.