Don't waste your extra stash of wine because we have compiled a list of some clever Wine Uses for Home and Garden below!
From making facial masks, preserving fruit to killing weed, and cleaning veggies, Wine Uses for Home and Garden are numerous that will interest you for sure!
Wine Uses for Home and Garden
1. Preserves Fruit

Preserving fruits in wine is the best way to enjoy seasonal produce all year round. Use wine-preserved fruits on desserts, ice cream, and as cake toppings. Read more here.
2. A Compost Starter

Wine is a lesser-known but effective way to kickstart the compost pile. Pour 3-4 teaspoons of red wine into the compost bin to activate the bacteria.
3. Weeds Killer

If your wine has gone bad, spritz it on the weeds to make your garden a weed-free space. Wine is a potent herbicide when turns into vinegar. Remember to not use wine on other plants.
4. Kill Mealybugs

Dip a q-tip in red wine and dab it on the mealybugs to eliminate their existence. Reuse this hack once or twice a week for better results. Never use wine vinegar for this method.
5. DIY Fruit Fly Trap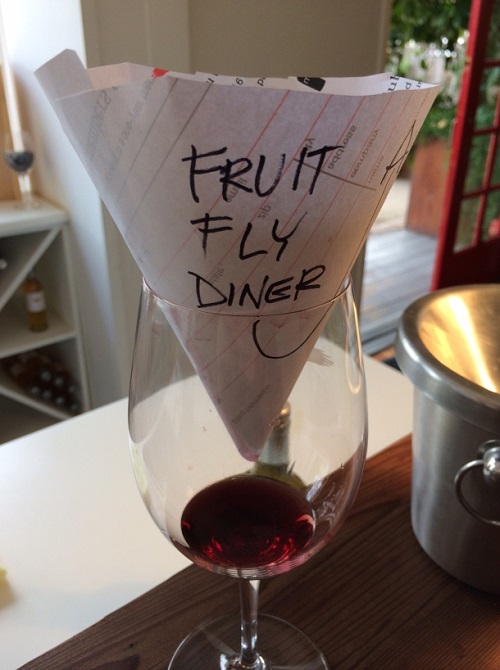 Fill a tall glass halfway with wine and a little bit of dish soap. Cover the glass with plastic wrap and make some tiny holes. Place this trap where fruit flies accumulate. Wine lures fly into the trap and they eventually sink.
6. Wine Syrup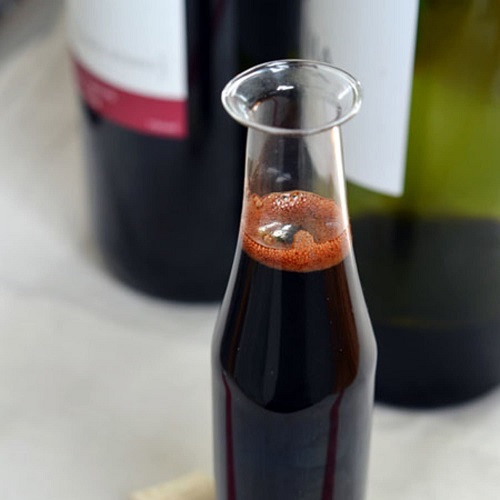 If you want to make a delicious syrup for toast, fruit, ice cream, or salad dressings, wine is your best friend. Boil 3 cups red wine and 1 cup sugar in a skillet, lower the heat and simmer until the mix becomes thick in appearance.
7. As a Facial Mask

There is no need to waste your money on commercial facial masks when you can make an organic one at home using leftover red wine, a teabag, yogurt, raw honey, and this tutorial.
8. Red Wine Body Scrub

Making a body scrub is the best way to use those extra bottles of wine. This red wine body scrub smells wonderful, exfoliates dead skin cells, and moisturizes irritated skin.
9. Wine Jelly

Transform red wine into mouthwatering jelly to make the crackers, french toast, cookies, and cream cheese more interesting. Grab lemon juice, wine, dry pectin, and white sugar for this recipe.
10. Removes Limescale

Spray white wine to get rid of limescale from your faucets, sinks, showerhead, and doorknobs. After half an hour, scrub the spot with a soft-bristled brush and wipe with a sponge.
11. Homemade Delicious Sangria

Making the traditional beverage of Spain named 'Sangria' is another great way to use wine. Head over to this recipe for more info.
12. DIY Red Wine Soap
Satisfy your inner DIYer by making soap out of red wine and a few supplies. These red wine soaps are full of fragrance and skin-beneficial antioxidants.
13. Eliminate Wine Stains

It sounds counterintuitive but to remove red wine stains, white wine is the best option. Pour a little bit of wine over the stained spot, let it soak for a minute or two, and then blot with a paper towel. Redo the process if needed.
14. Red Wine Chocolate Cake

Are you bored with the regular chocolate cake? Add red wine into the cake recipe to get a more fluffy, creamier, and flavorful cake. The details are here.
15. As a Hair Rinse

According to this source, rinsing hair with red wine helps with UV protection, hair loss, dandruff, and irritated scalp. Avoid this in-home treatment if you have scalp-related issues.
16. Remove Grease Stains

Wine removes grease stains from garage floors and BBQ, thanks to its alcohol and acidic content. Spritz white wine on the stained spot and sprinkle baking soda. Wait 3-5 minutes and then rinse with water after scrubbing.
17. Clean Fruits and Veggies

As wine has anti-microbial properties, washing your fruits and veggies with this beverage kills surface bacteria. Use this hack only when you're running out of other options.
18. Wine Marinade

Instead of spilling the leftover wine in the sink, create a marinade to make the meat tender and more delicious. It's one of the best wine uses for the home.
19. Wine Ice Cubes

Making ice cubes from leftover wine is a nice idea. These cubes make cuisines and cocktails more flavorful. Fill an entire tray with red wine, cover the top with saran wrap, and then put the tray in the freezer.
20. Dye Fabric
Transform the look of your old linens with red wine. Follow this super easy tutorial to dye the desired fabric, including t-shirts and bedsheets.
21. Watercolor Paint With Wine
Show your creativity by making art with wine. Either use the splatter paint technique or check out this video to learn more about this hack.
22. Kitchen Surface Disinfectant

Wine not only eliminates stains out of kitchen countertops but also serves as a mild disinfectant as well. Wet the desired kitchen surface with white wine, leave it for a few minutes, and then clean with a paper towel.
23. Dirty Windows Cleaner

Use dry white wine to make your windows and glass shower door free from hard water stains. Soak a cloth in wine and rub it on the problematic spot for a while. Redo if needed.
24. Charge Car Battery with Wine
To revive your dead car battery with wine, pop out its caps and fill each cell with enough red wine using a funnel. The details are here.
25. Strawberry Red Wine Popsicles

Make popsicles out of red wine and relive your childhood memories. These popsicles are a perfect treat on warm sunny days. It's one of the best wine uses for home and garden.
26. Homemade Red Wine Vinegar

Do you love wine vinegar? If yes, DIY vinegar at home with red wine, vinegar mother, glass jar, cheesecloth, water, and this recipe.
27. Make Cut Flowers Last Longer

To freshen up your cut flowers, mix two tbsps of wine, one teaspoon of sugar, and a quart of water into a spray bottle. Mist this solution on the cut flowers.
28. Repel Ants

Spoiled wine is the most effective means to keep ants at bay. This remedy works because ants hate the scent of wine vinegar. Spritz wine on the trails, windows, door frames, and other potential entryways.
29. Red Wine Chocolate Fudge Brownies

Make the most out of your favorite leftover wine by mixing and baking it with fudgy chocolate brownies – a lovely add-on for parties.
30. Mulled Wine

Making seasonal favorite mulled wine at home is pretty easy. Follow this recipe to prepare this traditional beverage.