Is peanut butter a good face mask? Let's find out the answer along with some recipes and the potential benefits below!

Peanut butter is a smooth, creamy-textured substance made from roasted peanuts. Besides being a kitchen staple with numerous therapeutic properties, peanut butter is the go-to ingredient in various skin care recipes as well. Before adding peanut to your homemade face mask recipes, read this article to find out, Is peanut butter a good face mask or not?
Is Peanut Butter a Good Face Mask?
Peanut butter is a good face mask for all kinds of skin, including sensitive and acne-prone ones. It has vitamin E, K, and B6, along with omega fatty acids, zinc, copper, calcium, and selenium, making the skin healthy, glowy, hydrated, and firm. Furthermore, peanut butter pulls away dirt and excess oil from the face as well.
Peanut Butter Face Mask Recipe
Make your beauty routine a little bit sweeter with these different face masks recipes.
1. Peanut Butter Yogurt Face Mask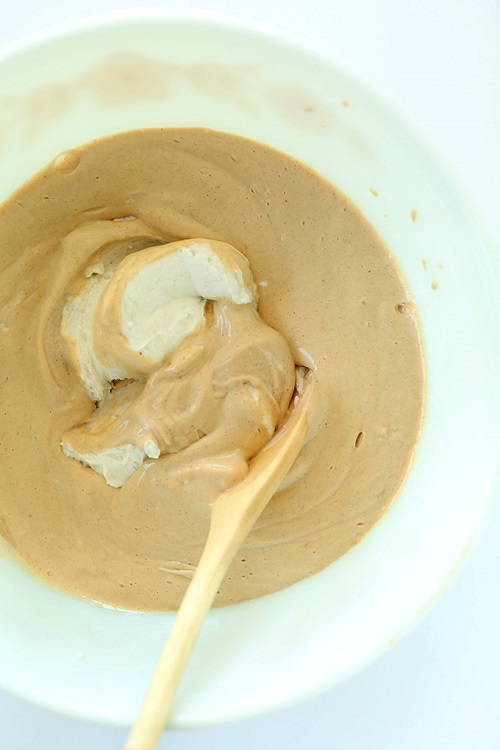 Infused with the goodness of yogurt and peanut butter, this skincare practice prevents and heals dry, itchy skin.
Ingredients
1 Tbsp of Organic or Homemade Peanut Butter
1/2 Tbsp of Honey
1/2 Tbsp of Yogurt
2. Peanut Butter & Jelly Smoothie Mask

This recipe doubles up as a hydrating face mask and a delicious edible smoothie.
Ingredients
1/2 Cup of Unsweetened Almond Milk
1/2 Tbsp of Organic Peanut Butter
1/4 Cup of Raspberries
1/4 Cup of Strawberries
1/2 Tbsp of Raw Coconut Nectar
3. Peanut Butter, Turmeric, and Lemon Face Mask

Loaded with turmeric, lemon juice, and peanut butter, this mask makes your skin glowy and lustrous.
Ingredients
2 Tbsps of Homemade Peanut Butter
1/4 Tsp of Turmeric Powder
1/2 Tsp of Fresh Lemon Juice
1 Tsp of Rose Water
4. Peanut Butter & Aloe Vera Face Mask

Enrich your face with the moisturizing and skin-soothing properties of aloe vera, peanut butter, and rosewater.
Ingredients
1 Tbsp of Peanut Butter
1 Tbsp of Homemade Aloe Vera Gel
Two Tsp of Rosewater
5. Peanut Butter Chocolate Mask Recipe

Packed with skin-nourishing cocoa flavonoids, this face mask maintains skin health by improving skin structure and function.
Ingredients
1 Tbsp of Cocoa Powder
1 Tbsp of Peanut Butter
2 Tbsps of Milk
6. Peanut Butter & Fuller's Earth Face Mask

If you have oily skin or clogged pores, add this face mask containing fuller's earth in your skincare routine.
Ingredients
1 Tbsp of Organic Peanut Butter
1 Tsp of Powdered Fuller's Earth
4-6 Drops of Lemon Juice
1 Tsp of Rosewater
7. Homemade Peanut Butter Tomato Face Mask

Try this face mask to exfoliate dead skin cells and improve skin appearance.
Ingredients
1 Tbsp of Peanut Butter
1 Tbsp of Tomato Juice
8. DIY Peanut Butter Egg Facial Mask
Get the skin tightening and lightening benefits of peanut butter, egg, and honey by using this nutritious facial mask recipe.
Ingredients
1 Tbsp of Peanut Butter
1 Tbsp of Honey
An Egg
9. Banana, Peanut Butter, and Turmeric Facial Mask
All you need is this skin-rejuvenating face mask recipe that restores skin moisture, improves skin tone, and gives radiant skin.
Ingredients
1 Tbsp of Homemade Peanut Butter
1 Tbsp of Mashed Banana
1/4 Tsp of Turmeric Powder
1 Tsp of Fuller's Earth or Bentonite Clay
Water (as needed)
10. Peanut Butter and Jam Face Mask
Take a look at this skin moisturizing recipe packed with peanut butter, natural jam, honey, and olive oil.
Ingredients
1 Tbsp of Smooth Peanut Butter
1 Tbsp of Natural Strawberry or Raspberry Jam
2 Tbsps of Olive Oil
1 Tbsp of Organic Honey
11. DIY Papaya and Peanut Butter Face Mask
Filled with numerous beneficial antioxidants and micronutrients, this recipe is best for all skin types.
Ingredients
1 Tbsp of Mashed Green Papaya
1 Tbsp of Smooth Peanut Butter
2 Tbsp of Aloe Vera Gel
12. Peanut Butter & Cucumber Facial Mask
Add this facial mask to your skincare regime to enrich your skin with the beauty benefits of cucumber, lemon, milk, strawberry, and peanut butter.
Ingredients
1-inch Slice of Cucumber
1 Tbsp of Peanut Butter
3 Tsp of Milk
1 Tbsp of Fresh Lemon Juice
A Strawberry
Supplies
A Mixing Bowl
A Spoon
Blender
Airtight Container
Directions
Blend all the ingredients in the blender or manually combine in a bowl to get a smooth, creamy paste.
When not in use, keep the remaining mix in an airtight container.
Your peanut butter face mask is ready to use.
Use any of the above face masks once or twice a week.
How to Apply
After preparing the desired face mask, wash your face with a regular cleanser, and pat dry. Next, spread the mask on your face and massage gently in circular motions. Leave the mask for half an hour or so to dry, then remove the mask with water, followed by a natural skin moisturizer.
Precautions
People having cuts or wounds must avoid these face mask recipes.
Don't use these face masks if you're allergic to peanut butter or any of the listed ingredients.
Always do a patch test on an inconspicuous part of your body to find out whether these face masks are safe and suitable for your skin or not.
Skin Benefits of Peanut Butter

Here are some fantastic benefits of peanut butter that you don't know them before:
Hydrates Skin- Thanks to its peanut oil content, peanut butter hydrates dry skin, thereby gives youthful, supple skin without increasing TEWL (transepidermal water loss).
Has Anti-aging Effects- As peanut butter is a rich source of selenium and vitamin E, it's an excellent product to combat the signs of aging.
Repair Skin Barrier- According to this study, peanut oil available in peanut butter supports a healthy skin barrier and repairs it up to some extent.
Final Thoughts
As peanut butter has some amazing skin benefits to offer, including it in your skincare regime is a wise decision. Although peanut butter is safe for topical usage, individuals having skin-related disorders must consult with a dermatologist.