Kids love to play with marble runs. So, gift them some interesting ones made with love by using these marble run ideas and your creativity!
If your little ones are fascinated with marble runs, then here're some fantastic and frugal marble run ideas that not only provide hours of fun but also encourage them to be more creative and resourceful.
Marble Run Ideas
1. Craft Sticks Handheld Marble Run

Do you know, marble run can be made easily from some mere craft sticks? If no, then read these quick instructions to build a handheld one for your kiddo.
2. Marble Maze

Follow these instructions to create an inexpensive and cutesy marble labyrinth with a clock, craft foam, and a little bit of DIY skill.
3. DIY Marble Run from Toilet Rolls

Make good use of leftover toilet rolls by crafting this fascinating marble run game that your children are going to adore.
4. LEGO Marble Run

Marble run made up of LEGO is another fun craft for kids. This is probably one of the best marble run ideas on this list.
5. Pool Noodle Marble Run
All you want is a pool noodle, scissors, bamboo skewers, painter's tape, and A4 paper to fabricate this fun pool noodle marble run.
6. Cereal Box Marble Run

Create this fantastic marble run by recycling an empty cereal box to keep your little ones entertained and occupied for quite a while.
7. Wooden Roller Coaster Marble Run

An epitome of functional art, this pretty neat roller coaster marble run is made up of wood and will surely fascinate your little munchkins.
8. Wall-Mounted Marble Run

Another toilet rolls marble run idea, but this time, the entire structure is attached to the wall to enhance the gaming experience.
9. DIY Big Marble Run Machine from Cardboard
With a few supplies and a little bit of patience, you can easily DIY a big marble run machine from cardboard. It's an enjoyable and adventurous game for kids to play with.
10. Steel Marble Run
Made up of steel wire, this steel marble run is sturdy, enticing, and a perfect boredom buster for your little buddies.
11. Junk Model Marble Run

Follow the zero waste lifestyle by DIYing this marble run with your kiddo using recyclable junk items.
12. DIY Two Minutes Marble Run
Only a ruler and some clothespins are needed to build the most simplistic marble run within two minutes. Watch the video to learn more.
13. DIY Wooden Marble Track
Made with oak, this simple yet sturdy wooden marble run is a pretty much functional and fantastic addition to your kids' game arsenal.
14. Pegboard Marble Ramp

Motivate your little engineers to build this changeable pegboard marble run that even toddlers can play with.
15. Milk Carton Marble Run

Recycle milk cartons and paper tubes to build a cheap and adorable marble run. Head over to this tutorial to learn more.
16. Paper Plate Marble Track

Marble track made of paper plates is tricky to set up but worth trying, and most importantly, it's an excellent parent-child bonding activity. If you wish to use old plastic plates instead of paper, it will be a great move for the environment.
17. Marble Run With an Inclined Plane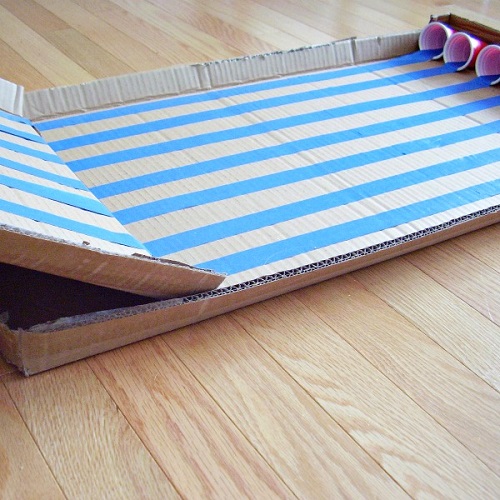 Provide a hands-on STEAM learning experience to your kids by involving them in the preparation of this marble run project.
18. Train Track Marble Run

What about making a marble run with the train track that no one ever plays with anymore? Sounds interesting, right! Take inspiration from this tutorial to learn more.
19. Marble Run with Magnetic Wand

DIYing a handy marble run out of stuff you already have, like a shoebox lid, craft sticks, straws, bottle caps, and tape roll. Plus, playing this game with a magnetic wand and magnetic ball gives a magical feel to kids.
20. Refrigerator Marble Run

Use the refrigerator door as a canvas to create this entertaining marble run and explore the world of kinetic energy with your kids.
Read Also: Where can I find the best safe casinos?