Are you an interior-decor enthusiast? Check out these Decorating Ideas for Above Kitchen Cabinets for a quirky makeover!
Here're some amazing Decorating Ideas for Above Kitchen Cabinets to transform the underutilized space into a more appealing and functional spot.
Have a look at some stunning blue kitchen cabinet ideas here
---
Decorating Ideas for Above Kitchen Cabinets
1. Hang a Vintage Surfboard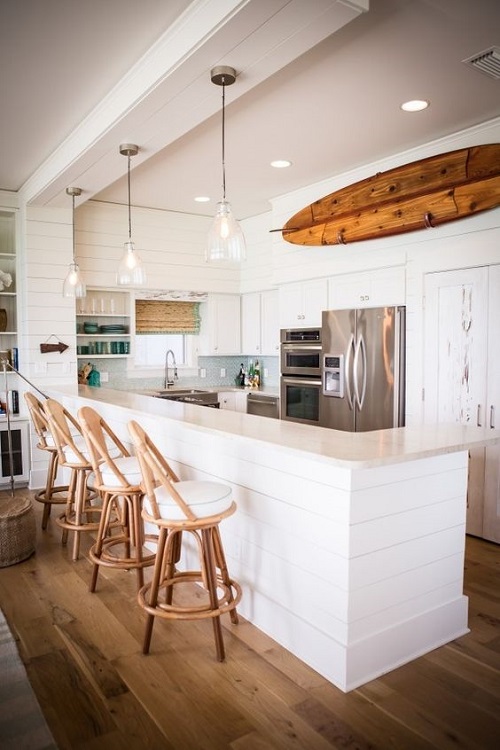 Recreate this coastal look by installing an eye-catching vintage surfboard above the upper cabinetry.
2. Display Meaningful Collection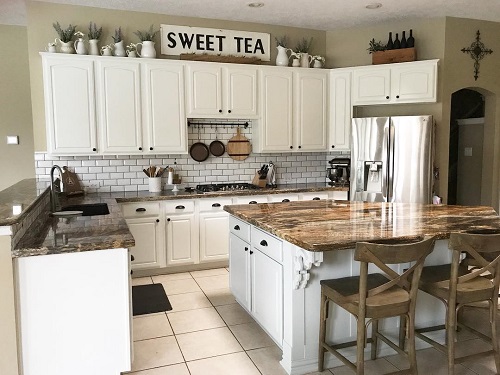 Adorn the empty space above the kitchen cupboards with a vintage signboard and flower pitchers.
3. Fill the Space With Tall Pieces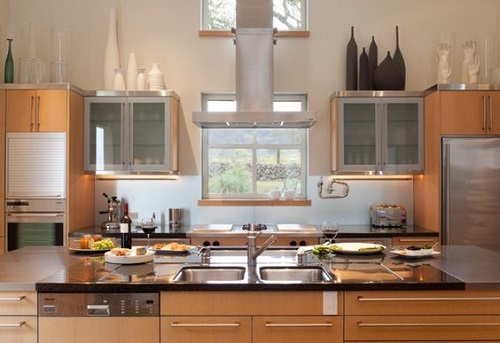 If your kitchen has high ceilings, place tall black & white vases and ceramic art over the upper cupboards for a stylish look.
4. Collection of Wicker and Rattan Baskets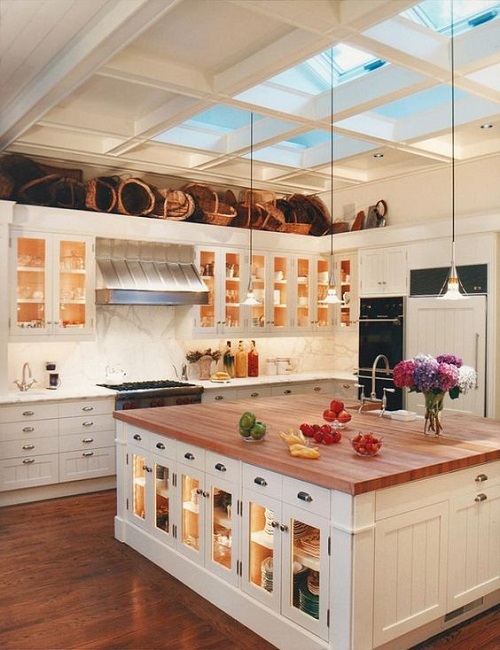 Add texture and a timeless appeal by lining up a collection of wicker and rattan baskets on the upper cupboard.
5. Fall Kitchen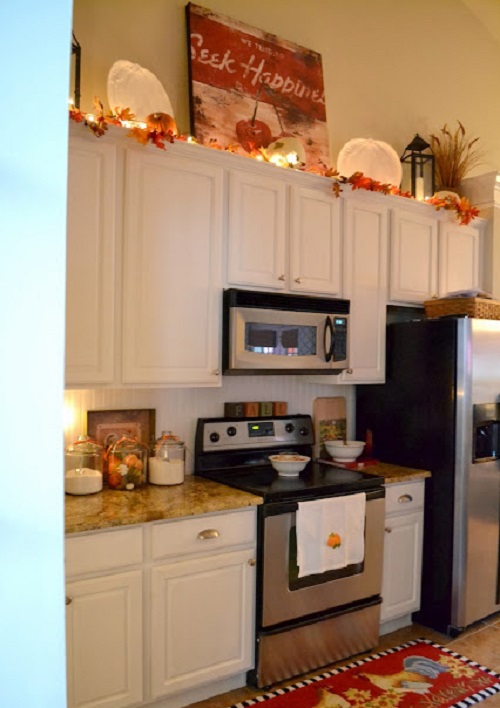 Mimic this fall kitchen decor with pretty pumpkin platters, faux pumpkins, leaf garland, wheat, a rustic sign, and string lights.
6. A Brick Wall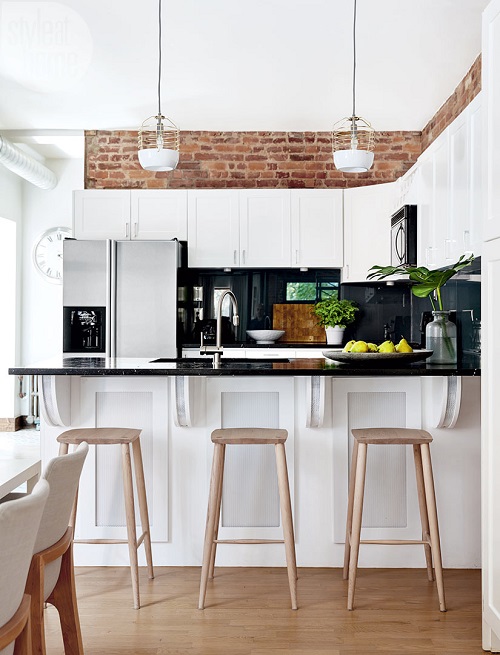 Introduce a brick wall above the upper cabinetry and get a statement-making industrial look in no time.
7. Indoor Garden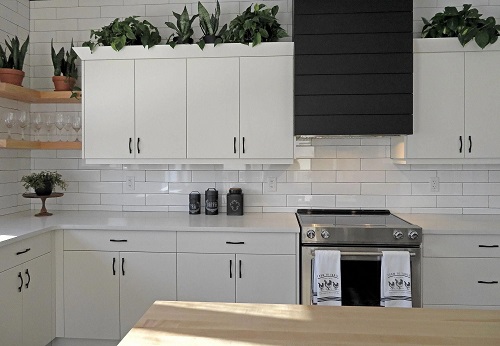 Turn your cooking space into a green oasis by putting the planters on the upper cupboard for a natural, vibrant accent.
Find out some DIY indoor greenhouse ideas for apartment gardens here
8. Christmas Decorations Above Cabinets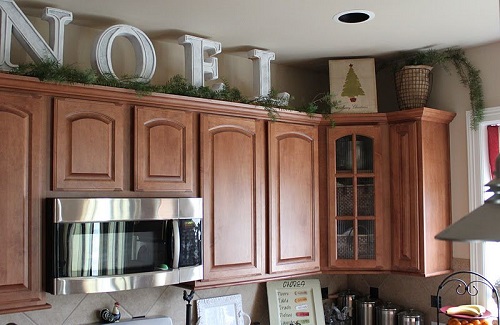 Spread festive vibes in the kitchen by decorating the cabinetry with 'Noel' letters, an evergreen garland, and a Christmas tree picture.
9. Use Chalkboard Paint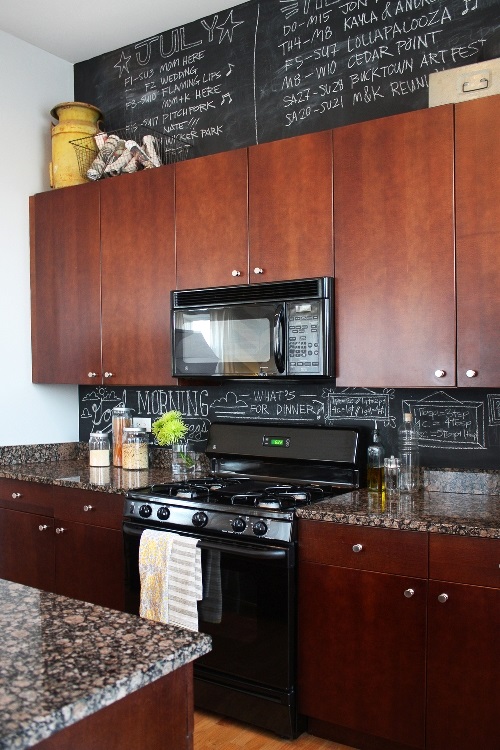 Convert the awkward spot in-between the cabinet and kitchen ceiling into a blank canvas with chalkboard paint. Use that space to write your favorite thought, poem, or recipe.
10. Bring in Artificial Plants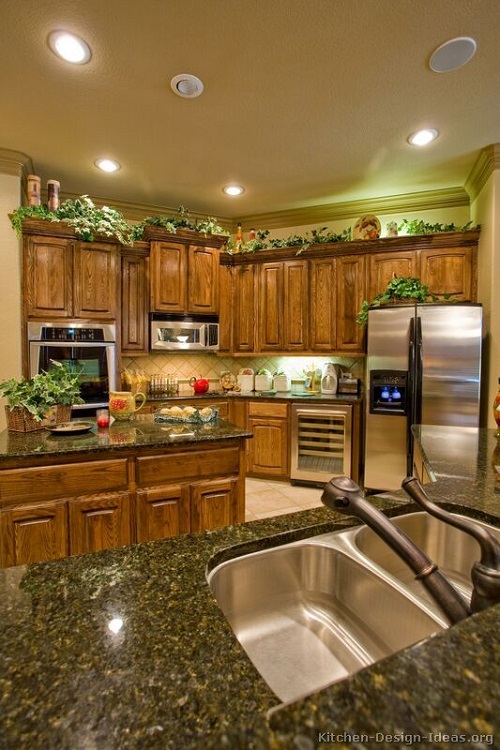 If you don't have a green thumb but still want to bring greenery indoors, consider adding artificial plants over the cupboard.
11. Pretty Plates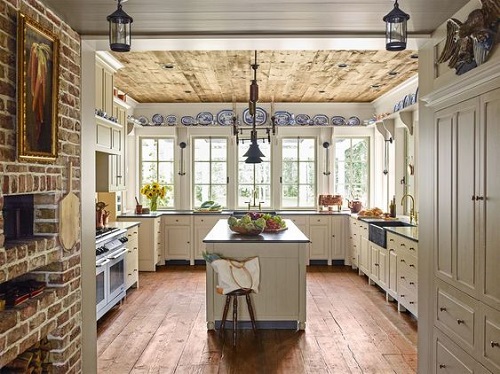 Beautify the cupboard space with fancy dish plates for an extra pop of pattern. It's one of the best decorating ideas for the above kitchen cabinets.
12. Try Twinkle Lights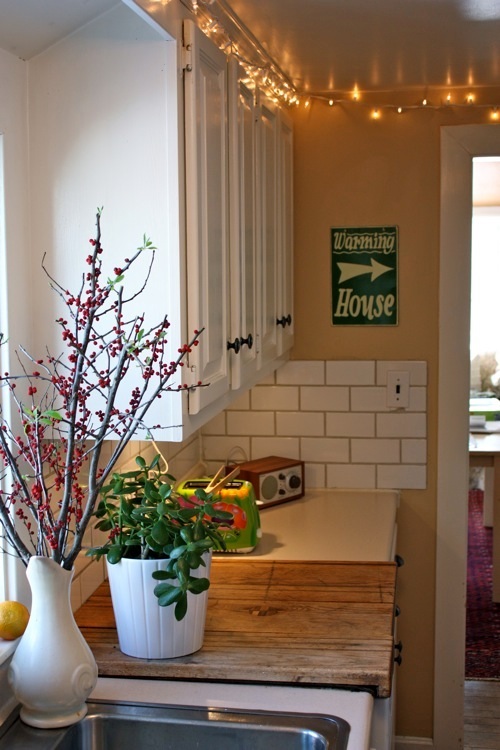 Embellish the upper cupboard with lots of twinkle lights to make your kitchen a magical place.
13. Store Cookbooks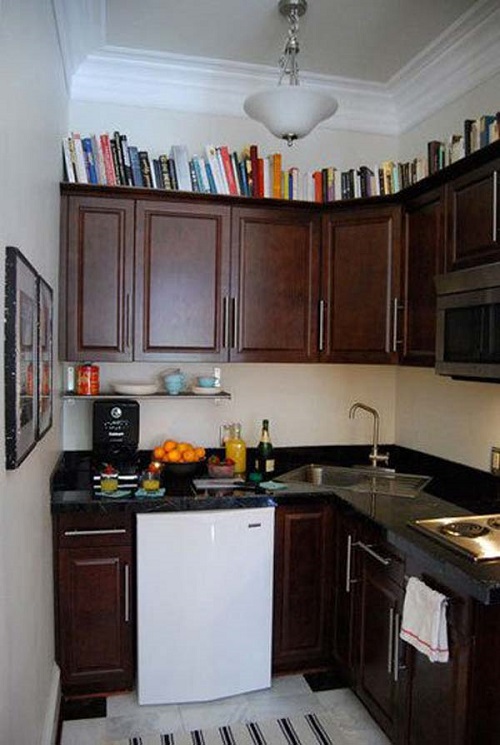 Storing cookbooks over the cabinets gives your space a unique look and offers easy access as well.
14. Incorporate Floating Wooden Shelving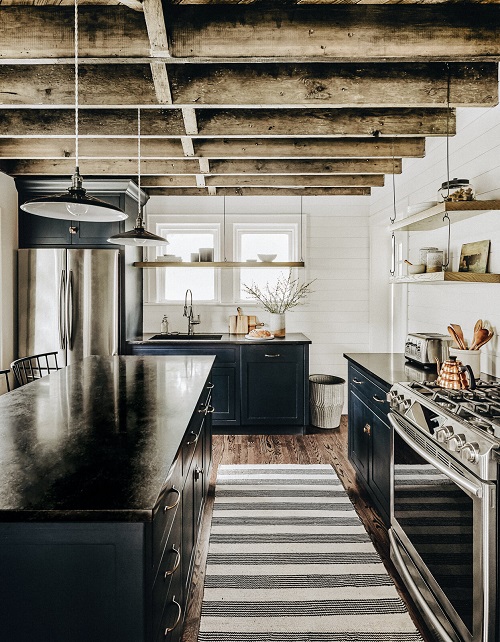 Consider installing reclaimed wooden floating shelvings over the kitchen cabinetry with wire hooks for a rustic flair.
15. Go Wallpaper Wild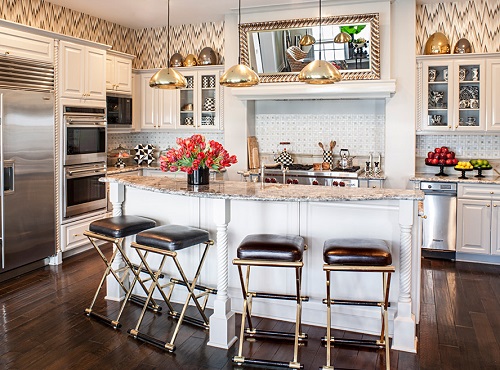 Decorate the spot between the cupboards and kitchen ceiling with patterned wallpaper for added charm. It's one of the simple and affordable decorating ideas for the above kitchen cabinets.
16. Use Fabric-Topped Letters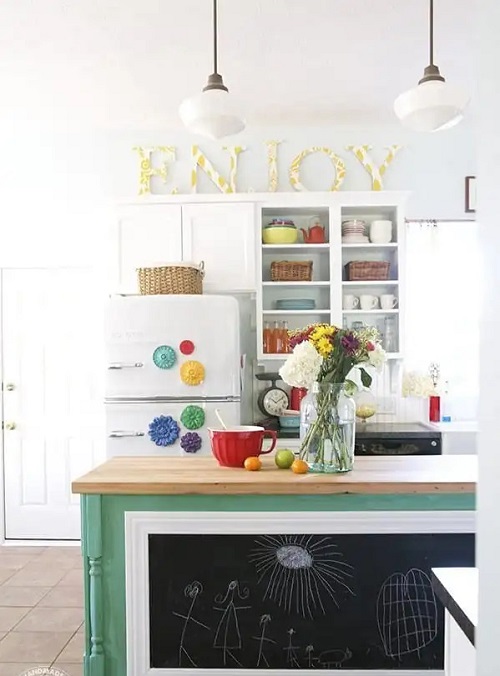 Deck up your kitchen cupboards with chic fabric-topped letters to add color and pizzazz to the otherwise dull space.
17. Vintage Collectibles in Christmas Kitchen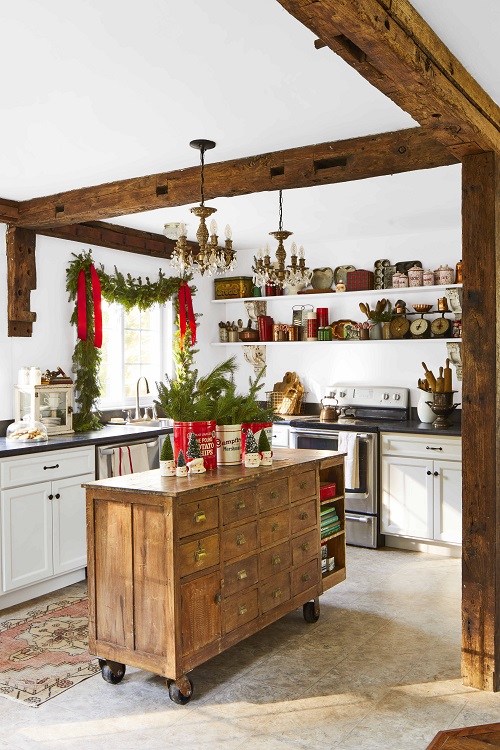 This Christmas, brighten up the cooking area with old postal weighing scales, vintage food tin cans, antique baking trays, and other vintage collectibles.
18. Festive Christmas Wreaths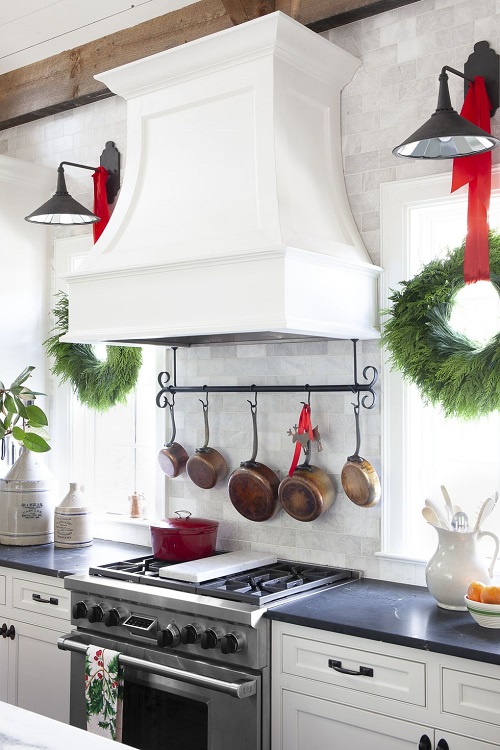 To spread festive joy in your kitchen, hang evergreen wreaths using a red ribbon above the cabinetry.
19. Display Christmas Village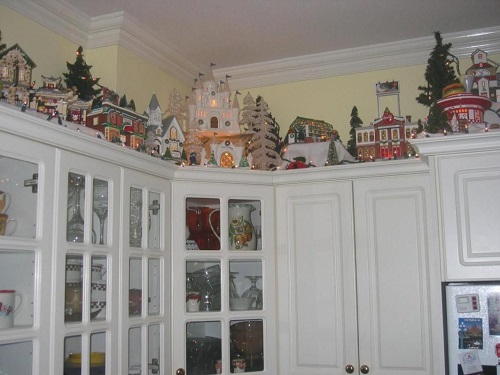 Jazz up the look and feel of your cooking space by decking up the cupboards with a Christmas village.
20. Introduce an Oversized Farmhouse Style Signboard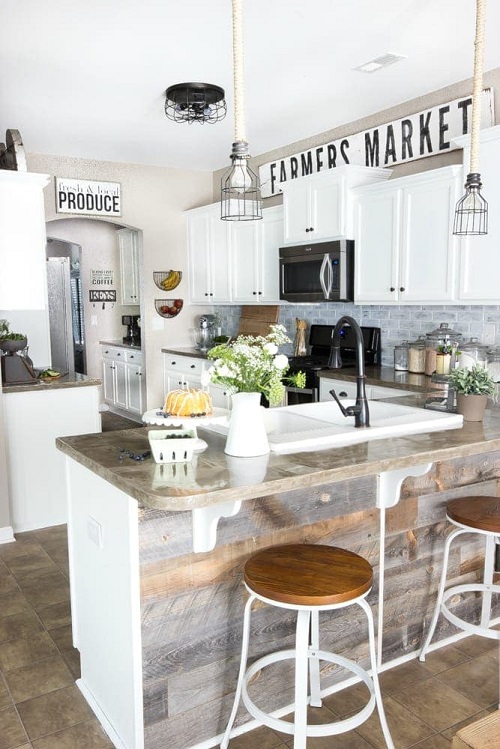 Hang an oversized signboard on the kitchen wall for instant farmhouse appeal. It's one of the most amazing decorating ideas for the above kitchen cabinets.
21. Kitchen Cabinet Decor With Farmhouse Flair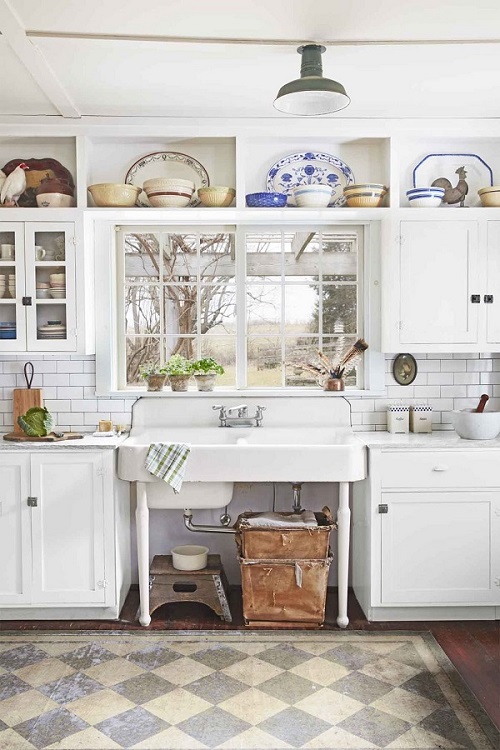 The built-in nooks above the cupboards are ideal for showcasing your porcelain or bone china pottery collection.
22. Homemade Burlap Bins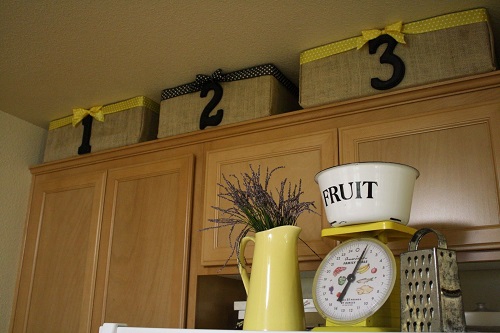 These burlap bins not only offer out-of-sight storage above the cabinets but also bring personality and charm to the cooking room. Read more here.
23. Try Backsplash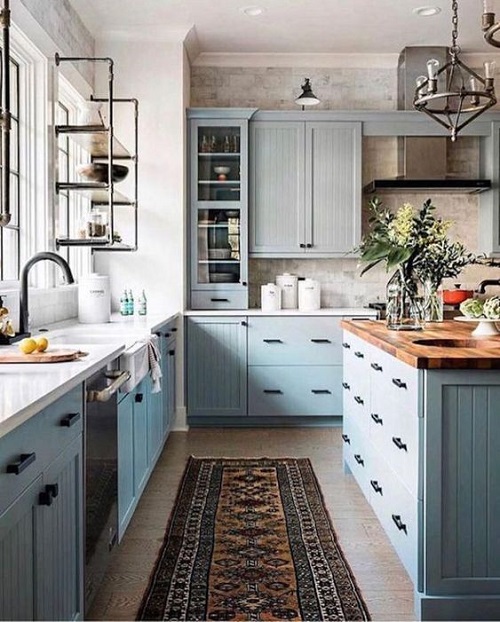 Use a backsplash over the upper cabinetry to achieve a dramatic look. This decorating idea creates a seamless visual.
24. Mirror on the Cabinet
Placing a large dazzling mirror over the cupboard is an easy and quick way to add personality and character to the space.
25. Arrange Framed Artworks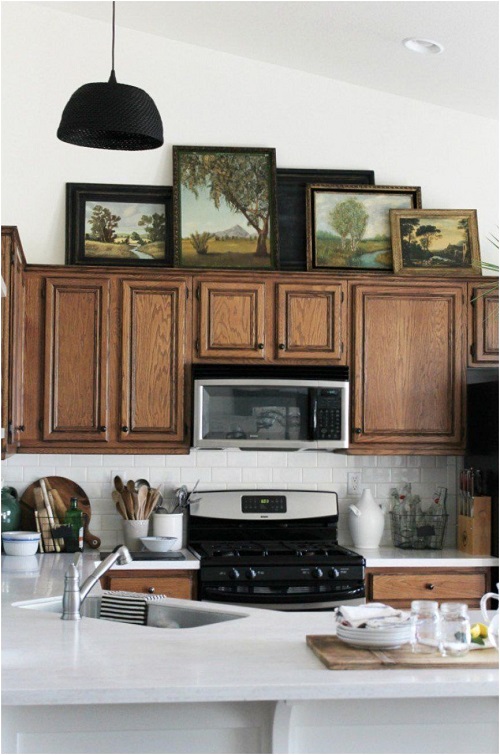 Do you have lots of space above the kitchen cabinets? Then displaying your favorite framed artwork and photographs is an ideal way to fill the void.
26. Vibrant Vintage Lunchboxes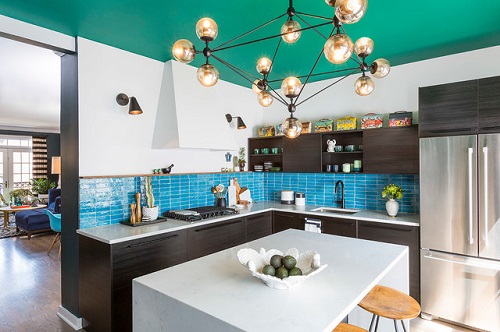 Arrange colorful vintage lunchboxes above the cupboard and bring retro charm to the cooking room.
27. Use Wooden Bowls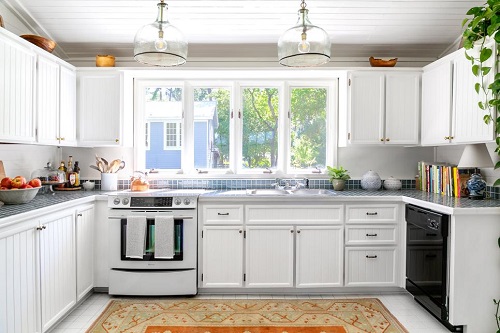 You only need a couple of wooden bowls to uplift the aesthetic appeal. It's one of the fantastic decorating ideas for the above kitchen cabinets.
28. Antique Treasures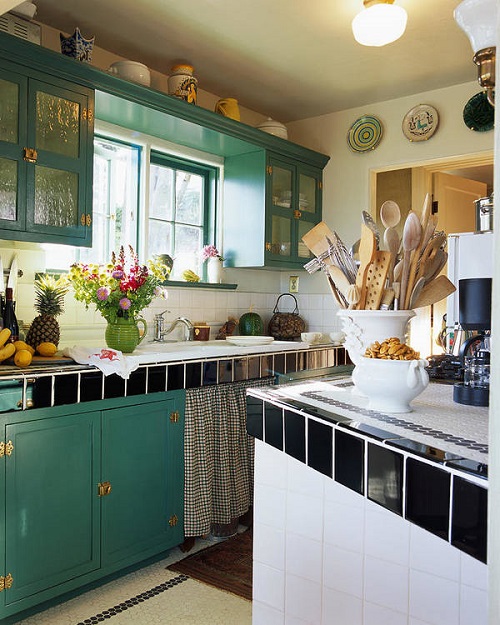 Add interest to the otherwise featureless space above the kitchen cupboards with an assortment of antique jars.
29. Beach Themed Decor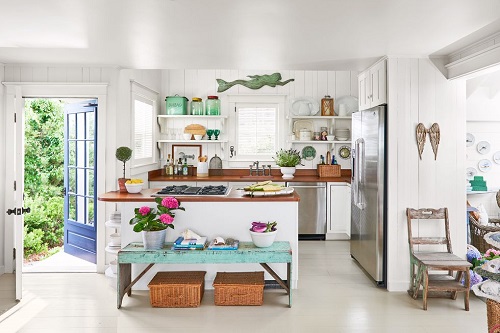 Give your monotonous cooking space chic beachy vibes with this wall-mounted mermaid decor.
30. Old Window Frames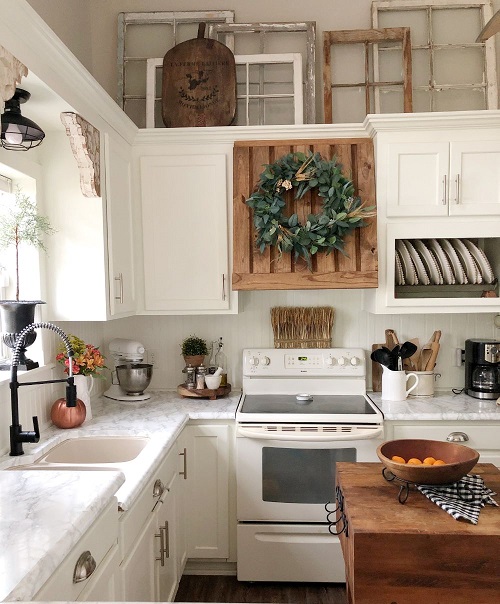 Beautify the top of kitchen cabinet decor with old window frames and a wooden chopping board for rustic farmhouse vibes.
Check out some clever DIY kitchen countertop ideas here