Want to give your cooking area a facelift without breaking the bank? Check out these Easy DIY Kitchen Backsplash Ideas!
Turn your kitchen into a conversation piece with these Easy DIY Kitchen Backsplash Ideas. They make your space more lively and exciting.
Here are some DIY kitchen countertop ideas
---
Easy DIY Kitchen Backsplash Ideas
1. $30 Beadboard Kitchen Backsplash Tutorial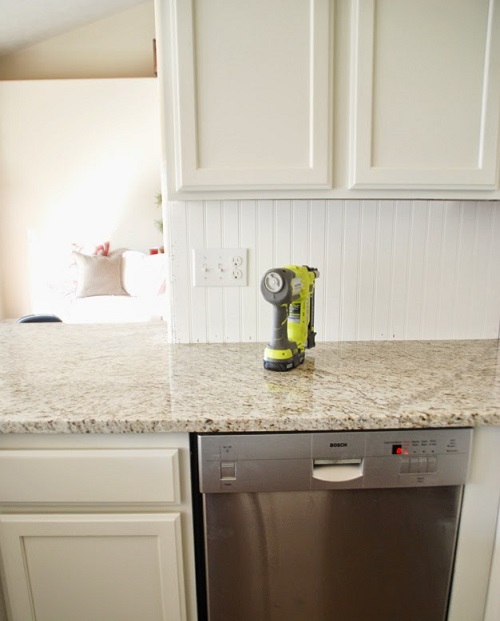 If you want to update your kitchen backsplash but can't spend more than $30, this project is for you.
2. DIY Stone Backsplash With Airstone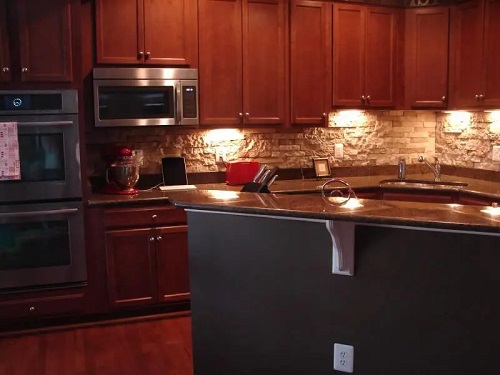 Here's the tutorial to create a unique-looking backsplash using airstones and a little DIYing enthusiasm.
3. Laminated Backsplash DIY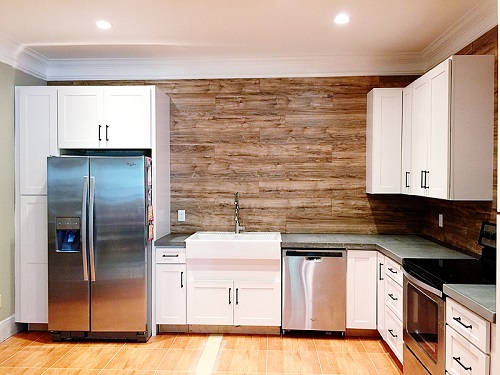 All you need are laminate, a brad nailer, a jigsaw, and a table saw to complete this project. The details are here.
4. DIY Wine Cork Kitchen Backsplash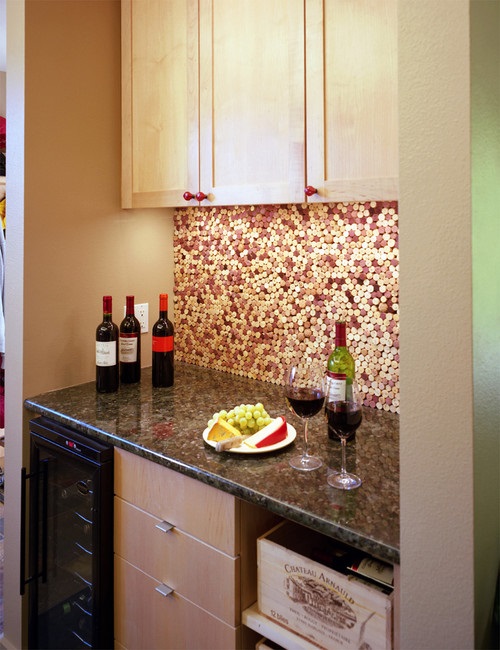 Do you have lots of wine corks? Try creating a wine cork backsplash for your kitchen, and you'll not regret.
5. Rustic Kitchen Backsplash From Old Pallets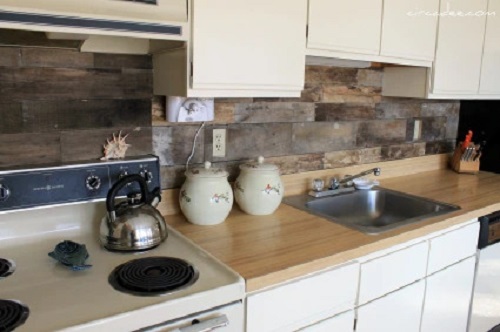 Made from weathered oak pallet board, this backsplash brings rustic vibes to the cooking area. Get the details here.
6. Washable Wallpaper Backsplash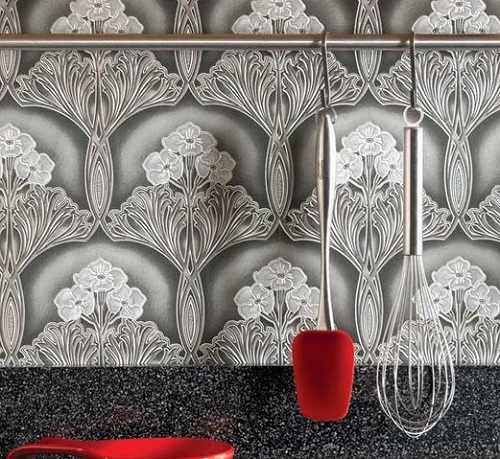 Install cleanable vinyl wallpaper to create a stunning backsplash in your kitchen. Hop to this tutorial for more info.
7. Blue Tile Backsplash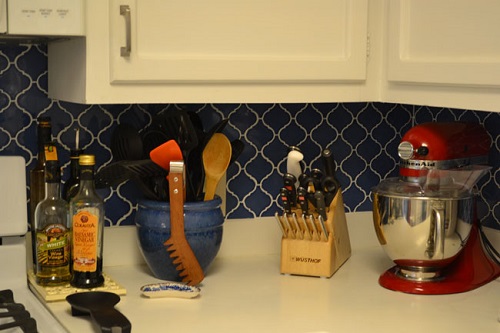 With blue tiles and patience, anyone can make this stunning backsplash. Click here for the details.
8. Install a Tin Tile Backsplash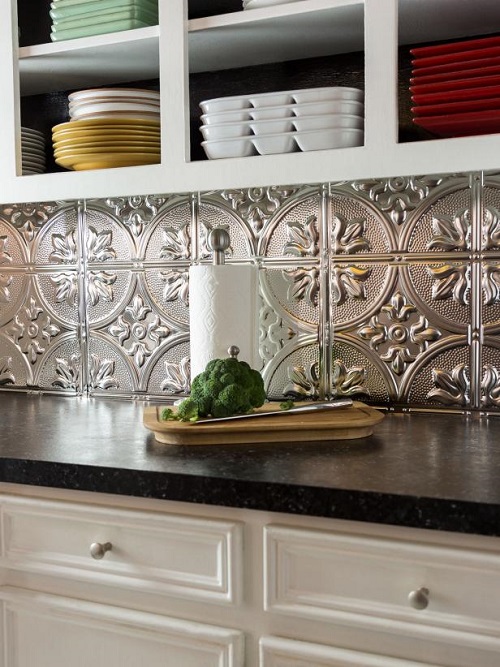 Give your kitchen a stylish upgrade with metallic-finish tiles backsplash. This DIY project requires a few standard tools.
9. DIY Herringbone Wood Shim Backsplash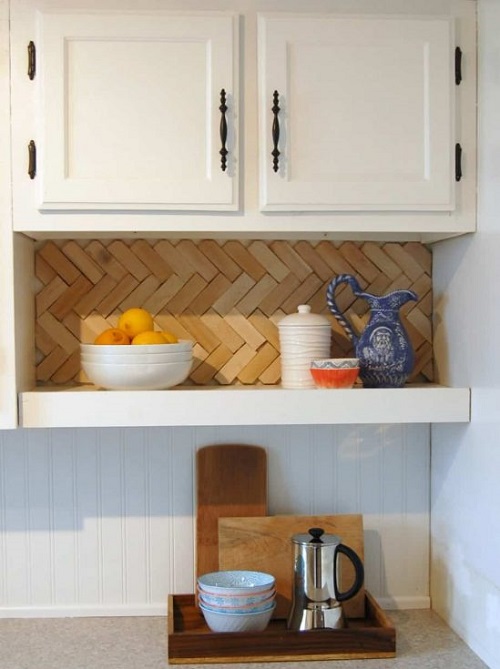 This herringbone wood shim backsplash is removable and costs pennies to make. It's one of the best DIY kitchen backsplash ideas.
10. Stone Kitchen Backsplash Idea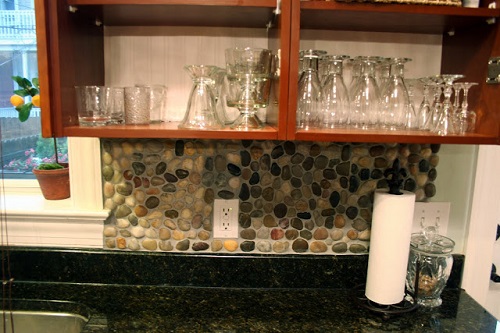 Fill your cooking room with beachy vibes with this Instagram-worthy stone backsplash. It's a time-consuming project but worth the effort.
11. DIY Mixed Tiles Kitchen Backsplash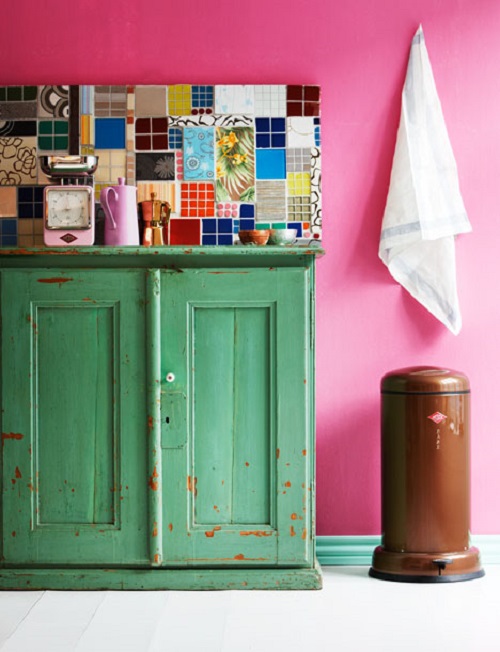 This stunning mosaic backsplash is made from mixed tiles. The idea is simple, but the result is really beautiful.
12. Mosaic Glass Tile Backsplash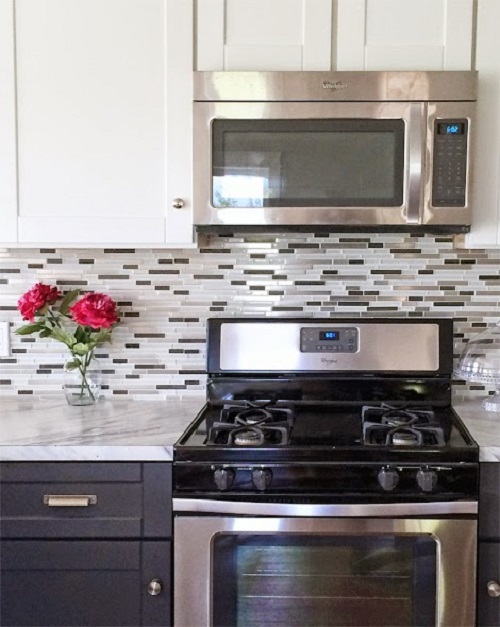 The focal point of this kitchen is the mosaic-tiled backsplash that adds color and texture to the space. Details are here.
13. China Mosaic Backsplash
Create a beautiful mosaic backsplash from broken china plates and cups. This unique idea lets you make any pattern you like for a truly one-of-a-kind look.
Have a look at some funky kitchen blind ideas here
14. DIY Painted Backsplash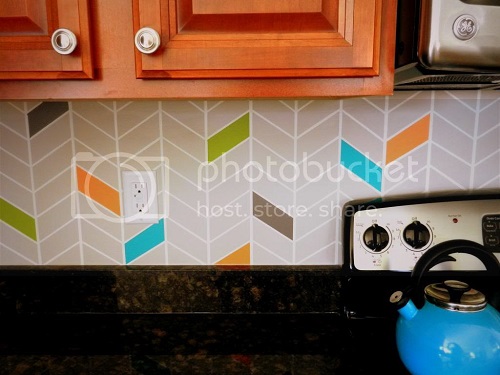 You can get amazing visuals like this DIYer achieved in her kitchen with creativity and a few supplies.
15. DIY Backsplash Mosaic Tile Paint Project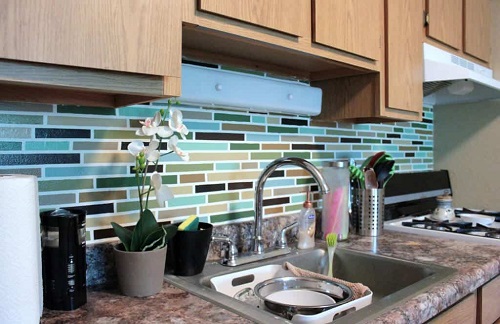 Follow this tutorial to get the tiled backsplash look without making a hole in your pocket. This idea brings a bit of color and independent style to the room.
16. DIY Stenciled French Backsplash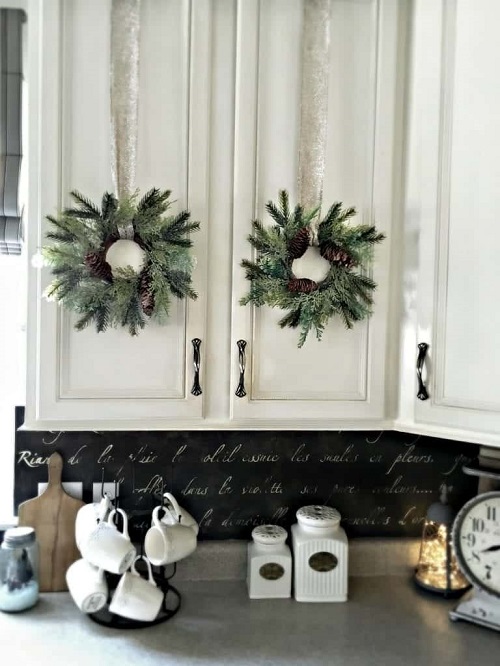 Amp up the look of your kitchen with this stenciled french backsplash. The stencil used in this project has a script version of the French sonnet "Springtime in Paris."
17. Peel and Stick Faux Plank Wall Backsplash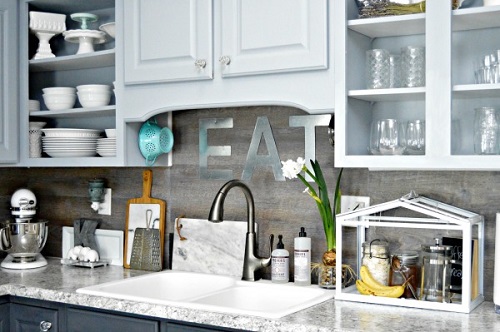 This peel-and-stick backsplash is easy-to-install and super affordable too. Simply peel the paper and place it on the desired wall.
18. DIY Quirky Mosaic Backsplash Idea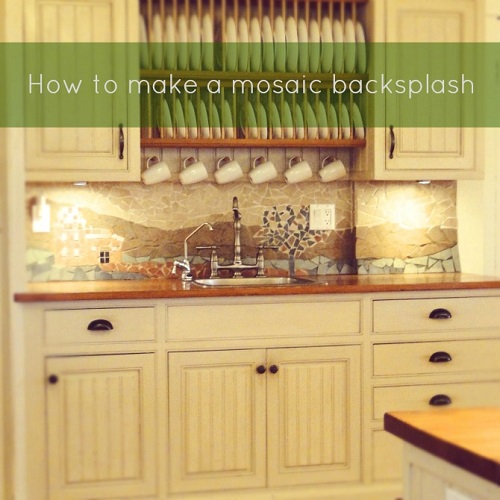 Elegant and picturesque, this mosaic backsplash is a great way to show off your creative skills. The best part is it only costs 40 bucks.
19. White Subway Tiles Kitchen Backsplash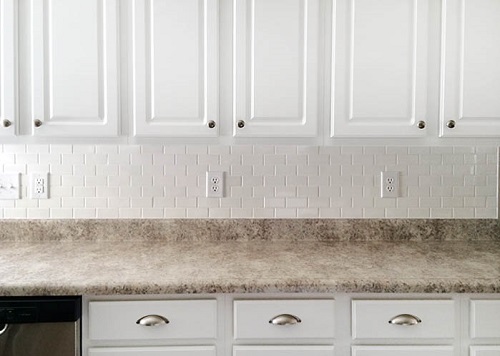 Transform your outdated cooking area with the timeless white subway tiles backsplash that never goes out of style. Learn more here.
20. DIY Plastic Plate Backsplash Idea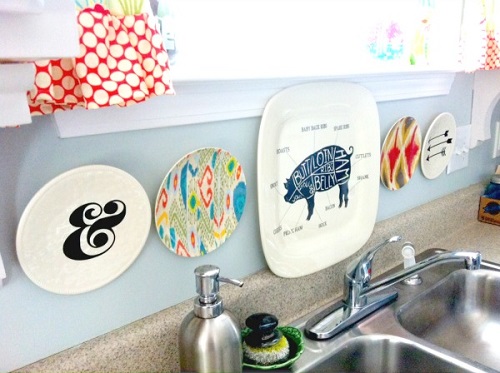 Hang some funky plastic plates on the wall, and your backsplash is ready. It's one of the easy DIY kitchen backsplash ideas on this list.
21. Faux Subway Tile Backsplash Project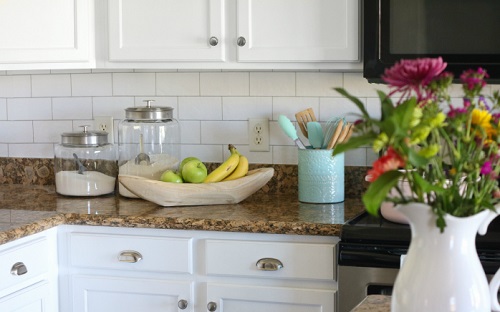 Are you looking for a DIY backsplash idea for your rental kitchen? Check out this frugal project. It uses peel-and-stick wallpaper.
22. DIY Herringbone Faux Backsplash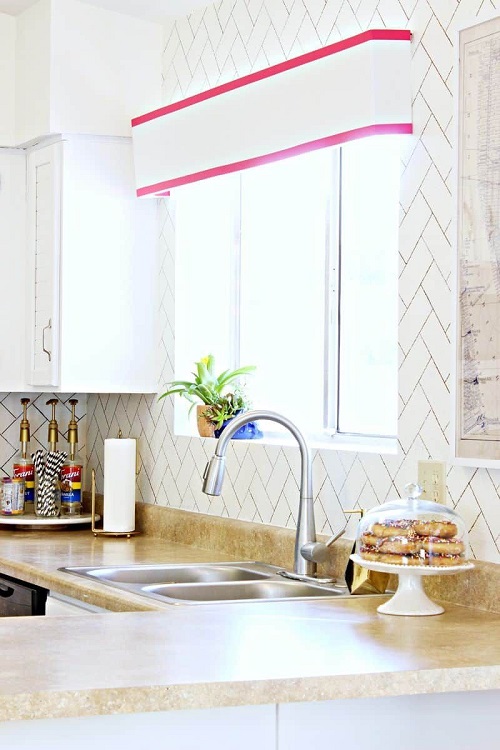 Painting a faux herringbone backsplash is the best way to make your rental space visually appealing on a budget. This entire project costs less than ten dollars and looks like a million bucks.
23. Legos Backsplash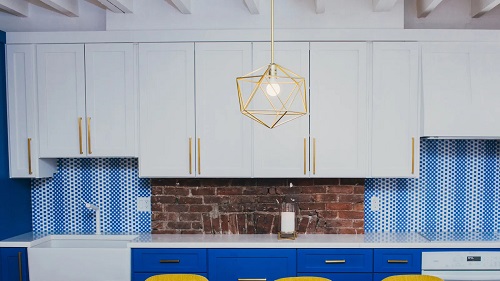 Unique, engaging, and creative, this legos backsplash is sure to attract a lot of eyeballs. Read more here.
24. Penny Backsplash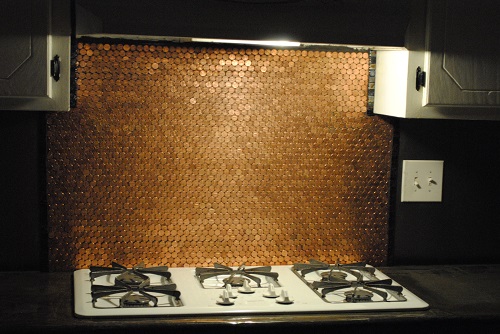 Replace your scorched kitchen backsplash with a new one made from lots of pennies. Click here for the details.
25. DIY Pressed Tin Kitchen Backsplash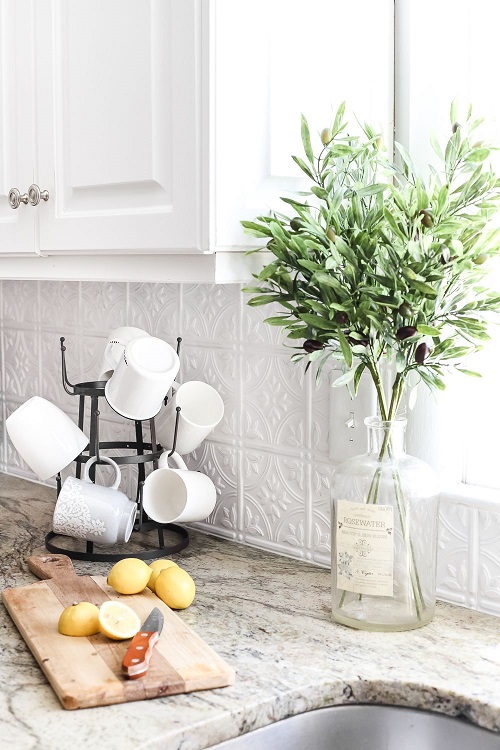 To bring back the former glory days of your cooking room, refresh its look with this pressed tin backsplash. It's one of the most amazing DIY kitchen backsplash ideas.
26. Faux Brick Backsplash Idea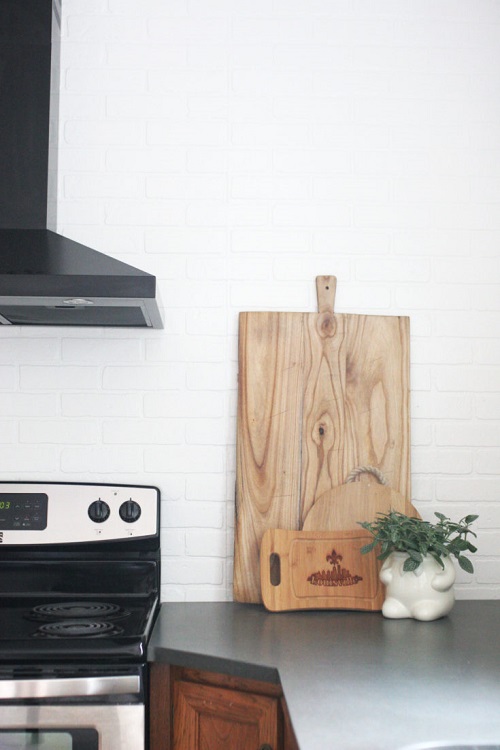 Do you want to remodel your kitchen on a budget? This faux brick backsplash is a stylish, cost-effective option.
Find out the best rental kitchen makeover ideas here