Here is a list of some incredible and budget-friendly DIY Kitchen Countertop Ideas that will blow your mind!
Whether you want to build kitchen worktops from scratch or would like to give a quick, budget-friendly makeover to the existing ones, these DIY Kitchen Countertop Ideas are for you.
Have a look at some kitchen island decor ideas here
---
DIY Kitchen Countertop Ideas
1. Concrete Worktop DIY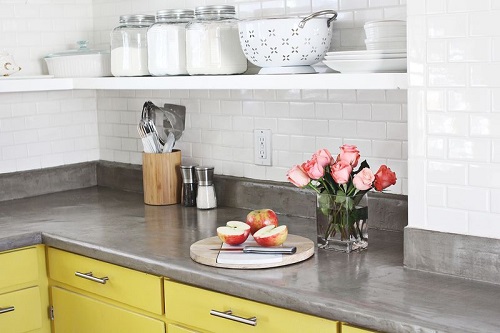 Give your existing worktop a modern industrial feel with this tutorial. It's one of the best DIY kitchen countertop ideas on this list.
2. DIY Marble Kitchen Countertop With Contact Paper
Watch this video tutorial to update your dated kitchen worktop with contact paper and a little patience.
3. DIY Painted Countertops Under $40
This kitchen countertop idea proves, you only need $40 and creativity for a quick makeover, not a massive overhaul.
4. DIY Butcher Block Countertop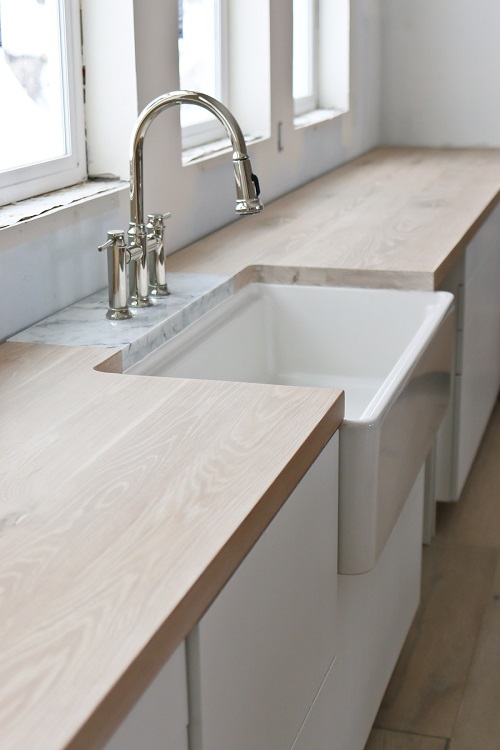 Learn how to DIY white oak butcher block worktops in this article and save your hard-earned money.
5. DIY White Concrete Countertops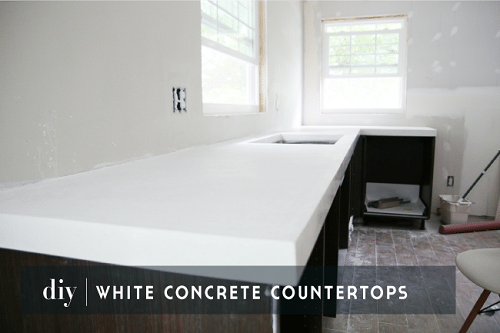 Build this white concrete worktop to give your kitchen space a farmhouse look. Read more here.
6. Backlit / Underlit Island Countertop
Check out this video to DIY backlit/underlit island countertop, a perfect statement-making piece for the cooking space.
7. DIY Laminate Countertops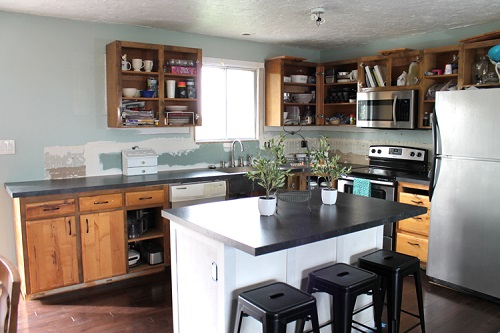 Here is an easy-to-follow tutorial that will help you remodel your existing bland worktop with laminate sheets.
8. DIY Wide Plank Butcher Block Countertops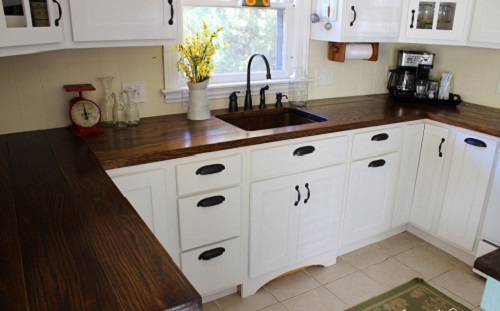 Gather red oak boards, red oak trim pieces, plywood, angle brackets, and other supplies to put together this classy wide plank butcher block worktop.
9. Epoxy Over Laminate Counters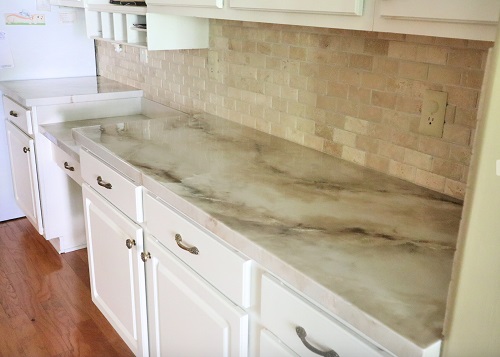 All you need is an epoxy, primer, and a little elbow grease to give a new lease of life to your old kitchen countertop.
10. DIY Faux Soapstone Countertop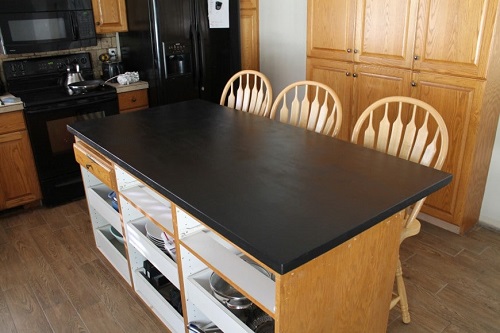 Design a classy island countertop using plywood, chalkboard paint, and other supplies mentioned in this article.
11. DIY Penny Countertops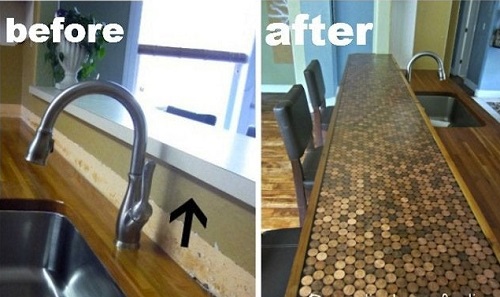 If you want a unique focal point for your cooking space, this penny countertop is for you, and the best part, it literally costs pennies!
12. Faux Granite Countertops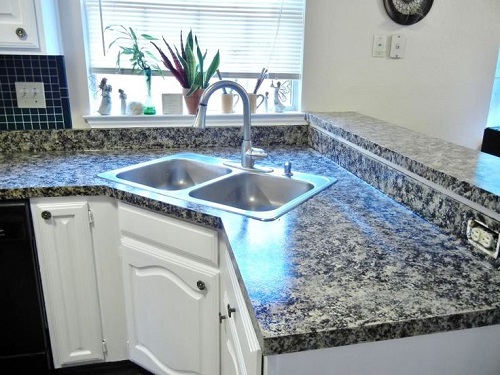 Instead of spending thousands of dollars to install granite countertops, give the existing one a granite-inspired look using a paint kit and DIYing skills.
13. Glossy Painted Kitchen Worktop Idea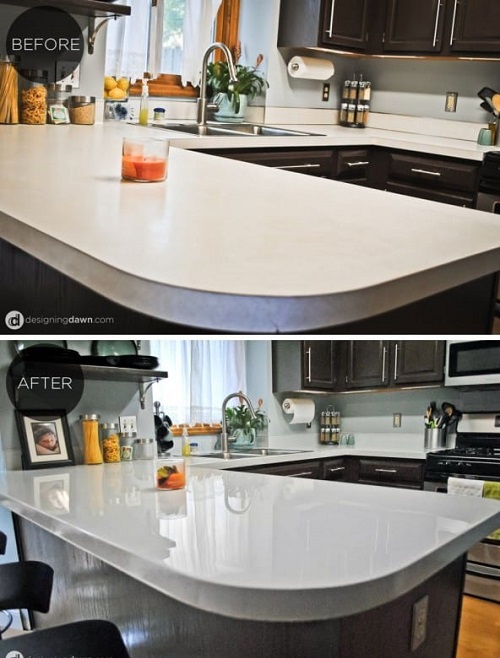 Does your kitchen countertop scream for a makeover, but you can't spend more than $150? This article is for you.
14. Granite Countertop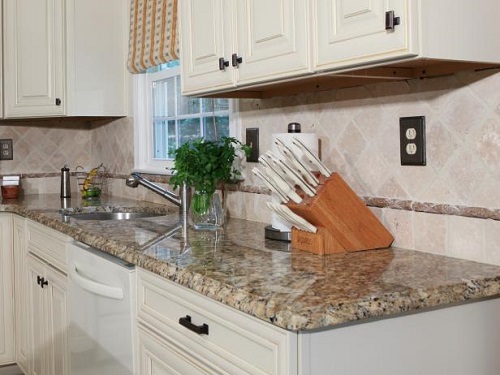 This blogger shows how to install a granite worktop without any help from a professional. In this way, you can save 20%-30% of the installation cost.
15. Old Doors Turned Countertop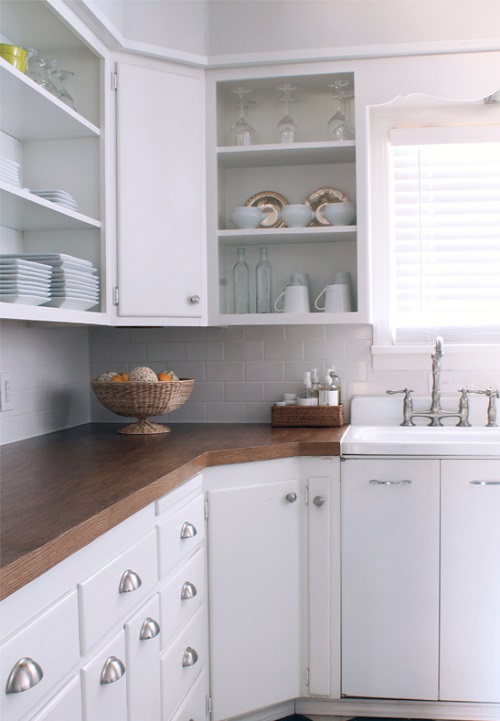 Repurpose old doors to make durable worktops for giving the kitchen a high-end look. The instructions are here.
Check out some best closet door ideas here
16. DIY Copper Kitchen Countertop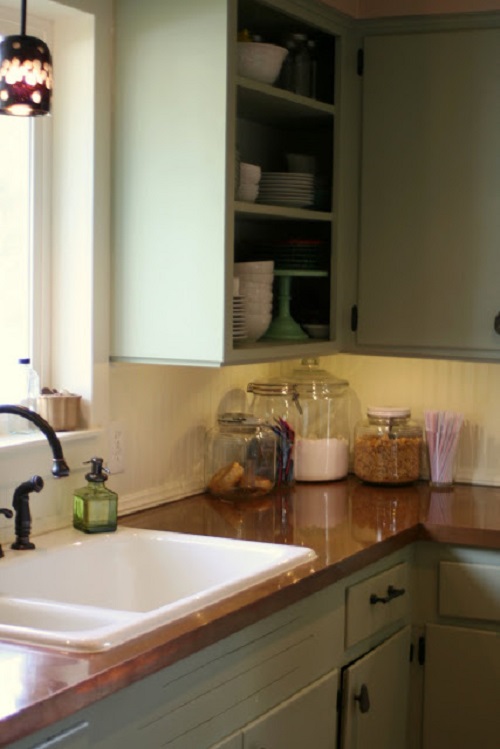 Add vintage vibes to your cooking area by DIYing this copper countertop that blends seamlessly with the rest of the interior.
17. DIY Birch Plywood Kitchen Worktops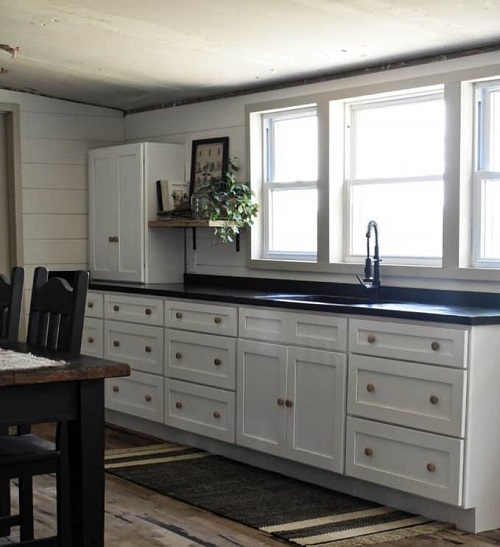 Building stylish countertops with birch plywood is inexpensive and easier. Go one step ahead and paint the cabinets white for an added charm.
18. Ceramic Tile Countertop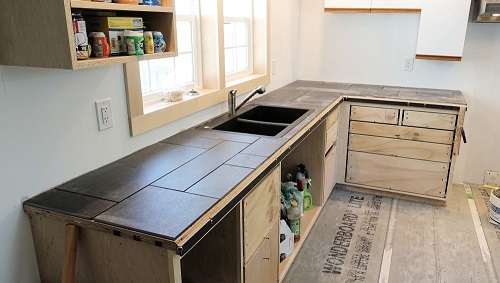 Tiled countertops are an excellent and budget-friendly way to add beauty to the cooking area. The details are here.
19. Stainless Steel Kitchen Countertop
Are you planning to install stainless steel kitchen countertop on your own? Then, this video is for you.
20. DIY Gold Marble Island Countertop
Learn how to update an old island worktop with gold marble peel and stick wallpapers in this video. It's one of the most amazing DIY kitchen countertop ideas.
Here are some gold-painted vases DIY!
21. Exotic Epoxy Island Countertop
This DIYer turned a regular wooden countertop into an eye-catching masterpiece with epoxy, LED, and a little creativity.
22. Zinc Kitchen Countertop
The zinc countertop adds a distinctive style and personality to the kitchen. Plus, its non-porous surface is ideal for food preparation.