Show your love for vibrant colors and quirky home decors with these brilliant Flower Pot Painting Ideas inviting the perfect artistic vibes!
If you want to give your old pots some glitz and glamour, these easy Flower Pot Painting Ideas are the right choice. They make plants more attractive and the space appealing.
Find out some stunning flower pot ideas here
---
Flower Pot Painting Ideas
1. DIY Splatter Planter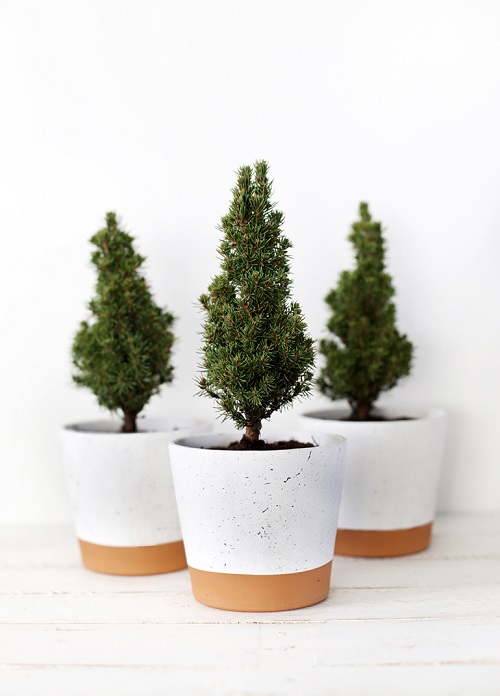 Spruce up your old planters with this easy-to-do idea. They make great gifts and perfect table centerpieces.
2. Vintage Floral Dot Painted Planter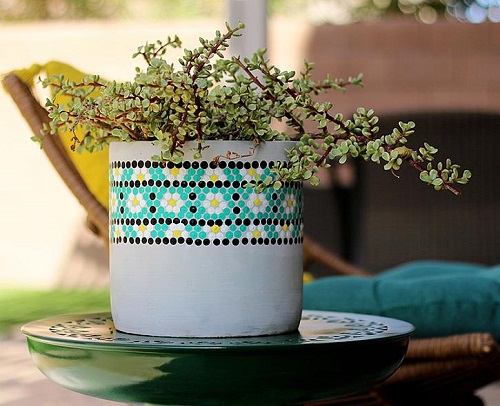 Bring the dot painting trend to the outdoors with this one-of-a-kind DIY floral dot-painted planter. This idea is inspired by vintage penny tiles.
3. Painted Succulent Planter Box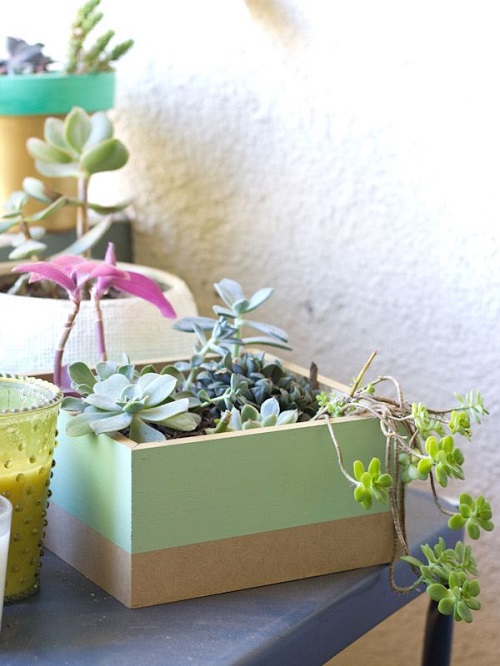 All you need are a pressed board box, craft paint, painter's tape, and foam brushes to make this painted succulent planter box.
4. Chalkboard Painted Herb Pots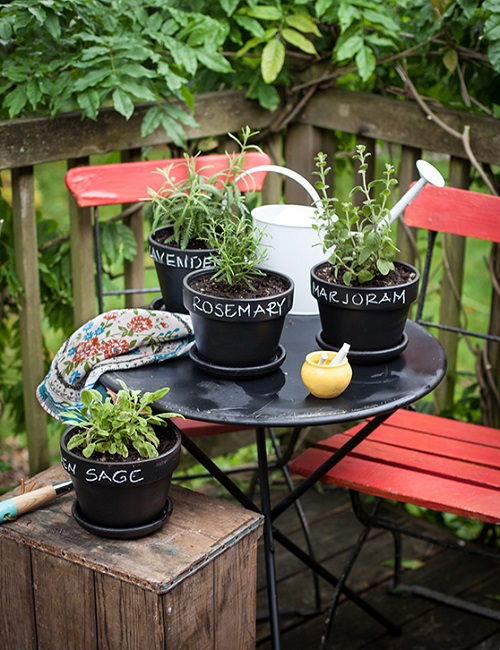 Prettify regular terracotta pots with chalkboard paint to give your patio, porch, or garden a captivating look. Read more here.
5. Gilded Succulent Pots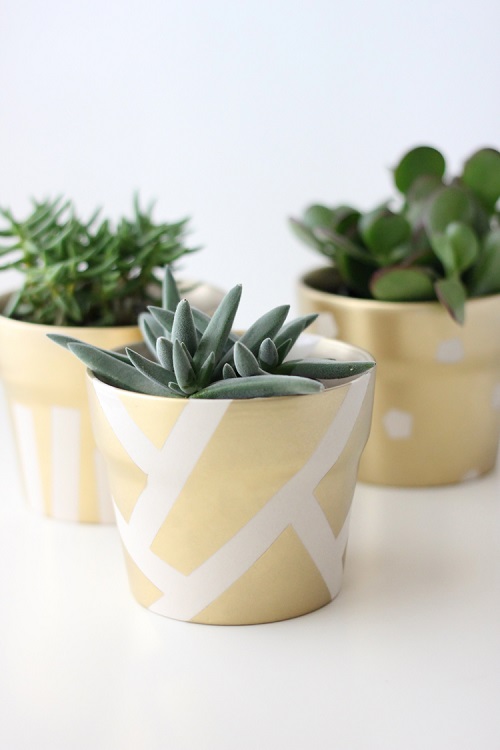 Eye-catching gilded pots with lovely green treasures inside look elegant and lovely enough for year-round decor. Hop to this article to know more.
6. Rainbow Painted Flower Pots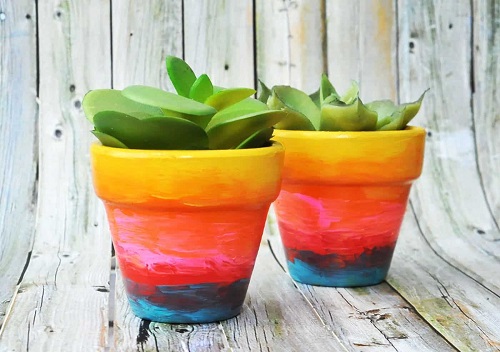 Recreate these rainbow flower pots with multi-surface acrylic paints. It's a beginner and kid-friendly project.
7. Home Sweet Home Succulent Planter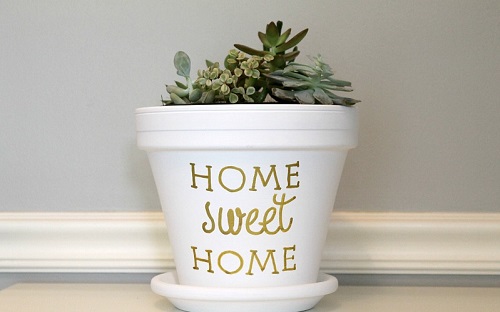 Transfer the' Home Sweet Home' text on the white painted terracotta pot and trace the words with a gold point pen to complete this project.
8. Frida Kahlo DIY Succulent Planter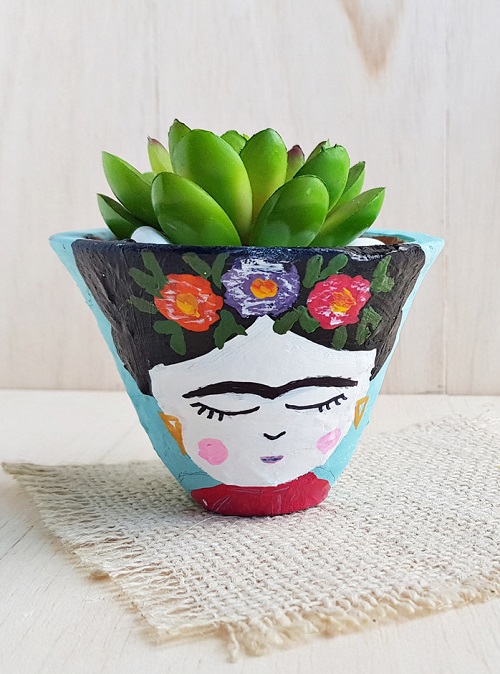 Are you a Frida Kahlo Fan? Then you'll love making this Frida Kahlo succulent planter. Here is the tutorial.
9. Fingerprint Flower Pot Craft
Make your kiddos learn the art of crafting by including them in this fingerprint flower pot project. The details are here.
10. DIY Succulent Pineapple Planter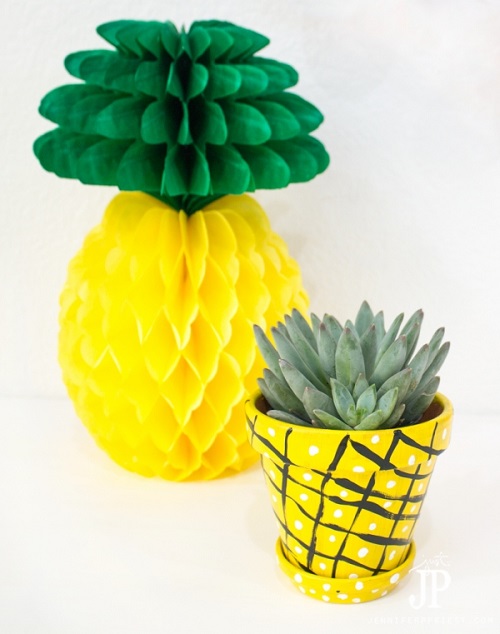 Turn a basic planter into a super adorable decorative with this DIY succulent pineapple planter idea. It's one of the best flower pot painting ideas on this list.
11. Galaxy Pots
Flower pots featuring stars and planets will surely be adored by kids and adults alike. The details are here.
12. Geometric Painted Flower Pots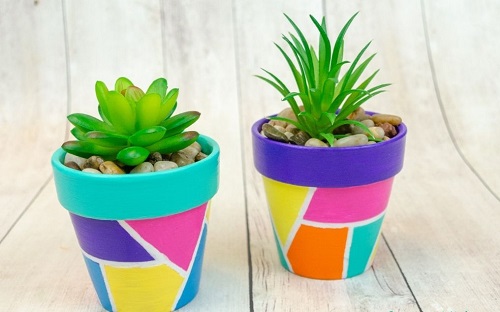 These geometric painted flower pots are cute and colorful. You don't need any special paint for this project. Just acrylic paint and a sealer like Mod Podge works great.
13. Adorable Watermelon Painted Planters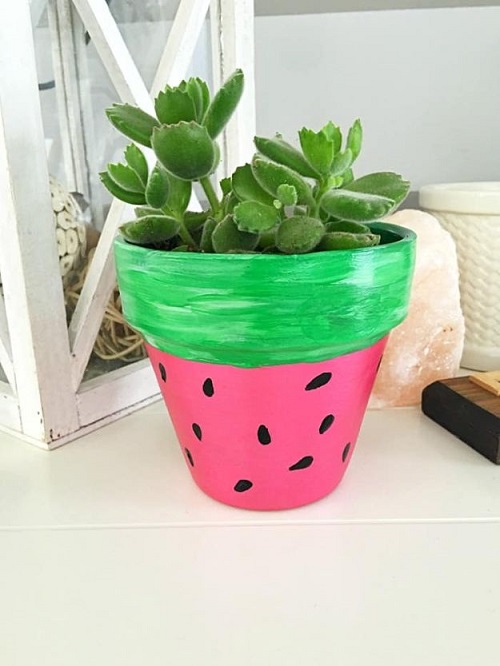 Different colors of craft paint and a terracotta pot are all you need for this DIY. It's an excellent summer project for kiddos.
14. DIY Mini Patterned Plant Pots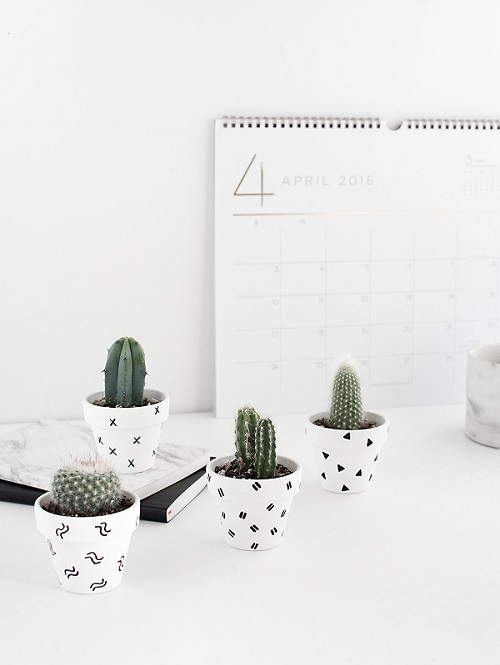 Give your cactus planters a classy look using a few coats of paint and doodling with a paint pen. Read more here.
15. Coastal Terracotta Pots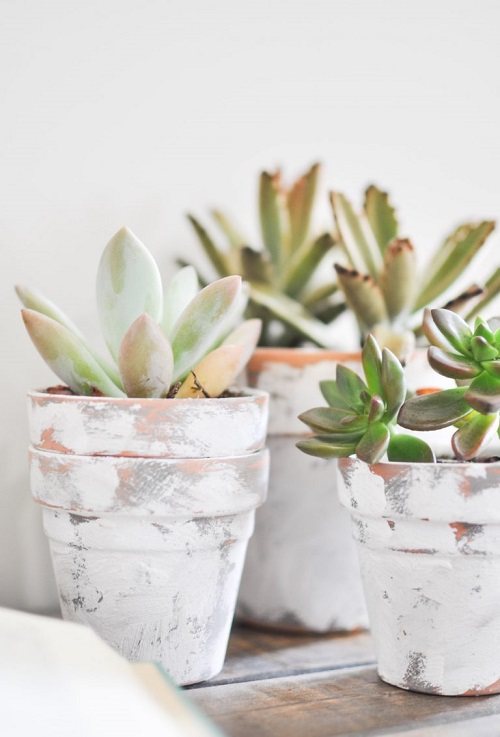 Get crafty and make these textured coastal terracotta pots to fill your indoor space with seaside vibes.
16. Shabby Chic Flower Pots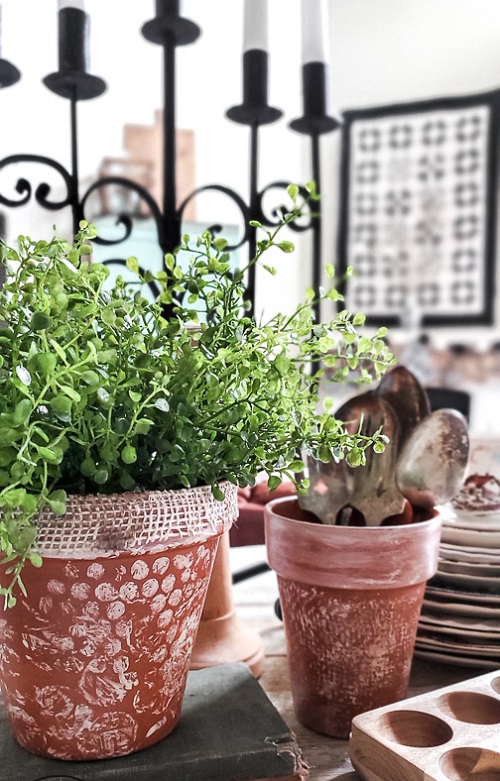 Grab a bubble wrap, acrylic craft paint, a sponge brush, and a planter to make these shabby chic terracotta pots.
17. Hello There Stenciled Flower Pots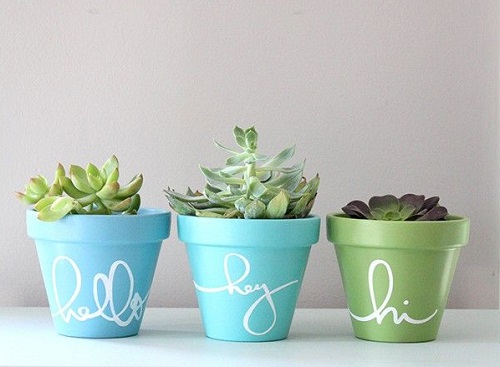 Follow this tutorial to craft your own cheerful and colorful stenciled flower pots.
18. DIY Painted Planter
Turn on your creativity mode and transform a plain planter into a chic decor-worthy display. Get the instructions here.
19. Pot Painting With Rubber Bands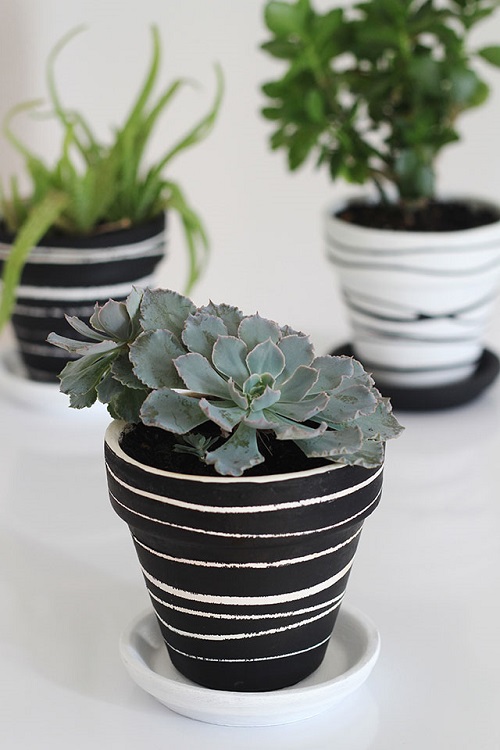 Use rubber bands and black paint to create beautiful stripes on a succulent pot. Find the tutorial here.
20. DIY Glitter Flower Pots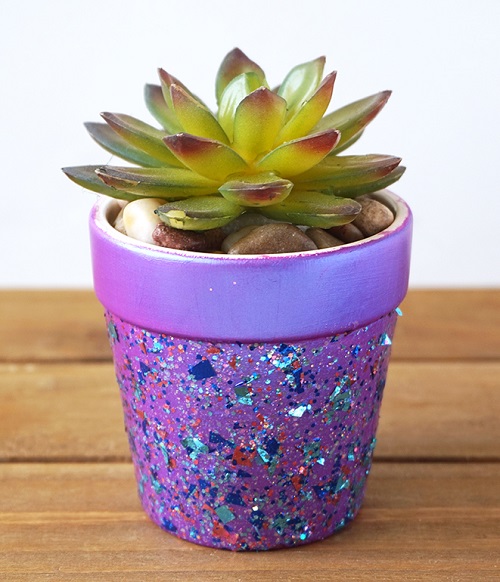 Embellish regular flower pots with glitters to add colorful sparkle to your home decor. Read more here.
21. Marbled Terracotta Pots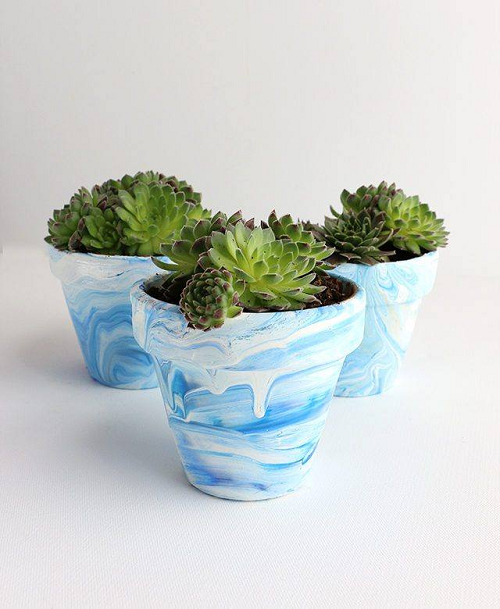 You need white acrylic paint, water, a disposable bin, a paintbrush, and acrylic varnish to get chic, marbled planters. The DIY is here.
22. Drip Painted Pots
Using beautiful colors of your choice, you can create stunning drip-painted clay pots easily.
23. Gold Painted Flower Pots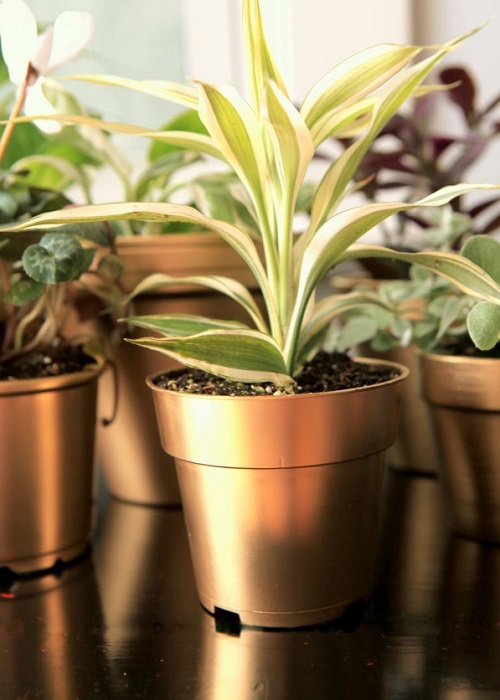 With this DIY and different textured pots, anyone can create expensive-looking, gold-painted flower pots.
24. Doily Painted Flower Pots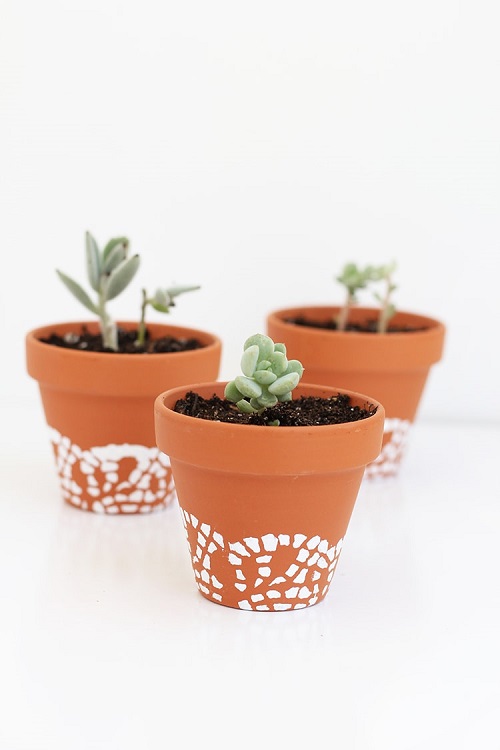 To add some pizzazz to your terracotta pots, create unique patterns with white paint and a paper doily. Read more here.
25. Buffalo Check Painted Pots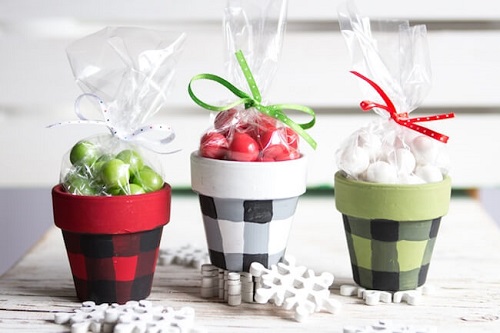 Make these pretty buffalo plaid pots to get into the festive spirit. Either fill them with little ornaments or grow succulents.
26. Day of the Dead Planters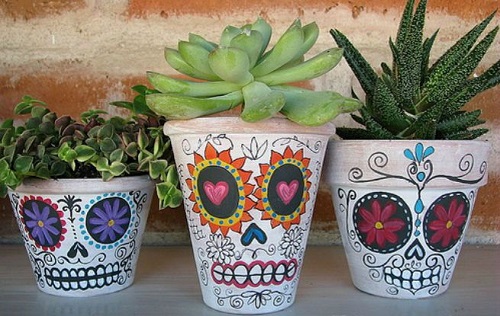 Sketch out skull faces on the whitewashed planters and fill them with black paint. Next, add colorful designs and swirly curly cues to complete the look.
27. Two-Tone Painted Pots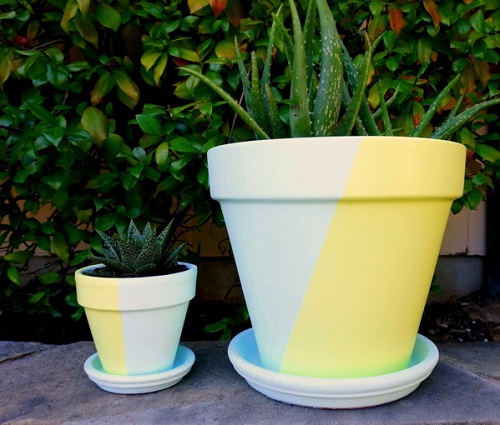 Give your old pots a timeless two-toned look using paint, painter's tape, a drop cloth, foam brushes, and this DIY. The best part, this project can be completed in less than a day.
28. Nail Polish Marbled DIY Planters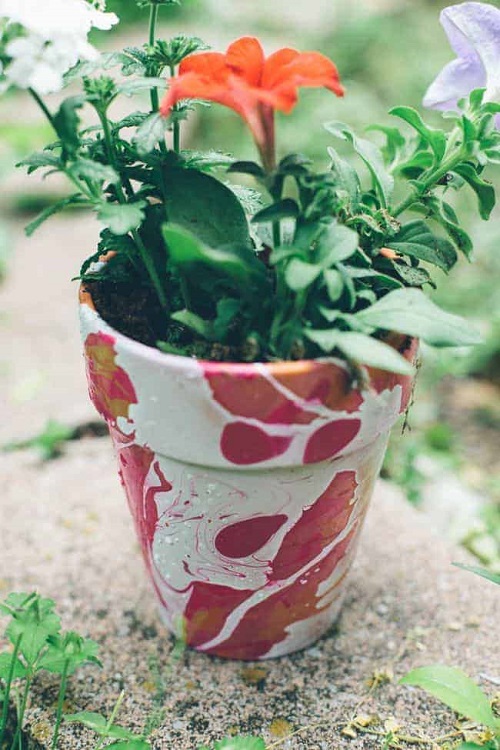 Add some personality and character to your regular planters using the nail polish marbling technique. The details are here.
29. Gold Foil Lettering on Flower Pots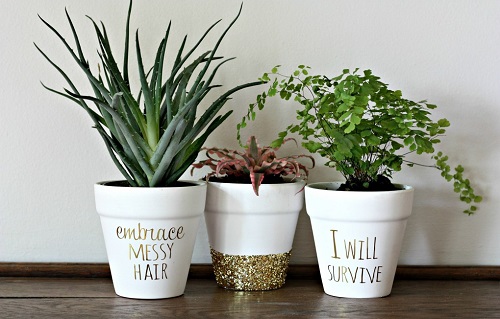 To make your flower pots more appealing, use gold foil printable paper to add quotes and patterns.
30. DIY Scalloped Painted Pots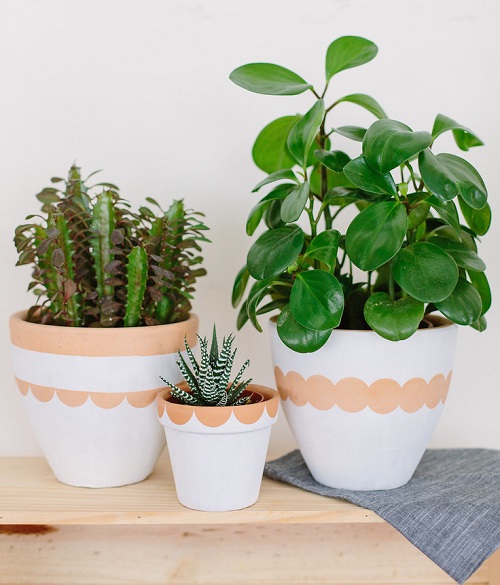 Make scalloped-inspired patterns using acrylic paint and stickers on the flower pots to display plants in style. Click here for more info.
31. Pot Painting Ideas Using Dots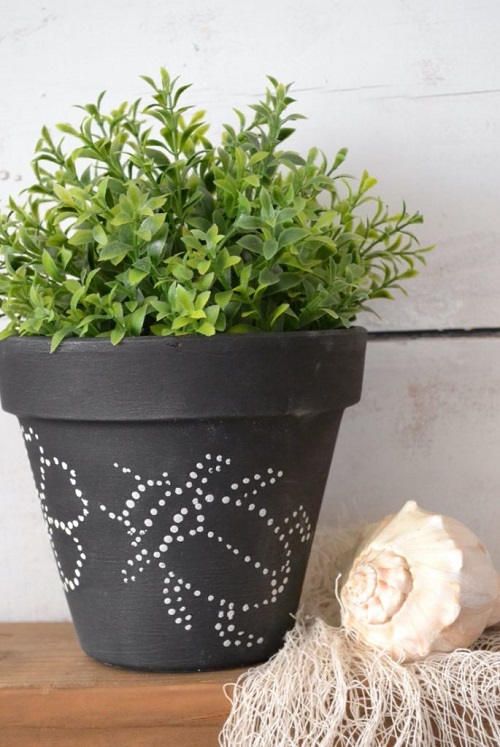 Put your creativity hat on and draw a beetle on the black-colored clay pot using paint, brush, and this tutorial.
32. Pretty Face Planters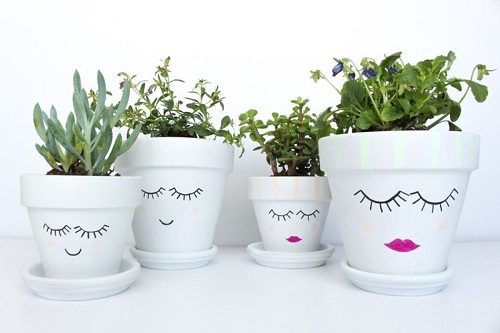 Draw adorable faces on the planters to prettify your home decor on a budget. They make great gifts and party favors.
33. Decoupaged Terracotta Pots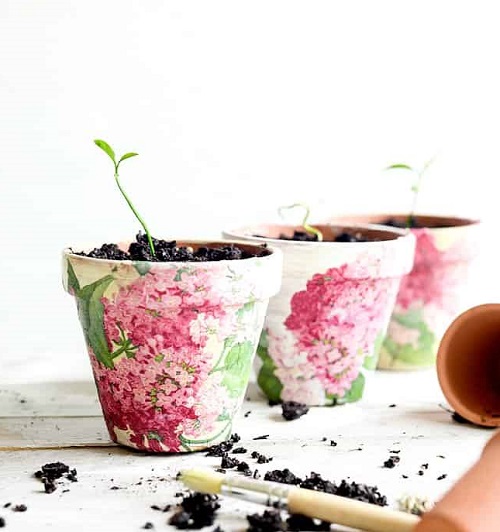 This blogger shows how anyone can jazz up their terracotta pots with mod podge, paint, and a few supplies.
34. Hand Painted Pots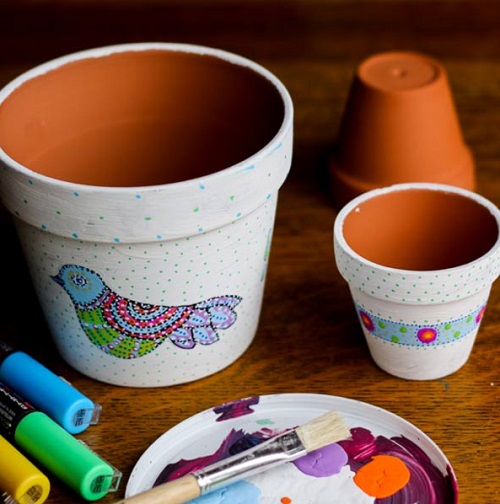 Show off your crafting skills by creating these fascinating hand-painted flower pots for your home or garden.
35. Halloween Pots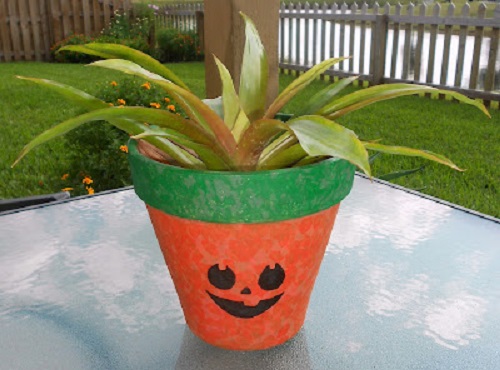 Instead of a messy pumpkin carving session, use a terracotta pot to create a spooky jack-o-lantern.
Find out some zero dollar DIY Halloween outdoor decor ideas here
36. DIY Hand Painted Ikat Pots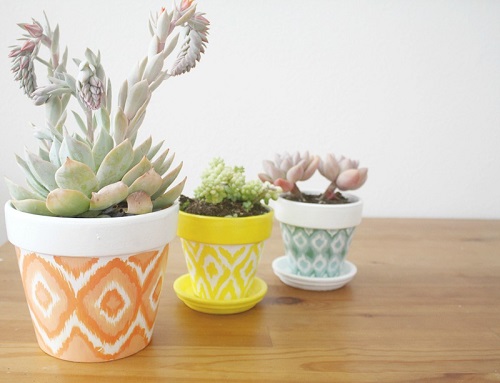 Perfect for indoor and outdoor decor, these hand-painted ikat pots will attract a lot of eyeballs.
37. Gold Dipped Pots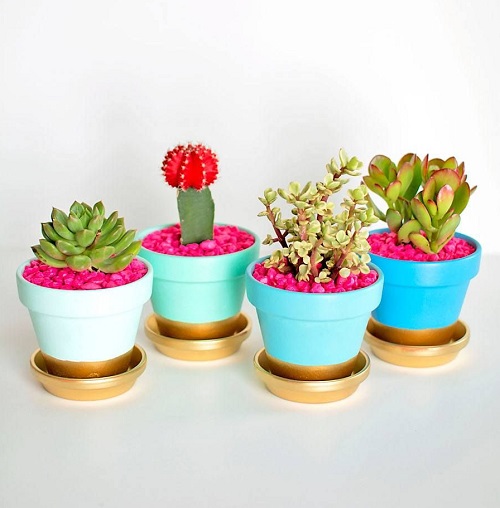 Brighten up your office desk, porch, or patio with these cheery gold-dipped pots.
38. DIY Painted Flower Pots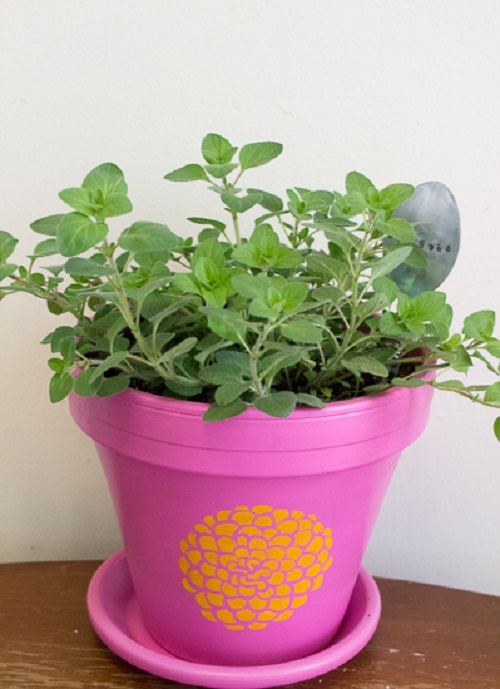 The stenciled dahlias and the bright colors make this pot more attractive.
39. Golden Heart Planter DIY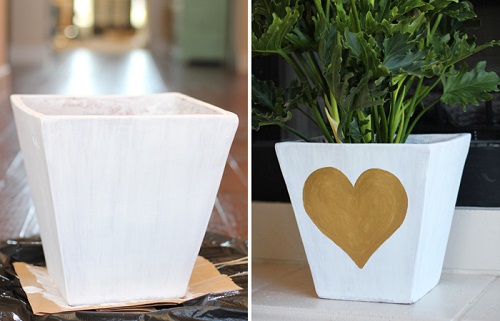 Draw a large golden heart on the white-colored planter to make it stand out. Details are here.
40. Turquoise Painted Flower Pot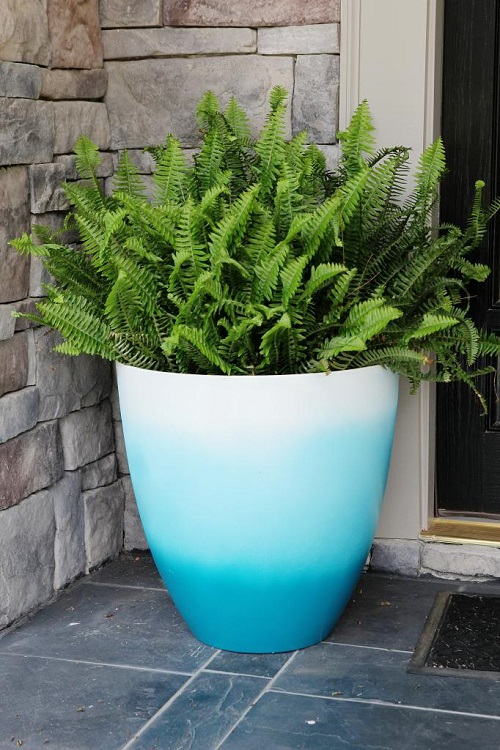 Do you have a pot that needs a makeover? Update its look with multiple coats of lagoon spray paint. It's one of the most amazing DIY flower pot painting ideas.
41. Designer Planter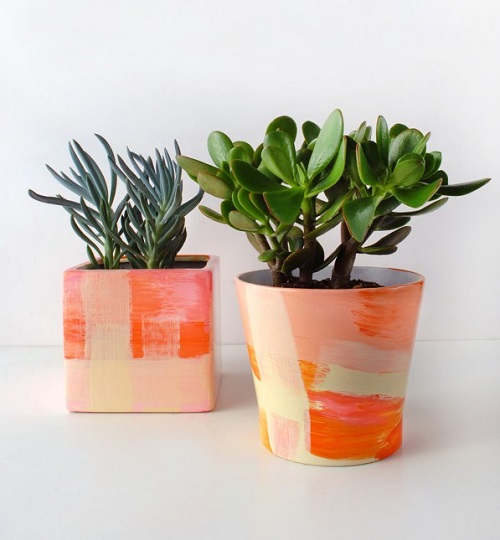 Give your dull old planters a chic makeover with some fun, bold painting. The details are here.
42. Modern Dipped Planter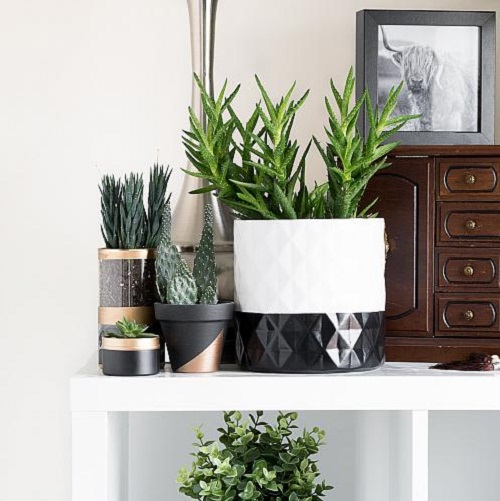 You don't have to be a DIYing expert to transform an ordinary pot into an artsy modern dipped planter.
43. Black Terracotta Pots with Message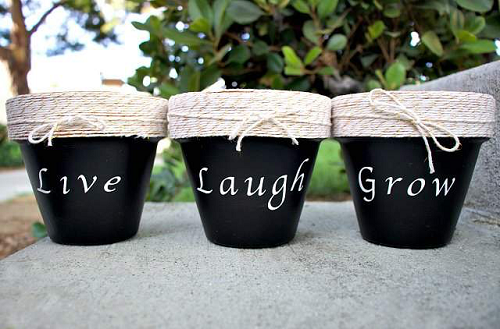 Tired of seeing the traditional look of your terracotta pots? Spice them up with a fresh coat of paint.
44. Pour Painted Pots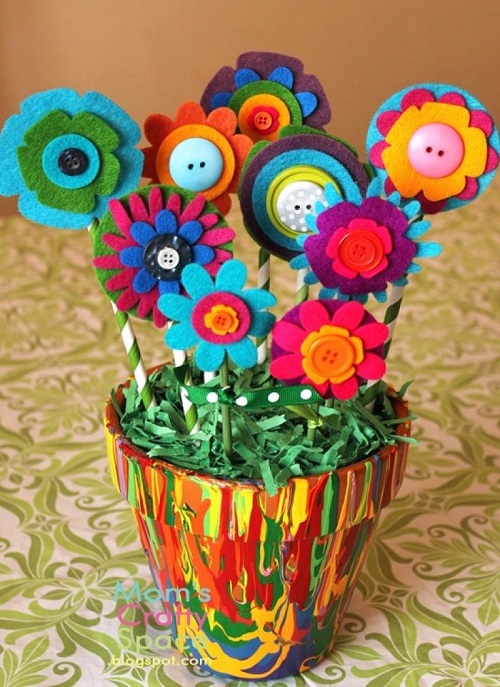 Bright and cheery painted pots with cute felt flowers add colors to any boring party or special occasion.
45. DIY Rustic Succulent Pots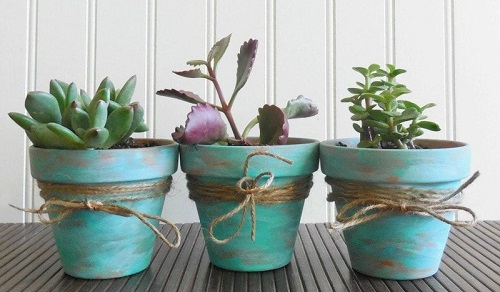 Take some plain clay pots, and turn them into a trio of colorful, rustic succulent planters to give your space a rustic facelift. Read more here.
46. Faux Stone Spray Painted Scallop Shell Planter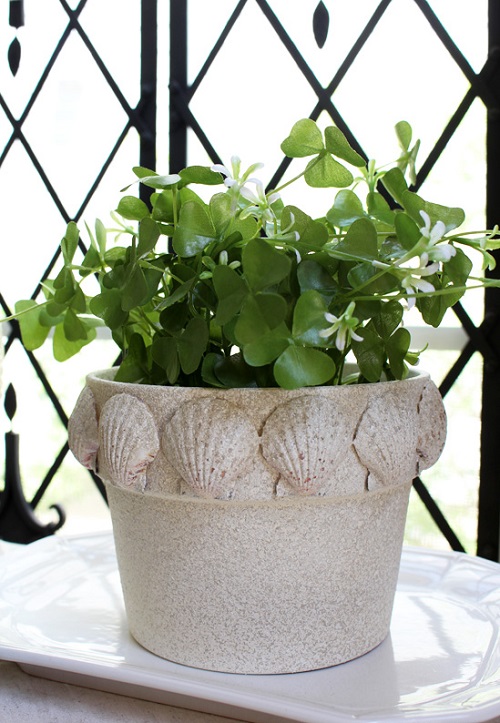 Transform a terracotta pot with scallop shells and faux stone spray paint for a sandy look.
47. Footprint Butterfly Flower Pot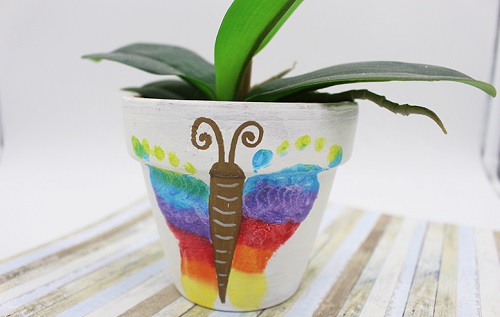 Looking for a super cute flower pot painting craft? You are going to love this footprint butterfly flower pot idea.
48. Handprint Christmas Tree Clay Pot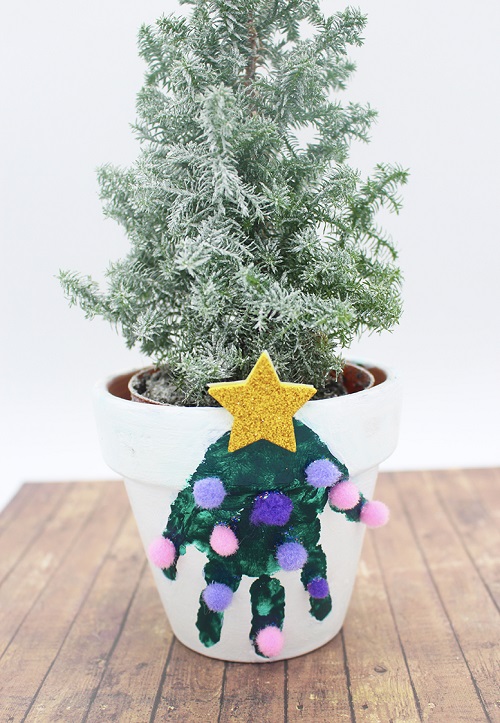 Featuring a handprint Christmas tree and a star, this clay pot is an excellent last-minute holiday decor idea. Toddlers and preschoolers will love this project.
49. Jack-O-Lantern, Frankenstein, and Bat Themed Pots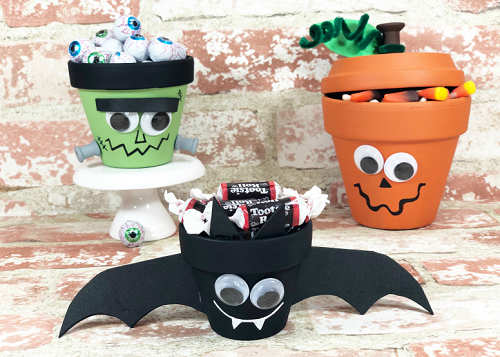 This festival, turn your regular planters into less spooky and more cheery Halloween characters. Grow your favorite plants into them for an added charm.
50. Strawberry-Themed Planters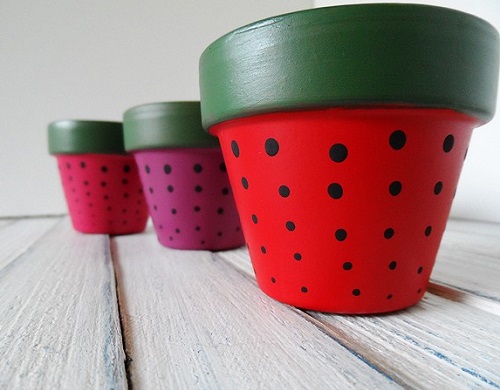 Terracotta pots resembling strawberries add a little pop of color and texture to the indoor or outdoor space.
51. Clay Pot Ghosts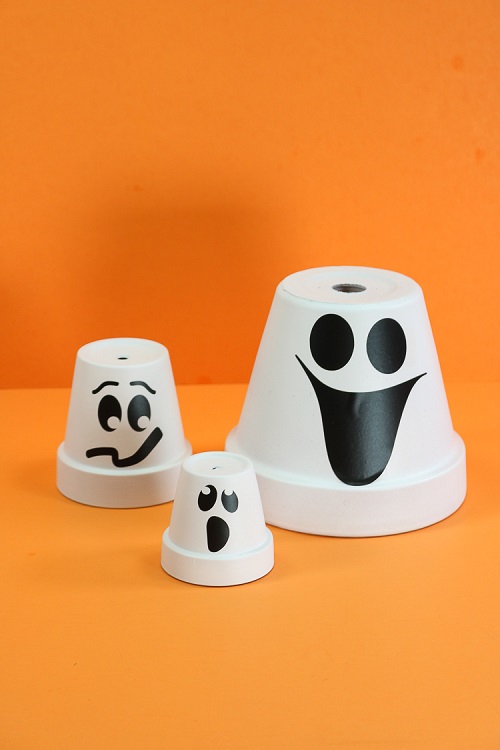 All you need are paint and black vinyl to convert a terracotta planter into a unique clay pot ghost.
52. Unicorn Flower Pot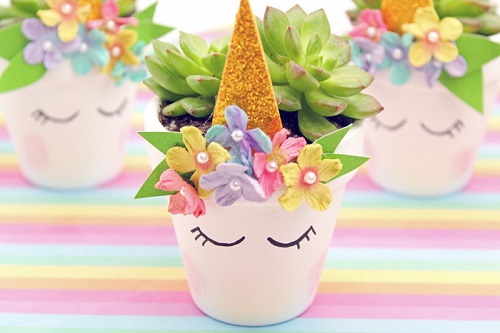 Amplify the appeal of your drab indoor garden with this unicorn-themed flower pot.
53. Bee and Ladybug Flower Pots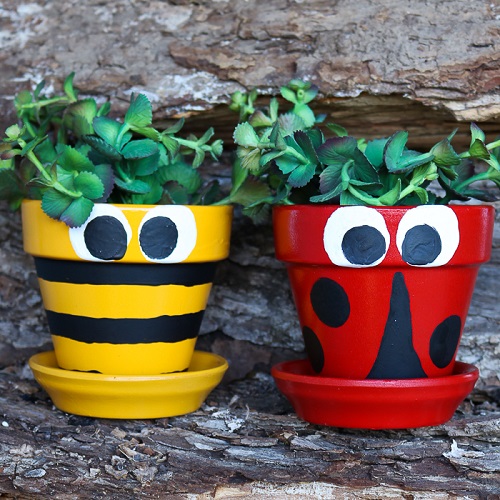 Flower pots resembling a ladybug and bee are what you need to liven up your outdoor space in no time.
54. Flower Pot Garden Frog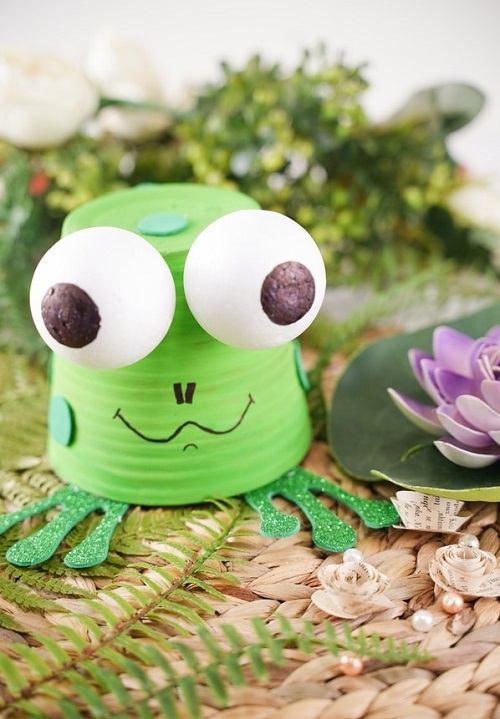 Made from green paint, terracotta pot, ping pong balls, and foam paper, this flower pot frog looks adorable sitting in the garden, porch, or entryway.
55. Panda Pots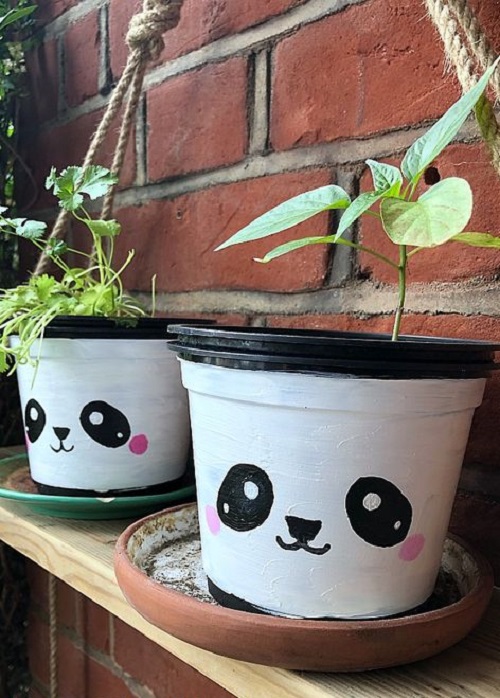 Give your garden a focal point by making adorable panda faces on the plastic planters. Read this article to know more.
Here are some stunning DIY monogram planter ideas