Here are the Best Fruits for Hanging Baskets that you can easily grow on your balcony, porch, or windowsill!
If you have little to no space for a typical garden but still want to grow fruits, here are some Best Fruits for Hanging Baskets that you can try.
Find out some fruits you can grow indoors here
---
Best Fruits for Hanging Baskets
1. Blackberries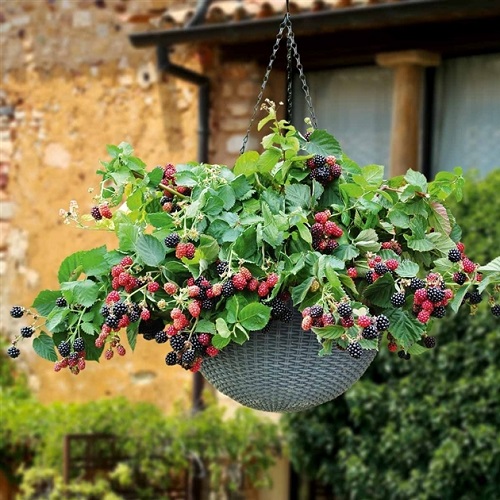 Best Hanging Varieties- Black Cascade, Baby Cakes Blackberry
Belongs to the Rosaceae family, blackberries are juicy, tarty fruits that can be eaten fresh or used in baked goods or preserves.
2. Cherry Tomatoes
Best Hanging Varieties- Basket Boy Red, Suncherry Premium, Sakura, Gardener's Delight, Tumbling Tom, and Sun Baby.
Available in red, orange, yellow, and purple varieties, cherry tomato is a nutrient-dense fruit that makes dishes more flavorful and pleasing.
Fun Fact- Tomato is both fruit and vegetable. Learn more here.
3. Raspberries
Best Hanging Varieties- Ruby Falls, Raspberry Shortcake Raspberry
Loaded with nutrients and fantastic flavor, growing raspberries in hanging baskets is fun and rewarding. The raspberry bushes are short in size, so it's ideal for hanging baskets.
Find out some brilliant fruits and vegetables storage ideas here
4. Strawberries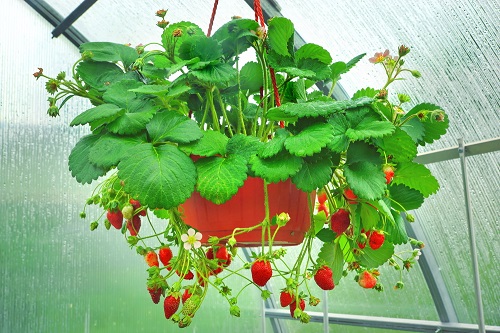 Best Hanging Varieties- Tristar, Tribute, Mara des Bois, Evie, and Albion
Admired for their sweet, juicy flavor and plump red appearance, strawberries are one of the best fruits to grow in hanging baskets.
5. Blueberries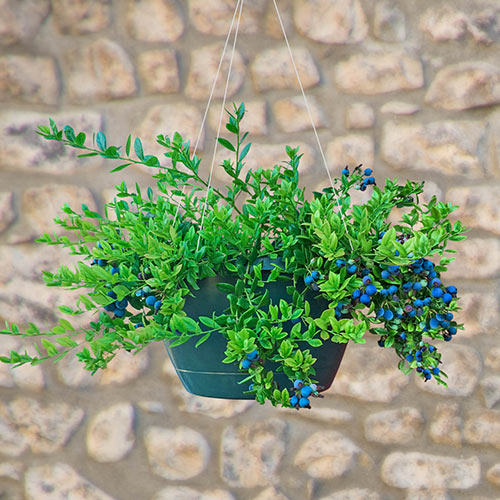 Best Hanging Varieties- Midnight Cascade Blueberry, Sapphire Cascade Blueberry
The bright-colored edible blueberries are juicy and visually appealing. Grow this fruit wherever you need a pop of color. Learn how to grow blueberries here.
6. Dwarf Citrus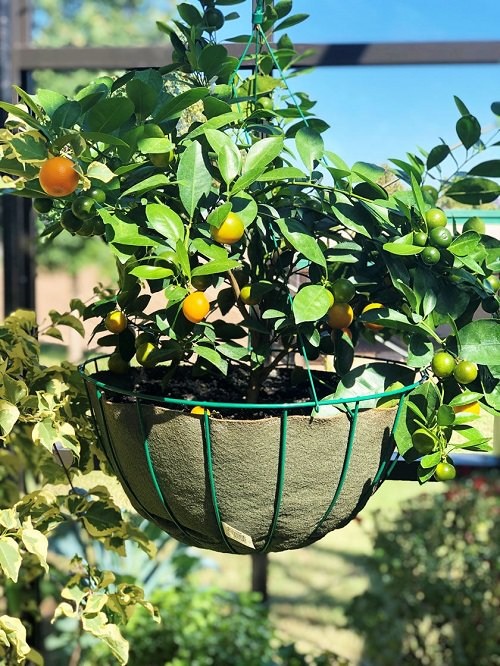 Dwarf citrus varieties can be grown easily in large-sized hanging baskets. They reward you with delicious fruits and aromatic blooms. Just visit the nearest nursery, and you'll find many varieties to choose from.
---
Why Grow Fruits in a Hanging Basket?
A hanging basket is an excellent option for growing fruits because of the following key reasons:
Hanging baskets are a great choice for those who don't have enough space.
Slugs, snails, skunks, raccoons, rabbits, deer, and other vermin are not a problem when you're growing fruits in hanging baskets.
A hanging basket is perfect for those people who can't bend due to medical conditions.
Here are some low-budget and easy container ideas for herb gardens