Discover some clever Small Kitchen Island Ideas DIY and create storage space to organize your cooking tools and utensils in style!
Add extra storage and prep space to your compact cooking area with these genius Small Kitchen Island Ideas DIY. These projects are fairly easy-to-make.
Here are some amazing kitchen island decor ideas
---
Small Kitchen Island Ideas DIY
1. DIY Cheap Kitchen Island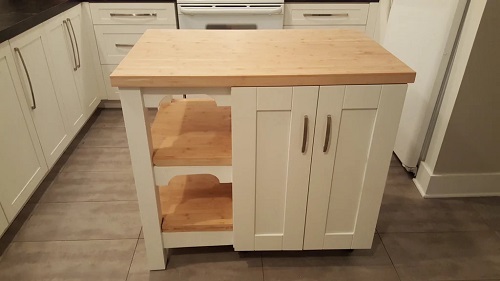 This affordable and less space-consuming kitchen peninsula is easy to make. Get the step-by-step instructions here.
2. Bookshelf Turned Kitchen Island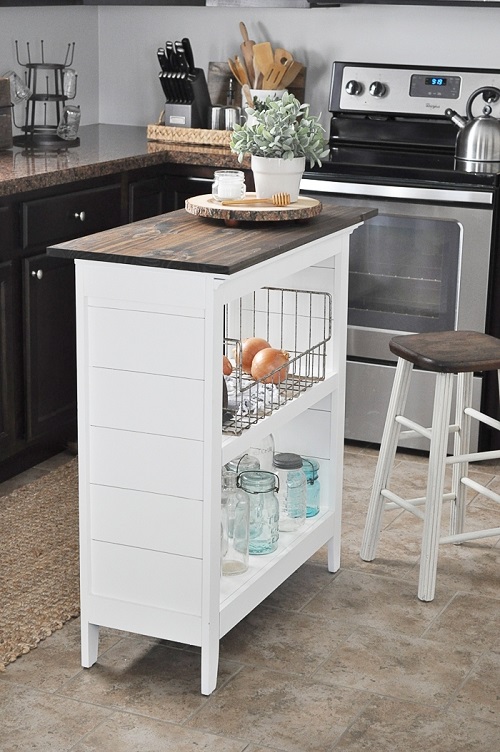 Learn how to turn a bookshelf into an island with creativity, DIYing skills, and this tutorial. It's one of the best DIY small kitchen island ideas on this list.
3. DIY Black-Colored Kitchen Island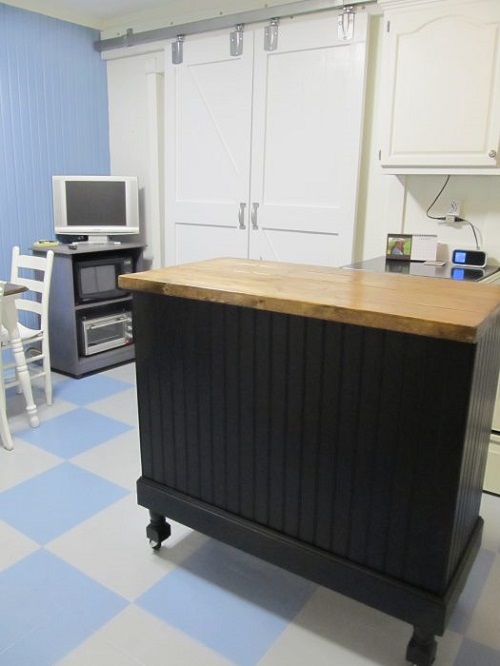 If you have a vintage desk, transform it into a rolling island for your compact cooking space. Read the details here.
4. Highly Functional Kitchen Peninsula
The DIYer in this video tutorial builds a kitchen peninsula with a beautiful butcher block top, galvanized pipe legs, and racks.
5. DIY Vintage School Desk Kitchen Island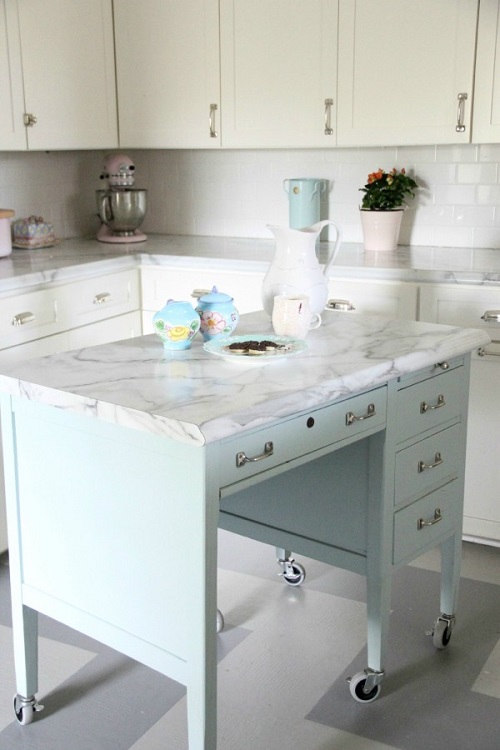 With some modifications and patience, an old-school desk is transformed into this elegant kitchen island. Hop to this article to learn more.
6. Solid Wood Kitchen Island Idea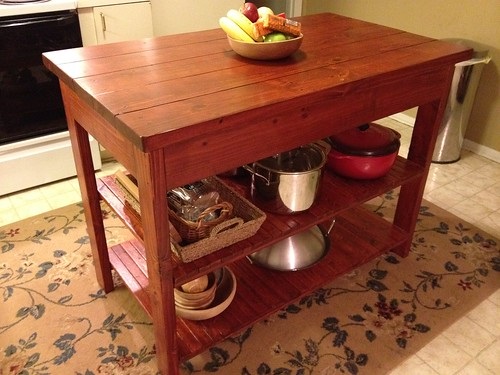 An easy-to-build solid wood island featuring two large shelves and a countertop. Click here for the project.
7. DIY Outdoor Kitchen Peninsula with a Concrete Countertop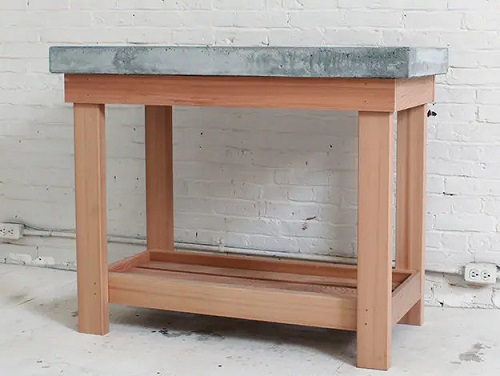 Save hundreds of dollars by making your own outdoor kitchen island with a concrete countertop. All you've to do is follow this article.
8. Colorful Dresser to Kitchen Island Upcycle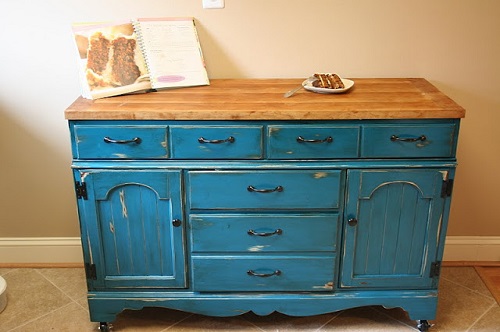 Need some extra workspace and storage area in your small cooking room? Transform an old broken dresser into a farmhouse-style kitchen peninsula.
9. DIY Rolling Kitchen Island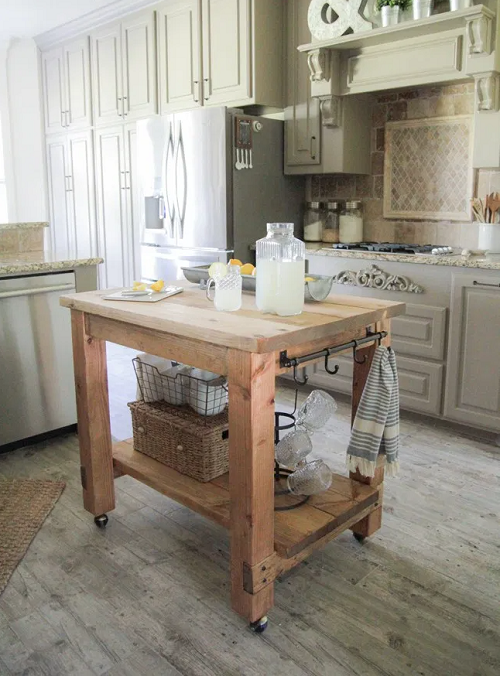 Equipped with casters, a towel rack, and a lower open shelf, this island is ideal for a less spacious cooking area.
10. Narrow Kitchen Island Idea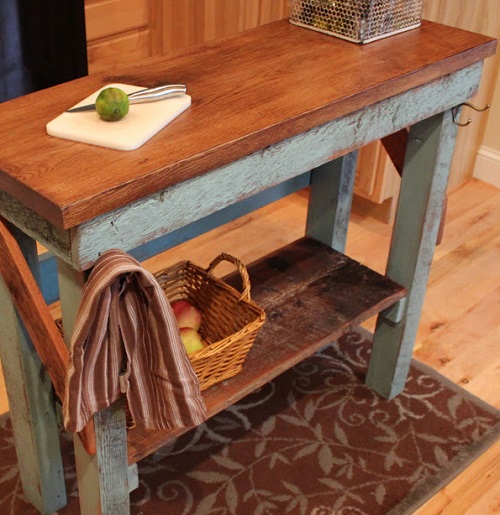 Follow this detailed tutorial to assemble an island that fits seamlessly in the smallest of kitchenettes easily.
Here are some blue kitchen cabinet ideas
11. Rustic Kitchen Peninsula DIY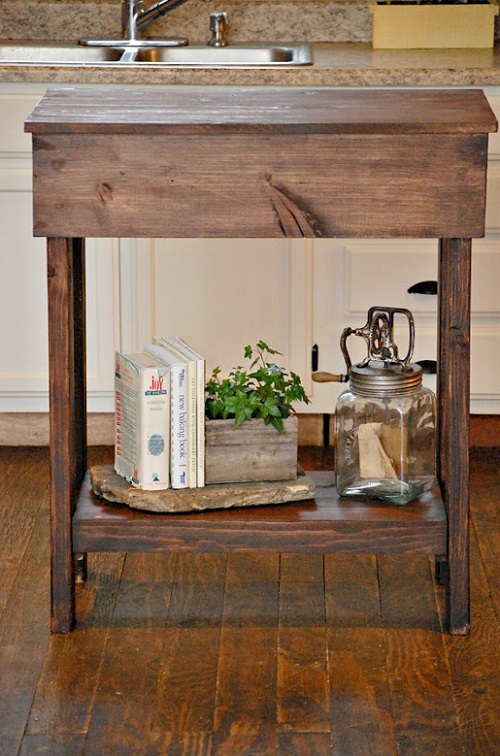 Here're the instructions to construct a rustic kitchenette peninsula for around $30. It's one of the cheapest DIY small kitchen island ideas.
12. Pallet Small Kitchen Island Idea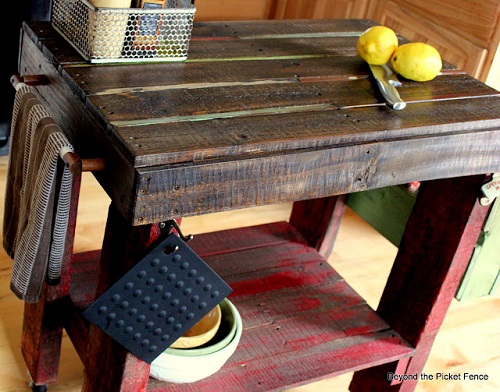 Take inspiration from this blog for building a small and portable island for your cooking space.
13. Pottery Barn Inspired Small Kitchen Island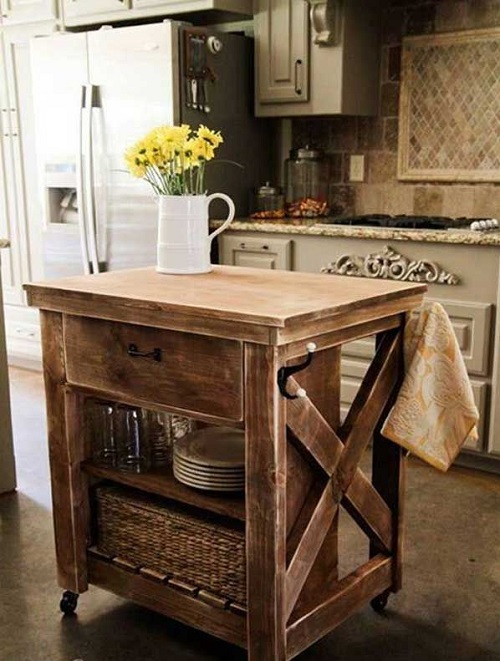 This pottery barn-inspired kitchenette island is made from wood, screws, a nailer, gorilla glue, and wood stain. Read more here.
14. DIY Industrial Kitchen Island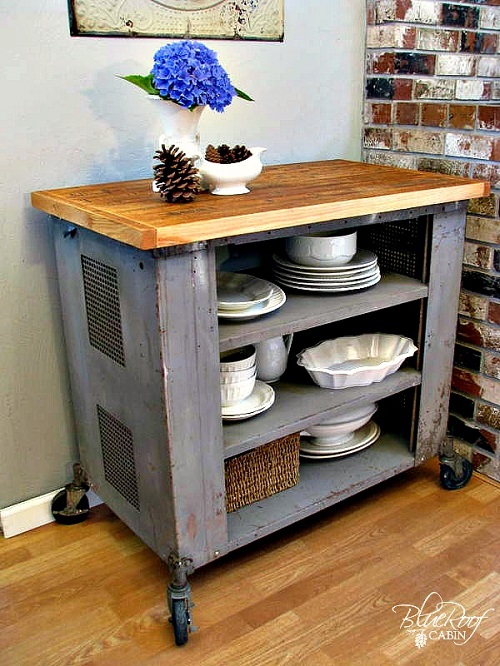 Add character and functionality to your small kitchen by introducing this island, made from a dilapidated industrial cart and an old oak table.
15. Portable Kitchen Peninsula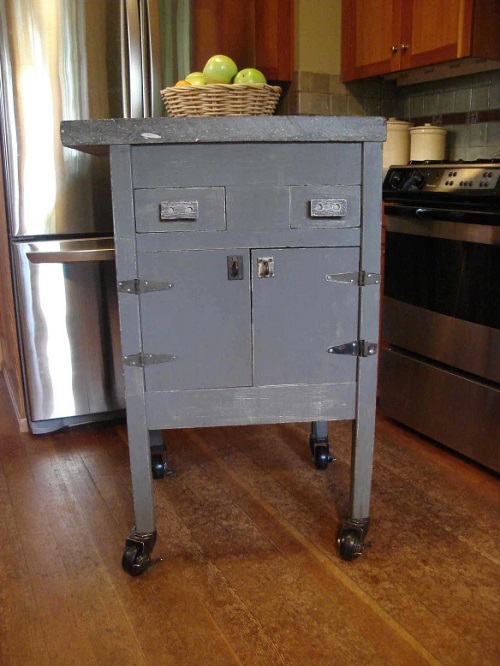 To recreate this island, you only need a drill press stand and a limestone countertop. You can use a new or old stand for this project.
16. $30 DIY Small Kitchen Island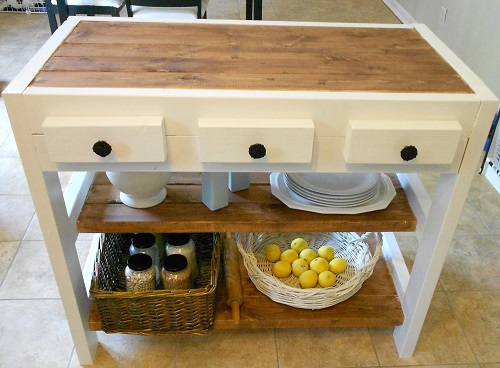 Highlighted by two shelves and faux drawers, this rustic-looking peninsula is a budget-friendly project. Check the free plan here.
17. Repurposed Washtub Kitchen Island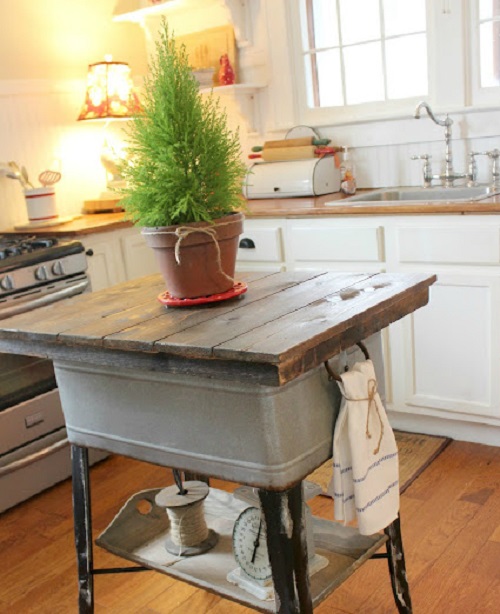 Rather than throwing out your old metal washtub, convert it into a frugal kitchen island. Click here to learn more.
18. DIY Butcher Block Kitchen Island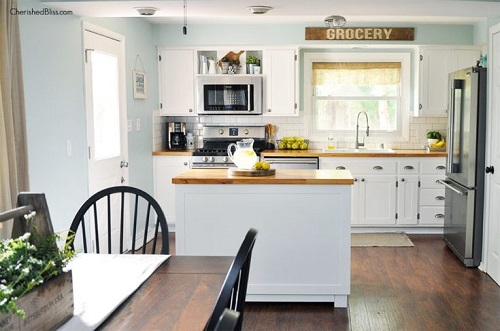 No need to waste your hard-earned money on costly islands when you can make a cheap one featuring a butcher block top. Read this article for more info.
19. Super Compact Kitchen Island Ikea Hack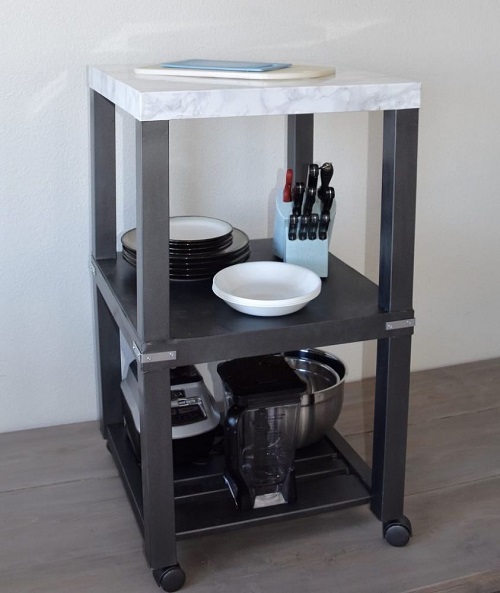 Ikea LACK tables, paint, and a few basic tools are all you need to create a brand new island for your little kitchen.
20. Reclaimed Wood Island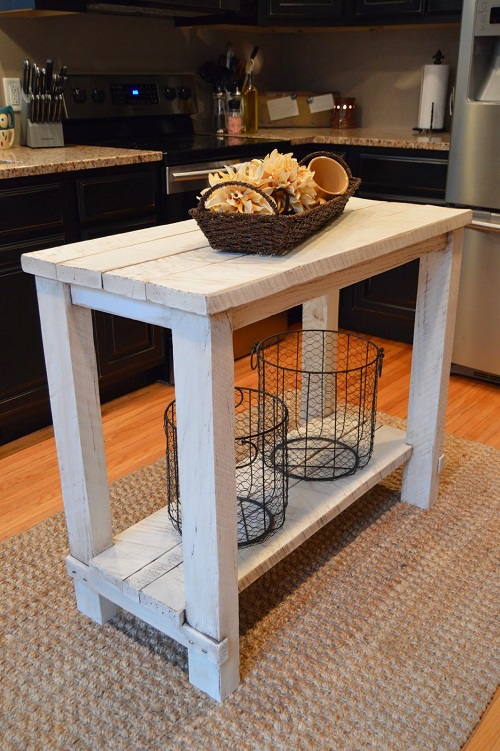 This article demonstrates the steps to build a beautiful and functional reclaimed wood kitchen island. It goes pretty well with every type of decor.
Find out some DIY kitchen countertops ideas here