Looking for fancy options to display your favorite footwear? Here are some clever DIY Shoe Storage Ideas you must try!
Whether you have a small or spacious apartment, consider trying these brilliant DIY Shoe Storage Ideas. They are aesthetically pleasing, budget-friendly, and easy to build.
Find out some organization and storage ideas for the home here
---
DIY Shoe Storage Ideas
1. Use Tension Rods to Hang Shoes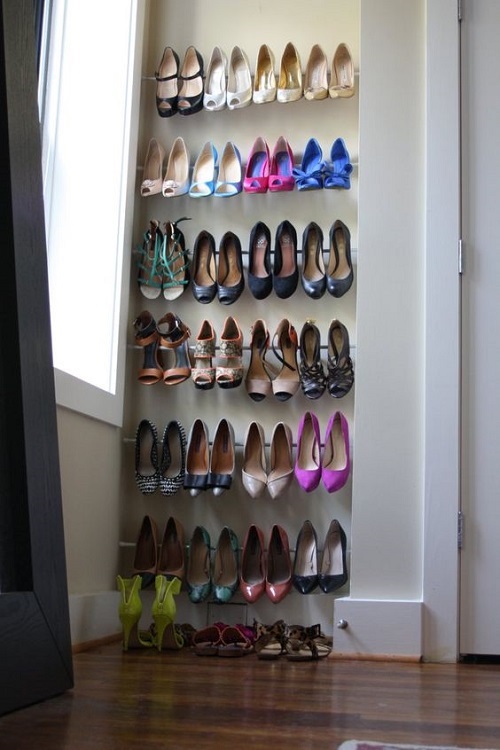 You only need some tension rods, two parallel walls, and screws to arrange shoes for quick and easy access. It's one of the cheapest DIY shoe storage ideas on this list.
2. DIY Grid Shoe Storage Display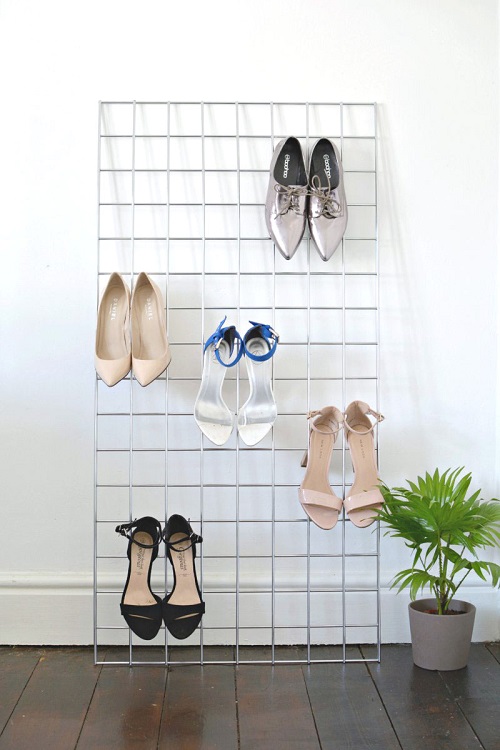 Put a wire mesh near the front door to display your collection of high-heeled shoes in style. Read more here.
3. Store Shoes on Pegs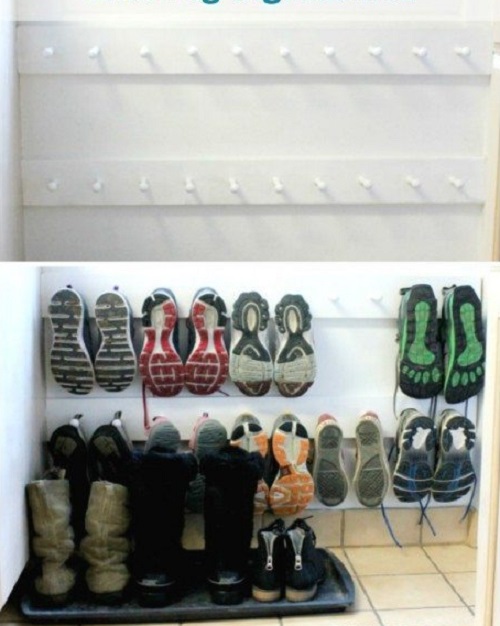 Built with pine wood boards and shaker pegs, this shoe storage solution is easy-to-make. Hop to this tutorial for the instruction.
4. Clever Shoe Storage Hack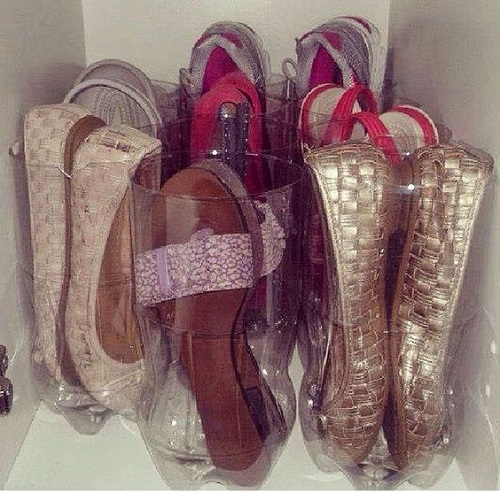 If you want a frugal shoe storage hack, recycle plastic soda bottles. To begin this DIY, cut the top of the bottles, load them with footwear, and place them in the closet.
5. Two-Tier Shoe Storage Bench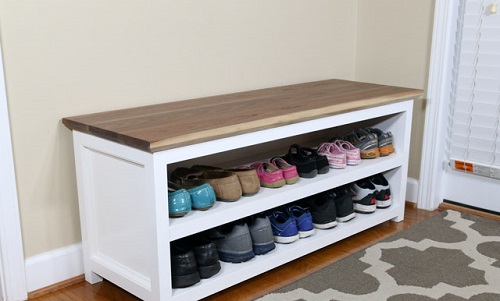 More storage, better aesthetics, and durability are some of the major features of this two-tier shoe storage bench. Get the instructions here.
6. Cardboard Shoe Rack DIY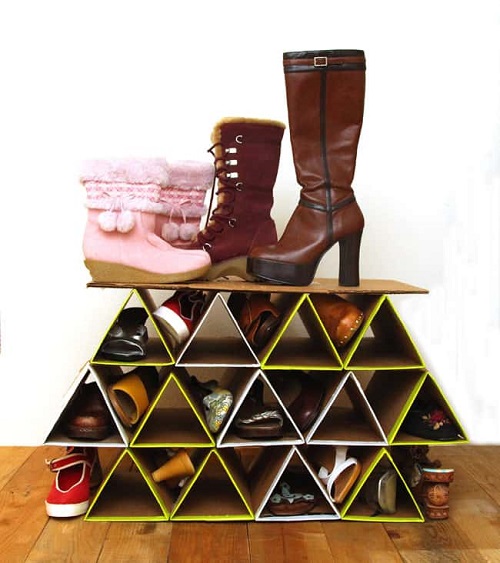 This tutorial teaches how to make a space-saving, sturdy shoe rack from cardboard in 30 minutes. It's great for people who move a lot and live in less-spacious homes or college dorms.
7. DIY Shoe Hangers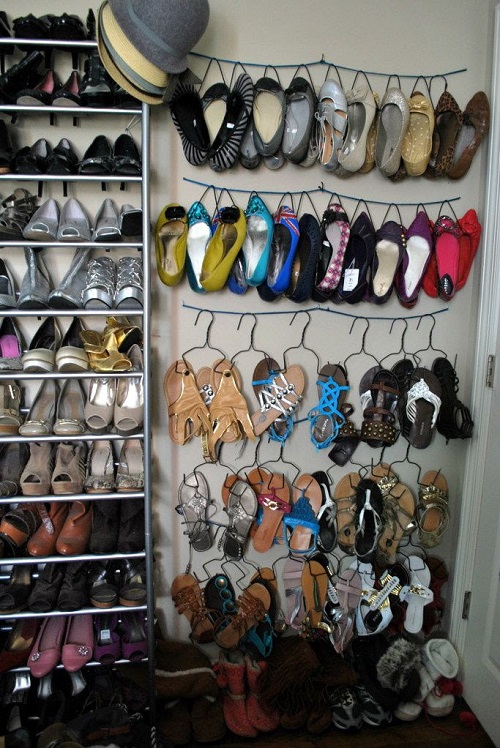 If you don't have floor space, utilize the empty wall to keep your kicks and other footwear in order. The project is here.
8. Iron Pipe Shoe Rack Idea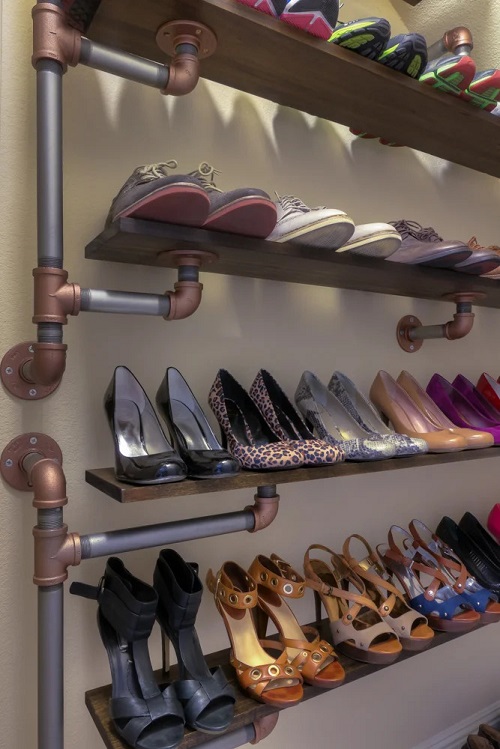 Follow this detailed instructable to get a shoe storage solution with an eye-catching rustic industrial look.
9. Rustic Ladder Shoe Shelf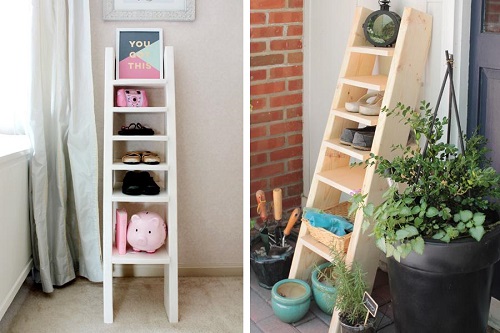 This rustic ladder shoe shelf is a stylish means for stowing shoes and other miscellaneous items without taking up much space.
10. Wooden Crate Shoe Stand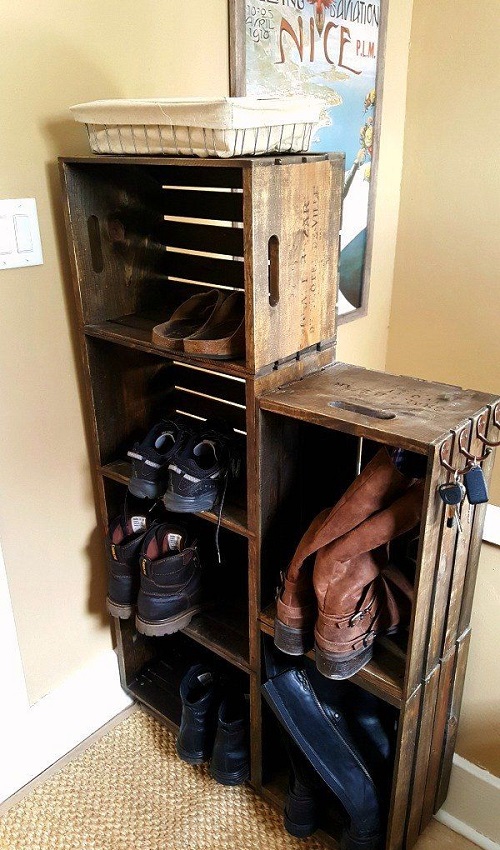 Gather wooden crates, caster wheels, wood stain, and other supplies to create this shoe stand. Read the details here.
11. DIY Floating Entryway Shoe Rack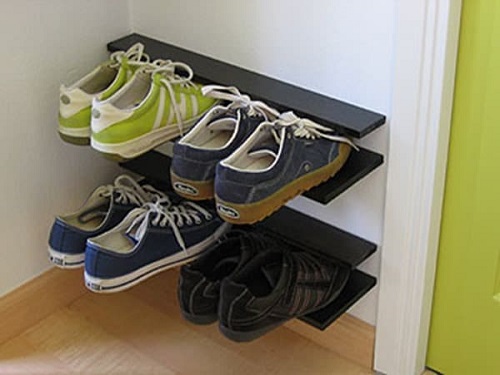 Here's the step-by-step tutorial to create this minimalist floating shoe rack. It's a perfect footwear storage solution for a cramped back entryway.
12. Under Bed Shoes Storage Drawer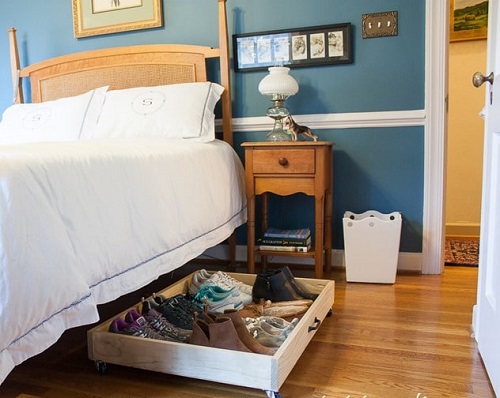 Use empty space under the bed to solve your footwear storage problem. Follow this simple project for more info.
13. Vintage Mail Sorter Shoe Cubby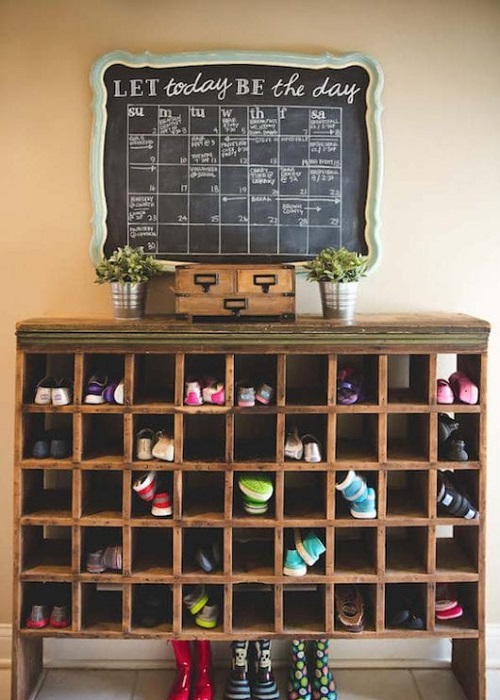 Transform a vintage mail sorter into a shoe cubby using this detailed woodworking plan. It's a great beginner-friendly project.
14. Lazy Susan Shoe Storage Idea
This rotating lazy susan shoe rack has different height segments that efficiently store all sizes of footwear.
15. DIY Skateboard Shelves for Shoe Storage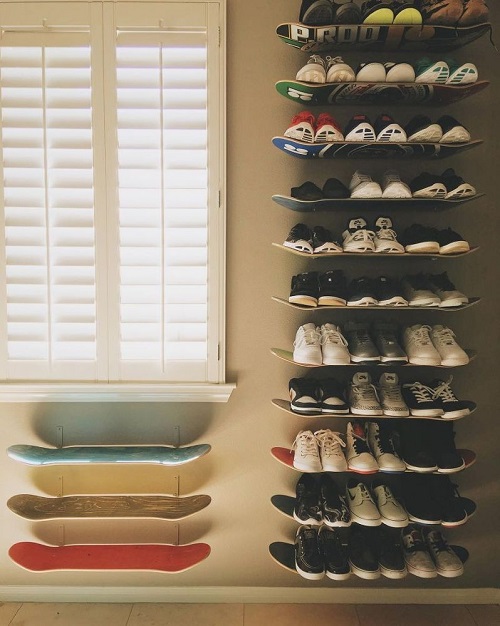 Skateboard shelves not only give your dull space an interesting look but also lets you store numerous shoes. The DIY is here.
16. Easy and Cheap Shoe Rack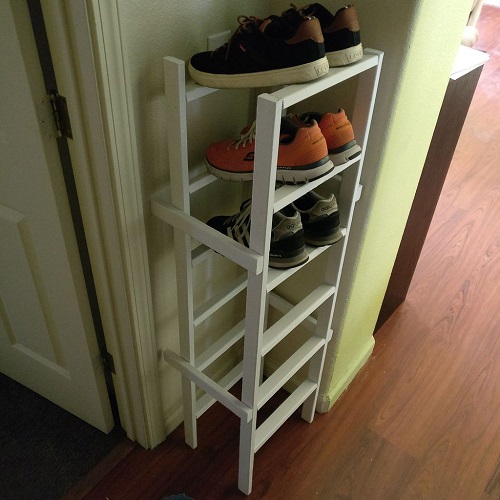 This easy wooden footwear rack keeps your kicks on display without consuming the precious floor space. Go through this instructable to learn more.
17. Bench and Baskets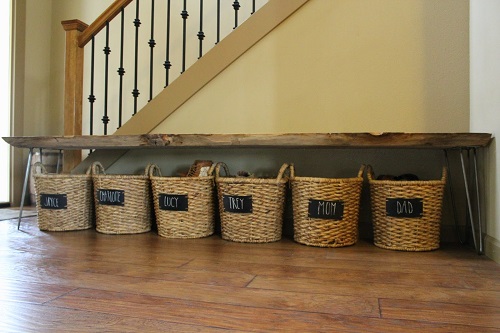 Say goodbye to your shoe storage woes with the help of a wooden bench and baskets. Read the details here.
18. DIY Rolling Shoe Storage Bins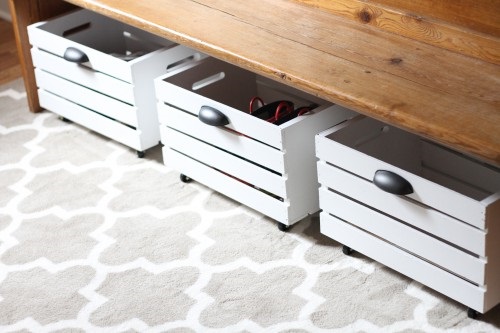 With some modifications and this DIY, you can convert crates into rolling storage bins for shoes. Place them under the mudroom bench for quick and easy access.
19. Bench With Baskets for Shoe Storage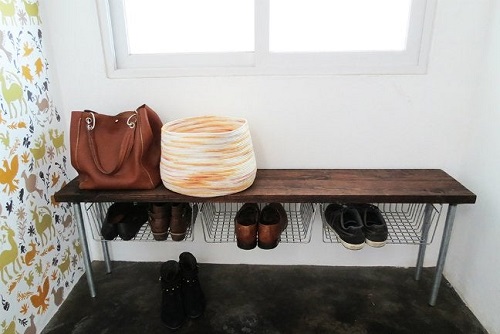 Who doesn't need more storage for their footwear? Build a shoe organizer and entryway seat in one using this DIY tutorial.
20. DIY Closet Shoe Trays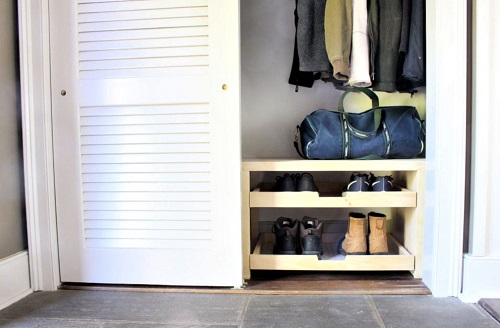 Build a shelf ledge with pull-out shoe trays to keep your kicks organized in the closet. Details are here.
21. Crown Molding Shoe Rack DIY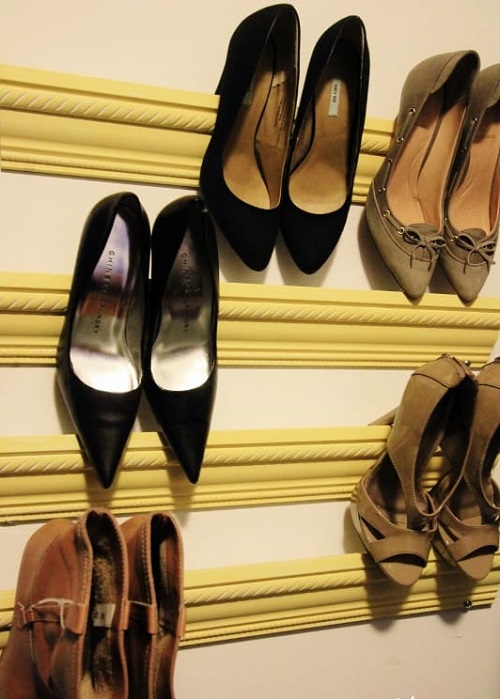 Do you need more space in your compact closet for stowing shoes? Check out this brilliant idea.
22. Hexagon DIY Shoe Rack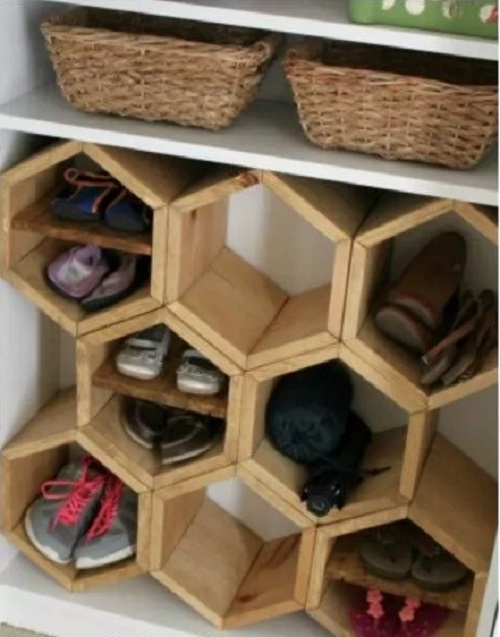 A great addition to home decor, this stylish hexagon shoe rack is perfect for the front entry closet. Get the details from here.
23. Pallet Shoe Rack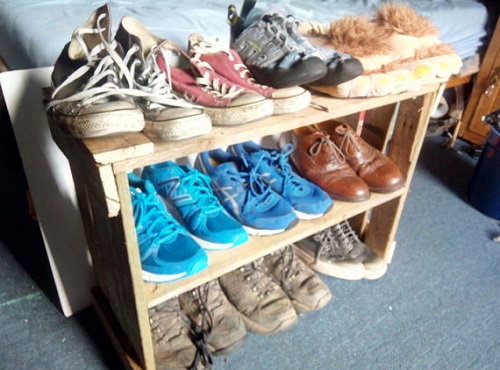 Made from pallets and some hardware, this rack is super affordable and space-saving. It's one of the best DIY shoe storage ideas.
24. DIY Front Door Shoe Storage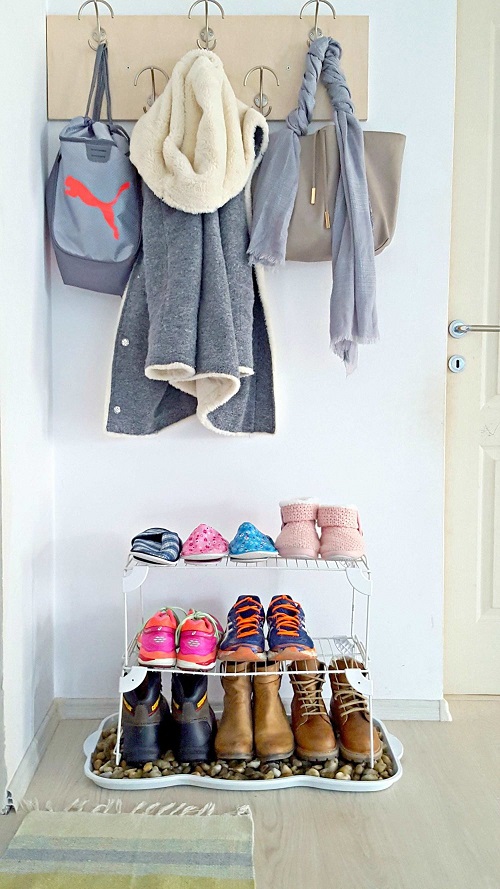 Perfect for snowy boots, this storage idea will completely change the look of your monotonous entryway.
25. Outdoor Boot Rack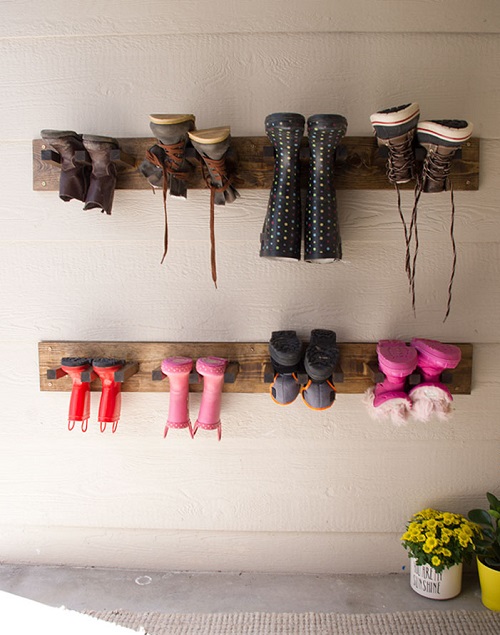 Are you looking for an outdoor boot rack idea to keep your kicks organized? Look no further and follow this tutorial. Along with shoes, you can hang umbrellas and raincoats as well.
26. Easy DIY Shoe Storage Idea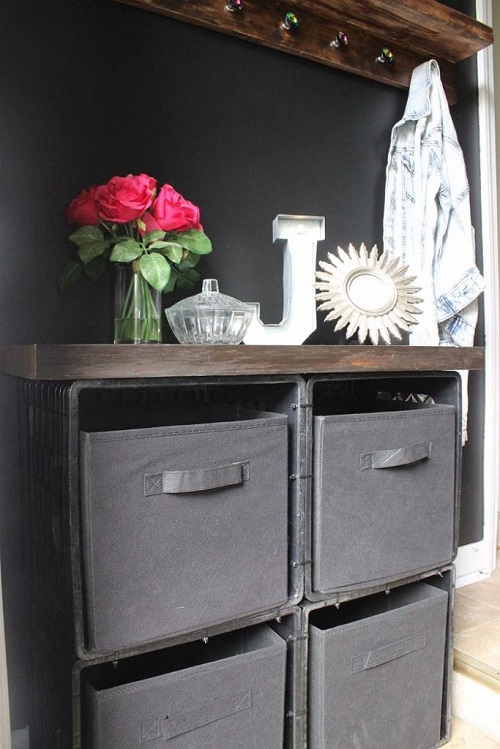 To make this aesthetic footwear storage setup, take a look at this step-by-step project.
27. Cabinet With Hidden Shoe Storage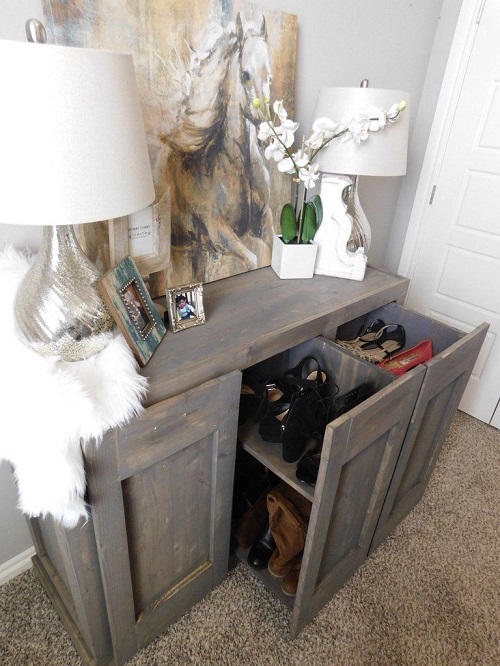 This shoe cabinet is the perfect place to hide your unsightly footwear. Get the instructions from here.
28. Shoe Storage Tray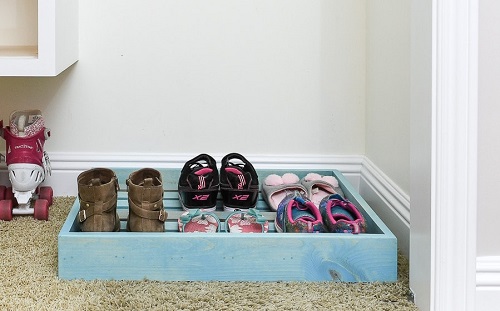 Build this wooden shoe tray to stow kicks and other footwear in a closet, mudroom, or entryway.
29. Drop Cloth Hanging Shoe Storage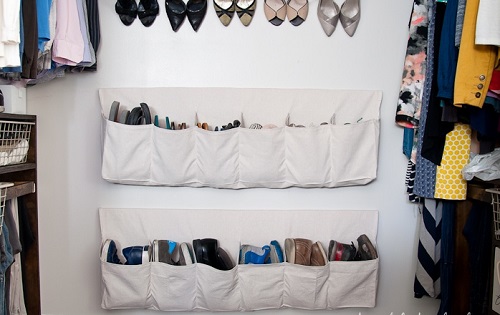 This hanging shoe storage made from inexpensive drop cloth can be easily customized to fit all your footwear and closet space.
30. DIY Built-In Shoe Storage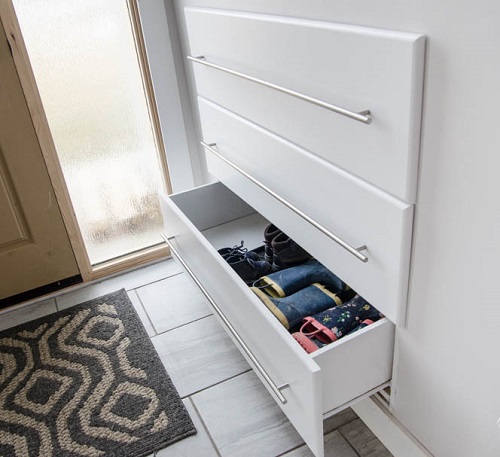 Check out this project to make built-in shoe storage for a split-level entryway that adds architectural interest to a room.
Here are some small bathroom towel storage ideas