From see-saws, wall art, and furniture to planters, there are plenty of Wooden Cable Spool Ideas that are listed below!
Take inspiration from these creative Wooden Cable Spool Ideas to build some functional yet decorative items for your home and garden. They are affordable and easy to make.
Look at some awesome DIY patio furniture ideas here
---
Wooden Cable Spool Ideas
1. Mirrored Round Coffee Table Using a Wire Spool
Watch this step-by-step tutorial to build a stunning mirrored round coffee table using a wire spool. This furniture will definitely attract a lot of eyeballs.
2. DIY Cable Spool Headboard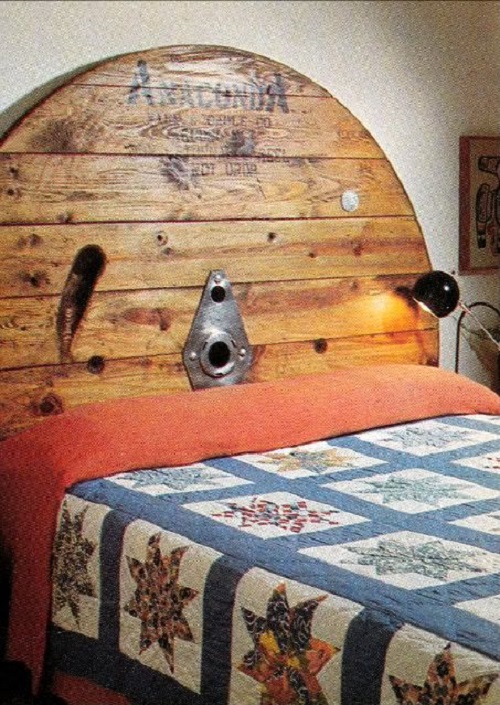 Are you looking for a cheap headboard DIY? Take inspiration from this detailed article. It's one of the best wooden cable spool ideas.
3. Spool Coffee Table With Wheels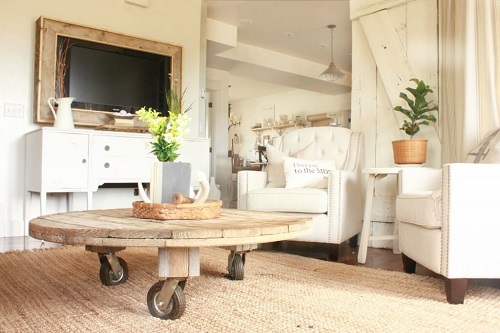 In this article, the DIYer transforms a wooden spool into a coffee table featuring caster wheels. It's an excellent project for this weekend.
4. Cable Spool Bookcase DIY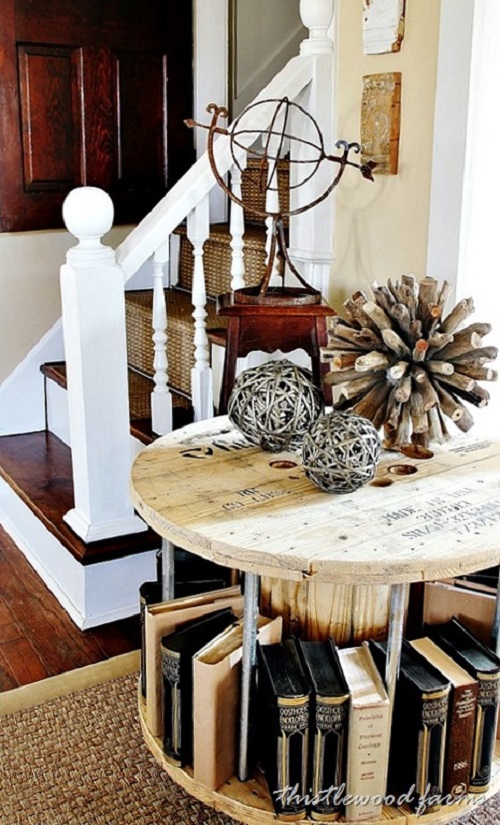 Looking for a unique bookcase for your home? This spool bookcase idea is for you.
5. Upcycled Cable Spool Ottoman With Storage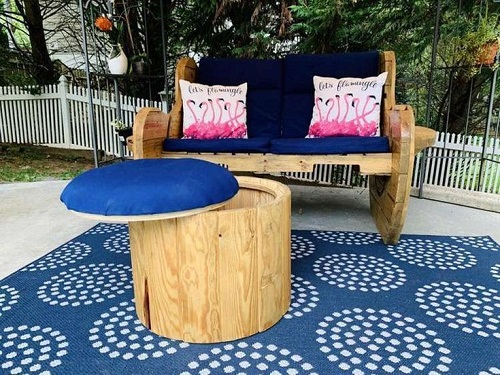 Combine the extra pieces of a spool with scrap plywood and an old outdoor pillow to build this awesome ottoman. Read more here.
6. Cable Spool Pallet Bench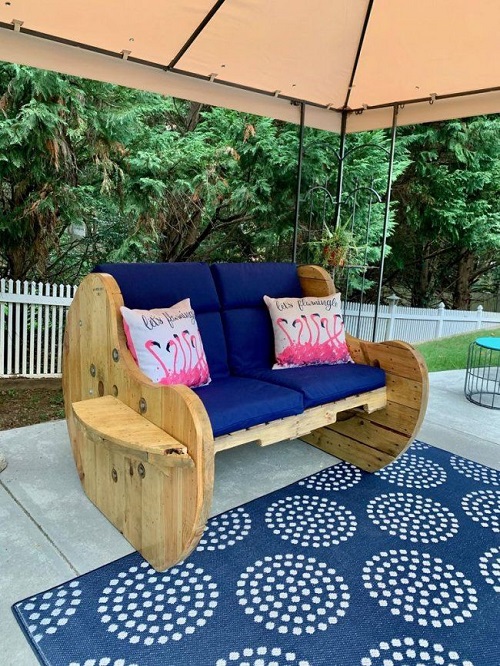 Follow this instructable to assemble a pallet bench –  the most awesome furniture to grace a patio.
7. DIY Rustic Wooden Spool Table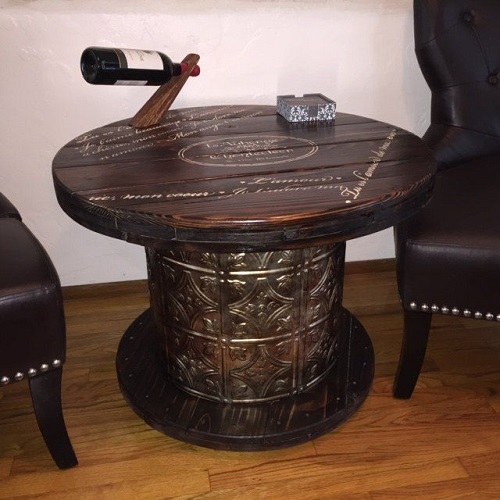 Adorned with ceiling tiles, this eye-catching spool table adds a rustic touch to the space. The details are here.
8. BBQ Table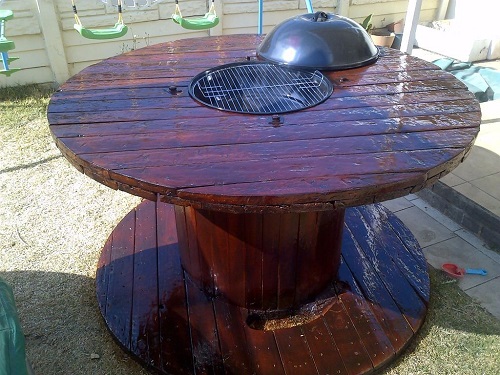 Instead of purchasing a bbq table, create one using a wooden spool and this tutorial. It's an affordable alternative to the commercial barbecue table.
9. Cable Drum Rocking Chair DIY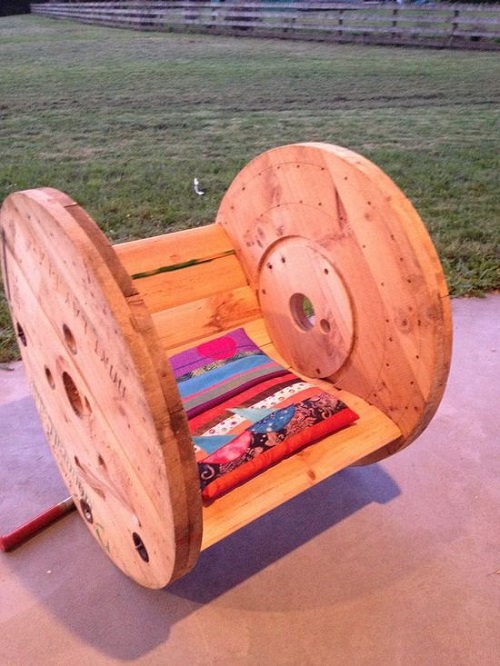 Give your patio an attention-grabbing conversation piece by converting a wooden cable drum into a rocking chair.
Here are some amazing DIY outdoor chair ideas
10. Farmhouse Style Cable Spool Table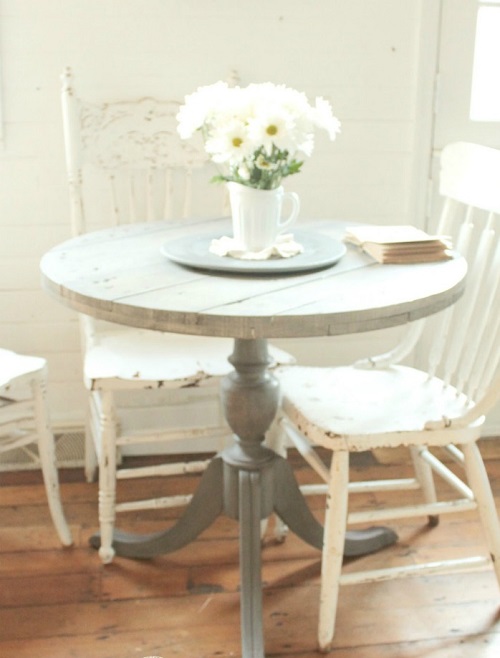 Make this distressed-looking, farmhouse-style table out of a cable spool to amp up the look and feel of your monotonous home decor.
11. DIY Fire Pit Table
This table features a fire pit and hideaway storage area to store a propane tank and other items.
12. Cable Spool Picnic Table
This video tutorial teaches the easiest way to build an affordable picnic table using a cable spool.
13. Star Trek-themed Wire Spool Pub Table
If you are an avid fan of 'Star Trek,' you'll love this wire spool pub table idea. It's a laborious project but worth the effort.
14. Cable Spool Turned Upholstered Stool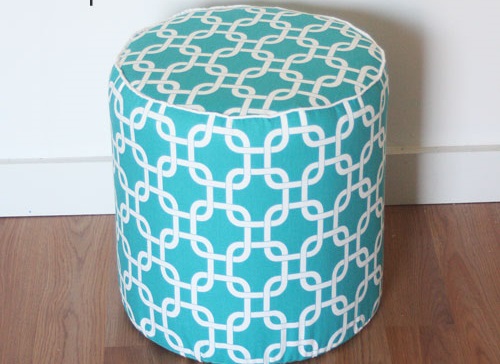 Grab a spool, wood sticks, cardboard, foam, an electric knife, quilt batting, muslin cover, and turquoise fabric to make this upholstered stool.
15. Garden Planter From Old Cable Drum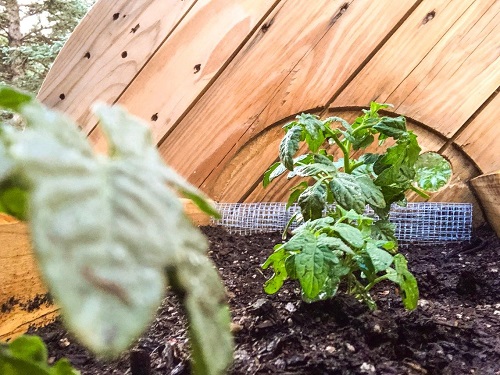 Show off your DIYing skills by making this unique cable spool planter. Hop to this article for the instructions.
16. DIY Cable Spool Duck House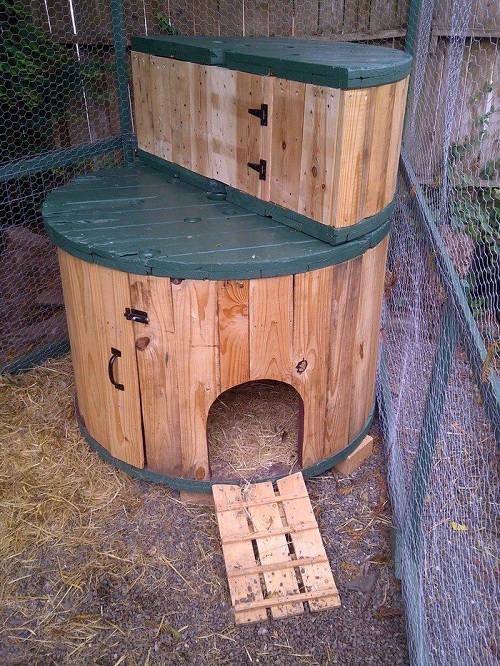 Do you want a large and spacious house for your ducks? Then this cable spool duck house just might be the one you are looking for.
17. Spool Wall Art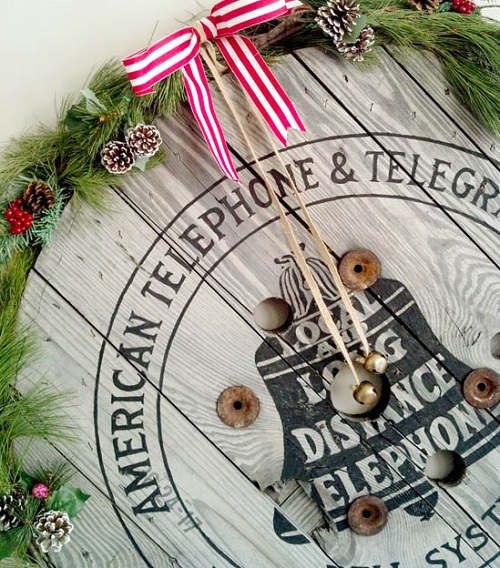 Give your home decor an attractive focal point by converting a wire reel into wall art. Get the instructions here.
18. DIY Spool Teeter Totter
Here's the video tutorial to build an inexpensive and fun teeter-totter for your kiddos. It's one of the most amazing DIY wooden cable spool ideas on this list.
19. DIY Wood Cable Reel Race Car Track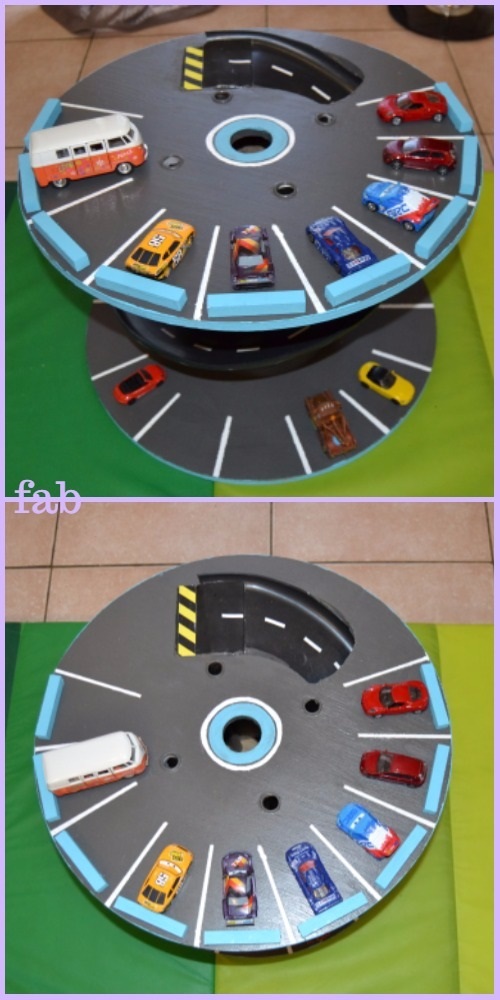 With some modifications, supplies, and patience, you can easily build a race car track from a wooden cable reel.
20. DIY Rustic Wood Spool Clock
Apart from being an excellent add-on to a living room decor, this functional, rustic spool clock is a great gift for special occasions.
21. Kid's See-Saw from Cable Spool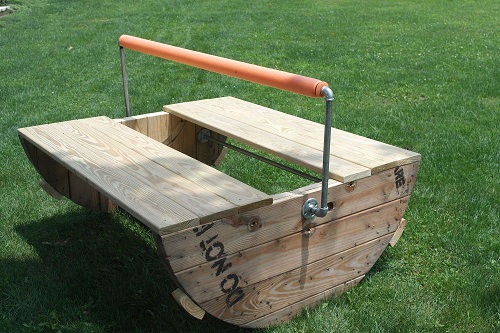 Check out this fantastic idea for repurposing a cable spool into a fun see-saw. Your children will love this concept.
22. Spinning Table From A Discarded Cable Reel
Need a table but want to display some plants or books too? Consider this spinning storage table made from a discarded cable reel.
Find out some fantastic DIY bedside table ideas here