Here are some stylish DIY ceiling light ideas to add drama, a hint of glam, and charm to your living space!
As ceiling lights are an integral part of home decor, take inspiration from these budget-friendly, homemade DIY Ceiling light Ideas to replace your existing non-functional light fixtures with new fancy ones.
Find out the DIY light switch covers here
---
DIY Ceiling Light Ideas
1. DIY LED Pendant Light Fixture
Grab 5000k LED 2ft 20w, pinewood, lamp cord, and power chord to make this chic LED pendant light.
2. DIY Tiktok Cloud Ceiling
Remember that viral TikTok cloud ceiling! Imitate the same effect with LED light strips, cloud material, Xmas lights, duct tape, adhesive spray, hue lights, and poster board.
3. Terrarium to Geometric Pendant Light

Add style to your dull room by DIYing this alluring geometric pendant light made from a glass terrarium, jute rope electrical cord kit, and an Edison bulb.
4. DIY Rope Chandelier

Show off your DIYing skills by turning an old metal chandelier into an expensive-looking rope chandelier. DIY is here.
5. Industrial Pipe Light Fixture

Suspend this cool industrial-themed pipe light fixture above the kitchen island for a rustic industrial touch.
6. DIY Copper Pipe Icosahedron Pendant Light

Made with an Ikea foto pendant light, copper pipes, and copper wire, it's a dreamy ceiling light fixture that surely attracts a lot of eyeballs.
7. DIY Hanging Halo Light Fixtures

Ceiling halo lights are pretty simple to DIY and fun little additions for a kid's room, playroom, or in-home learning space.
8. Hemp String Pendant Lamps

Install these minimalistic hemp string pendant lamps in your living space for a dramatic effect. It's one of the fantastic DIY ceiling light ideas on this list.
9. Tree Branch Chandelier

Elegant to look at, this tree branch chandelier is an eye candy that you can put together with branches, screws, lamp cords, and other supplies.
10. Bamboo Orb Pendant Lamps

Recreate these exceptionally stunning bamboo orb pendant lamps to make your home inviting and refreshing.
11. DIY Glass Bottle Lamps
Rather than tossing out old colored glass bottles, reused them to create these impressive ceiling-hanging pendant lamps.
12. Mason Jar Pendant Lights

Don't have colored glass bottles handy? Go with mason jars to make beautiful pendant lights, perfect for high ceilings. The tutorial is here.
13. DIY Hanging Globe Lights
If you happen to have old globes, repurpose them to DIY these display-worthy globe ceiling lights.
14. DIY Mason Jar Chandelier

Jazz up your place with this cost-effective vintage-inspired DIY mason jar chandelier for an added appeal.
15. Honeycomb Pendants

DIY these unique honeycomb pendants that look adorable, gives beachy vibes and, not to mention, complement the overall decor as well.
16. Rustic Basket Lamp

Upcycle an old basket to make a thrifty ceiling lamp. Go to recreateddesigns for the tutorial.
17. Abstract Twin Socket Lamp

Check out this instructable to get a ceiling light fixture that genuinely stands out in the home decor.
18. Floral Basket Chandelier

Change the ambiance of your room by installing this floral basket chandelier featuring a woven basket and semi-flush mount light kit.
19. Cardboard Pendant Light

Salvage the piles of old cardboard boxes by transforming them into an elegant little pendant light.
20. DIY Wooden Paint Stick Pendant Light

To DIY a modern ceiling light on a budget, this pendant light made up of wooden paint sticks and a small lampshade is the best bet.
21. DIY Plastic Spoon Lamp

This ingenious ceiling lamp is an excellent focal point for your home decor. To make one for yourself, check out this article.
22. DIY Pendant Light from Pallets
With some wooden pallets, tools, and woodworking skills, you can quickly assemble a gorgeous pendant light.
23. Sculptural Paper Orb Chandelier

Display your craftsmanship by making this paper orb chandelier, a perfect lighting fixture for your living space.
24. DIY $10 Faux Capiz Shell Chandelier

Designed for a dramatic impact, this exquisite faux capiz shell chandelier can be an interesting addition to the master bedroom.
25. Galvanized Bucket Light Fixture

Revive your worn-out, rusty-crusty galvanized bucket by reusing it as a pendant lamp. It's ideal for both indoor and outdoor places.
26. DIY Concrete Pendant Light

Whether it's the bar area, kitchen, or office setup, these concrete pendant lights are the best choice.
27. Colander Pendant Light

Along with straining your fruits and veges, a colander can be a perfect light fixture for your ceiling as well. The tutorial is here.
28. DIY Glass Gel Pendant Lighting
Mesmerize your guests by adorning the home with this trendy yet frugal glass gel pendant light fixture.
29. DIY Drum Shade Chandelier

Obsessed with drum shades? Look at this DIY, which converts a drum shade into a dreamy chandelier. It's one of the most attractive DIY ceiling light ideas to date.
Here are some homemade DIY chandelier ideas
30. Wooden Cube Pendant Light

All you need is basic woodworking skills to pull off this aesthetically pleasing wooden cube pendant light. The details are here.
31. Paper Mâché Pendant Light
Paper mâché is not limited to creating cool art projects. You can also make an attractive pendant light out of paper mache with some basic supplies.
32. White Birch Creative Hanging Light Fixture

Want a creative yet pretty ceiling light for a special occasion? You're in the right place! Follow this easy-to-do instructable.
33. DIY Galaxy Cube Pendant
A unique pendant light featuring glowing stars and planets will surely adore by kids and adults alike.
34. DIY Hat Lighting

Get bored of the traditional ceiling lights, replace them with these chic hat pendants to add glam to the space.
35. Edison Bulb Chandelier

To attract your guests' attention, hang this vintage-looking Edison bulb chandelier above the dining table. Click here to know more.
36. DIY No-Sew Fabric Pleated Pendant Lamp

Indulge in the "Go Green" movement by reusing the fabric scraps to build a pretty fabric pleated pendant lamp.
37. Straw Cluster Chandelier

Take a look at the instructions on designsponge to DIY a straw cluster chandelier to introduce a quirky vibe to the space.
38. DIY Glam Bubble Chandelier
Watch this video to beautify your home with this fancy bubble chandelier – a true statement maker.
39. DIY Chandelier From Wood Beads

Invest in this wood beads chandelier to embellish your place with timeless charm. The details are here.
40. DIY Crystal Chandelier

Create this gorgeous crystal chandelier for your home using an old brass chandelier, crystal teardrops, and bead chains.
41. DIY Fringe Bamboo Hat Pendant Lamp

This artistic fringe bamboo hat pendant lamp is a stunning addition to any boho decor and an excellent project to begin this weekend.
42. Hula Hoop Chandelier

Check out this blog to make a trendy chandelier full of character and charm. Grab a hula hoop, lace, and white fairy lights for this DIY.
43. Paper Cup Rose Pendant DIY
Make roses from paper cups, glue them together to create a lampshade, and lastly, equip it with string light to complete the look.
44. Ping Pong Ball Ceiling Pendant

Lighten up your place with this easy-to-prepare ping pong ball pendant for a funky and modern touch.
45. DIY Neo-Baroque Style Hanging Lamp

This DIY shows how to build an intricate and impressive neo-baroque style hanging lamp using plexiglass, cord set, plastic cup, decorative metal chain, and pink spray paint.
46. DIY Pendant Light from Wire Fruit Basket

Upcycle an old wire fruit basket into a gorgeous and fully functional pendant light. It's probably one of the quickest DIY ceiling light ideas.
47. Five Minute African Pendant Lamp

Like this blogger who aptly converts printed and painted African bowls into a playful pendant lamp, you can achieve the same results easily.
48. DIY Washing Machine Drum Pendant Lights

If transforming discarded items into something useful is what you do, this washing machine drum pendant light project is only for you.
49. West Elm Inspired Perforated Globe Pendant

Gather two large plastic bowls, tin snips, Dremel with a sanding band attachment, a lamp kit, duct tape, and navy satin paint to build this west elm-inspired perforated globe pendant.
50. DIY Blender Ceiling Pendant Light

With a busted blender, an electrical cord, and a bulb, you can DIY a super-economical hanging kitchen light.
51. Repurposed Tin Can Pendant Lights

Hang these classic tin can pendants over the dining table to add character and style to the place.
52. Industrial-Sized Whisk Pendant Lights

Take out your DIYing gear to make these fabulous pendant lights from industrial-sized whisks. You can do the same project with kitchen whisks as well.
53. Easy Pendant Golden Lamp

Gather a cord with a lamp socket, gold paper, glue, a bulb, and an empty toilet paper roll to make this adorable pendant lamp.
54. Bicycle Wheel Light Fixture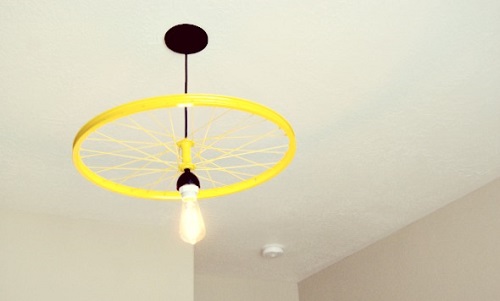 Another great DIY ceiling light idea in which an old bicycle wheel, a mini pendant kit, a vintage-style light bulb, and spray paint are used.
55. Fresh Flower Pendant Light

Bring nature indoors by making this ceiling light out of fresh flowers like dahlias, peonies, tulips, roses, and ranunculus. Read more here.
56. Teacup Pendant Lights

Create these nifty pendant lights out of teacups and saucers to spruce up your dining area in no time.
57. Wooden Strips Woven Pendant Lamp

Illuminate your dwelling with this unique wood veneer strips woven pendant lamp! You need cardstock, strips of wood veneer, and a few other basic supplies for this DIY.
58. DIY Homemade Ceiling Light

This unusual ceiling light fixture requires a metal wire container, a power drill, tin snips, a pendant light kit, a bulb, and this tutorial.
59. DIY Industrial Pendant Light

Enrich your house interior with this industrial pendant light to get inviting and tranquil vibes.
60. Pendant Light Made from Picture Frames
Imitate this praiseworthy and cost-effective pendant light fabricated out of picture frames and a little bit of DIYing skills.
Have a look at the DIY pipe pendant light here