These easy-to-make DIY Outdoor Sink Ideas make your cooking and gardening chores convenient without creating a hole in your pocket!
Garden sinks are perfect for gardeners and cooking enthusiasts for cleaning purposes. They add functionality to the yard and create visual interest too. If you want to build one, check out these DIY Outdoor Sink Ideas.
Here are some clever under-sink storage ideas
---
DIY Outdoor Sink Ideas
1. Wooden Garden Sink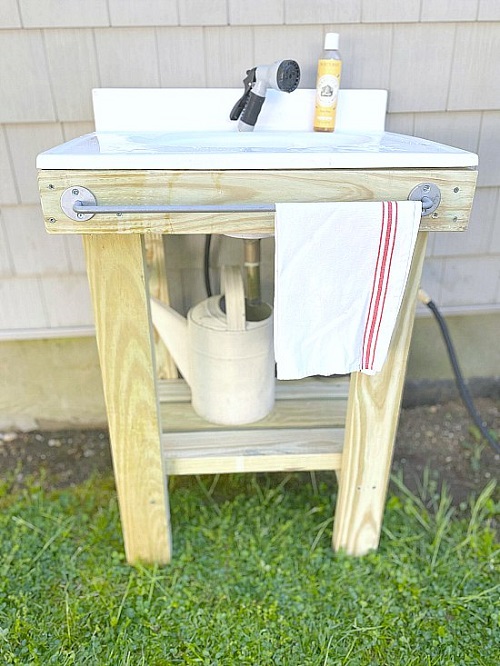 This step-by-step tutorial has all the instructions, supplies, and tools to make a wooden garden sink.
2. DIY Portable PVC Sink
Look at this video tutorial to build a portable PVC sink, ideal for gardening and camping. It's one of the easiest DIY outdoor sink ideas on this list.
3. Field Sink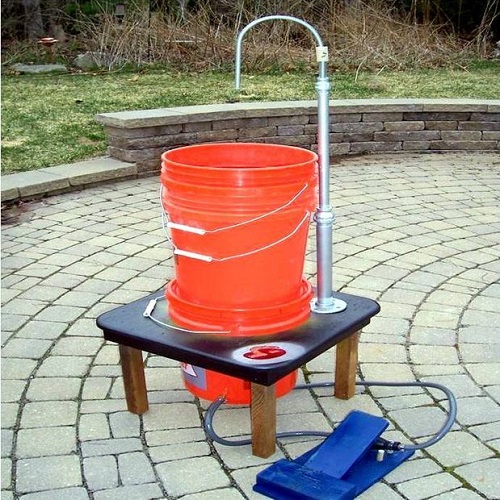 Perfect for camp or the patio, this foot pump-operated basin is best for campfire or BBQ grill-side food prep clean-up. Read more here.
4. DIY Oil Drum Sink
Transform an empty oil drum into an eye-grabbing washbasin with the help of this video.
5. Outdoor Garden Sink with Stainless Steel Top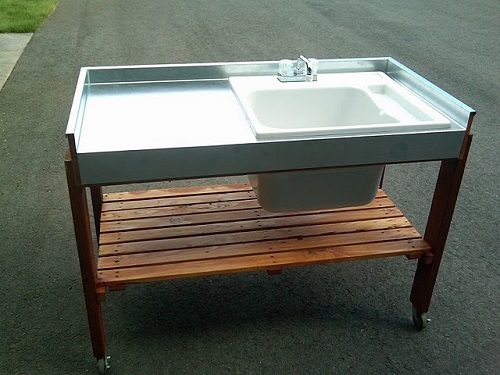 This laundry-sized sink, filled with ice-cold water, eases the chore of cleaning all sorts of fresh garden produce.
6. Galvanized DIY Outdoor Sink Ideas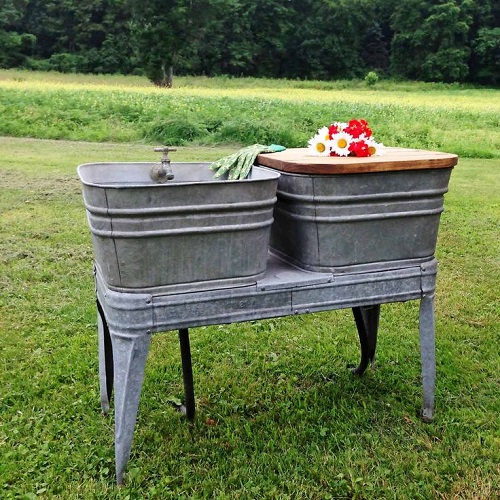 Fashion this outdoor sink for tidying up after gardening, barbecuing, or trips to the barn. Get detailed instructions here.
7. Basic Outdoor Sink DIY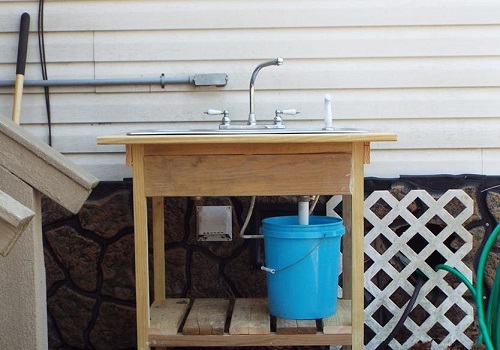 An easy-to-build sink that connects to a water spigot. The base is constructed out of treated lumber or cedar. Click here to learn more.
8. Wooden Log Outdoor Sink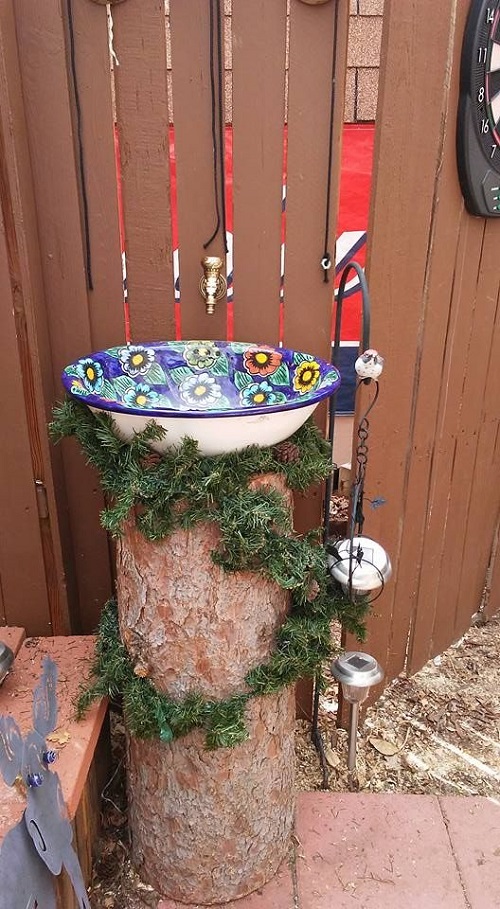 Made from a wooden log, painted sink, and some hardware, this beautiful feature adds functionality and appeal to the outdoors.
9. Garden Wash Basin Out of Pallets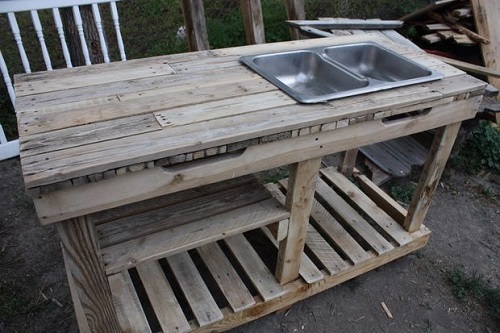 Gather pallets, screws, pry bar, hammer, screw gun, jig saw, miter saw, sander, sealer, and paint thinner for this project.
10. DIY Rustic Outdoor Sink
Add rustic charm to your space by installing this fully functional washbasin on the yard wall. Watch the video for more info.
11. DIY Outdoor Sink from Salvaged Materials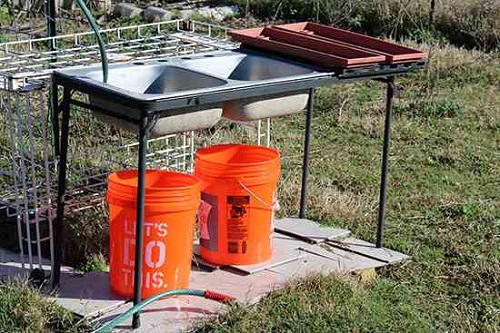 This sink is built from a cheap metal table frame, scrap wood, buckets, and tiles. It's one of the best DIY outdoor sink ideas.
Here are some amazing DIY outdoor chair ideas
12. Simple Outdoor Sink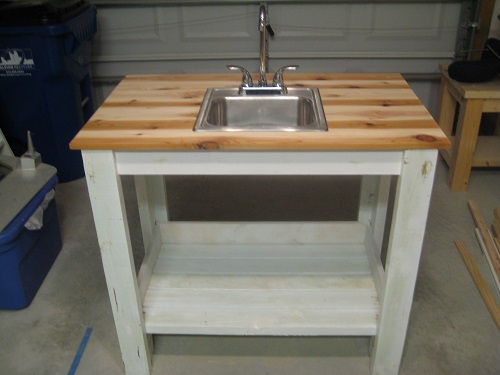 To recreate this garden sink, you only need $120, 10-20 hours, and this woodworking project.
13. Reclaimed Outdoor Sink Idea
Watch this video tutorial to assemble a modern, fancy-looking washbasin using reclaimed or leftover materials.
14. Mobile Garden Sink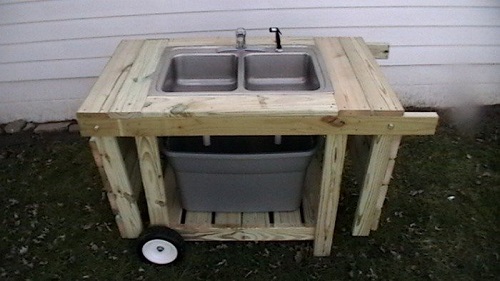 This DIY garden sink lets you save and maximize the use of water. It's great for all your backyard activities, such as grilling, campfires, and gardening.
15. Pallet Wood and Metal Framed Outdoor Sink
With some woodworking, metalworking, and sewing, anyone can easily put together this elegant kitchen basin.
16. DIY Outdoor Farmhouse Style Sink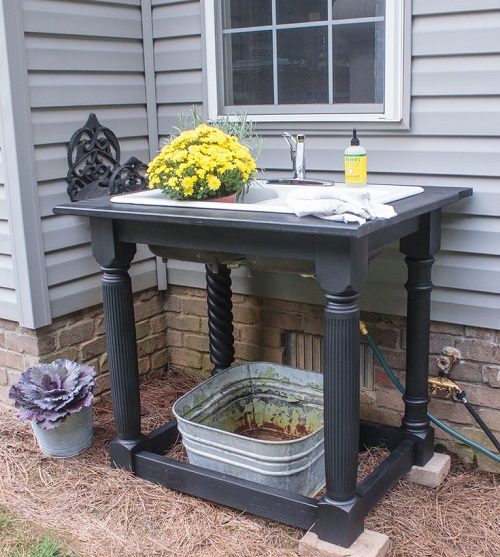 Give your yard a true farmhouse feel with this stylish sink. Grab the required tools and supplies to start this project.
17. Concrete Outdoor Sink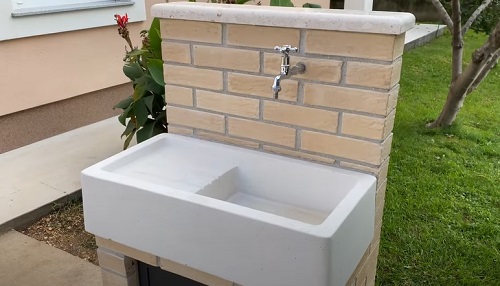 Build your own concrete outdoor washbasin from scratch using this handy guide. Plumbing, bricklaying, and metalwork skills are needed for this idea.
18. Metal Outdoor Sink Build Idea
Equipped with swivel casters and a swimming pool collapsible hose for draining, this sink is easy to roll around wherever needed.
19. Potting Table With Sink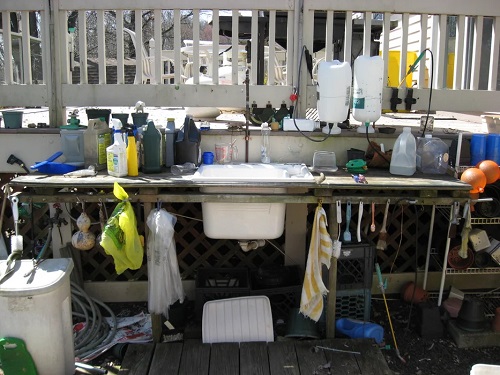 This potting table with a built-in basin not only makes gardening tasks easier but also keeps mud and dirt out of the house. The tutorial is here.
20. Water Saving Outdoor / Garden Sink
In this tutorial, the DIYer builds a garden sink that collects the water, so you can reuse it later. It also protects the wall from dirt and water splashes while washing.
21. Car Tires and PVC Pipe Garden Sink
Modify an old tire into a peculiar backyard washbasin with this video tutorial. It's one of the most amazing DIY outdoor sink ideas.
22. DIY Compost Sink – A Veggie Washing Station
Learn how to build a DIY compost sink – a veggie washing station that saves precious water by using it again to wet down the compost.
23. Wine Barrel Outdoor Sink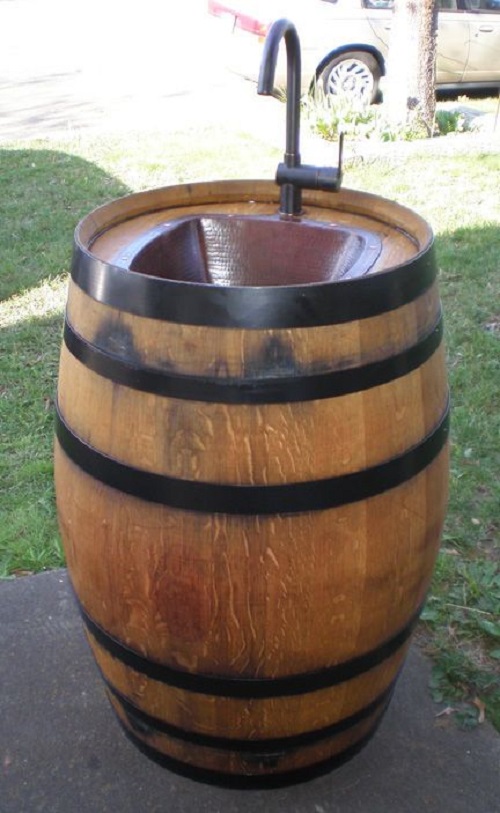 Turn an ordinary wine barrel into a functional and decorative sink for outdoor use. Hop to this article for more info.
Find out some creative DIY Wine Barrel Planter Ideas here