These Hidden Trash Can Ideas are affordable, space-saving, and super functional for discarding garbage while doing other chores!
Whether it's the kitchen or backyard, a garbage bin is always an eyesore for everyone. Fortunately, there are some Hidden Trash Can Ideas that will keep the ugly waste container out of sight.
Find out how to make trash can deodorizer tabs here
---
Hidden Trash Can Ideas
1. DIY Tilt Out Trash Can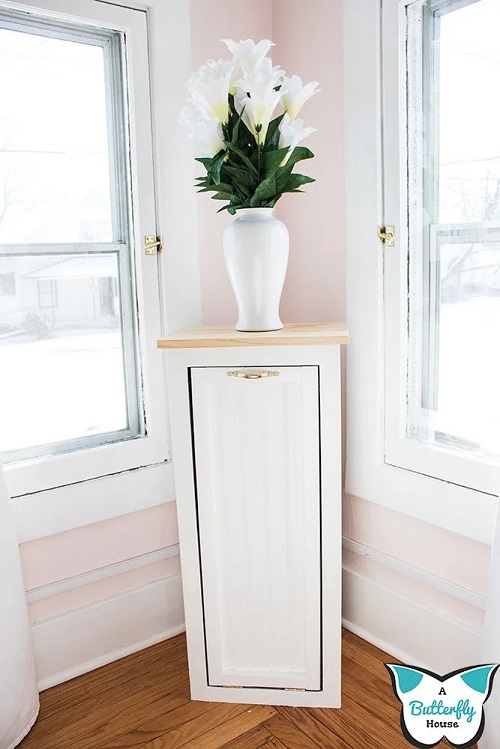 Turn an old wall cabinet into a fancy tilt-out garbage can using this tutorial. It keeps the flies and other insects at bay.
2. Farmhouse Style Trash Cabinet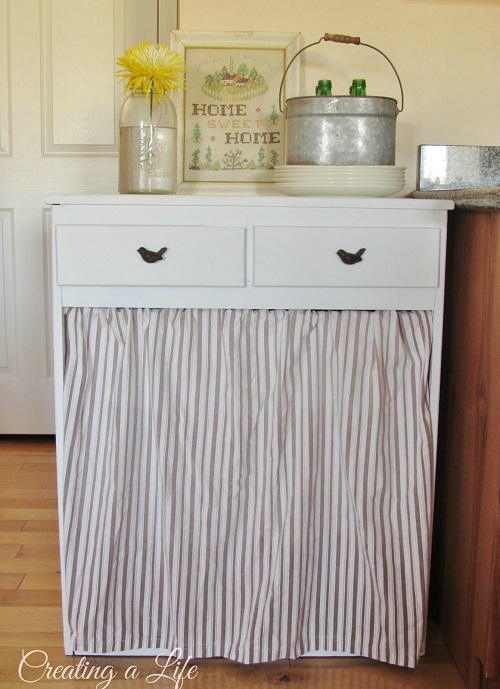 Take an old dresser and transform it into a farmhouse-style trash cabinet to hide the unsightly garbage can and gain extra counter space. Read more here.
3. DIY Pull Out Trash Can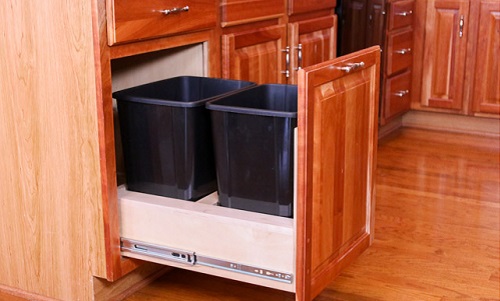 Introducing this pull-out trash bin in your kitchen is an excellent way to keep the garbage secreted. The details are here.
4. Use a Large Wicker Basket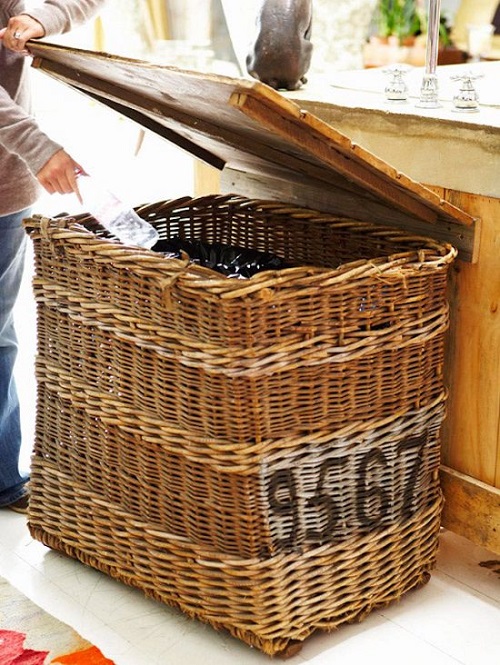 Take a large lidded wicker basket and put the trash bin inside it. It's one of the most amazing hidden trash can ideas.
5. Old Trash Can Makeover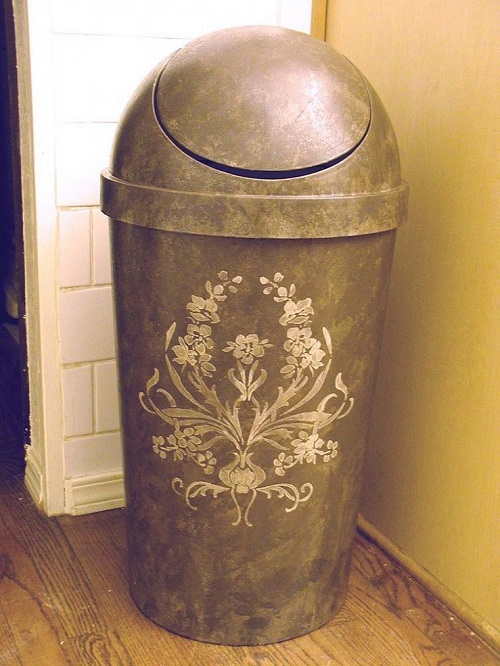 Instead of concealing the garbage bin, why not mask its identity with a quick stenciled makeover. Hop to this article to learn more.
6. Outside Garbage Can Hideout Area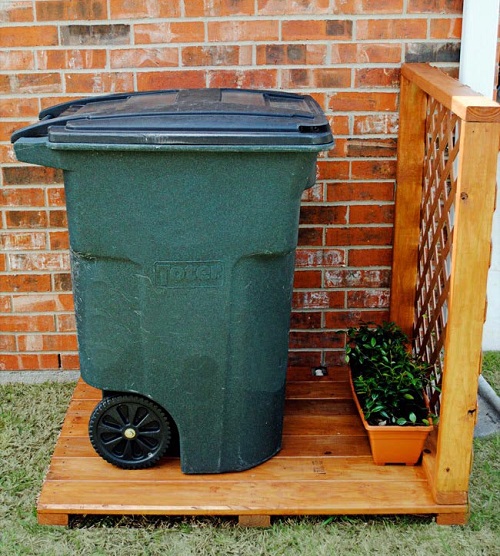 Made from wood and a little patience, this outside trash bin storage area keeps the ugly trash container hidden from the street easily. Read more here.
7. DIY Pallet Trash Can Hideaway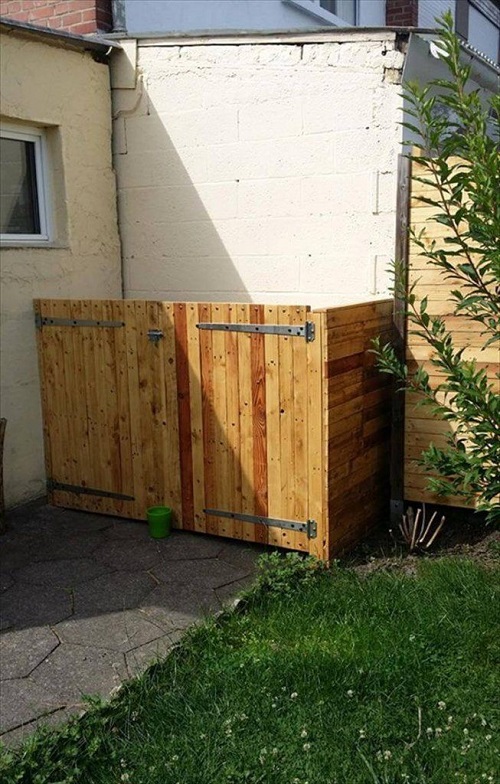 Here's another brilliant idea that hides outdoor wheelie bins without ruining the curb appeal.
8. Repurpose a Pallet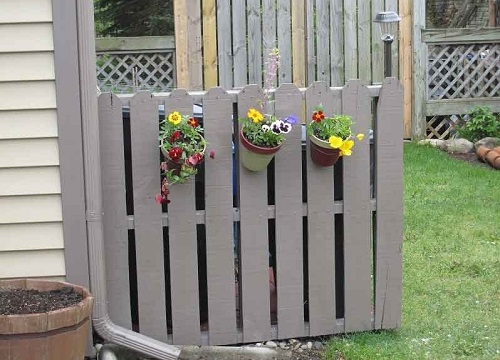 A pallet fence adorned with flower planters makes this trash can hideout stand out on this list. The details are here.
9. Over the Door Trash Can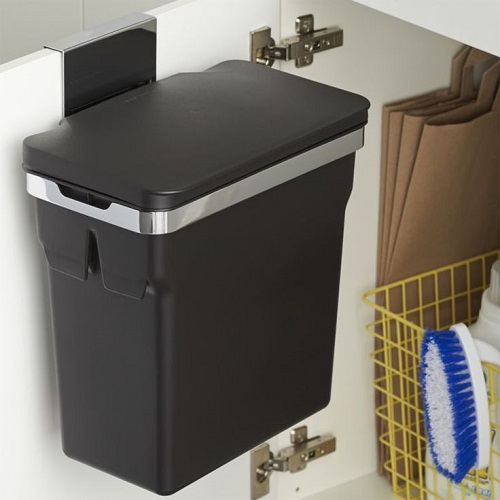 Consider this over-the-cabinet-door garbage bin that conceals effortlessly, is easy to access, and saves space. You can buy it online or from the nearest local store.
10. Lattice Screen Garbage Can Hideaway
All you need are lattice, treated trim, drill, circular saw, and a few other supplies to make this lattice screen garbage can hideaway.
11. Counter Top Waste Bin
This countertop top bin not only masks the hideous trash can but also makes it easier for you to separate the organic waste from the inorganic ones.
Find out some frugal kitchen countertop ideas here
12. Double Tilt Out Trash Bin
This double-tilt-out trash bin is a clever concealer and maximizes counter space in the kitchen.
13. Swing Out Behind Cabinet Door Trash Can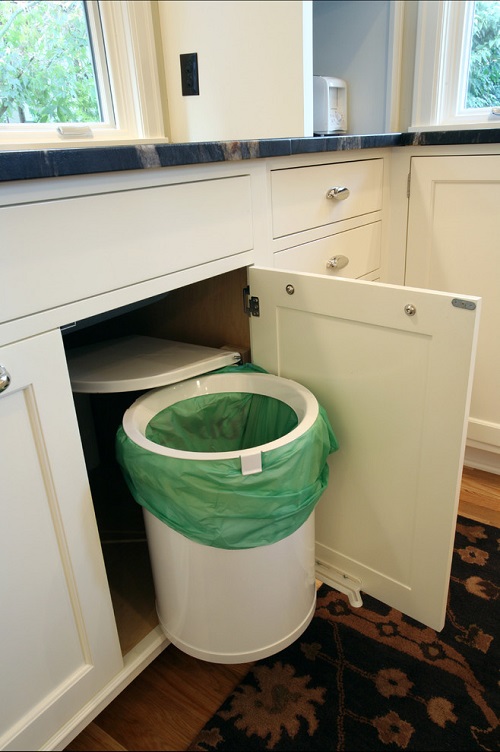 All you have to do is purchase a swing-out trash can holder and install it behind the cupboard door to conceal the unsightly garbage can.
14. Small Kitchen Island with Slide Out Double Trash Cans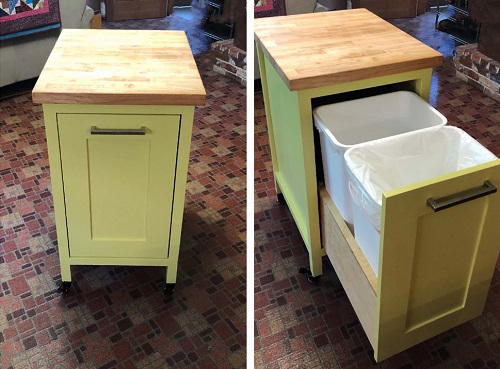 Check out this step-by-step tutorial to assemble a small kitchen island featuring a slide-out trash hideaway.
15. Super Compact Mobile Garbage Bin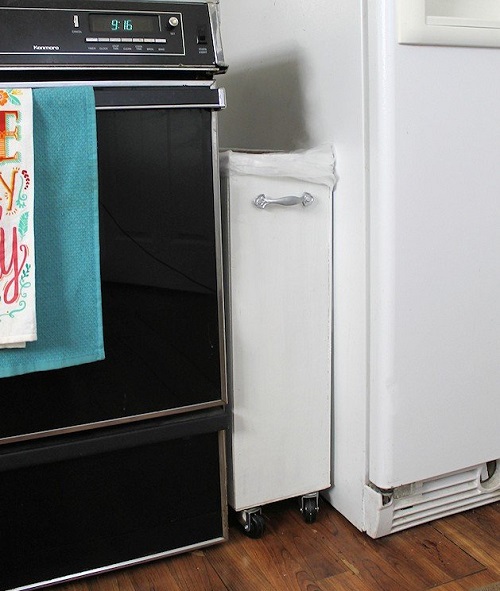 Equipped with wheels, this kitchen trash bin easily fits any narrow space. Here's the detailed tutorial.
16. DIY Pull Out Four-Bin Trash and Recycling Cabinet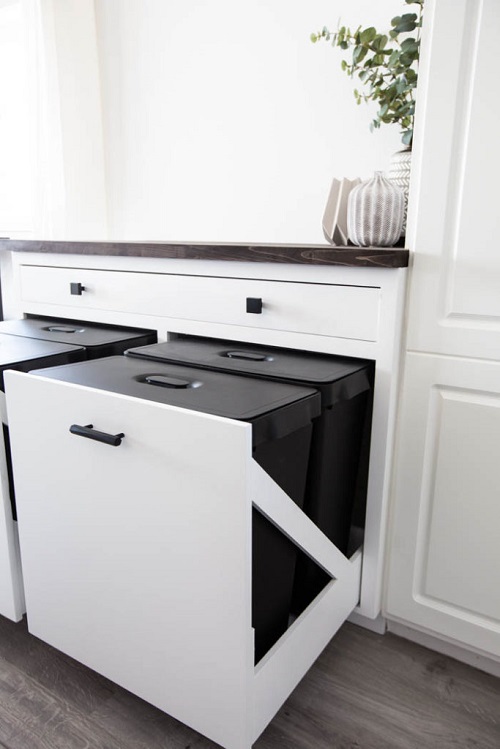 Learn how to create your own pull-out trash can cabinet to hide and organize garbage and recyclable items in this article.
17. DIY Trash Can Cover
This trash can cover is a stylish way to keep the garbage out of sight. It costs only $50 and needs basic woodworking skills.
18. Door Mounted Garbage Storage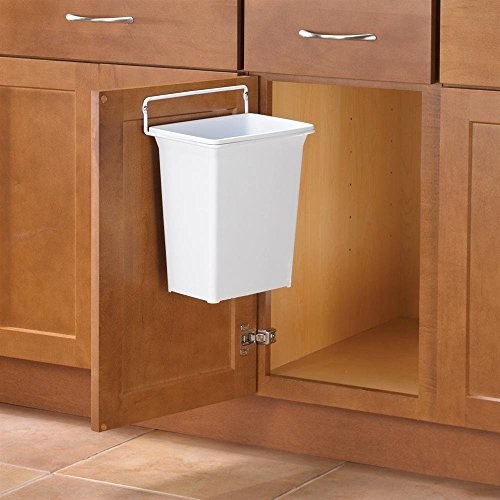 Mount this easy to access garbage storage container behind the cabinet door to make the trash can unnoticeable.
19. Whiskey Barrel Trash Can with Swinging Lid
Here's the video tutorial to convert a plain old whiskey barrel into a stylish trash can. This way, you don't necessarily need to hide your garbage bin.
20. Cabinet Corner Trash Bin Hideaway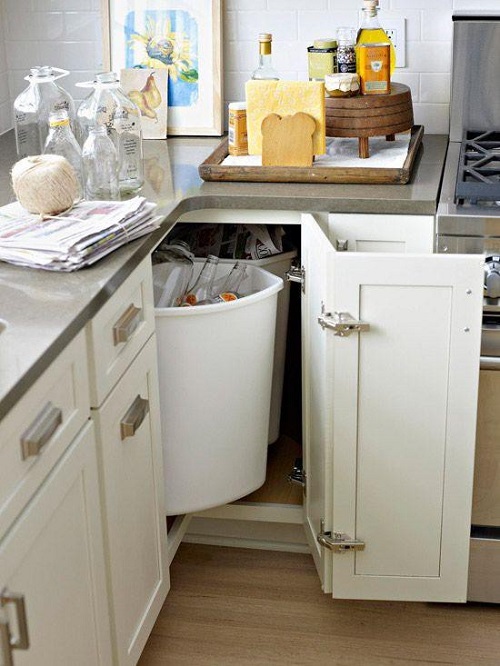 Make the most out of the unused corner space of the cupboard by storing the waste bin.
21. Automatic Kitchen Garbage Can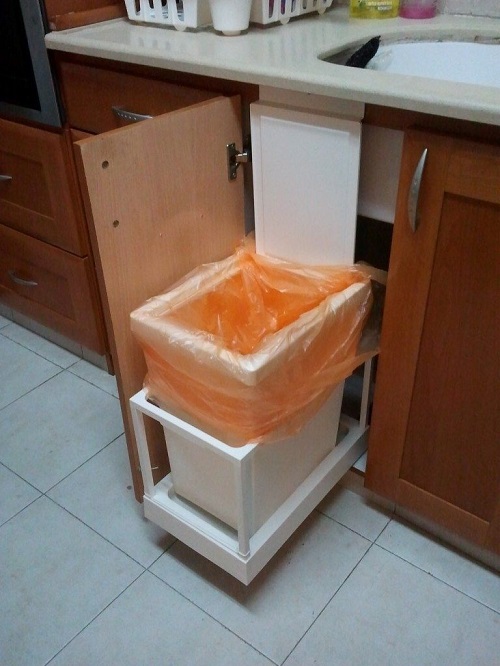 Nobody will notice you're hiding a rubbish bin inside the kitchen cabinet with this automated garbage can. The best part is its lid opens automatically when you pulled out the container from the cabinet. Details are here.
22. Reimagine a Dresser
A dresser converted into an elegant drawer is another clever way to conceal the trash bin without compromising the kitchen decor.
23. Cabinet Mounted Trash Bin DIY
Take a look at this video to find out how to install an under cabinet-mounted trash bin that adds a lot of functionality to the space.
24. Hang a Cute Curtain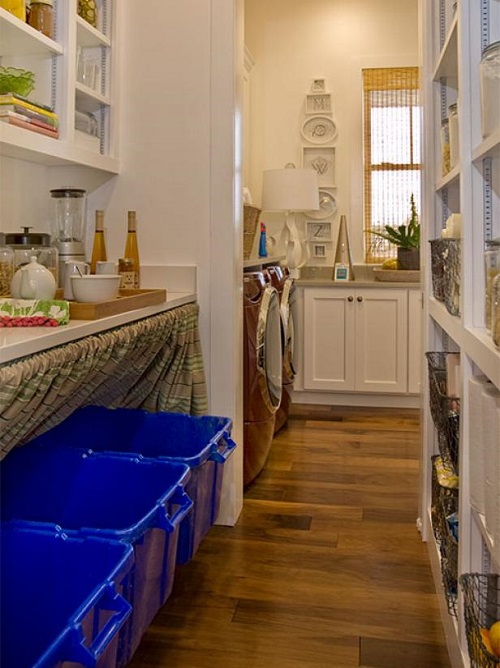 If you have a big pantry closet, use a curtain to store your trash bin out of sight. Plus, it also gives a sleek look to the space.
25. DIY Trash Can Enclosure
This outdoor enclosure is the perfect hideout for multiple wheelie bins. Watch this video to learn more.
Here are some amazing DIY fences and gates ideas