Freshen up your lazy mornings with a cup of flavorful and nutritious Irish sea moss drink! Let's find out the Sea Moss Tea Recipe below!
Sea moss is a wholesome superfood with numerous nutrients. To reap the astounding benefits of this seaweed, brewing its tea is the best and quickest option. Keep scrolling this article for the Sea Moss Tea Recipe.
Learn does sea moss make you poop here
---
What Is Sea Moss?

Sea moss, also familiar with the scientific name "Chondrus Crispus," is an edible, super nutritious seaweed that grows near the rocky parts of Atlantic coasts. It's frequently added to various skincare and haircare products because of its therapeutic benefits. Furthermore, Chondrus crispus can be consumed orally, either raw or with smoothies, soup, juices, and sauces. You can also use this seaweed gel topically to rejuvenate your dull and dry skin.
The common names of sea moss are:
Irish Moss
Irish Sea Moss
Carrageen Moss
---
How to Make Sea Moss Gel?
Before jumping to the instructions of sea moss tea, learn the Chondrus crispus gel recipe below.
Take a handful of dried Irish moss and clean it with tap water.
Next, submerge the seaweed into a bowl of tepid water for 6-7 hours.
When Irish moss becomes double in size, blend it with a cup of water to make a paste.
Once you're done, transfer the paste into a lidded container and store it in the refrigerator or freezer.
---
Sea Moss Tea Recipe | How to Make Sea Moss Drink
If you don't know how to make sea moss tea at home, check out the below recipes.
#1. Basic Sea Moss Tea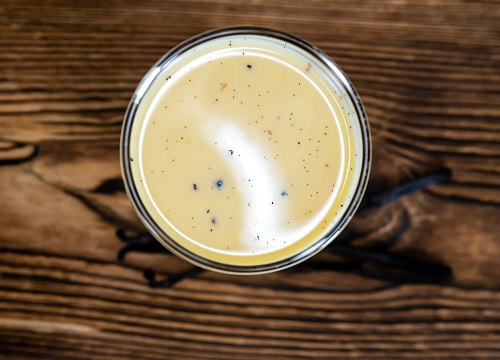 Packed with the nutrients of sea moss, this tea recipe is simple and easy to make.
What You'll Need
One Tbsp of Chondrus Crispus Gel
One Cup of Water
A Tsp of Agave Syrup or Honey
1/4 Cup of Milk (Optional)
A Cooking Pot
Directions
Pour a cup of water into a pot and let it simmer for 3-5 minutes on the stove.
Next, empty the boiled water into a cup or a glass.
Then, add one tbsp of fresh sea moss gel and a tsp of agave syrup or honey into the water and mix the ingredients properly. You can also add 1/4 cup of milk if desired.
Your sea moss tea is ready to drink.
Note- For cold sea moss tea, swap the hot water with the cold and mix the other ingredients as usual.
2. Spicy Sea Moss Tea Recipe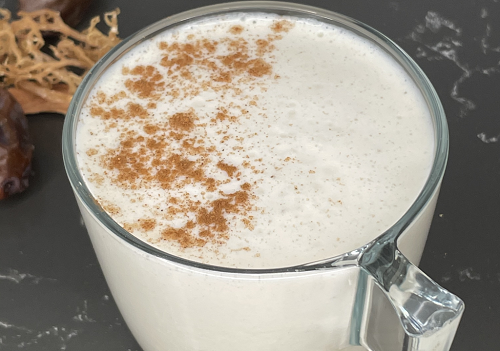 Looking for a spicy and flavorful sea moss tea recipe? Look no further, as this recipe is creamy and full of tangy zest.
What You'll Need
1 Tbsp of Irish Sea Moss Gel
1/2 Tsp Grated Ginger
2 Cups of Water
1/2 Tsp Grounded Clove
1/2 cup Coconut Cream
A Strainer
1/2 Tsp Ground Nutmeg
Honey or Agave Syrup
A Cooking Pot
Directions
Pour water, grated ginger, clove powder, coconut cream, ground nutmeg, and clove into a cooking pot. Let the solution boil for 5-10 minutes on medium heat.
Once it's done, strain the boiled liquid using a strainer and transfer it into a teapot.
Then, add Irish sea moss gel and agave syrup, and combine them properly.
Next, pour the tea into a cup and enjoy its taste.
---
Can You Put Sea Moss Gel in Hot Tea?
Yes! You can put sea moss gel in your regular hot tea to gain its health advantages. This seaweed can also be added to other beverages, soups, sauces, stews, and desserts.
---
Irish Sea Moss Tea Benefits
Helps in Weight Loss- Sea moss tea is an excellent means to fight against obesity. Drink tea daily in the morning to reduce weight.
Relieves Constipation- Get complete relief from constipation by consuming a cup of sea moss tea on a regular basis. It induces bowel movement in a few hours, thanks to its dietary fibers.
Prevents Hair Loss- As iron deficiency leads to hair loss, sea moss prevents this condition effectively because of its richness in iron.
Find out how much sea moss to take daily here