Don't let your vehicle become stagnant and a breeding place of bacteria, viruses, mold, and germs. Try these simple ways to detox your vehicle quickly and inexpensively!
People spend a majority of time in their vehicles eating meals, going to the office, traveling with pets and children. But do you ever think how much dirtier and toxic your car becomes? If not, then start considering before it wreaks havoc on your health. For this, detoxify your vehicle to make the ride healthier for yourself and your family by adopting these simple ways to detox your vehicle without spending much.
Why is Vehicle Detox Necessary?
As American families spend six percent of their waking hours behind the steering wheel; accumulation of dust, liquid spills, food remnants, pet hair, and food wrappers are likely in the card and it can give birth to mold, viruses, bacteria, and germs. To prevent their growth, vehicle detoxification is necessary.
Simple Ways to Detox Your Vehicle
The best part about the below methods is that they cost nothing and make your vehicle a healthier place.
1. Leave Windows Open
This might sound like a no-brainer to you, but leaving your vehicle windows open allows the fresh air in and removes bad odor in this process. It also eliminates the pungent new car smell as well. This is one of the most simple ways to detox your vehicle.
2. Run Vacuum Often
Vacuuming is the most crucial part of vehicle detoxification. It helps you remove dust, food remnants, pet hair, and debris that causes allergic reactions. Always use a vacuum equipped with a HEPA filter for maximum effectiveness, as it reduces dust, dander, and other common allergens.
3. Dusting Vehicle Interior
Just like any other room in your home, your vehicle requires dusting too. Dust is made up of dead skin, pollen, dirt, and hair that accumulate on the gauge, dashboard, and console of a vehicle. Wiping these parts with a damp cloth or homemade cleaning wipes will let you enjoy more time steering and less sneezing. Not to mention, it's the less expensive way to combat common allergens.
4. Clean and Dry Spills
To maintain a healthy vehicle environment, it's vital to keep the place mold-free. Clean and dry the spills as soon as you spot them. Either it's any spilled drink or water from your rainboot and umbrella, clean them up right away with a microfiber cloth to prevent mold growth.
5. Replace the Cabin Filter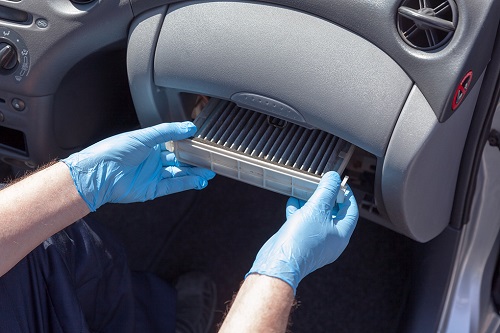 A cabin filter maintains a car's air quality by removing dirt, mold spores, and other particulate matter. Over time, the filter clogs and restricts the airflow. If the supplied air smells moldy and not cool enough, consider replacing the cabin filter with a technician's help. Using a faulty one will cause health-related issues. That's why it's highly recommended to change the cabin filter every year.
6. Toss Out Food Crumbs and Wrappers
If you have kids, food crumbs and wrappers in a vehicle is likely. Over time, they develop mold spores containing mycotoxins that leads to various health problems in both humans and animals. Therefore, toss food crumbs and their wrappers as soon as you spot them.
7. Clean Upholstery
If not cleaned on a daily basis, especially after liquid and food spills, vehicle upholstery can take a toll on you and your family's health, as they can develop mold and mildews eventually. Follow this article to clean your car upholstery properly.
8. Use Natural Disinfectant
If you have concerns about the disinfection of your home, why ignore your vehicle? During this tough time where disinfectants play a vital role, vehicle disinfection is necessary and must be your top priority. You can DIY these homemade natural disinfecting wipes to ensure a bacteria, germ, and virus-free vehicle.
9. Let the Sunlight Pour in
After trying all the above ways, exposing your vehicle to the sunlight completes the detoxification journey. This method not only disinfects but also removes pungent odors from your vehicle. Close all the windows of your car and park it in a sunny spot for a couple of hours.
Conclusion
After reading the above article, you'll get to know why vehicle detoxification is necessary and how you can do it using some simple ways. Besides, if you want to detox your body, then this article might help you. For any suggestions and queries, please let us know in the comment section below.