Check out this detailed list of Things to Make Out of Horseshoes and level up your creativity by crafting the best ones for yourself!
Horseshoes can be easily turned into various decorative and functional items. Learn some fantastic Things to Make Out of Horseshoes in this article and give your home an impressive look inexpensively.
Find out the amazing felt dala horse ornaments and gift tags here 
---
Things to Make Out of Horseshoes
1. DIY Horseshoe Wreath
Instead of decorating your front door with a regular wreath, make a stylish one out of horseshoes for an added charm.
2. Horseshoe Flower Craft
With some modifications, tools, and patience, anyone can easily create this chic flower art from horseshoes.
3. A Praying Cowboy
Watch this YouTube video to make a praying cowboy sculpture that will look fantastic on the mantel or coffee table.
4. Horseshoe Heart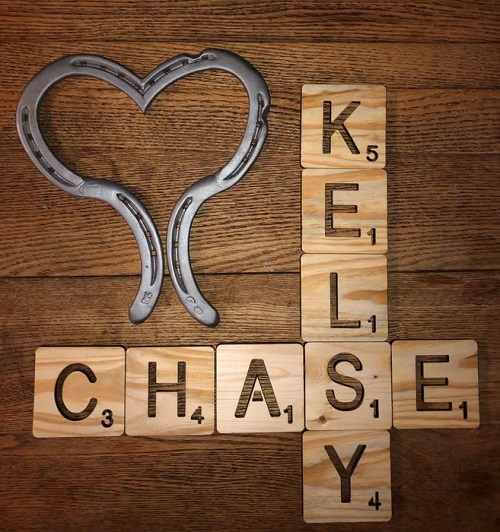 Follow this instructable to DIY a heart from horseshoes. It makes a nice Valentine's day gift.
5. DIY Horseshoe Wall Decor
Spice up your dull bedroom or living room wall with this chic horseshoe wall hanging. It's a great beginner-friendly project.
6. DIY Horseshoe Wine Rack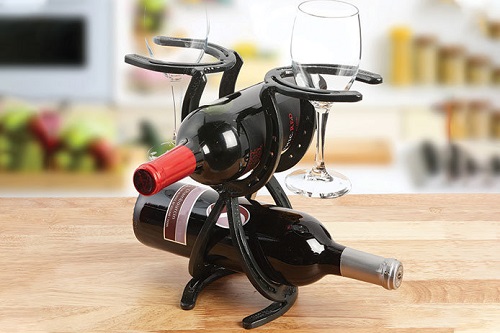 This detailed tutorial helps you build an elegant wine rack with some horseshoe and a little creativity.
7. Horseshoe Letters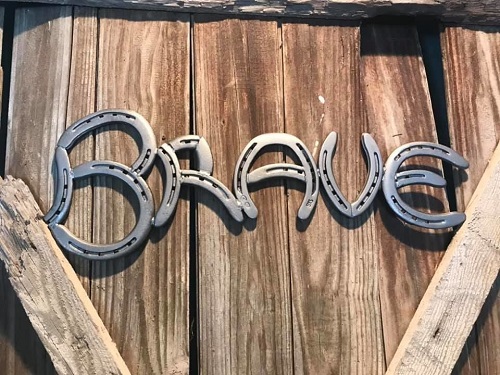 With some horseshoes, a free afternoon, and a little bit of welding, you can create a nameplate that'll surely raise eyebrows.
8. DIY Horseshoe Key Holder
This video tutorial teaches how you can quickly transform a horseshoe into a key holder.
9. DIY Horseshoe Pumpkin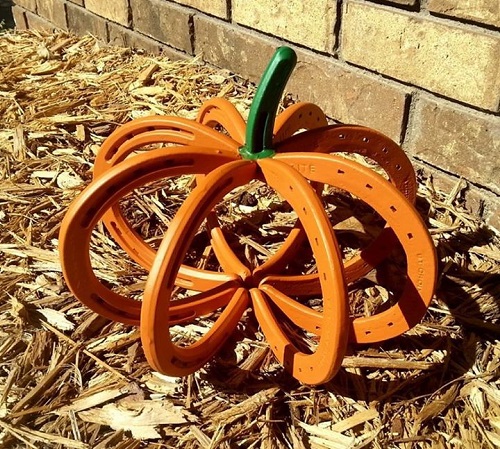 Add character and personality to your outdoor fall decor by adorning the space with a horseshoe pumpkin. Read more here.
10. Boot Rack From Horse Shoes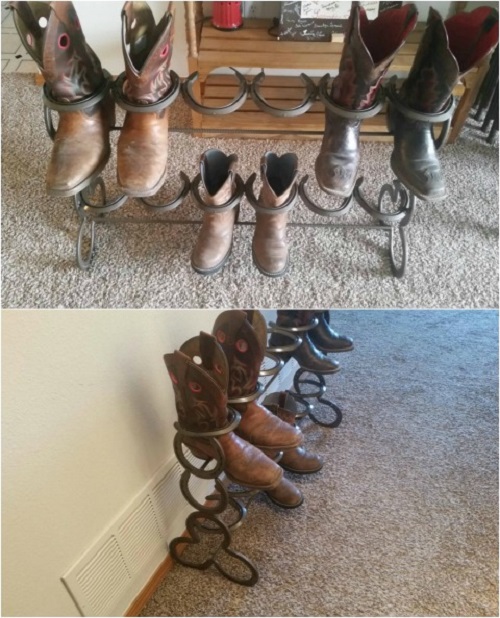 Rather than buying a boot rack, build one at home with horseshoes and welding skills. Details are here.
11. Rustic Horseshoe Candle Holder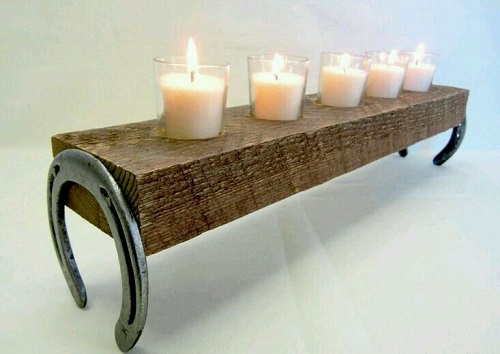 Here's a repurpose project combining old horseshoes and a chunky piece of rough-sawn wood to create a rustic candle holder.
12. DIY Horseshoe Headband/Bow Holder
Grab an old board, horseshoes, nails, paint, hammer, twine or ribbon, and sawtooth hangers to put together a horseshoe headband/bow holder. It doubles up as a jewelry holder as well.
13. DIY Horseshoe Coat Rack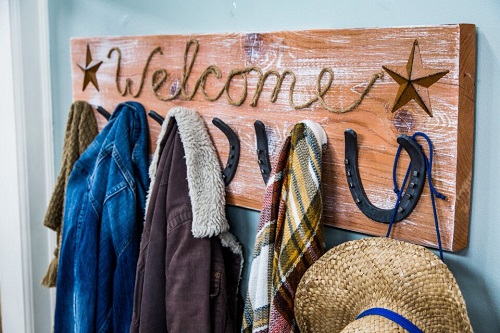 Discover how you can transform horseshoes into a rustic coat rack in this step-by-step tutorial.
14. Horseshoe Bridle Rack DIY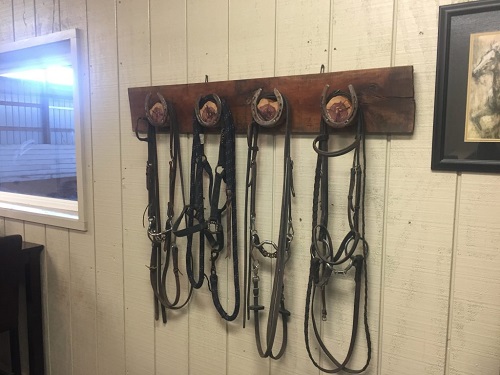 This horseshoe bridle rack doesn't require welding, bending, or cutting the horseshoes.
15. DIY Horseshoe Photo Frames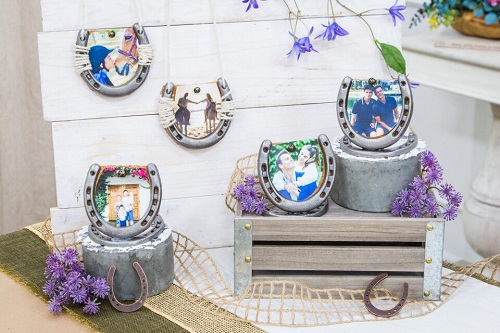 Recreate these horseshoe photo frames to display your family pictures in style. Get the instructions here.
16. Horseshoe Fairy Door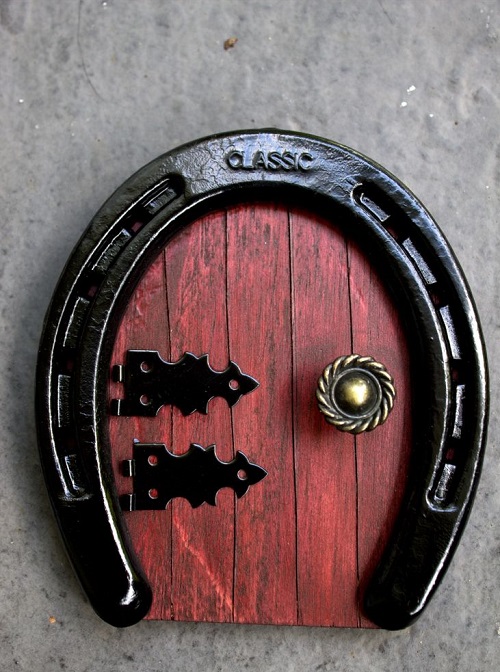 This handmade horseshoe fairy door makes an excellent decorative piece. Hop to this article to learn more.
17. DIY Yarn-Wrapped Lucky Horseshoe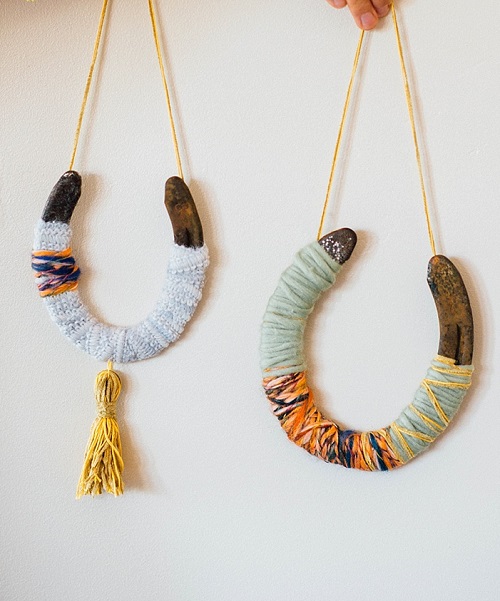 To recreate this stunning yarn-wrapped horseshoe wall hanging, check out this article.
18. DIY Horseshoe Towel Rack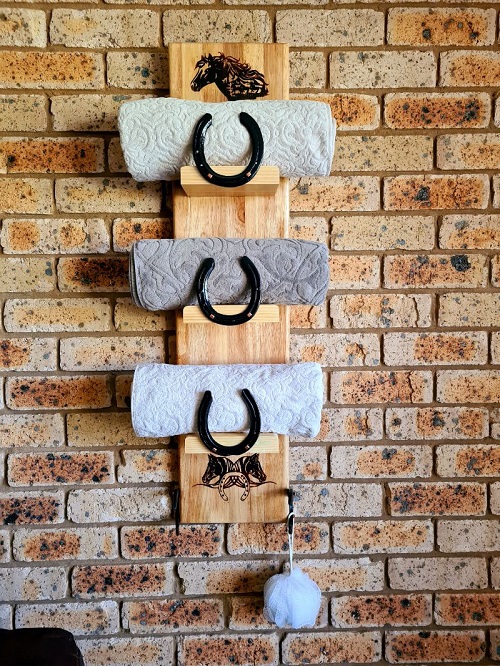 Show off your DIYing skills by combining horseshoes and lumber into a towel organizer.
19. Horseshoe Dreamcatcher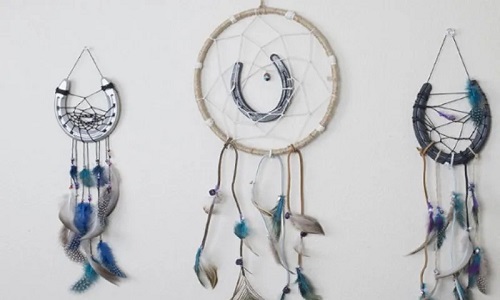 Bring positive vibes to your living space with this DIY horseshoe dreamcatcher. The details are here.
20. Horseshoe Christmas Tree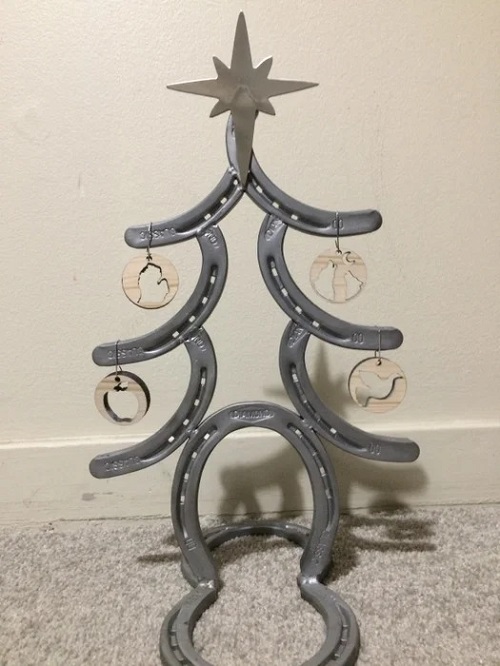 Are you get bored of the regular Christmas tree? Create a unique one at home with horseshoes to spread festive vibes. Read more here.
Here is a list of some amazing succulent Christmas tree ideas
21. DIY Horseshoe Bench
Get creative and make this bench for your outdoor space using horseshoes and welding equipment.
22. Beverage Stand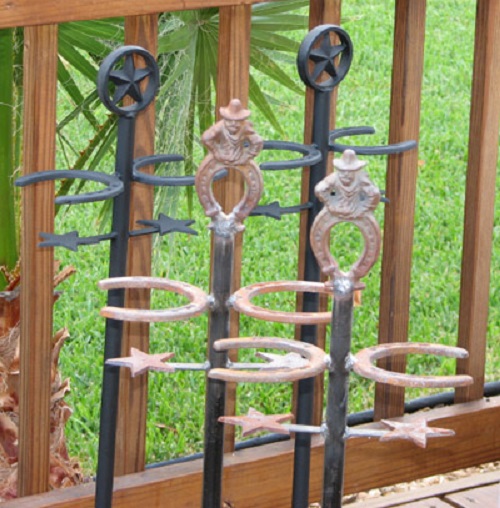 This horseshoes beverage stand is a visually appealing way to hold beverages while spending quality time outdoors.
23. Classic Horseshoe Puzzle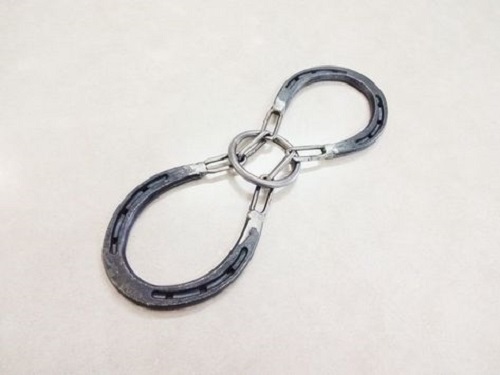 This horseshoe puzzle is a classic that's been around for many years. Two horseshoes are permanently joined with short sections of chain, and a metal ring encircles the chains.
24. Quilt Rack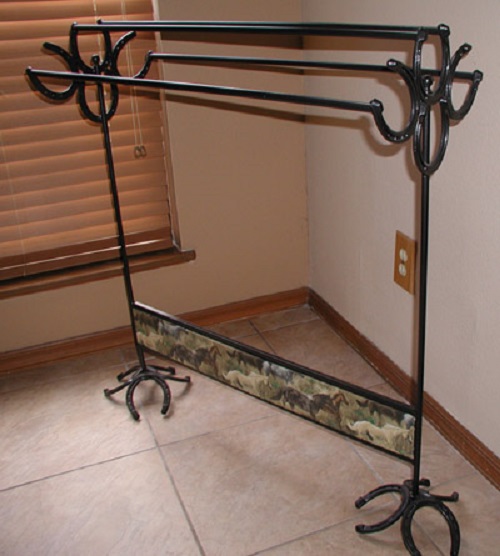 You only need scrap fabric, wood, horseshoes, rods, hollow tubes, a welding machine, and this article to make this quilt rack.
25. Horseshoe Dutch Oven Holder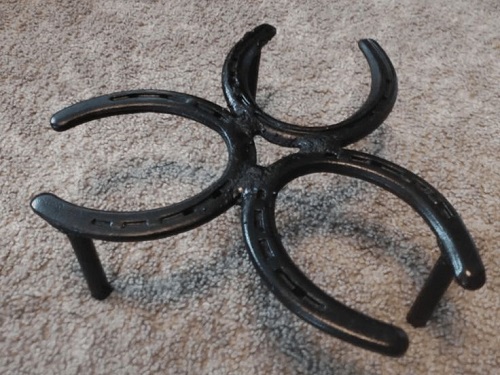 This horseshoe dutch oven holder is great for anyone who cooks with a dutch oven and does not want to burn a hole in the table.
26. DIY Fire Pit From Horseshoes and Bobcat Track Wheel
Are you planning to DIY a unique fire pit? This horseshoe craft project is for you.
27. Horseshoe Fish Sculpture
Amp up your home decor by making this trendy, wall-hanging, fish sculpture from horseshoes.
28. Horseshoe Butterfly
Assemble this adorable horseshoe butterfly to give your garden or flower bed a center of attraction.
29. Horseshoe Cat Sculpture
Give your home interior an attractive focal point in the form of this lovely horseshoe cat sculpture.
30. Simple Bottle Opener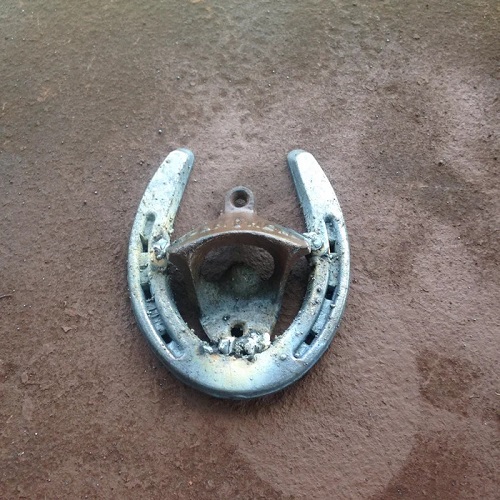 All you have to do is follow this simple project to create a horseshoe bottle opener.
31. Horseshoe Snowman
Do you want to build a snowman without snow? Take inspiration from this video tutorial that'll help you make a horseshoe snowman.
32. DIY Rustic Tray with Horseshoe Handles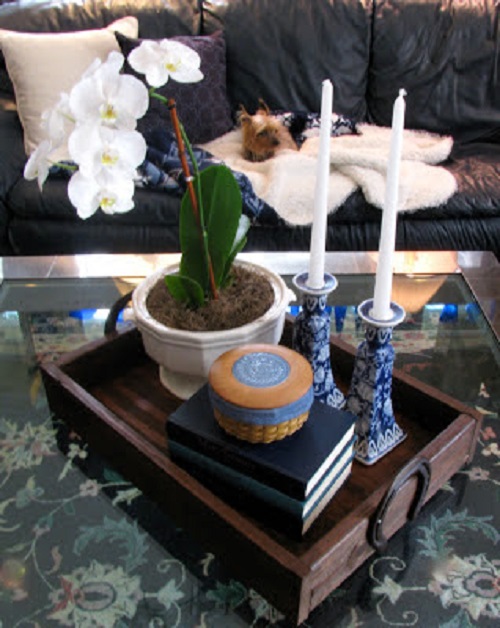 Salvaged picket fence pieces, plywood, and horseshoe handles make a great rustic serving tray. Read more here.
33. Horseshoe Crab Sculpture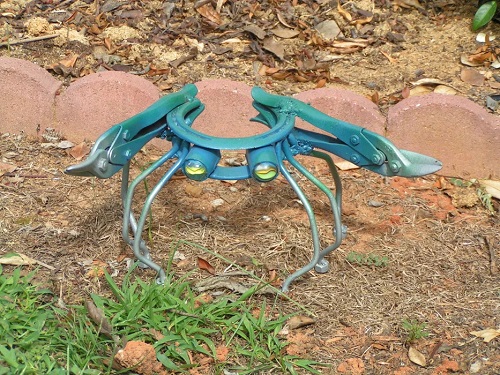 Create this Pinterest-worthy crab sculpture using horseshoes, tin snips, wire legs, marble eyes, and used old sockets for an unusual artistic display.
34. DIY Horseshoe Gun Rack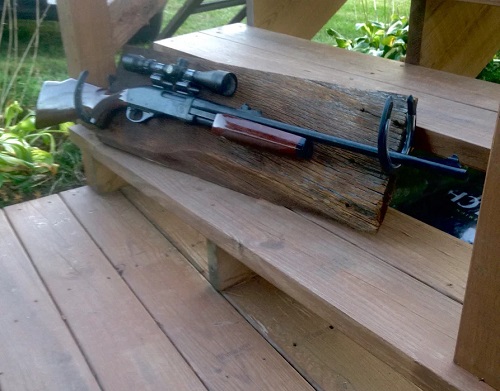 Display your favorite firearm in rustic style with this horseshoe gun rack. It's one of the amazing DIY horseshoe craft ideas on this list.
35. Upcycled Horseshoe Wind Chime
Bring some relaxing sound to your apartment by hanging this horseshoe wind chime. It's one of the easiest projects to begin your DIY journey.
36. Horseshoe Owl
If you want a statement-making decorative specimen for your abode, this horseshoe owl is for you.
37. Horseshoe Beer Holder
In this video, the DIYer made a quick beer or drink holder out of horseshoes and a railroad spike.
38. DIY Horseshoe Coasters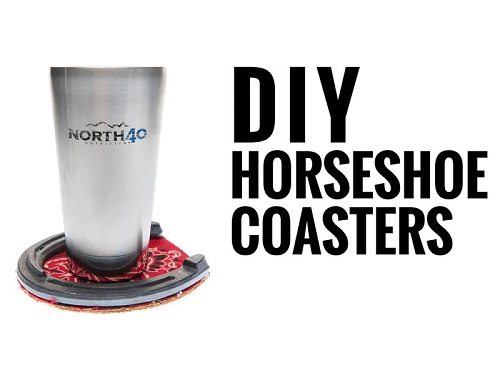 Ditch the regular coasters and craft one from horseshoe to get compliments from your guests.
39. Horseshoe And Letter Dish Wall Art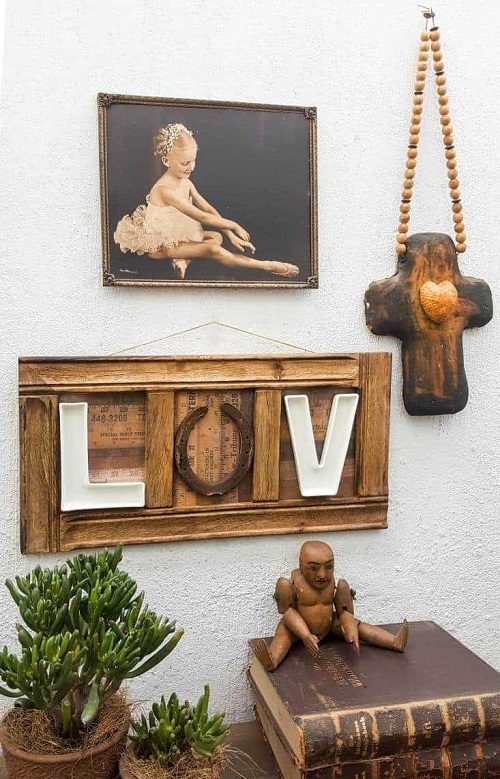 Horseshoes are great for making words and when you combine them with letter dishes you end up with lovely wall art.
40. Horseshoe Horse Head
Add a little pizzazz to your boring bedroom wall by hanging this horse head made from horseshoes.
Find out some fantastic DIY wire sculpture ideas for garden here