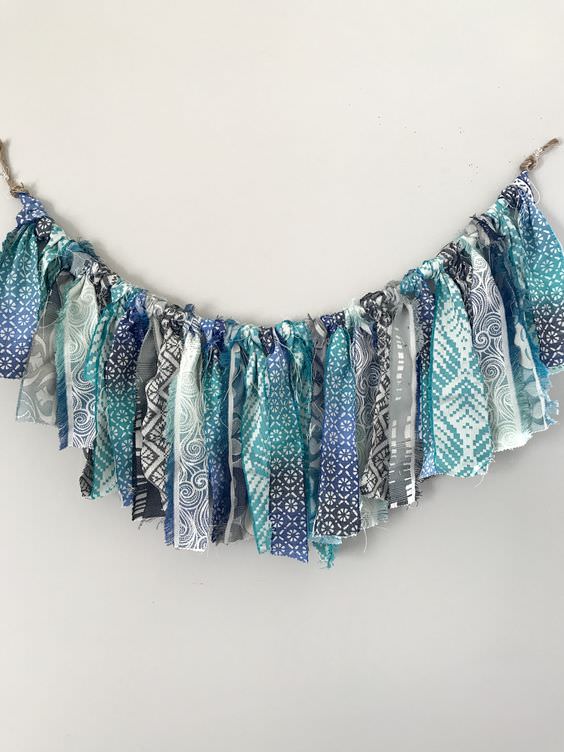 Do you have a craft room full of scrap fabric you just don't know what to do with? Why not make a super simple banner for a lovely Anthro-inspired look!  I don't know what it is about banners this spring, but I'm loving them! I have one outside, in the nursery and thanks to these fabric scraps I now have one in our family room too! This is such a fast project, I'm in the process of making another one for our master bedroom!  It's an easy way to dress up the home and leave a feeling of handmade happiness!
What you need:
Scrap fabric (it's more fun if it's an array of different colors and patterns!)
Scissors
Twine
Instructions:
Cut strips of fabric any width or length you desire. The wider the strips, the fluffier the banner will look. The length will also affect how it appears, but it's hard to go wrong! You may have to cut several pieces of fabric if you want a longer banner! Mine was a bit small and it took me under 5 minutes to complete. It might become a tad tedious if you want a long one, so pop in a movie and have a delicious cup of tea! Take your fabric and tie it onto the twine. Once all the fabric is tied, you can adjust it as needed. That's it! Hang it up somewhere, it's bound to look super cute!
I feel happy with the end result, I put this fabric to use and now I don't feel so wasteful! I've been dying to try it out and now I think I might be addicted to this fun new DIY! Is this something you think you might try? Let me know how it turns out if you decide to do it! If you want, you can even go to the fabric store and just buy a bunch of fabric on discount to do this project too!