Scandinavian Style Christmas Card Holder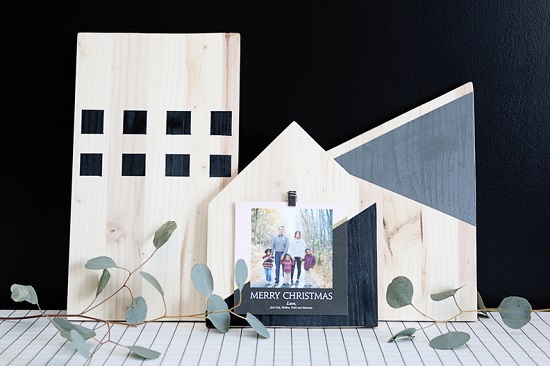 Let the Christmas posts begin! Too soon? Nah. Every year, it seems I'm the last one to get family pictures taken. The last one to order Christmas cards. And let's be honest, the first one scrambling to hand them out to family and friends (because it's too late to mail them out). I can never seem to get ahead, but this year was going to be different!
I put a lot of effort into planning ahead! We got our family pictures taken during Thanksgiving and I ordered my Christmas cards as soon as our family pictures arrived. Which means, I had time to put some thought into a fun and creative way to hand them out to family and close friends this year, rather than just the norm. I decided to create a fun Scandinavian style Christmas card holder.
Materials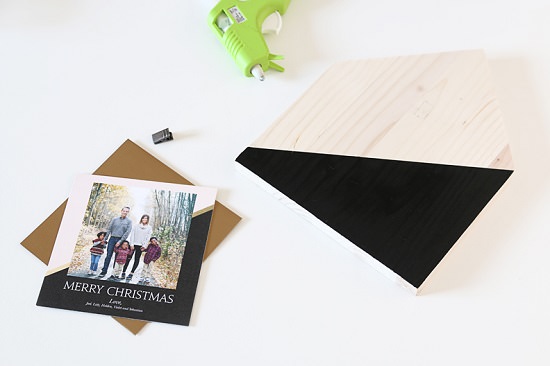 Pine Wood
Table Saw (or Circular Saw – which you can rent!)
Sand Paper
Damp Cloth
Painters tape
Paint
Paint brush
Hot glue gun
Photo metal clips (I found mine at Michael's)
Directions
1. Trace your house shape onto the piece of pine.
2. Using your table saw (or circular saw), carefully cut out the shap.
3. Sand the edges and wipe the excess dust using a damp cloth.
4. Tape off sections of your house-shape to create a fun design.
5. Paint your house and allow to dry completely in between coats.
6. Carefully remove tape.
7. Using a hot glue gun, attach the metal clip to the center of your house.
8. Press your clip firmly into the glue until it is completely secured.
9. Clip your Christmas card onto the house and enjoy!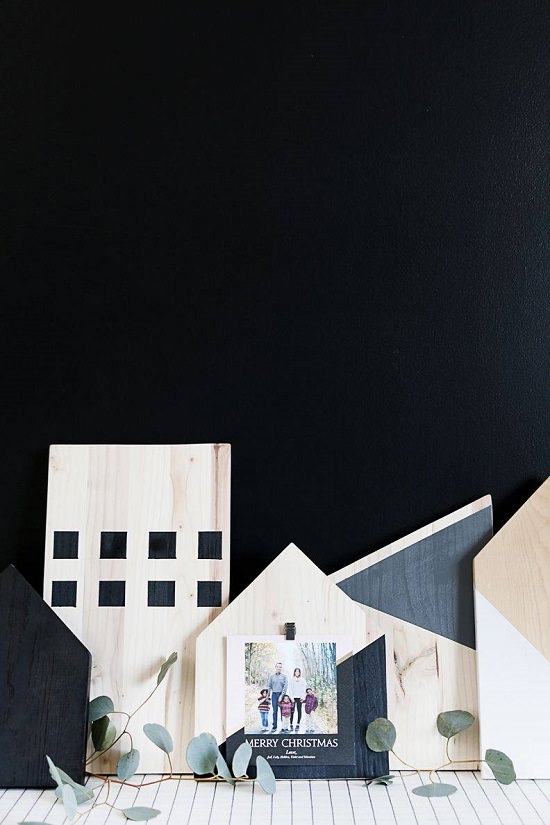 These little houses can certainly stay out all year! You can use them to hang other family pictures or even a simple grocery list. I know we will be keeping ours out permanently. It's simple, modern and certainly a unique way to hand out your Christmas cards this year. We made a few extra wood houses to create a little village, which I think will look cute displayed in our home over the holidays. What do you think?