These DIY Campfire Craft Ideas are your perfect fit if you wanna engage the kids in some fun and creative activities!
If you want to brush up on your kid's creative skills, try engaging them in these DIY Campfire Craft Ideas that are fun and exciting to make. Read on to get the details!
DIY Campfire Craft Ideas
1. Glowing Campfire Craft for Kids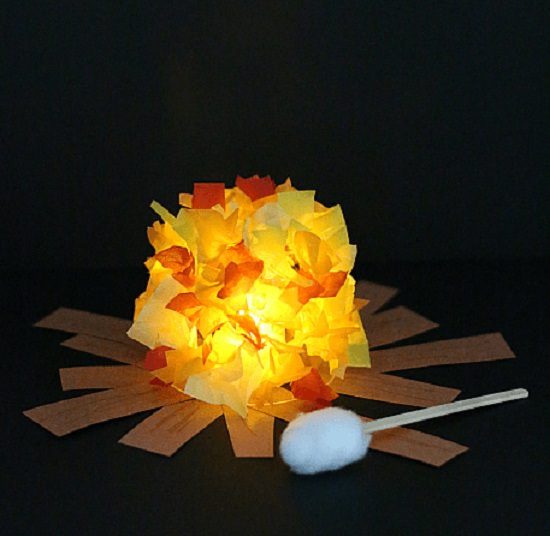 This craft is super easy and fun to make. Gather a plastic cup, multicolor tissue papers, tea lights, and some other supplies to mimic this DIY.
2. Fake Campfire Craft For Dramatic Play Camping Theme

Have a blast with your little champ by making this super cute fake campfire craft. Just sit around the faux fire and roast pretended marshmallows.
3. Campfire Craft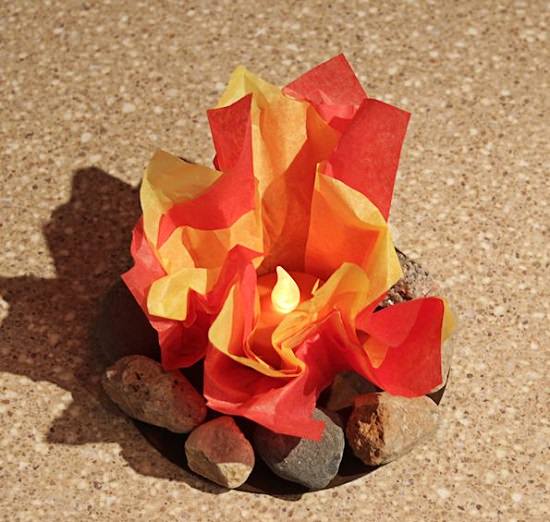 Grab a CD, paint, small rocks, craft glue, tissue papers, and electric tea light candle to imitate this adorable campfire craft. It can be used as a night light and party centerpiece as well.
4. DIY Plastic Container Campfire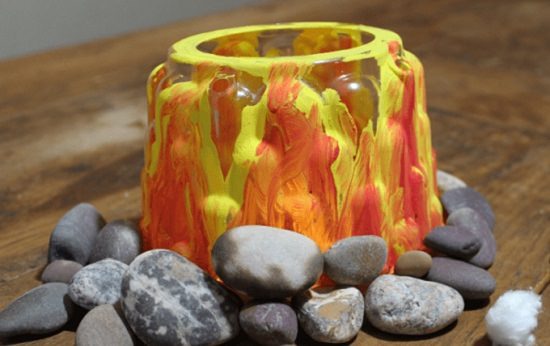 Take a clear plastic container, draw flames on it, arrange a couple of rocks, install an electric tea light inside the campfire, and your campfire craft is ready.
5. DIY Felt Campfire Craft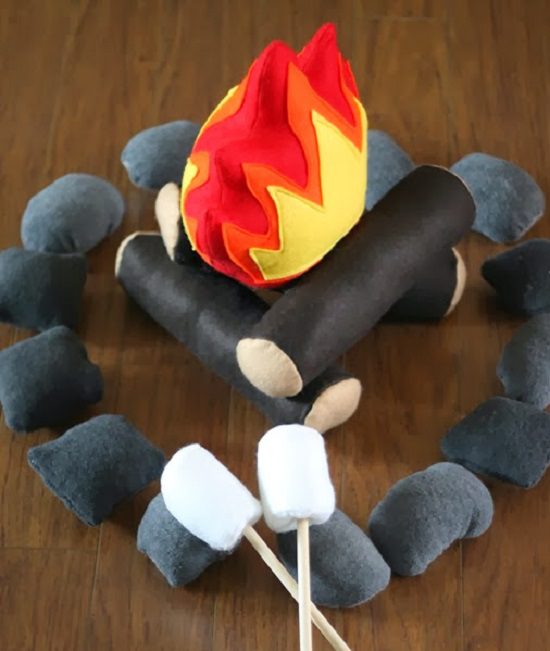 Take your crafting game to another level by making this DIY felt campfire. It's an easy project and will be done in less than three hours. Details are here.
6. Paper Bag Campfire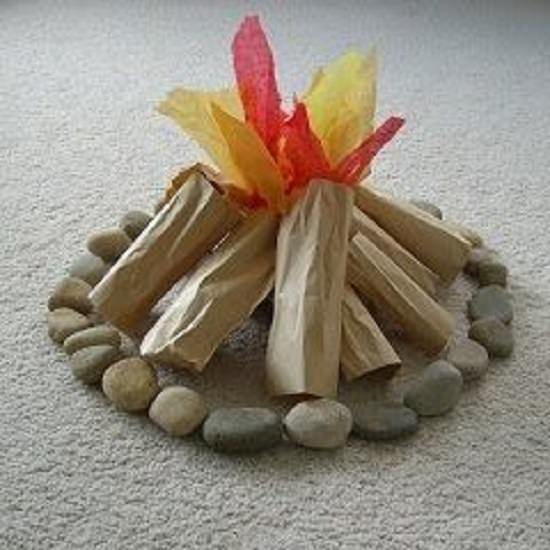 If you want to do the good old campfire outdoors, but the weather isn't favorable, then this paper bag campfire is the ultimate solution to try.
7. TP Roll Campfire Craft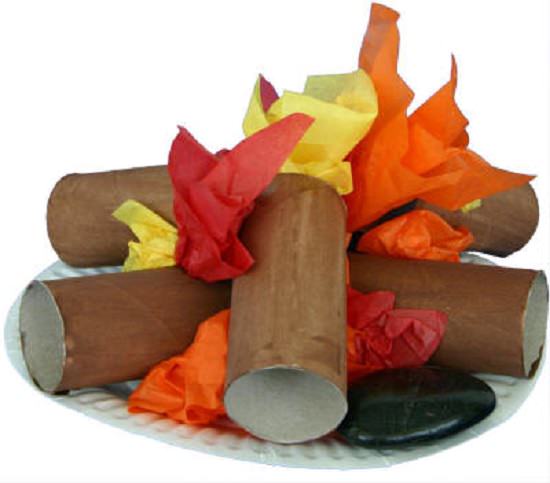 Looking for a safer and realistic campfire for your kids? This TP roll campfire craft is here for you.
8. Campfire Craft For Camping Party Decor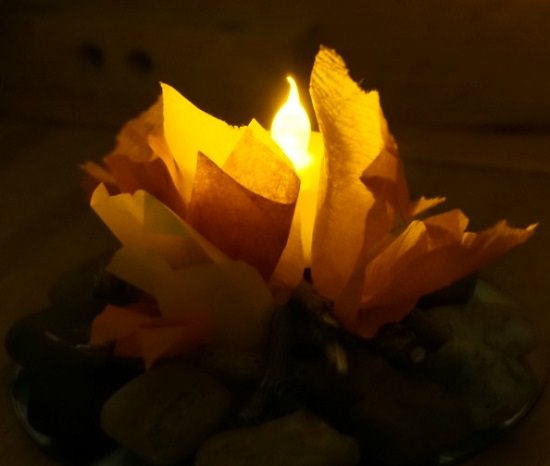 Light up your camp-themed party using this little campfire craft as a centerpiece. This craft will never disappoint you as a party decor.
9. Faux Campfire
Add light and joy to your camp-themed party with this faux campfire that can be made in a jiffy. Check out the video to learn the DIY.
10. Miniature Campfire Craft for Kids Using Rocks and Sticks
Cardboard, little rocks, sticks, and tissue papers all make for a miniature campfire craft that looks excellent and will be a wonderful gift for your loved ones.
11. Cozy Indoor Campfire DIY
Bring warmth and coziness indoors by crafting this super doable campfire craft. Check out the video for the tutorial.
12. Flickering Mini Campfire
Let your creativity run wild by making this flickering mini campfire that works quite well as a showpiece or for an imaginative play.
13. DIY LED Campfire Pit
This string lights-based led campfire pit is not only a lovely room decor but is much fun to craft with kids.
14. O Scale Campfire From a Flickering LED Tealight
When you have a tealight candle, crushed CD jewel case, and tiny scale firewood to start with, your mini functional campfire is bound to look like a pretty piece of craft.
15. Simple DIY Campfire
Don't have time to hassle? Give this simple and minimalistic campfire craft idea a try. Since this DIY uses recyclable materials, you can make numerous ones while generating zero waste.
16. Cupcake Liner Campfire Craft For Kids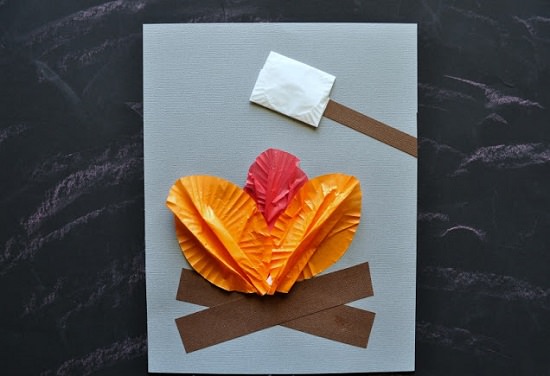 Give your kids some craft lessons by creating this cupcake liner campfire craft with them. DIY is here.
17. Plastic Water Bottle Campfire Craft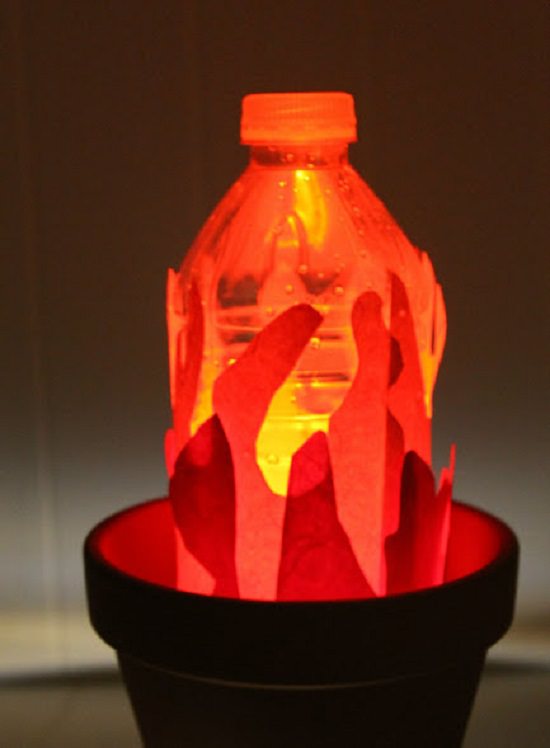 Planning for an indoor camping adventure? try this water bottle campfire craft. Set a light source beneath the campfire, when the light passes through the moving liquid, it gives a dancing fire effect.
18. Tissue Paper Campfire Craft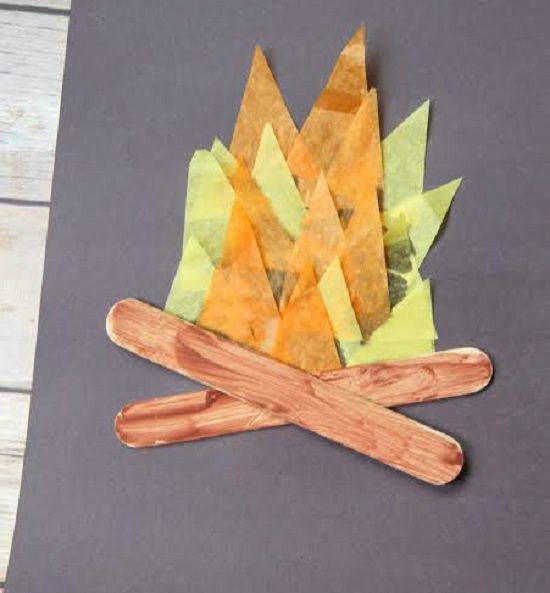 This tissue paper campfire craft is super cute and easy to create. Coat popsicle sticks with brown paint; glue them in an X shape on sugar paper and add paper tissue over the sticks for a fake fire.
19. Cheap DIY Campfire Craft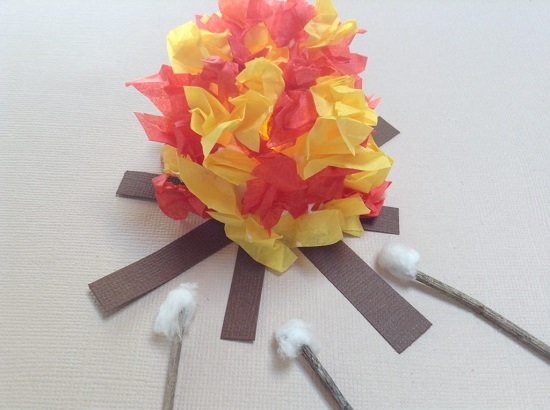 Give your camping mood a little boost by making this mini campfire craft. This is possibly the simplest and cheapest campfire craft idea on this list.
20. Paper Plate Campfire Craft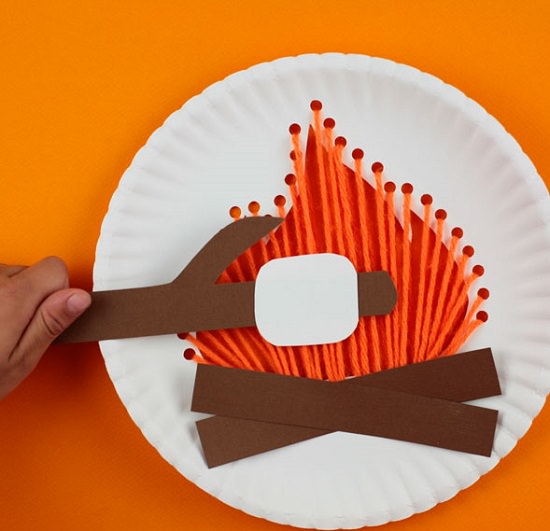 Turn the monotonous paper plate into an interactive campfire craft with this step-by-step tutorial. Have fun crafting!
21. DIY Campfire with Glitter Foams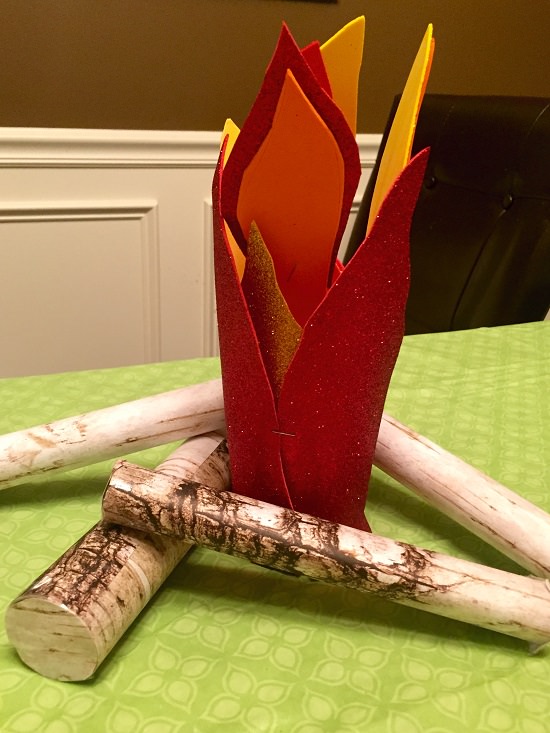 For this DIY, you'll need glitter craft foams, wood scrapbooking paper, cardboard tubes, and a few other supplies.
22. Doll Campfire
With orange tissue paper and a tealight candle, you can make this amusing doll campfire that is sure to delight your little girl.