Make the best out of waste with these Craft Ideas for Old License Plates and flaunt your creativity in style!
These fantastic Craft Ideas for Old License Plates let you make pleasing home decoratives and useful stuff inexpensively.
Here are some fun DIY craft ideas
---
Craft Ideas for Old License Plates
1. DIY License Plate Box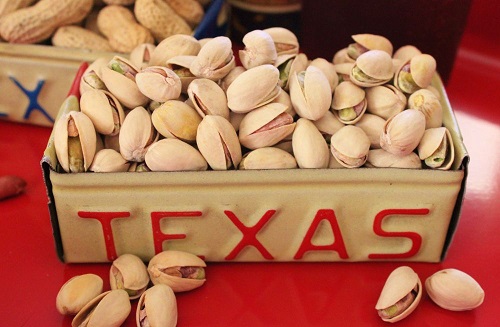 Here's the detailed blog to craft a box out of an old license plate. It's perfect for serving nuts or pistachio.
2. License Plate Map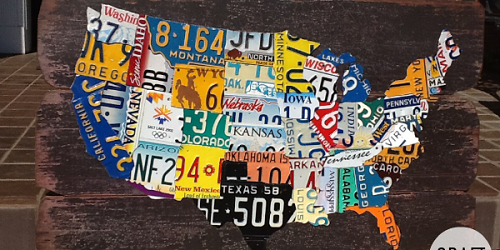 Mimic this USA map using number plates and map board to give your boring home interior an aesthetic boost.
3. DIY Garden License Plate Dragonfly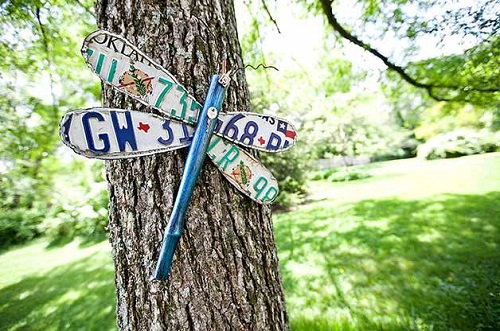 Repurpose old license plates, a chair leg, and some old keys into funky DIY garden art for your outdoor space. The details are here.
4. License Plate Magnets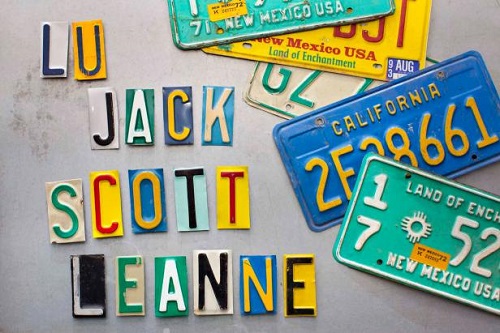 Break out the tin snips and learn how to repurpose colorful old license plates into handy magnets for your fridge or message board.
5. DIY License Plate Purse
Turning some plates into a purse is a fashionable and eye-catching way to cherish and show off those old memories. All it takes is a few tools and materials you can probably find around your home.
6. $12 License Plate Coat Rack
Look at this quick and easy number plate project to create an unusual coat rack. You can complete this project in $12 and less than half an hour.
7. License Plate Bird Feeder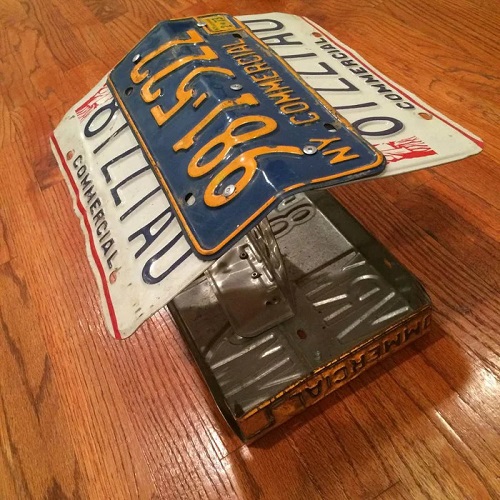 Rather than purchasing a bird feeder, craft one at home using old license plates and other supplies. The details are here.
8. License Plate Garden Flower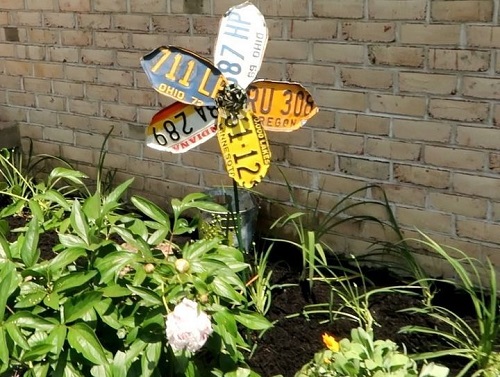 Create an attention-grabbing flower art out of number plates to prettify your garden. It's one of the most unique crafts ideas for old license plates.
9. Cool License Plate Lamp
Give your old license plates a new life and purpose by converting them into a stylish lamp. Hop to this blog to learn more.
10. DIY License Plate Birdhouse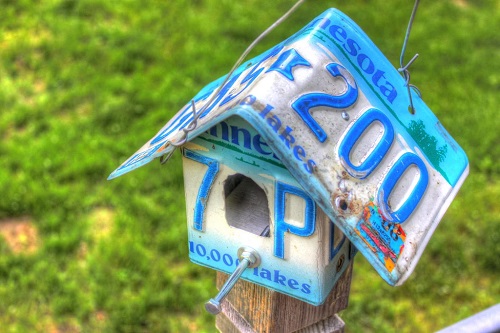 This blog teaches an excellent way to make a birdhouse using old vehicle registration plates. You can also tweak the design and make the back wall from wood.
11. License Plate Key Hanger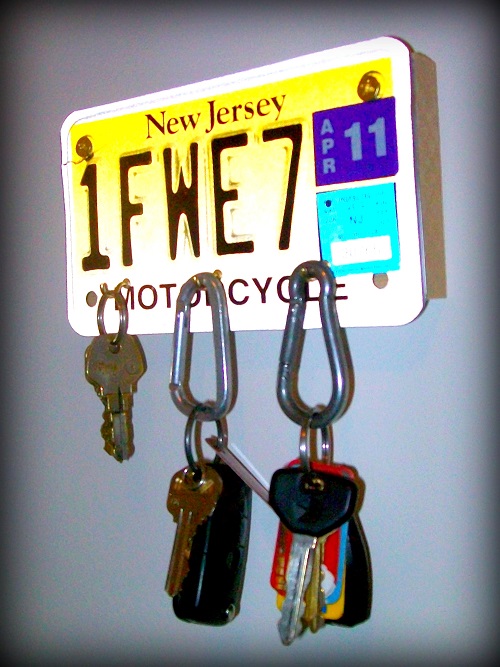 You only need a license plate, wood, screw-in hooks, screws, and a few tools to make this glowing key hanger.
12. License Plate to Dustpan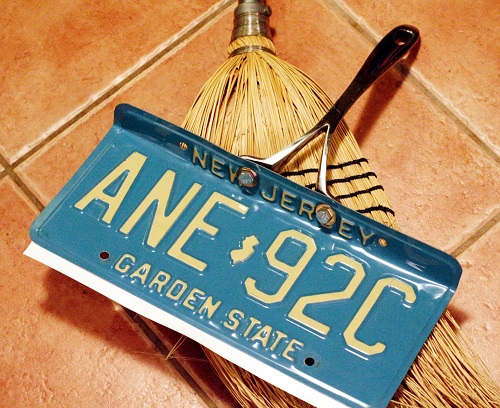 Follow this easy tutorial to assemble a dustpan from an old number plate and other supplies.
13. DIY License Plate Pencil Cup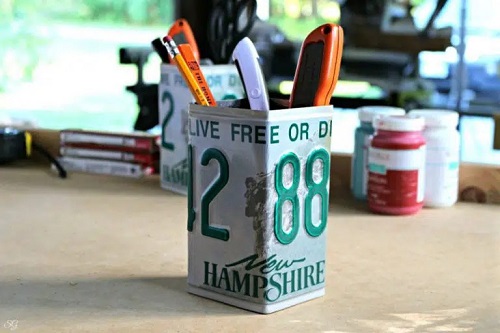 DIY this little organizer cup to corral your pencils, pens, utility knives, and other knick-knacks. Get the instructions here.
14. Upcycled License Plate Planter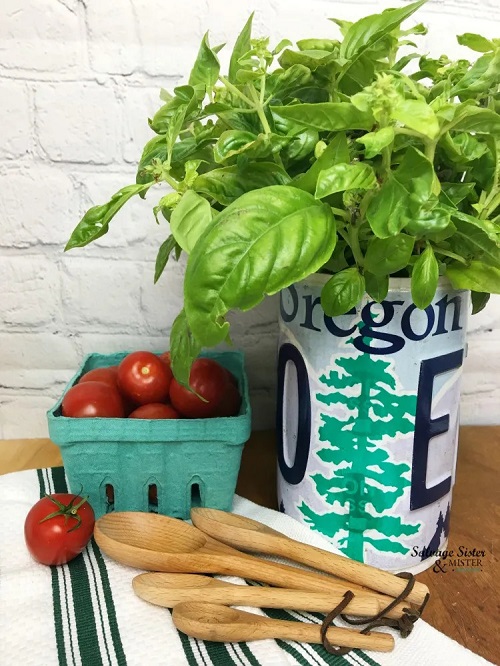 With an old license plate, DIYing skills, and patience, you can easily recreate this superb planter.
15. License Plate Wind Chime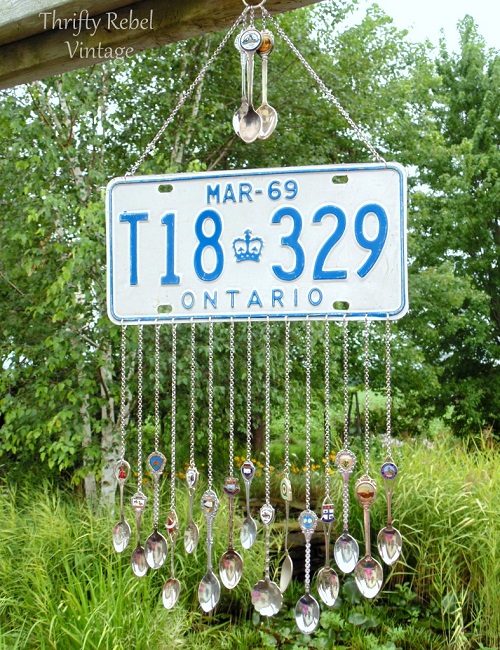 Read this step-by-step article to learn the art of wind chime making using a number plate and spoons.
Here are some fantastic DIY wind chime ideas for the garden
16. DIY Christmas Tree From License Plates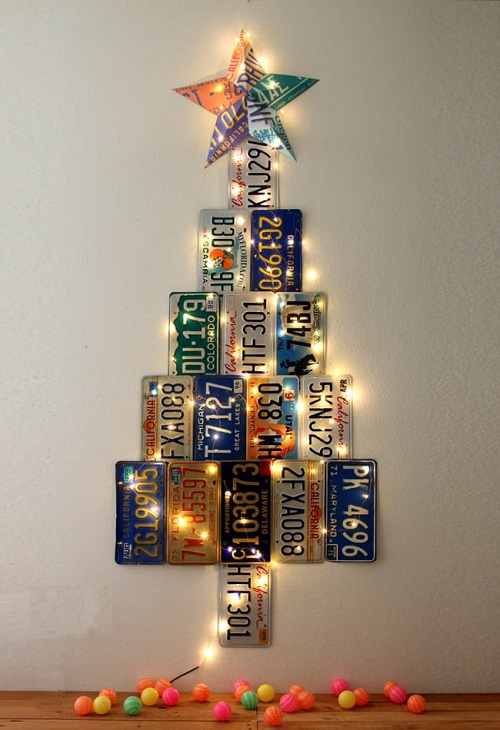 Spread festive vibes in your apartment by making this unique Christmas tree out of old vehicle registration plates.
17. License Plates Bookends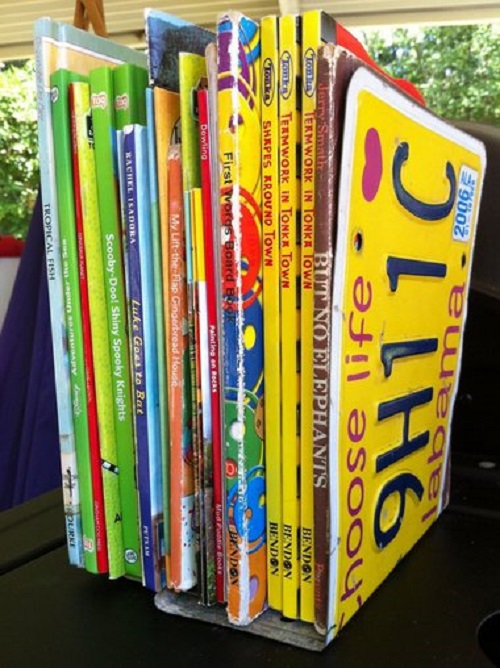 If you want bookends to organize your massive collection of books, make one on your own using license plates and this tutorial.
18. Attractive License Plate Wall Art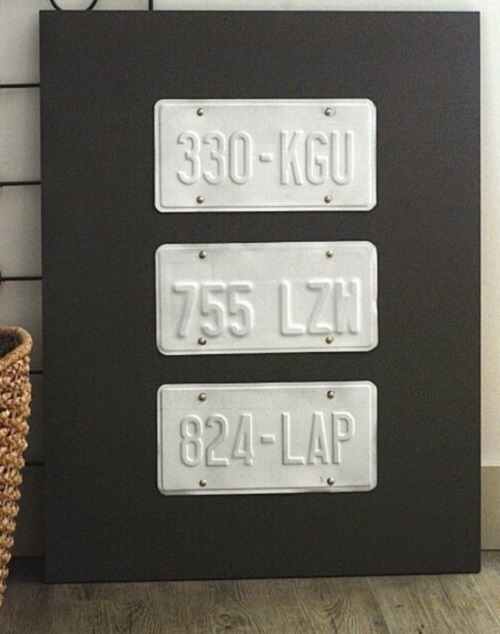 Adorn your space with this license plate wall art to prettify the home decor. This project is beginner-friendly and can be completed in an hour.
19. DIY License Plate Pendant Light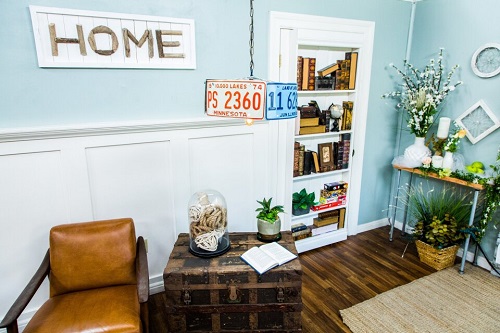 Instead of spending your hard-earned money on a store-bought pendant light, consider creating an affordable one using number plates.
20. License Plate Lunchbox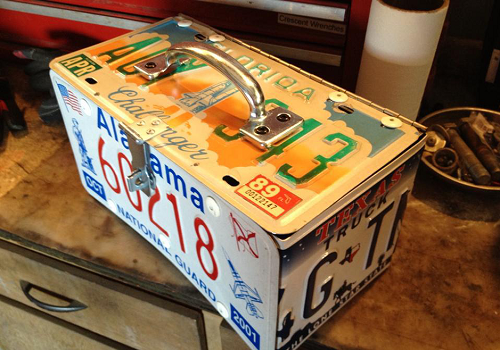 This DIYer shows how to turn old license plates into a quirky lunchbox. It also doubles up as a toolbox.
21. Chilling License Plate Beer Caddy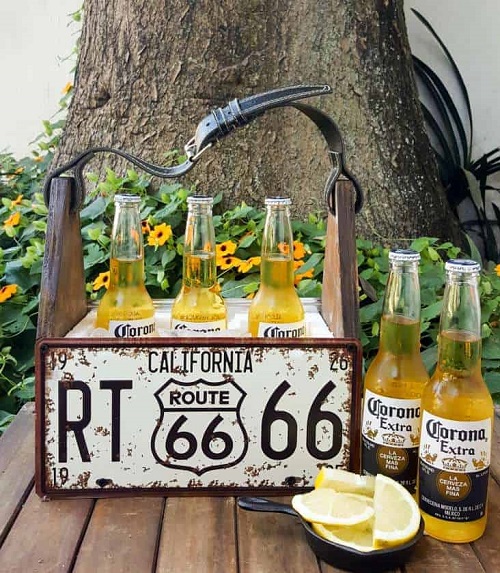 Put your creative hat on and build this chilling beer caddy using this detailed tutorial. It's one of the most interesting crafts for old license plates.
22. Industrial Toilet Paper Holder Crate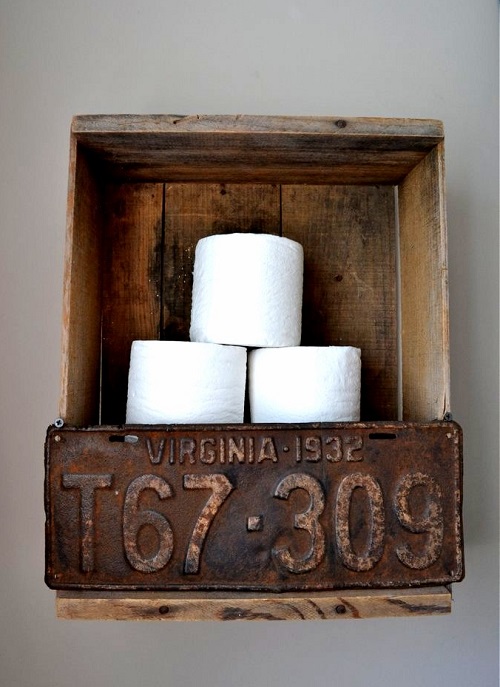 To recreate this vintage-looking toilet paper holder, you only need a license plate and an old crate. Read the details here.
23. License Plate Art For A Child's Room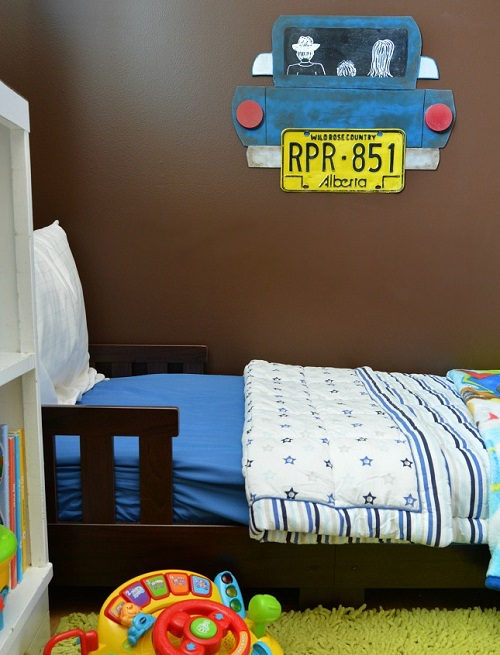 Do you want to update the look and feel of your kid's room on a budget? Make this eye-catching license plate wall art.
24. DIY License Plate Room Divider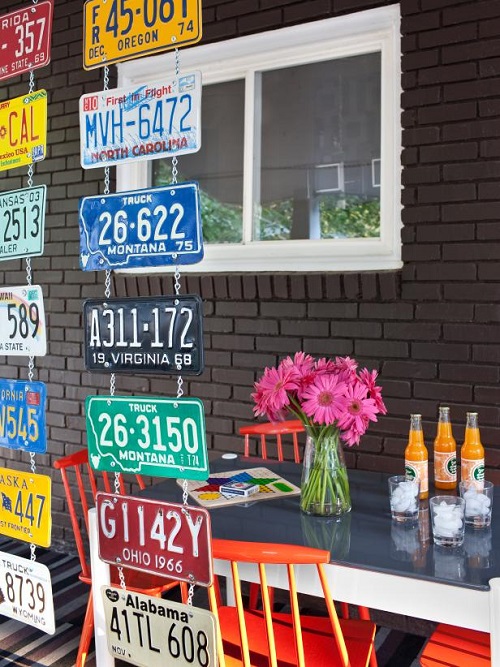 Complete this thrifty room divider project to divide any space stylishly using vintage license plates. Click here to know more.
25. License Plate Bike Fender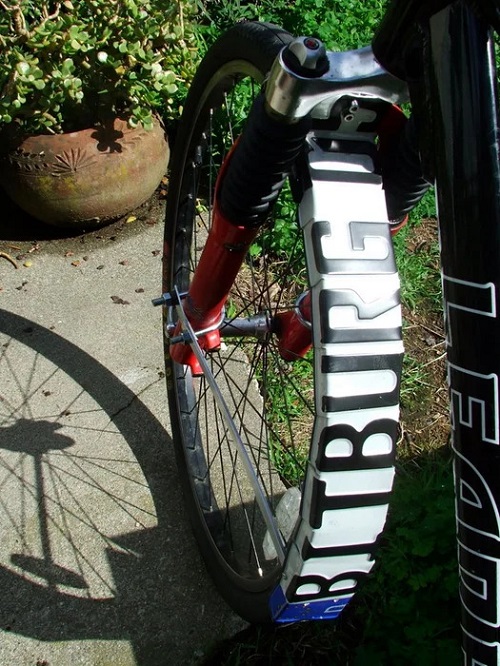 Made from a number plate, aluminum bar stock, u-bolts, and some tools, this bike fender protects clothes from muddy water.
26. DIY Vintage License Plate Clock
Show off your creativity and DIYing skills by making this display-worthy license plate wall clock.
27. DIY Upcycled License Plate Basket
Perfect for storing tools, toilet paper rolls, and other knick-knacks, this basket or caddy is easy-to-make.
28. Clipboards Made From License Plates
Find out how to use a vehicle registration plate as a clipboard in this article. It's a perfect gift for special occasions.
29. License Plate Stars
Make this license plate star to amp up the visual interest of your monotonous living room or bedroom wall.
30. License Plate Mail Organizer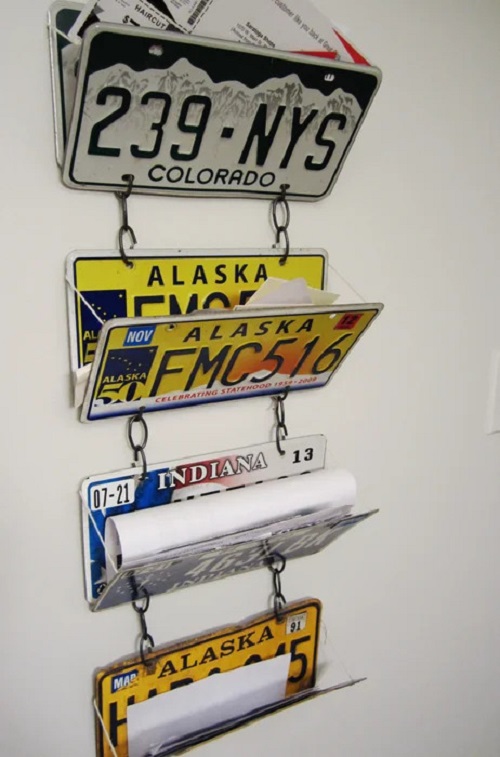 Cheap, simple, and practical, this license plate craft takes advantage of the vertical wall space to organize the mail clutter.
Have a look at some corn husk craft ideas here