Looking for eye-grabbing Clay Bead Bracelet Ideas? We have collected a list of some amazing projects that'll surprise you!!
These fashionable Clay Bead Bracelet Ideas are trendy wearables and excellent gifts. Not to mention, they are inexpensive and great for beginner crafters.
Here are some amazing things to make with clay
---
How to Make Clay Bead Bracelets
Making clay beads bracelets is a novice task and does not hold the risk of tarnish or decoloration. All you need are ornamental clay beads, a sturdy thread to weave them together, and clippers.
You can also get some jazzy metal balls, stars, and studs to add extra charm. These clay bead bracelet projects are creative and will keep the kids excited at home.
---
Clay Bead Bracelet Ideas
1. DIY Clay Disc Bead Bracelets Ideas
Here's the tutorial in which four bracelets are made from colorful clay beads. You can mix and match them or come up with something completely different.
2. Adorable Clay Bead Bracelet Idea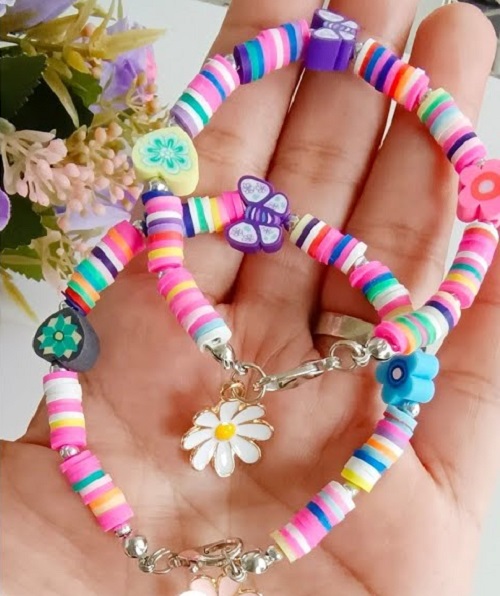 Watch this YouTube video to craft an adorable bracelet using a charm, clay beads, stringing cable, clasp, silver beads, and a jump ring.
3. Homemade Polymer Clay Beaded Bracelet
This video shows how to create a beautiful piece of jewelry from polymer clay and other supplies. It's one of the best clay bead bracelet ideas.
4. DIY Stretchy Heishi Clay Beaded Bracelet
Enhance your overall appearance by wearing this stretchable heishi clay bead bracelet. It's excellent for gifting purposes as well.
5. DIY Polymer Clay Pearl Bracelet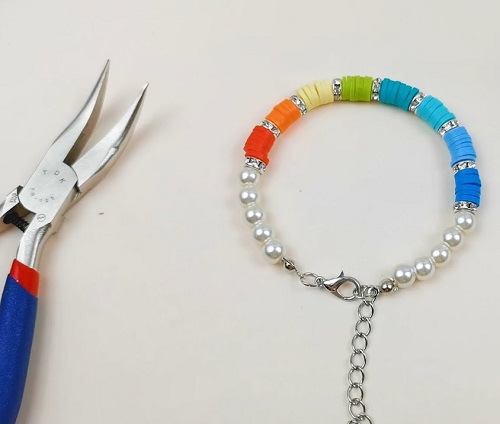 Featuring heishi and pearl beads, this stylish clay bracelet is a must-project to try this weekend. Get the details here.
6. Clay Bead Bracelet Idea for Kids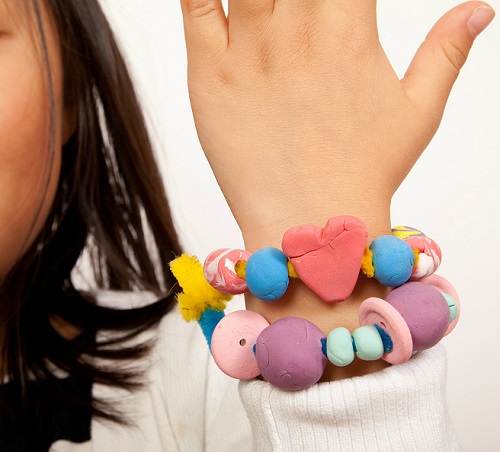 Create a one-of-a-kind bracelet using clay, buttons, pipe cleaners, and paint. It's a kid-friendly project, but supervision is required.
7. Air Dry Clay Beaded Bracelet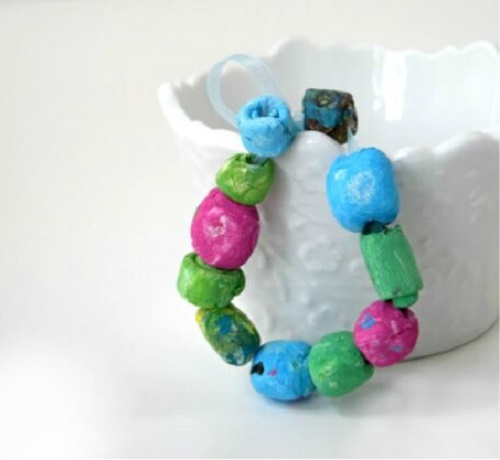 Craft this DIY bracelet with handmade air-dry clay beads to create a quick mother's day gift. The best part, no heat treatment is needed.
Have a look at some cute air-dry clay ideas here
8. Homemade Essential Oil Diffuser Beaded Bracelet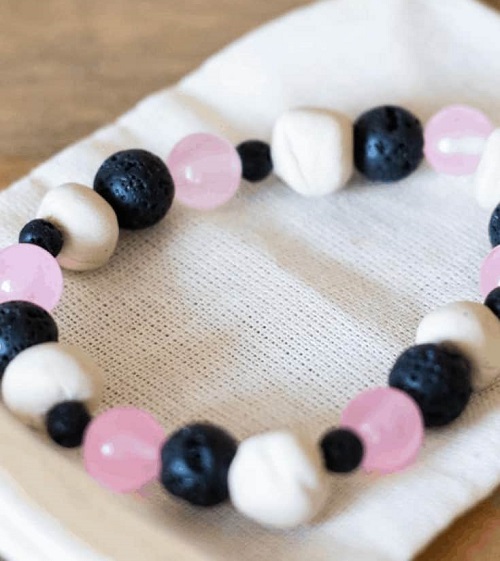 In this tutorial, the DIYer makes an essential oil diffuser bracelet out of airdry clay, string, and essential oils. This jewelry offers aromatic benefits all day long.
9. Stylish Faux Leather Clay Beaded Bracelet
Put your creativity hat on and make this unique adjustable faux leather bead bracelet from clay and cord. It's one of the most amazing clay bead bracelet ideas.
10. Funky Bug Repellent Bead Bracelet DIY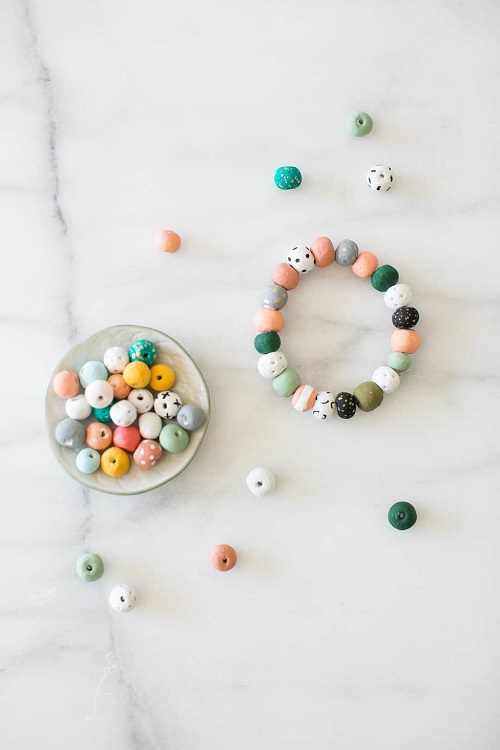 Do you want a natural bug solution to avoid chemical-laden repellents? This beaded bracelet is a stylish solution.
11. Cute DIY Oven Bake Clay Bracelet Idea
If you want to make a beautiful bracelet without any store-bought clay beads, watch out this video for the instructions.
Find out how to make an ashtray out of clay here
12. DIY Clay and Gold Bead Bracelet

Golden accents add a classy charm to ordinary clay bead bracelets. Also, you can include letter beads to create friendship mementos with your besties. Watch the tutorial here.
13. Cute Polymer Clay Bead Bracelet
Get polymer clays of your favorite shades and shapes and weave them to make a cute clay bead bracelet for your friend, as shown here.
14. Emogi Beaded Bracelet for Kids

Emogi beaded bracelets are one of the trendiest in this list of cute clay bead bracelet ideas. Get the emogi beads of your choice and nylon threads; you are good to go!
15. DIY Themed Bead Bracelet

Themed bracelets can be a cool addition to your Halloween, Christmas, Bachelorette, Birthday, or other family functions. Watch the tutorial here.
16. Classy Bead Bracelet

Include this classy bead bracelet in your jewelry collection for a boho look. The best part is you can make them yourself without much effort following this tutorial.