From vintage charm to modern elegance, our Home Bar Ideas On A Budget offer creative ways to entertain without breaking the bank!
Creating a chic and inviting home bar doesn't have to strain your finances. With these Home Bar Ideas On A Budget, you'll find practical and aesthetically pleasing options that suit your style and space. Explore these innovative designs and prepare to host memorable gatherings with flair and elegance.
Read the Best Outdoor Bar Plans with Roofs

here
---
Home Bar Ideas on a Budget
1. Knock Off DIY Bar Cart
If you're on the hunt for an affordable bar option for a small space, this knock-off DIY bar cart could be your solution. You can create a customized piece that easily accommodates glasses and wine bottles using materials like plywood and basic hardware supplies. Impress guests with this handmade bar cart that gives the illusion of an expensive store-bought item, all within budget constraints.
2. Ladder Shelf Bar
Repurpose an old ladder into a creative bar by adding wooden planks as shelves. This unique idea adds a vintage touch and is an excellent way to recycle an item that might otherwise go to waste. It's a wonderful addition to your collection of home bar ideas on a budget.
3. Oak Home Bar
Do you desire an oak home bar but are constrained by a budget? This guide helps you build a home bar inexpensively, making it a top pick for home bar ideas on a budget. Gather the necessary tools and materials, follow the instructions, and witness a beautiful oak bar come to life in your home.
4. Floating Shelves
For those looking for a sophisticated home bar without going over budget, investing in simple floating shelves might be the answer. Place them strategically on your wall, adorn them with stylish bottles, glassware, and perhaps some decorative plants.
5. Industrial Pipes and Wooden Plank Home Bar
Combine industrial pipes with wooden planks to craft a trendy and affordable bar area. This setup exudes a modern industrial vibe, reflecting an urban aesthetic. It's a functional and fashionable choice that doesn't break the bank but adds a splash of modernity.
6. Wooden Crates
Use wooden wine crates as storage units for bottles and glasses. Stack them on each other on a table or floor to create a small, inexpensive bar area. They give a rustic and cozy feel to your home, all while keeping costs low.
7. DIY Pallet Home Bar
Pallets can often be acquired for free or cheaply, making them a great resource for a rustic home bar. Simply grab a pallet, screws, drill, and follow this amazing tutorial to create a budget-friendly and appealing bar. This concept fits seamlessly into home bar ideas on a budget.
8. Record Rack Bar Cart
Transforming a vinyl record rack into a classy bar cart is an ingenious and budget-friendly home bar idea. This retro-inspired concept gives new life to an unused piece and adds a unique charm to your home's entertaining space. It's the perfect solution to keep a liquor collection organized and tidy.
9. Window Sill Bar
Use the often-ignored window sill space by turning it into a charming home bar. It's one of the best home bar ideas on a budget that is easy to make and doesn't need much time to assemble. Decorate it with plants or antique items to make this space more visually appealing.
10. Cabinet Conversion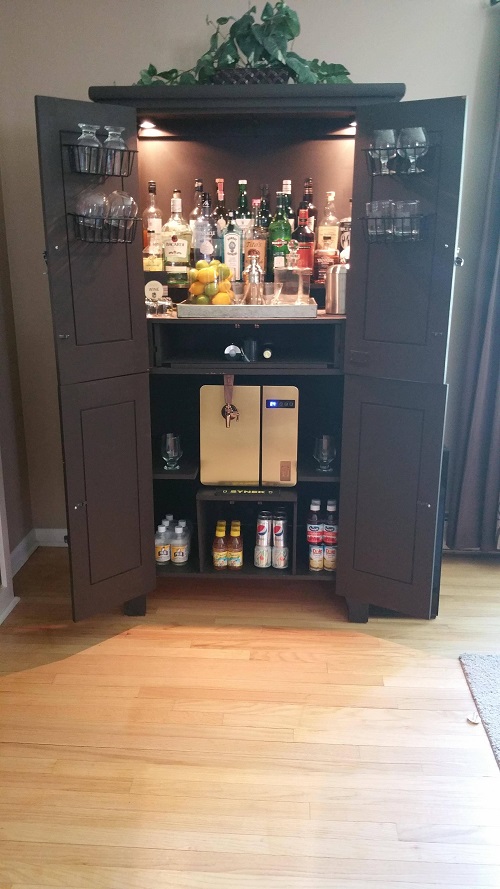 Have an old cabinet or armoire? Convert it into a hidden home bar with a little modification and creativity. This ingenious idea lets you keep the bar concealed when not needed, providing a versatile and budget-friendly solution.
11. Barrel Bar
A wooden barrel can be a unique and budget-friendly bar in your home. Customize it with a flat top for serving drinks and use the interior for storage. This barrel bar can be a rustic focal point in your living space.
12. Kitchen Counter Extension
Extend your existing kitchen counter with wooden planks, adding bar stools to create a small yet stylish bar area. It's a practical way to enhance your kitchen space without spending much money, offering aesthetics and functionality.
13. Vintage Suitcase Bar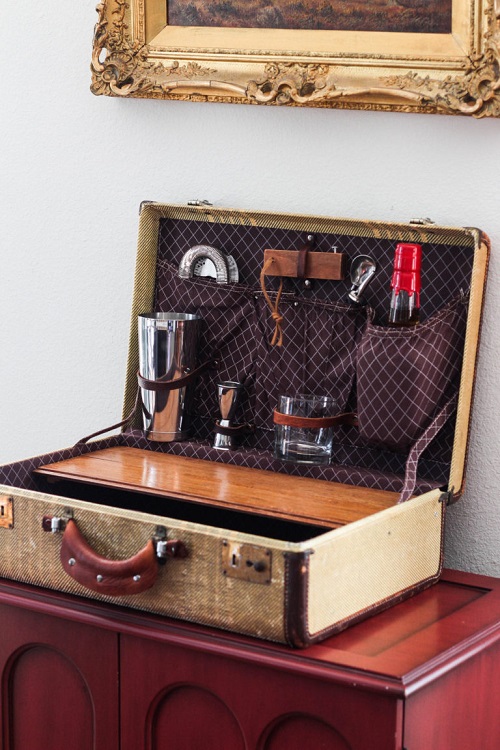 Repurpose a vintage suitcase into a portable bar, and you have a retro and cost-effective entertainment piece. By arranging the interior cleverly, it's a fully functioning bar that's both eye-catching and easy to store.
14. Use a Wooden Tray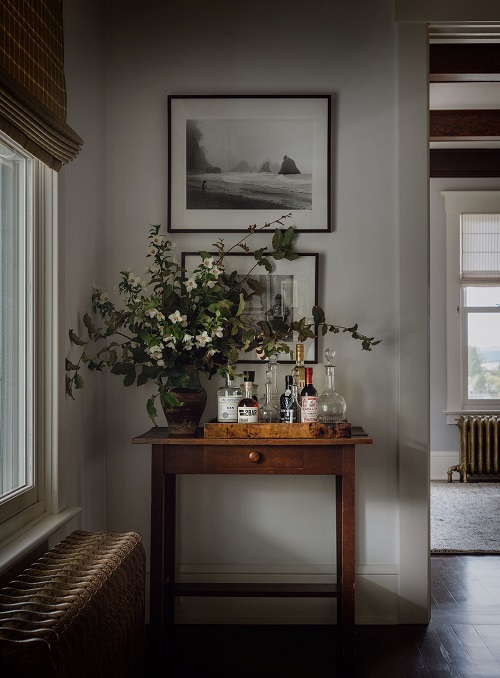 A wooden tray paired with a console table is what you need to create a mini home bar. By arranging bottles, glasses, and bar accessories on the tray, you'll have an instant, stylish bar setup without breaking the bank. A well-chosen wooden tray can transform a simple table into a chic bar area that fits seamlessly into your home's decor.
15. DIY Mini Bar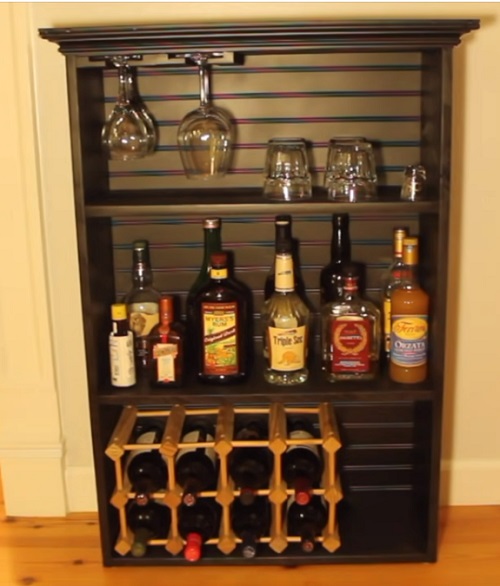 If you don't have a lot of areas to spare for a home bar, there is no need to fret. Simply take inspiration from this helpful video tutorial to create a mini bar for your less-spacious residence. It's a fantastic option for home bar ideas on a budget.
16. Repurpose Old Television As Mini-Bar
Revive an old television set by turning it into a unique mini-bar. By carefully removing the electronic components, you can house wine bottles, glasses, and bar accessories. This conversion gives a retro feel to your space and serves as a conversation starter. Read the details in this article.
17. Old Clothes Changing Table Turned Bar
Instead of discarding an infant clothes changing table, turn it into a functional and attractive bar cart. It's an excellent option for those who want to enjoy a drink at home without breaking the bank. This project adds a personalized touch to the living space. Read more here.
18. $180 DIY Custom Bar Cart
To recreate this industrial-style custom bar cart with ample storage for beverages and glassware, take inspiration from this article. This mini home bar adds character and lets you entertain guests effortlessly while keeping costs low. You only need an hour and $180 to complete this amazing project. An exemplary choice for home bar ideas on a budget.
19. Fake Fireplace Mantel Bar
Do you have an unused fake fireplace mantel with storage? Turn it into a home bar to display beverages and glassware. This bar can add charm and functionality to a previously neglected space.
20. Bicycle Bar
Upcycle an old bicycle into a mobile bar. It's an imaginative and cost-effective idea that's sure to attract praise. The bike frame serves as a base, and a wooden plank counter completes this unique bar, adding a whimsical touch.
21. A Piano Bar
Repurposing a vintage piano into a stylish home bar is a creative and cost-effective approach. Cleverly use the piano to store your beverage essentials and leverage its distinctive design to serve drinks.
22. Rolling Kitchen Island Bar
Transform a rolling kitchen island into a versatile home bar. With mobility and plenty of storage, it becomes a central hub for gatherings, offering flexibility to fit your entertaining needs without splurging. It stands out among the home bar ideas on a budget.
23. Gold and Marble Bar Cart
In this tutorial, the DIYer turns an old IKEA utility cart into a chic, inexpensive bar cart using gold spray paint and marble contact paper. It's an excellent project for those with limited space or who can't afford a full-fledged home bar.
24. Murphy Bar
Build a Murphy bar that folds down when needed and tucks away when not in use. It's a space-savvy choice that fits even in small apartments, providing a one-of-a-kind design that serves both form and function.
25. Upcycled Sewing Table Bar
Transform an old sewing table into an elegant home bar. The compartments originally designed for sewing supplies can be perfect for storing bottles and bar accessories. It's a chic and budget-friendly transformation that can add elegance to your home. This idea is an effective option among these home bar ideas on a budget.
26. Wooden Cable Spool Bar
Use a large wooden cable spool as a standing bar table. It's a unique and rustic option that can be found for free or cheaply from construction sites. This idea transforms an often-discarded item into a conversation piece that adds character to your home. With the right finishing touches, like varnish or paint, this spool can become the focal point of your entertainment area.
27. Bookcase Turned Bar
Convert an ordinary bookcase into an elegant home bar by adding glassware racks and wine holders. A fresh coat of paint can complete the transformation, giving you a stylish bar without spending much. By carefully selecting the right accessories and colors, you can make this bar fit seamlessly with your existing décor.
Check Out the Best DIY Mini Liquor Bottle Gift Ideas here