Along with different health advantages, sea moss benefits for hair are plentiful. Let's find out about its nutritional values and hair gel recipes below.
What Is Sea Moss?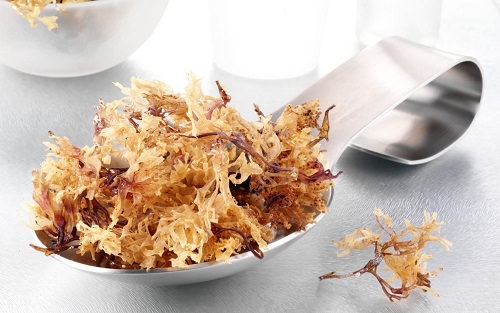 Sea Moss, also famous by the names- Irish moss, carrageen moss, or Irish sea moss, is a type of seaweed that grows near the coastline. It's available in a variety of colors and rich in various nutritional elements. Sea moss is used in lotion, soap, gel, and culinary as well. You can use it either topically or consume it orally.
Sea Moss Nutritional Value
Irish sea moss is a rich source of anti-oxidant, anti-microbial, anti-viral, and anti-inflammatory properties. Furthermore, it contains various vitamins and minerals too.
100 gms of Sea moss contains
Calories 49
Total Carbohydrate 12.3 g
Omega-3 47.0 mg
Omega-6 2.0mg
Protein 1.5 g
Vitamins & Minerals
Vitamin A 118 IU
Vitamin C 3.0 mg
Calcium 72.0 mg
Vitamin E 0.9 mg
Folate 182 mcg
Vitamin K 5.0 mcg
Vitamin B 60.1 mg
Iron 8.9 mg
Zinc 1.95 mg
Vitamin B 120 mcg
Potassium 63.0 mg
Sodium 67.0 mg
Water 81.3 g
Sea Moss Benefits for Hair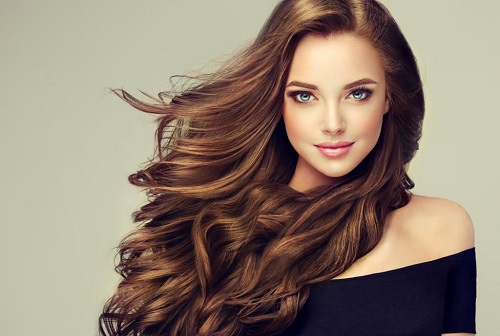 Below are some surprising benefits of sea moss or Irish moss for hair that might surprise you.
1. Moisturizes the Scalp
Sebaceous glands present on the scalp secrets sebum that are responsible for moisturizing your scalp, resulting in dandruff-free hair. But sometimes, this activity disrupts due to lack of vitamin A. Sea moss contains vitamin A, which improves the sebum production.
2. Improves Hair Growth
As sea moss is a rich source of vitamin E, it improves hair growth. Vitamin fights against oxidative stress, which is the main culprit behind hair loss. You can try the below sea moss gel recipes as a topical treatment to obtain its benefits.
3. Prevents Hair Loss
Lack of iron causes hair loss. As Irish sea moss has a rich source of iron, it efficiently prevents hair loss and also cures the iron deficiency as well. Add this fantastic nutritious seaweed in your daily diet to make most out of its plethora of health benefits.
Sea Moss Recipe
Add the below sea moss hair gel recipes in your daily regime to reap its astounding benefits.
1. DIY Homemade Standard Sea Moss Gel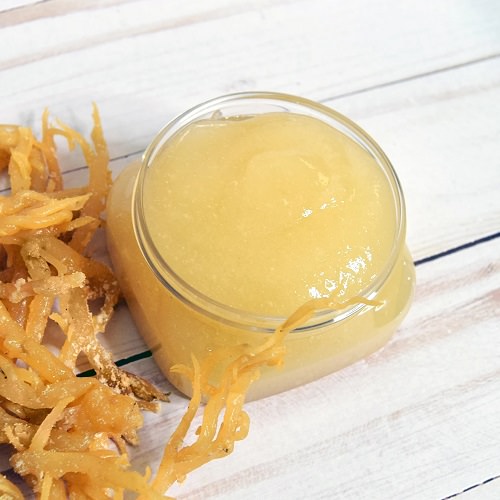 If you're a newbie DIYer, then this standard sea moss gel recipe is best for you to obtain its benefits.
Supplies
A cup of Dried Sea Moss
A Glass Jar With Lid
2 Cups of Water
A Blender
Bowl
Directions
Add 1 cup of dried sea moss into a bowl of water and leave it overnight.
In the morning, strain the sea moss and throw the water.
Then, blend 2 cups of water along with the sea moss into a blender to get a lump-free paste.
Now, transfer the creamy white paste into a jar with a lid and store it into a refrigerator.
This gel can last long for up to 1 month.
2. DIY Sea Moss Hair Styler Gel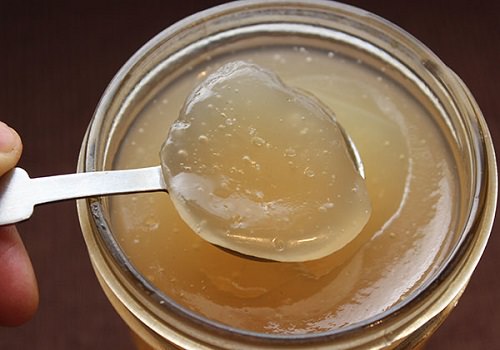 Loaded with the goodness of lavender essential oil, sea moss, and coconut oil, this recipe not only style your strands but also promotes hair growth.
Supplies
1/2 Cup of Water
2 Tsp of Avocado Oil
2 Tsp of Coconut Oil
3 Tsp of Sea Moss Gel
6-8 Drops of Lavender Essential Oil
A Glass Jar
A Mixing Bowl
Cooking Pot
Directions
Pour 3 tsp of sea moss gel to a double boiler to melt it properly.
Now, pour the resultant liquid along with 1/2 cup of water, 6-8 drops of lavender essential oil, 2 tsp of each coconut and grapeseed oil into a bowl. Stir them well.
Then, transfer it into the glass jar and seal the jar with a lid.
Put the glass jar into the refrigerator to solidify it.
The shelf life of this sea moss gel is 3-4 weeks.
How To Apply
Use the above recipes before going to bed by applying enough amount of sea moss gel all over your hair. In the morning, wash your strands with a shampoo. You can use the gel to style your hair and clean it the next day.
Notes:
If you have any problems in your scalp area, then don't try the above recipes.
It's recommended to consult your doctor, before its topical or oral usage.
Sea moss is an edible alga that can be used to nourish your hair with its multitude of benefits. Besides, try black castor oil to get healthy and dandruff-free strands.