Give your dull workstation a classy yet minimalistic makeover with these Boho Office Decor Ideas and enjoy a boost in your productivity!
A minimalistic bohemian décor adds a sense of distinctive style to your office space with vibrancy and color that's different yet attractive. These Boho Office Decor ideas will add a comfy yet creative appeal to your workstation!
Look at some Classy Home Office Ideas here
---
Boho Office Decor Inspiration
1. Modern Boho Office Décor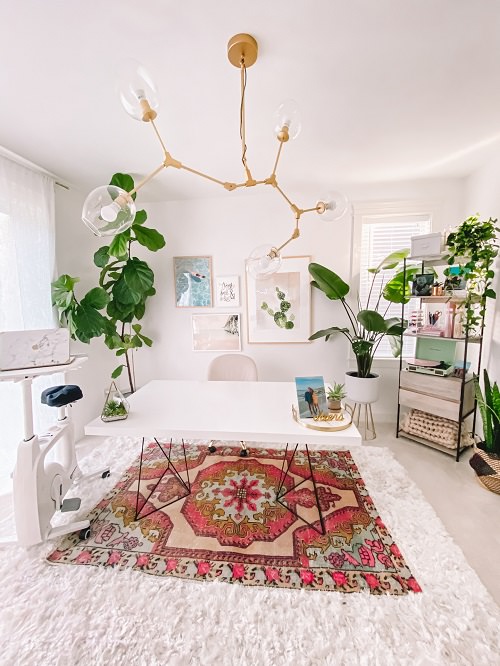 A white table surrounded with some green foliage, exercycle, hanging gallery wall art, and a colorful rug gives your space a little bit of extra texture and keeps the boho office décor vibe strong.
Find some Beautiful Indoor Plant Wall Ideas here
2. Play of Patterns & Textures!

Choose a creative wallpaper, geometric jute carpet, a couple of planters, and a couple of other eye-catching boho decors to keep your boho office decor game strong!
3. Minimalist Bohemian Home Office Décor

Bring in boho vibes by embellishing your home office with a white desk, macramé wall hanging touches, a cane chair, and some lovely plants. This is one of the best boho office decor ideas on this list.
4. Creative Home Office with a Boho Touch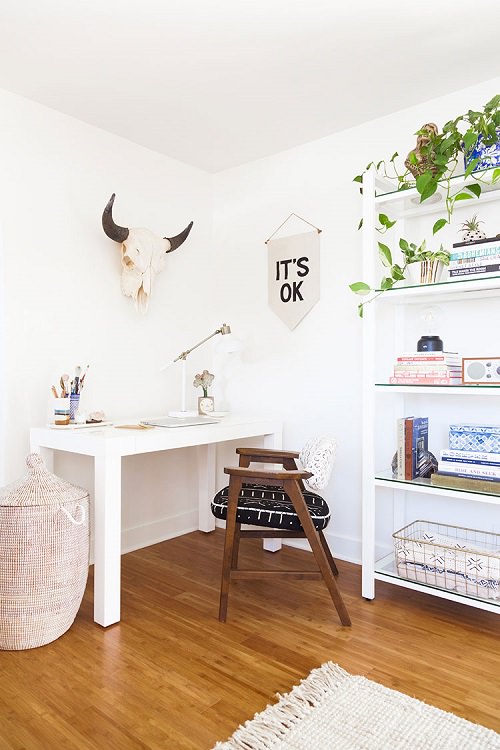 A home office space with a bison skull, vintage chair, white night lamp, and a vintage live edge wooden shelf will make for an appealing boho style home office.
5. Boho Chic Home Office

Add a retro wooden desk, a boho rug, a handcrafted wall hanging artwork, planters, and succulents to your minimalistic office for the bohemian charm.
6. Catchy Bohemian Office Nook

A boho office decor with a catchy Moroccan lamp, a mid-century modern desk, planters, a green chair, and a boho rug will look simply amazing.
7. Eclectic Home Office
Make your boho office spectacular by organizing the space with a shaggy Moroccan rug, a salvaged desk, an overstuffed chaise lounge, and a modern cube bookcase. White walls and floor will make it more captivating.
8. Cozy Boho Office Nook

Even if you've a limited office space, you can amp up the cozy factor by embellishing it with a monochromatic gallery wall, mirrors, faux fur, fringe, and baskets. One of the best minimalist office decor ideas on this list!
9. Dark And Moody Bohemian Office Space
Give a dark and moody look to your office space by incorporating a vintage rustic desk and chair, potted plants, a boho rug, an ottoman, and a golden skull head. All of these together will make for a classy boho office decor one cannot stop admiring!
10. Bohemian Compact Space Décor

To set the mood and tone of your home office truly bohemian, you'll need a cool gallery wall having beautiful paintings, a bright rug, cacti, and a red chest. Perfect boho office makeover for creative heads!
11. Whimsy Boho Office Décor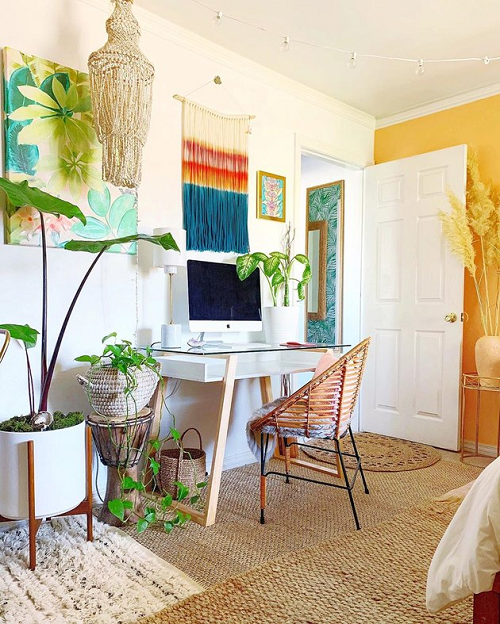 For a minimalistic whimsical boho office decor, grab a kaleidoscopic wall hanging, vintage seashell chandelier, few planters, and a vibrant yellow accent wall. Plus, it lightens your mood instantly.
12. Tranquil Boho Chic Space

Transform your plain old office area into a tranquil boho chic office space. Add your favorite plants, a feather poster, a vintage camera, and an old telephone to complete the look.
13. Mid-Century Modern Meets Boho-Inspired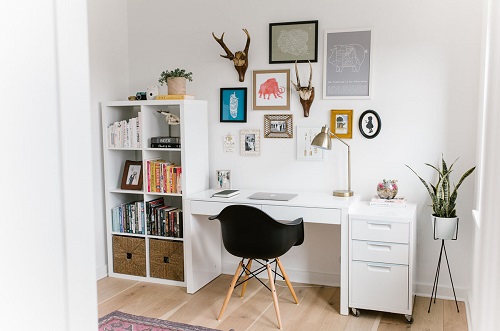 Give your monotonous office space a minimalistic boho-inspired touch with deer head antlers, one snake plant, a white desk, and a unique gallery wall. One of the easiest minimalistic office decor ideas to try!
14. Bohemian Office with a Moroccan Tile Wall Art

Amp up your boho office stylistic appeal by adding beautiful Moroccan tile wall art, intricately crafted baskets, rustic vintage stools, and two pendant lights.
15. Long Fringe Hanging with a Sleek Desk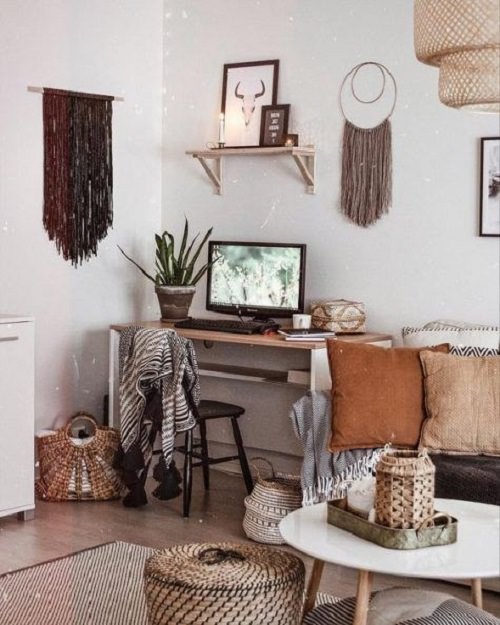 Rearrange your office space with earthy tone pillows, a long fringe hanging, baskets for storage, a sleek desk, and a bison skull painting for this fantastic boho office makeover.
16. Cane-Inspired Office with a Boho Work Desk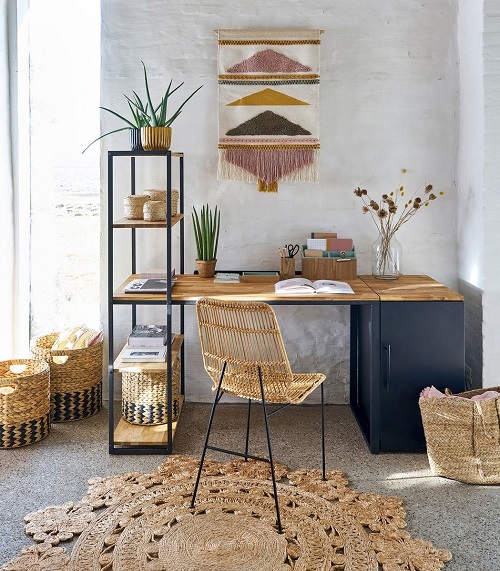 Refurnish your Workspace with an eccentric cane-woven mat, storage boxes, and chair seat. Complete your boho office decor with a hand-woven tapestry and some houseplants on the work desk.
17. Modern Boho Desk with Plants Around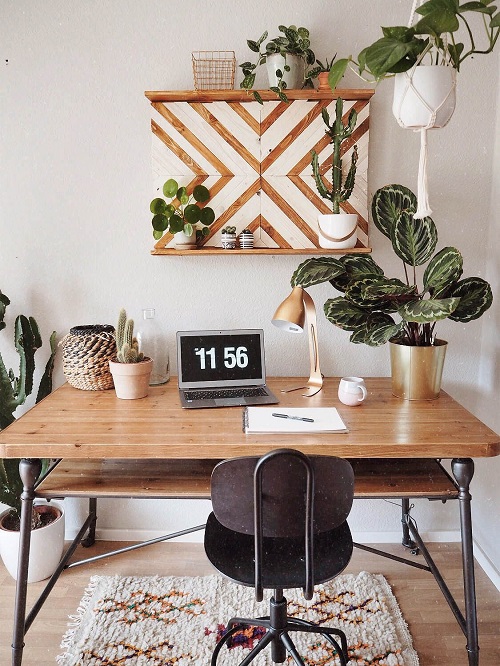 This Minimalistic Office Decor is where contemporary meets bohemian style. With a Calathea on the desk and other houseplants on the shelf, this boho office decor is not worth missing.
18. Chic Office Decor with a White Backdrop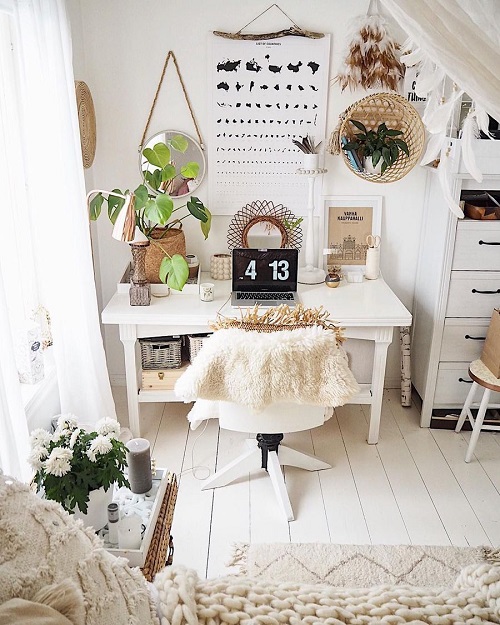 Go for an all-white boho office look with neutral-toned walls, floor, desk, cabinet, and white flowers to give your workspace a minimal yet classy makeover.
19. Large Feather Wall Hats Setting Bohemian Goals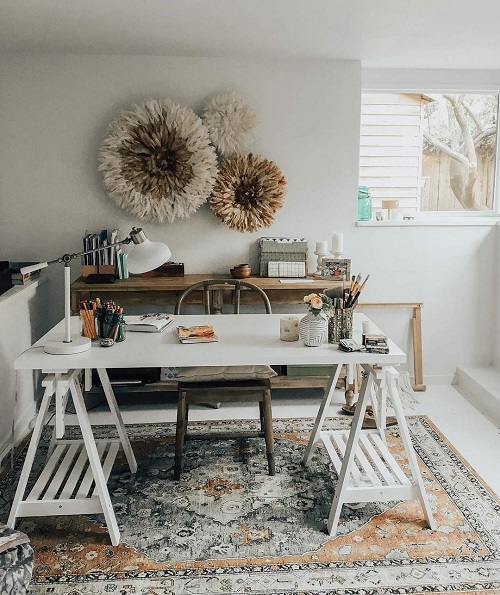 If you want to keep your workstation minimal yet appealing, this boho home office idea is the one for you. Get a handwoven fabric rug and feather wall hats to add a bohemian touch to an otherwise simple decor.
Find some Pretty Macrame Wall Hanging Ideas here
20. Boho Pin Board, Wall Hanging, and Faux Flower Planters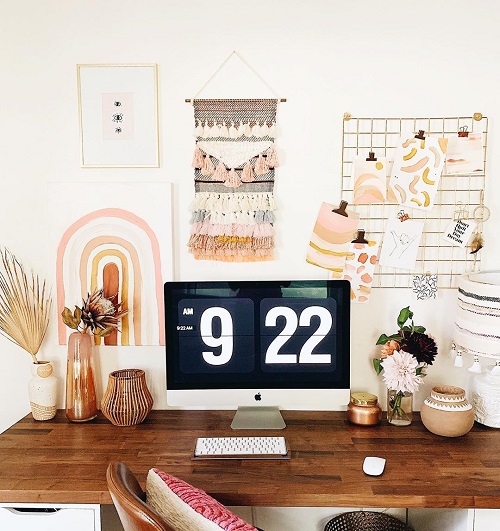 This modern boho office decor smells of all things creative and cozy. Keep it minimal with some showy faux flower planters and a pinboard reading quotes and postcards.
21. Macrame Tapestry and Boho Floor Rug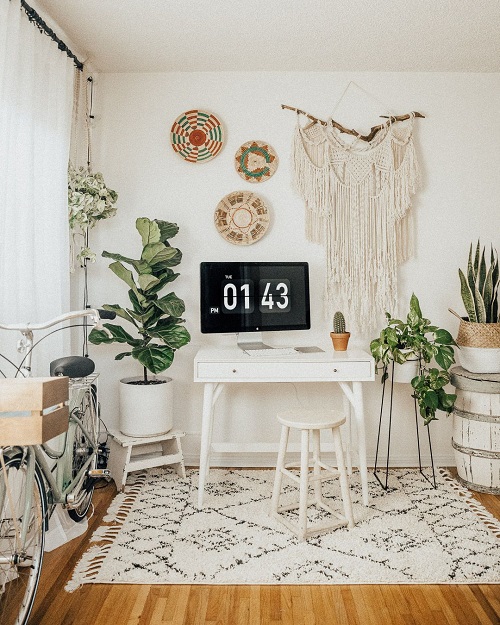 Utilize the floors and walls to give your home office a bohemian makeover. A handwoven white rug and a macrame tapestry hanging down a rustic twig complemented with other macrame wall decors make for a jaw-dropping boho office ambiance.
22. Minimalistic Workstation with Cascading Plants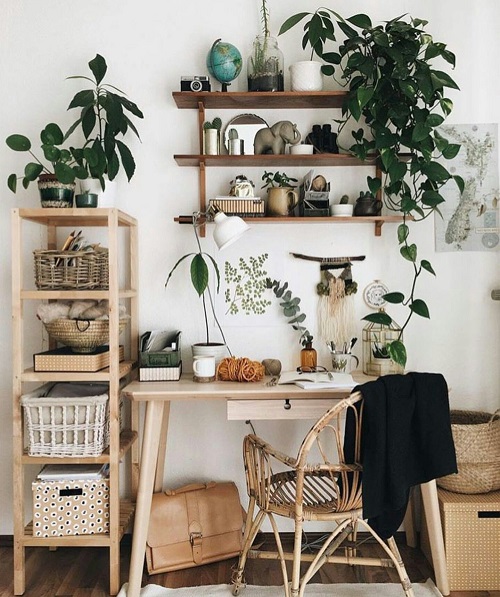 Plants make all things lively and joyful! Why not include some in your boho home office decor? Plants cascading down the shelves, potted plants, and an antique wooden chair before the work desk make for a fantastic boho office.
23. Boho Office Inspo with Macrame Hangers and a Round Mirror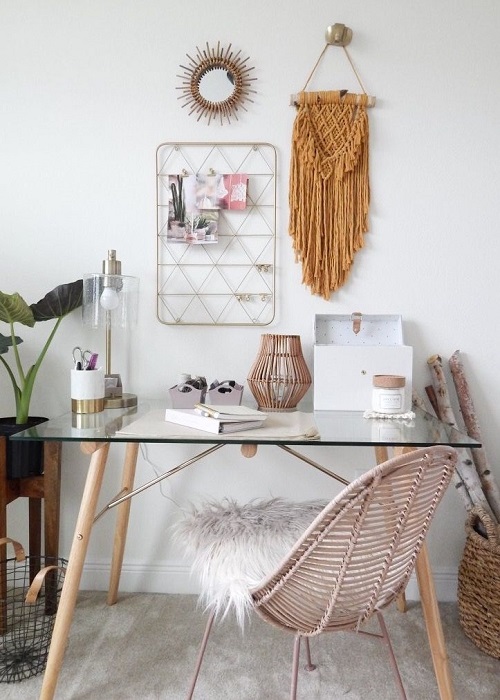 A minimal work desk complementing a wicker chair, macrame wall hangings, a smell round mirror, and jute woven storage boxes together make for the best boho home office decor one can think of.
24. Work Desk with Creative Basket Wall Decor
Keep your boho office simple yet attractive with hand-woven basket wall decor pieces against a neutral backdrop. Complete the chic makeover with a statement-making tall houseplant by the boho office desk.
25. Large Work Desk Houseplant Stealing the Show
Flaunt your green thumb with an elegant houseplant on the boho office desk. You can also add mini specimens of easy-maintenance succulents as well. A macrame tapestry would add to the charm.
26. Boho Office Inspo with Eccentric Planters and Wall Decor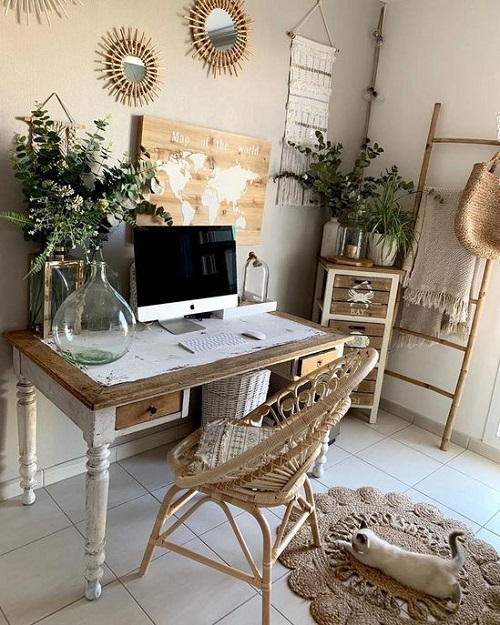 Pay attention to the details! Display attractive planters, place a jute woven floor rug, and get a wicker chair for that perfect boho office makeover.
27. Well-Lit Workstation with a Bohemian Touch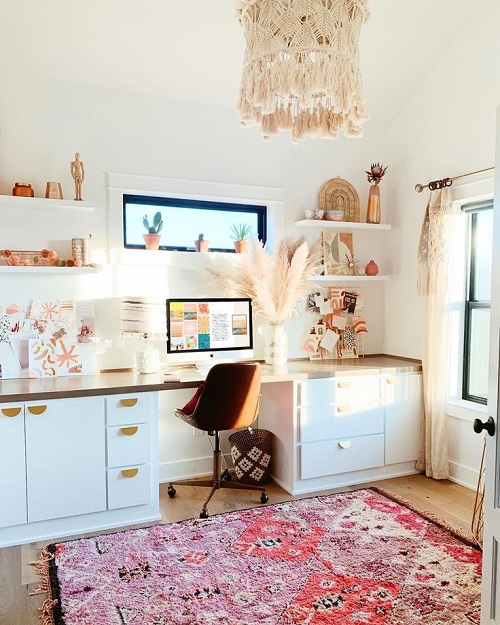 One of the best minimalist office decor ideas, this boho office screams tranquility and class! A vintage rug, macrame chandelier, and a tall planter displaying dried pampas grass tick all the boxes of a boho chic office decor.
28. Minimalistic Decor with Hats and Mirrors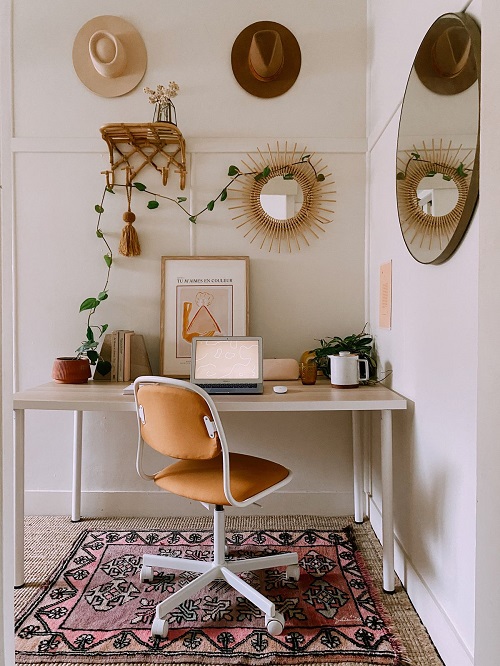 All you need are some horsemen hats and round mirrors for this boho office space makeover. You can also display a simple vining houseplant and train it across the room for a touch of greenery.
29. Jolly Workstation with a Large Rug and Swing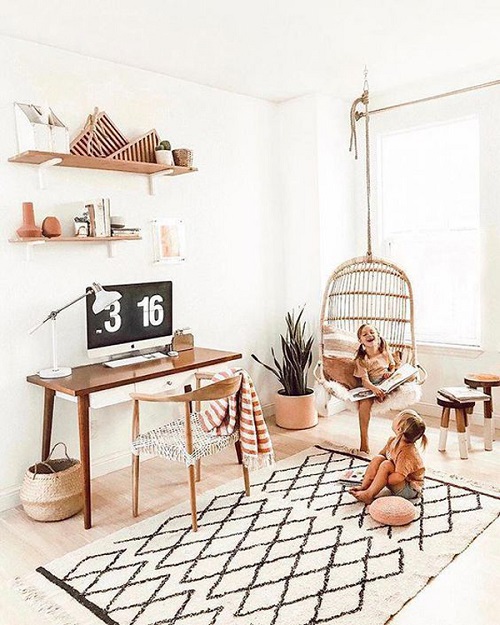 Don't confine your boho home office to just work and formal projects. Hang a swing so the kids can come over and a floor rug for your pets to snuggle in, as shown in the picture!
30. Rustic Rug, Fiber Art Wall Hanging, and a Plant Ladder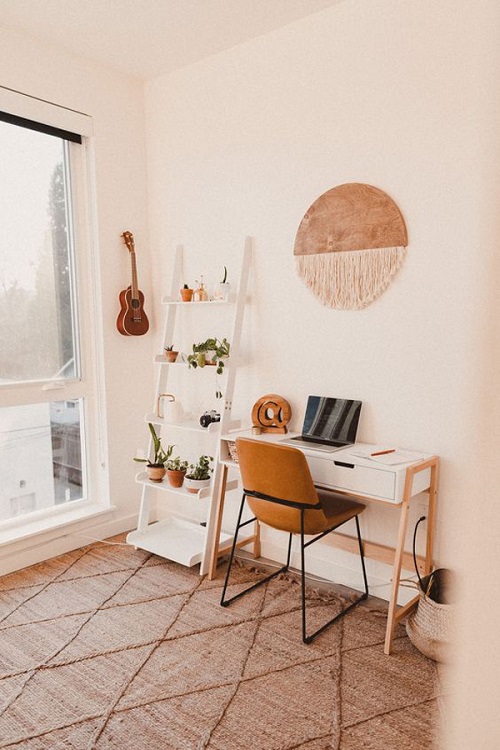 This minimalistic boho office decor is perfect for those plant parents who don't have much time to invest in their green buddies. Put up a plant ladder by your boho office desk and invite some easy-care varieties to admire while working!
Look at some Gorgeous White and Golden Bedroom Ideas here