If you enjoy recycling old items into functional stuff creatively, these Old Belt Uses will blow your mind!
Do you discard the waist belts after using them? Check out these Old Belt Uses before doing so ever again!
Find out some amazing leather crafts here
---
Old Belt Uses
1. Leather and Vinyl Belt Tabletop

Gather some old leather belts and decorate a tabletop tray to enhance its beauty. It's one of the best ways to repurpose old belts. Details are here.
Look at some beautiful terrarium ideas here
2. DIY Old School Leather Book Strap

Create this fancy and functional leather book strap following the steps discussed in the tutorial here.
3. DIY Leather Napkin Rings

Make beautiful leather napkins out of old belts by following the do's and don't mention in the tutorial.
4. DIY Belted Storage Totes

Mimic this wonderful storage solution with the help of ordinary cardboard boxes and old unused belts. Learn more here.
5. Leather Belt Wall Wreath

Simply wrap the old leather belts on a wreath and hang it on the wall creating this amazing piece of decor. Details are here.
Find out some fantastic Halloween wreath ideas here
6. DIY Yoga Mat Strap

An old leather belt can be creatively used to hang a yoga belt on the wall. Get the tutorial here.
7. Belt Chair Seat

Add a classy touch to the old chair seat using a handful of leather belts and following this tutorial.
8. DIY Leather-Wrapped Vase

Display your favorite plants in style by wrapping the vase with old leather belts. Learn more here.
9. Decorative Leather Belt Crate

Transform an ordinary crate into an elegant storage box with the help of some old leather belts. Details are here.
10. DIY Herb Wall Holder

A unique idea to create a functional and decorative space for the herbs! Learn the steps here.
Check out some beautiful orchid planter ideas here
11. Leather Belt Purse

Recycle old leather belts to design this classy leather purse. Use different textures to add depth to the design. It's one of the most amazing old belt uses. Details are here.
12. Stacked Book Purse With a Leather Strap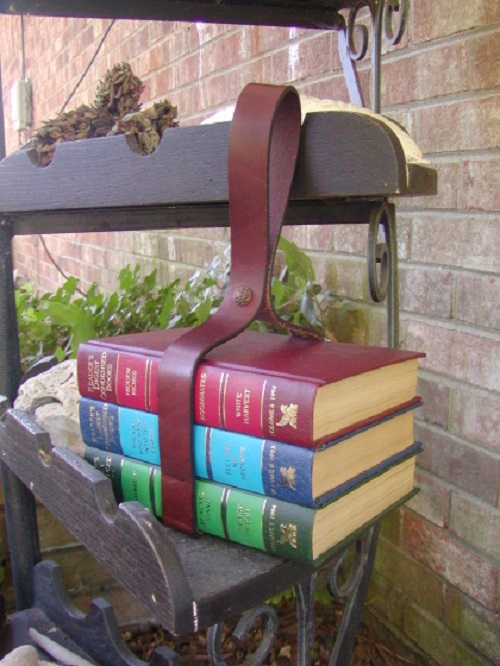 Harness the old-fashioned leather belts into contemporary accessories by following the steps mentioned here.
13. Cheap And Durable Leather Belt Camera Strap

Add a quirky yet creative look to your camera by complementing it with a DIY leather strap. Details are here.
14. Leather Belt Message Board

Give your message board a classy western touch using a leather belt to hang the frame. Read the details here.
15. Leather Belt Door Mat

Design this adorable and unique project following a few simple steps discussed in this tutorial.
Want to make beautiful floor mats at home? Click here
16. DIY Hanging Terrarium

Create a lovely hanging terrarium for your house with the help of an old milk glass jar, some pebbles, plants, and an old belt. Learn more here.
17. Leather Belt Dog Collars

Design a sturdy dog collar using an old leather belt, scissors, and other supplies mentioned here.
18. DIY Leather Drawer Pulls

Cut the belt to the size of a drawer puller, then attach it to the drawer with small nails. Your job is done. Get the instructions here.
19. DIY Clock and Newspaper Hanger

Recreate this gorgeous look with the easy-to-do steps mentioned in this tutorial.
20. Leather Belt Curtain Ties

Using old belts for curtain ties is the best way to get an elegant makeover with minimal effort. It's one of the most creative old belt uses on this list. Details are here.
Check out some stunning DIY drop cloth curtain ideas here