Toenail fungus is a cosmetic issue that causes pain over time. To get rid of this condition once and for all, browse this article to know will thieves oil kill toenail fungus or not!
Thieves oil is a mixture of citrus lemon, cinnamon, clove, rosemary, and eucalyptus essential oils. It comes with a rich, spicy, and earthy aroma. As it's a combination of multiple therapeutic essential oils, many believe thieves oil is an ideal candidate against the toenail fungus. To find out will thieves oil kill toenail fungus or not, read this article till the end.
What Is Toenail Fungus and Symptoms?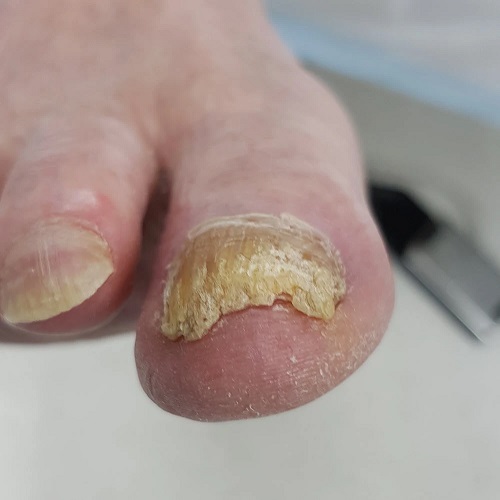 Toenail fungus, alias 'Onychomycosis' or 'Tinea unguium,' is an infectious condition that is more of a cosmetic issue but induces pain over time when it becomes severe. There are some risk factors that increase the chances of getting onychomycosis. A compromised immune system, diabetes, nail trauma, spending most of the time in the water, working in a humid environment are some of the triggers for toenail fungus.
Below are some common signs and symptoms of toenail fungal infection:
Fetid odor from toenails
Discolored, oddly shaped, and thickened toenails
Pain or discomfort (in severe cases)
Infected toenails may get lifted from the nail bed
Nails become brittle and ragged
Will Thieves Oil Kill Toenail Fungus?
There is no scientific research available regarding thieves' oil efficacy against toenail fungus. However, the essential oils used in its preparation, namely, cinnamon, clove, eucalyptus, lemon, and rosemary, are effective against mild onychomycosis, thanks to their anti-fungal and anti-microbial properties.
Thieves Oil Recipe

Various brands of thieves oil are available commercially but if you want to DIY your own at home, try the below recipe infused with the goodness of five different essential oils.
Supplies
35 Drops of Lemon Oil
20 Drops of Cinnamon Oil
15 Drops of Eucalyptus Oil
10 Drops of Rosemary Oil
40 Drops of Clove Oil
Directions
Combine all the essential oils into a small bowl properly.
Next, empty the blend into an amber glass bottle using a small funnel.
Store the thieve oil bottle in a cool, dry place away from sunlight and other heat and light sources.
How to Apply
To kill toenail fungus, mix 5-8 drops of thieves oil and 3-4 tsp of olive oil in a bowl. Next, apply the solution to the problematic toenail using a cotton ball or q-tip. Reuse this home remedy daily until the toenail fungus disappears.
Safety Precautions
If you're planning to use thieves' oil to kill the toenail fungus, make sure to follow the below precautions.
If you're pregnant or lactating, use the oil under the guidance of an expert physician.
Store the bottle of thieves oil far away from the reach of kids and pets.
People with injured toenails must avoid this hack.
Always dilute the oil with a suitable carrier oil to avoid side effects.
If you are allergic to essential oils, don't use this remedy.
Other Natural Remedies to Kill Toenail Fungus
Apart from thieves oil, there are some other potent natural and cost-effective ways to eliminate toenail fungal infection. Some of them are:
Tips to Avoid Reinfection

Bring your shower sandals, slides, or flip-flops while visiting a spa, public shower, locker room, gym, and pool area.
Give your feet a good rinse on a daily basis with antibacterial soap and dry them thoroughly with a towel as well.
Give explicit instruction to the spa and salon staff to use sanitized equipment only.
Always wear dry and clean socks and shoes.
Never share your towels, clothes, socks, and shoes with anyone.
Cut and file your toenails often.
Carry sweat-absorbing socks and shoes made up of breathable fabric.
When to Consult a Podiatrist?
People suffering from moderate to severe toenail fungus must talk to an expert podiatrist and avoid thieves oil at all costs. Visiting a physician is the last resort when the condition doesn't improve within a week or worsens from the in-home treatment.
Final Thoughts
Although thieves oil is quite effective against toenail fungus, it's strongly suggested to consult with your podiatrist before using it.