Explore these attention-grabbing Peacock Blue Home Decor Ideas to give your living space a jaw-dropping upgrade!
Elevate the look and feel of your interior design to new heights with the allure of peacock blue. So, whether you're a fan of bold statements or subtle accents, we've got you covered with these striking Peacock Blue Home Decor Ideas!
Check out the best blue kitchen cabinet ideas here
---
Peacock Blue Home Decor Ideas
1. Peacock Blue With Gold Hues
This sitting room features a beautiful combination of peacock blue and gold hues that make the space feel luxurious. The marble floor gives the space an Italian feel, whereas the Sputnik-style light fixture brings in midcentury modern flair. Together, these elements create a space that is both stylish and inviting.
2. Wooden Cabinet With Peacock Blue Interior
Revamp your home décor with this wooden cabinet featuring a peacock blue interior. This stunning furniture adds a pop of color to the décor, while the natural wood finish offers a rustic charm. It lets you store prized possessions and doubles up as a show-stopping fixture.
3. Patterned Blue Rug
Bring the captivating beauty of peacock blue into your home with a patterned rug. The intricate design and rich color of the rug will give your space a bold and regal feel. Whether you choose to place it in your living room, bedroom, or office, this rug is sure to catch the eye and spark conversations. It's not just a floor covering but a work of art.
4. Peacock Blue Front Door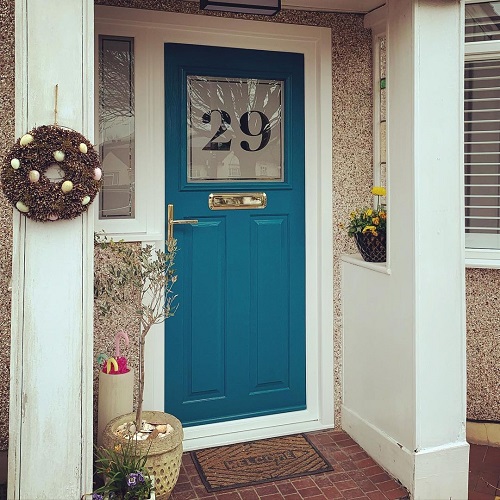 If you want to make your home exterior stand out in the neighborhood, paint the front door with peacock blue. This bold & beautiful shade enhances the curb appeal and also makes a lasting impression on the guests. It's undoubtedly one of the awesome peacock blue home decor ideas.
5. Neutral Bedroom Home Decor with Blue Sofa
Don't know how to create a cohesive color scheme for a room? Consider combining peacock blue into your decor. This striking hue has the power to create interest and character in any neutral space. Take this bedroom, for example, where a blue sofa and matching throw pillows take a palette of whites, tans, and browns to new heights.
6. Intricate Peacock Blue Macrame Wall Hanging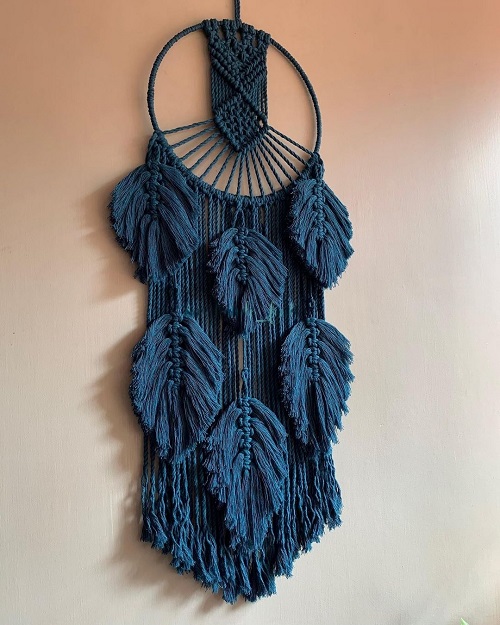 Bring bohemian flair to your home with this peacock blue macrame wall hanging. Crafted with intricate knotting techniques, this stunning piece is ideal for adding an eye-catching element to the space. Anyone who loves to incorporate artisanal touches into their interiors, this wall hanging is for them.
7. Dark Peacock Blue Accent Wall
Looking for a way to make your space more captivating? Simply paint the wall with the vibrant peacock blue shade. This vivid hue fills the space with drama and personality, making the décor truly unforgettable.
8. Chic Breakfast Nook with Peacock Blue Chairs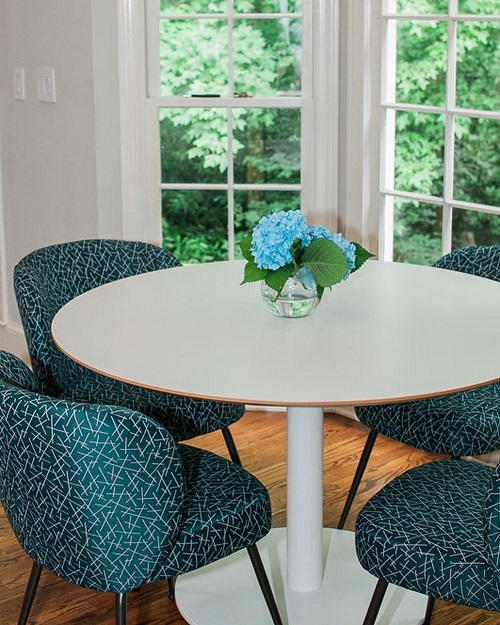 Transform your mornings with this chic breakfast nook adorned with elegant peacock blue chairs. This cushy corner not only makes breakfasts a stylish affair but also creates an inviting space for conversations and quiet moments.
9. Chic Closet
Elevate your bedroom's aesthetic by giving the bland walk-in closet a chic makeover with a rich peacock blue hue. Highlighted by a sparkling crystal chandelier, this captivating closet gives off a genuinely glamorous feel.
10. Gorgeous Peacock Blue Bathroom Vanity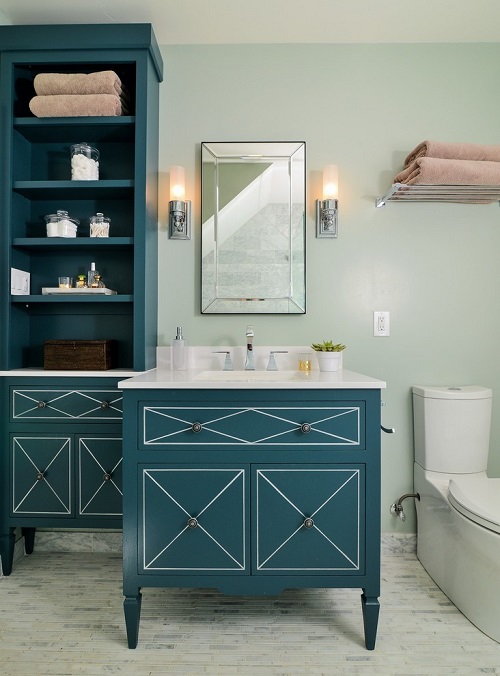 Peacock blue, an unexpected yet stylish choice for bathroom vanities, pairs well with soft gray walls, marble floors, and metallic accents.
11. Elegant Kitchen Cabinets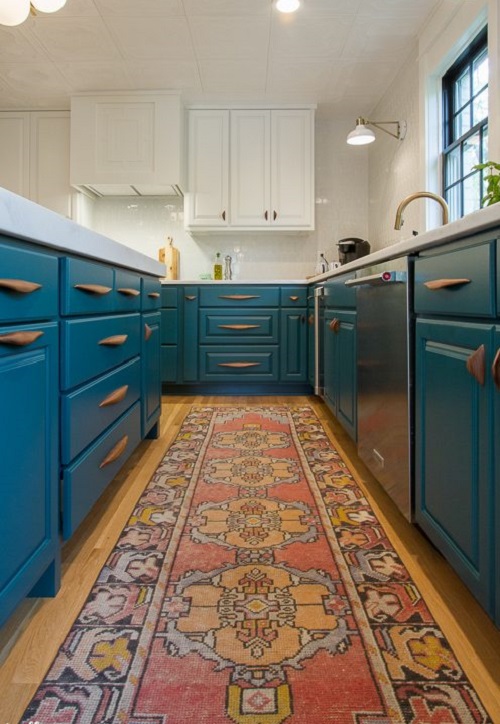 Elegant and timeless, peacock blue kitchen cabinets are a stunning addition to any home. With their bold color and sleek design, these cupboards make your kitchen truly stand out.
Here are some decorating ideas for above kitchen cabinets
12. Peacock Blue Beddings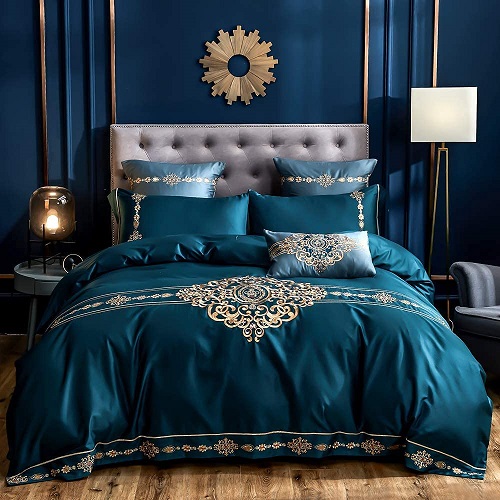 The best thing about peacock blue beddings is that they work equally well in both modern and traditional bedroom settings. Whether you prefer a sleek, contemporary look or a classic aesthetic, peacock blue bedding complements your decor beautifully.
13. Peacock Blue Bathroom Tiles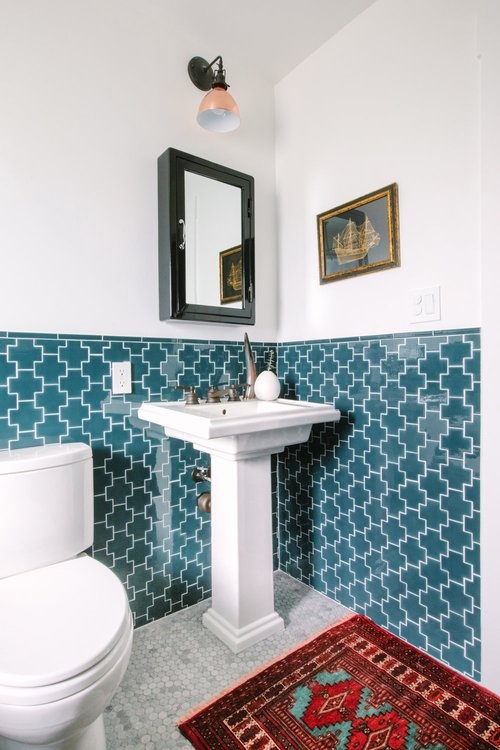 Peacock blue-hued tiles are a timeless choice that will never go out of style. They bring an undeniable sense of luxury and glamour to any bathroom space. The deep blue color is reminiscent of peacock feathers, giving the space an interesting appeal.
14. Room with Gorgeous Peacock Blue Curtains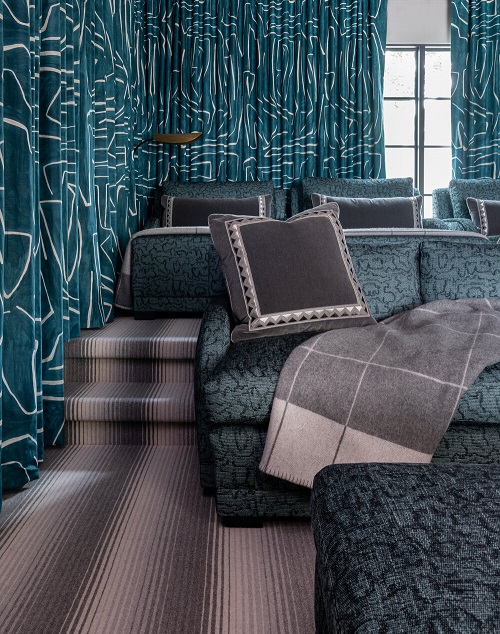 The peacock blue curtains provide the perfect backdrop for any type of furniture or decor. Not only do the curtains look amazing on their own, but they also pair beautifully with other colors and textures.
15. Foyer with Peacock Blue Wallpaper and Stunning Decor Pieces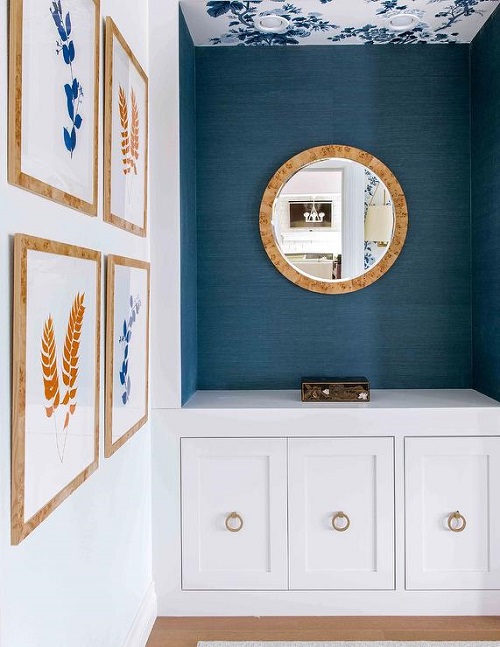 The attention-grabbing peacock blue wallpaper in the foyer is simply stunning. Its bold and striking color provides the perfect contrast to the white foyer cabinet, round burl wood mirror, and botanical wall art.
16. Peacock Blue Kitchen Backsplash
A peacock blue backsplash is a versatile choice that works well with a variety of kitchen styles. The rich, deep hue is perfect for hiding splatters and spills. Whether you choose to use it as a backdrop for your stove or sink, it's sure to catch the eye and make a lasting impression.
17. Peacock Blue Painted Bathroom Sink
A bathroom sink painted in peacock blue hue is a sight to behold. It's a great way to add some personality and flair to an otherwise neutral bathroom.
18. Peacock Blue Curtains and Rug with Gold Accents
The peacock blue curtains, rug, and pillow with gold accents create a chic, contemporary look that's hard to resist. The combination is perfect for those who want to make a statement in their home decor.
19. Peacock Blue Velvet Chairs, Oval Dining Table, and Brass Chandelier
The striking peacock blue chairs surrounding an oval dining table creates a show-stopping dining experience. This ensemble is further enhanced by the brass chandelier, adding elegance to the overall ambiance.
20. Peacock Blue Holiday Decor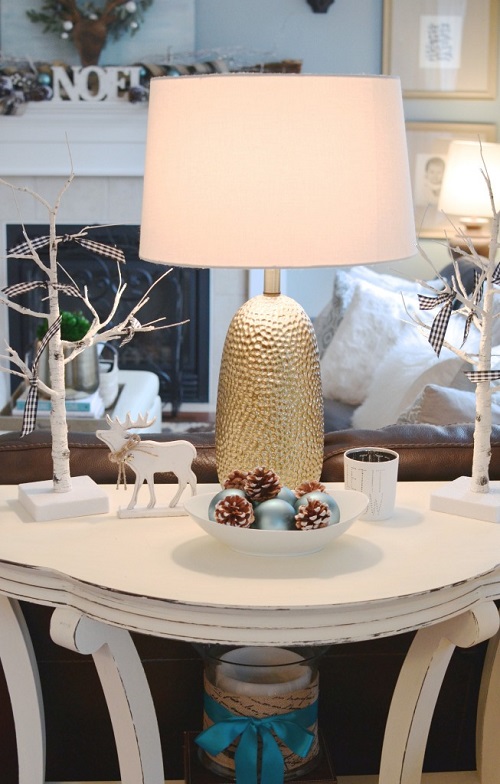 This chic holiday decor features a bowl filled with peacock-blue Christmas balls and pine cones. The little white birch trees tied with gingham ribbon add charm to the overall look.
21. Paint the Dresser Peacock Blue
Do you have an old dresser? Give it a new lease of life by painting it in a peacock blue shade. It's an easy and inexpensive way to update the look and feel of your living room or bedchamber. Learn more about this idea here.
Read the stunning blue and gold bedroom ideas here